When Experience Grand Rapids began working with an organization that would bring 3,000 mostly Hindu attendees to the city, they reached out to Fred Stella, Prachark (which is Sanskrit for Outreach Minister) for the West Michigan Hindu Temple.
Tapping Local Expertise
"The attitude [Experience Grand Rapids] had was: How can we meet their needs?" Stella said. "They brought me in for a meeting and had all sorts of questions about what would make [conference attendees] more comfortable and what they need to know about [the attendees] culturally."
Stella said he was happy to help. In fact, the organizing team for BMM 2017, the biannual conference of Bruhan Maharashtra Mandal of North America, also had reached out to him to serve as a liaison.
He met with the Experience Grand Rapids staff and, at their request, met with Grand Rapids Mayor Rosalyn Bliss to help tape a welcome message for the group because she could not attend in person.
Stella coached her to deliver a greeting that included a line from Hindu scripture: "In Grand Rapids, adithi Devo bhava."
"It is well known. It means 'the guest is God'," Stella said. "She said it in Sanskrit, and people loved that."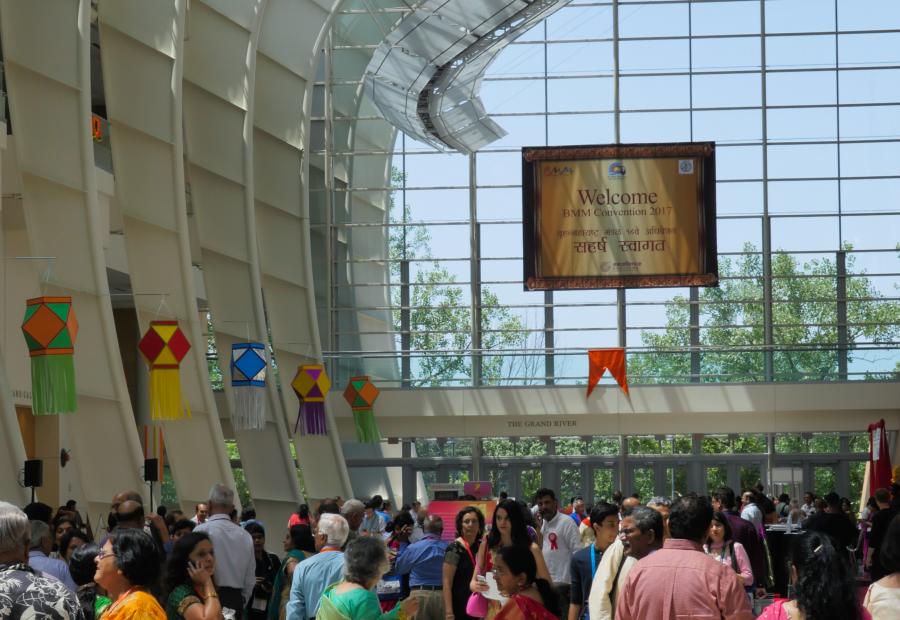 Participants of the Bruhan Maharashtra Mandal 2017 at the Grand Rapids convention center.
Photo by Experience Grand Rapids
Offering a High Level of Service
According to conference organizer Tushar Samant, the efforts paid off in an amazingly successful event.
"Grand Rapids is awesome. There is no word other than awesome for me for Grand Rapids," Samant said during the event.
"They are giving us everything that we want for this convention. This is the best city we have ever gone [to]."
The conference, a business, social and networking event for people with roots in the Indian state of Maharashtra, dates back to 1981. Recent conventions have been held in Anaheim, California; Providence, Rhode Island; and Chicago.
While it's a regional event, attendees came from all over the world, including China, Australia, England, Canada, and Dubai.
Sharing Cultures
The agenda included business conferences and seminars, big-name entertainers from India, networking and even speed-dating. But the capstone event was the Granth Dindi, or celebration of the book, a tradition marking the translation of a key Hindu text into the Marashtra language in the 13th century.
On the Saturday morning of the conference, hundreds of attendees paraded down Monroe Avenue from the convention center to the Van Andel Arena, dressed in full regalia, carrying flags, playing music and holding signs of their home states or countries. Some also were carrying a palanquin containing a copy of the scripture.
Thanks to news stories about the parade ahead of time, several hundred Grand Rapids residents came to line the streets of the parade, he said, and the joy and excitement felt by those both participating in it and watching it was palpable.
"[The parade] was their gift to Grand Rapids," Stella said. "The sharing of the culture. And it was well received."
Check out scenes from the parade and the rest of the conference here: