If you're planning a meeting and want fitness options for your attendees, or often find yourself looking for a place to work up a sweat while traveling, Grand Rapids has you covered. 
The region is known for producing elite runners and for boasting a wealth of outdoor recreation. Health-conscious visitors can take advantage of a walkable city with miles of hiking and running trails, gyms, yoga studios, barre classes, spinning classes, kickboxing classes, kayak rentals, bike rentals, running and walking tours, group runs, and more. 
Many fitness opportunities are centered around downtown, with new ones added all the time, such as the city's modern outdoor fitness stations along the Grand River in downtown Grand Rapids. These are just a few of the options available in Grand Rapids:
Keeping fitness simple
"Just showing up" is the simple concept behind November Project, a nonprofit that organizes free, weekly group workouts about 50 locations around the world. 
There's no registration and no fees to participate. Just showing up allows you to get a good work out. In Grand Rapids, that's 6:01 AM every Wednesday at the corner of Lyon Street and Bostwick Avenue NE. 
The group workouts are open to locals or visitors. "Most recently we had a big group from Chicago and Madison show up for a workout," said Yoshi Saka, who, along with Matt Swiontek, co-founded the Grand Rapids chapter of the November Project.
The simplicity of joining those regular workouts, as well as the group's larger fitness events, is part of what those traverbalers, even those in town for business meetings, find appealing, Saka said.
"We'll be out there in any type of weather for a workout of about 30 to 40 minutes, and then you can get on with the rest of your day," Saka said. "It is pretty awesome knowing we are part of a bigger movement, and to just feel welcome wherever we go."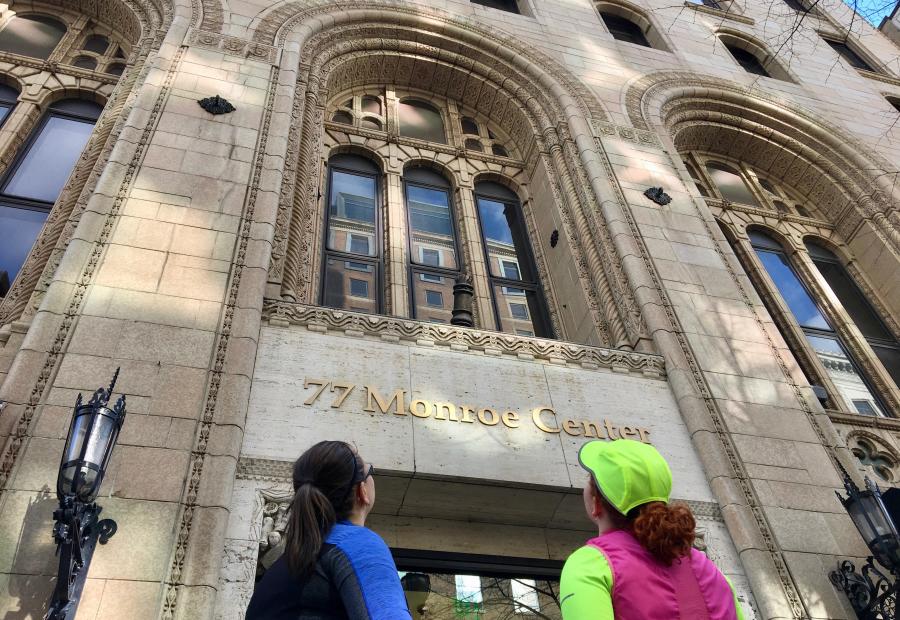 Runners in front of the Monroe Center
Photo by Grand Rapids Running Tours
More group workouts 
For those who can't make it on Wednesday morning, there's another year-round option: The Wednesday Night Hills and Stairs group meets at 6:30 PM every Wednesday at Founders Brewing Company. The 5.5-mile run concludes back at Founders for refreshments.
Other running groups offer a variety of options for visitors who want to keep up their fitness routines. Some focus on helping both experienced and recreational runners maintain their fitness goals, while others combine running with their favorite treat, like bagels or craft beer.
Grand Rapids Running Tours adds a twist by combining fitness with an opportunity for visitors and locals alike to learn about the city. Caroline Cook founded the company in 2014 as a way to combine her two passions, running, and local history. For Cook, there's no better way to learn about a city than on foot.
She now offers more than 40 distinct tours, such as Lapping the Landmarks, African American History on the Grand, and Civil War and the Valley City.
Because each tour has multiple stops and discussions at historic sites, Cook said that keeping pace is not difficult even for inexperienced runners. However, she also offers walking versions, each lasting between 75 and 90 minutes, and even provides narration for bus tours. Most of the tours start from the JW Marriott downtown.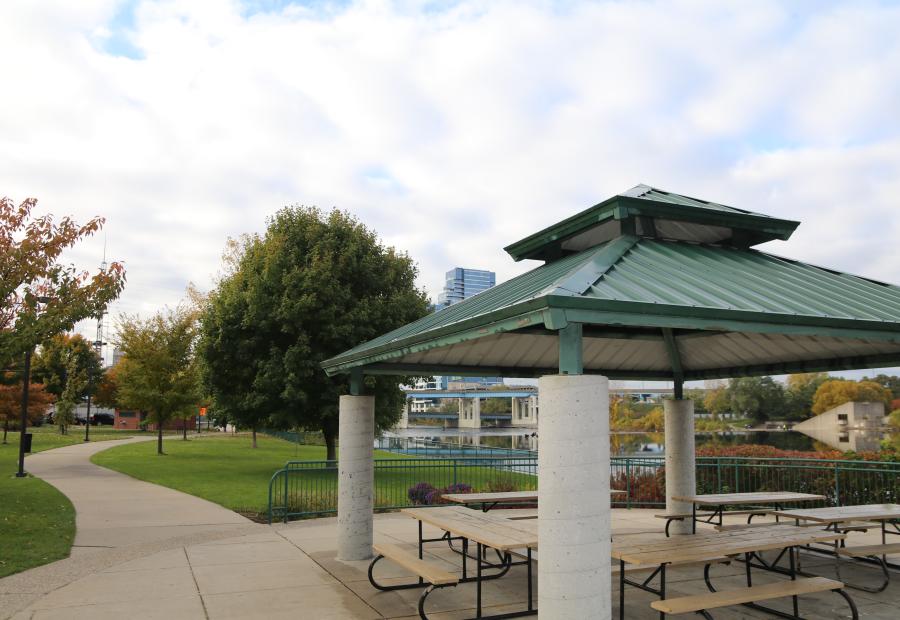 Check out the new fitness stations at Sixth Street Bridge Park and take in views of the river and the city.
Photo by Experience Grand Rapids
Meeting demand with outdoor fitness stations
Outdoor fitness stations are one of the newest upgrades to the city's popular trail system, thanks to a partnership between the city of Grand Rapids and Downtown Grand Rapids Inc.
Following feedback to the city's 2017 Parks & Recreation Master Plan, new exercise equipment has been installed along two popular trails near downtown. Six stations are being installed in Canal and Sixth Street parks, on the Grand River trail in the Monroe North neighborhood.
The equipment includes cross ellipticals, air walkers, hand cyclers, leg and bench presses, pull-up stations, and chest presses. The equipment is designed for durability by Norwell Outdoor Fitness, and users can track their activity on the Norwell Outdoor Fitness App. If the stations prove popular, they may be added to other locations.
Healthy culture
Increasingly, Cook said, conference organizers will seek out ways for attendees to enjoy a healthy activity as part of their visit. 
"People will want a walk before they sit in for a day of meetings," she said. She also noted that visitors will research in advance the opportunities for yoga classes, gyms, or running routes, and Grand Rapids is well-equipped to provide those opportunities.
The region also is home to a highly regarded system of parks and trails.
From what Cook has learned with Grand Rapids Running Tours, people like experiences when they visit a new place. She believes Grand Rapids is well-situated to meet that demand.
"There is always a race," she said. "There are bike trails—we now have the bikes you can rent… and walking paths with accessibility to the trail system. I consider [Grand Rapids] a very health-oriented and active city."
Choose your workout
Additionally, most hotels have fitness centers that can meet visitors' fitness needs. A new hotel, the Embassy Suites by Hilton, even offers a "Five Feet to Fitness" suite, which features a variety of workout equipment right in the room.
Do you have more questions about how Grand Rapids can meet the fitness needs of your health-conscious attendees? The Convention Services Team can help find the best fitness options for your meeting and schedule.