Every meeting planner knows that speaker bureaus can provide you with excellent, well-known speakers for your event. You also know that kind of talent comes with an awfully high price tag. When you need to deliver excellent speakers on a budget, doing a local search can provide big cost-savings.
"I think that the city where a meeting planner hosts a meeting should be the first place a meeting planner looks for speakers," says Janet Korn, Vice President of Marketing with Experience Grand Rapids.
The most obvious reason for using local speakers saves you money is travel budget: you'll cut that typically high expense to virtually nil. In addition, although many local speakers give high-quality presentations they tend to charge significantly less than speakers on the national circuit.
If you're ready to begin a search for local speaking talent, consider these resources:
1. Peer Referral.
It's no surprise that word of mouth is a great way to discover local speakers. If you don't have many colleagues or contacts in the city where your event will take place, Korn suggests you contact the local Convention and Visitors Bureau. "It's likely you're not the first meeting planner searching for ideas," she says.
2. Track Tweets.
In addition to getting recommendations from local friends, keep an eye out on Twitter, LinkedIn and Facebook for interesting stories. When you read an article or see a comment about someone in a related industry who's doing something different or interesting, make a note of it as well as where the person is located. As you plan meetings, you can reach out to people in the locales where your events are located, whose stories are relevant to your event.
3. Hone in on LinkedIn. 
"A simple online search can give you a list of nearby authors or speakers," suggests Korn. You can also use the Advanced People Search function on LinkedIn to narrow the possibilities. Simply enter the keywords you're interested in, include the word speaker, and limit the search range to within 75-100 miles of your conference location. Note: The more LinkedIn contacts you have, the more potential speakers your search will yield.
4. Consider Your Theme.
Where you begin your local speaker search depends on the type of conference you're planning and the theme for the meeting, says Korn. "For example, if the meeting is health-related," she says, "look for a university, pharmaceutical company, or health food manufacturer in the area. You can discover lots of talent simply by reaching out to local organizations like these."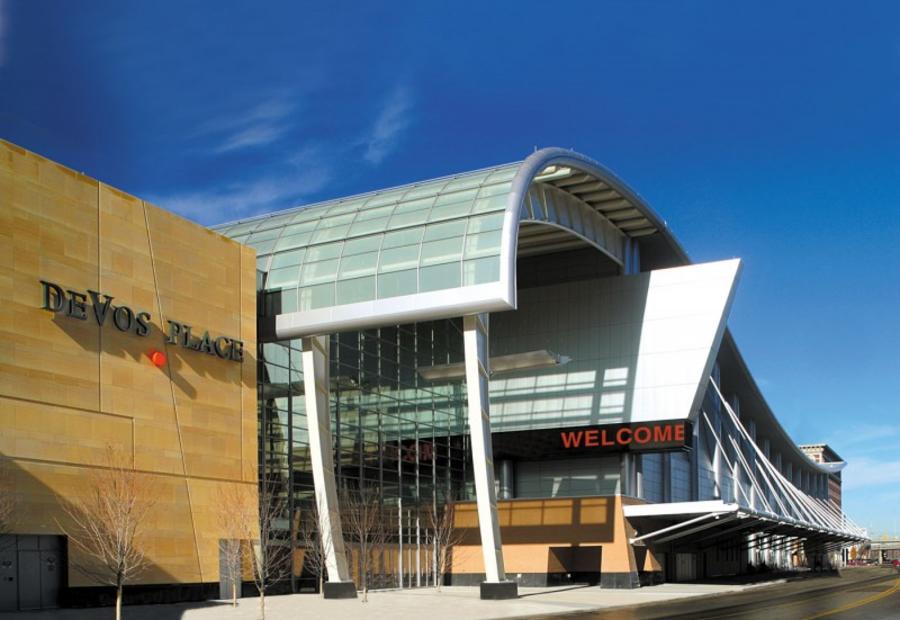 Devos Place Convention Center
Additionally, Kathy Bart, CMP, Director of Sales at DeVos Place, suggests that you contact speakers from other industries whose backgrounds mesh with topics and trends relevant to your attendees. "For example, we see more tech sessions now than we used to," says Bart. "Social media experts can speak at a variety of conferences and tailor their talk to your group."
5. Attendees.
Many attendee lists read like an industry Who's Who. "Tapping well-known attendees as speakers can be a big draw for other attendees," says Bart. "Depending on your budget," she says, "you can offer these well-known speakers full or partial registration in exchange for speaking at a session." In Bart's experience, most people are willing to help out, particularly if they have allegiance to that group.
6. Pool Resources.
Bart suggests talking with colleagues who are planning a meeting or conference in the same area. "If a colleague is hiring a certain speaker and you'd like to hire the same speaker for your event a day or two later," says Bart, "you may be able to share expenses." In this case, you might expand your speaker search a little because you'll be able to split the travel expenses. The speaker may also be willing to charge both of you a reduced fee, since it's convenient for her to give two talks near the same location in such a short amount of time.
7. Give the New Girl (or Guy) a Chance.
"Looking at newer speakers can also be cost effective," says Bart. Speakers who are beginning their careers tend to be extremely prepared and easy to work with because they want to exceed expectations and earn your recommendation. If you're considering a newer speaker, it's always a good idea to check references. Bart says you may also have to work with the speaker a little more on the front end in terms of content and expectations, but it's well worth the lower price tag.
invalid widget [plugins_common_blog_subscription] []