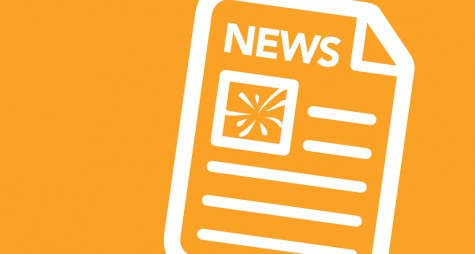 When you think about a traditional meeting, you might picture a large ballroom room at a hotel, brimming with rows of round tables or staid, stack chairs all facing the speaker at the front of the room.
But that may not be the best use of space and design to help attendees get the most from the meeting. The nature of business has changed in the past decade and employees are more mobile and more technologically connected; at the same time, global and collaborative interactions play an increasingly prominent role across industries. These realities don't stop just because people attend a meeting or conference.
At Workspring, a brainchild of Steelcase, they believe in doing meetings differently. With over 100 years of Steelcase research at their disposal, they're redesigning meeting space tailored to the needs of today's workforce. They do so by creating customized meeting environments that they believe are both more effective and more efficient.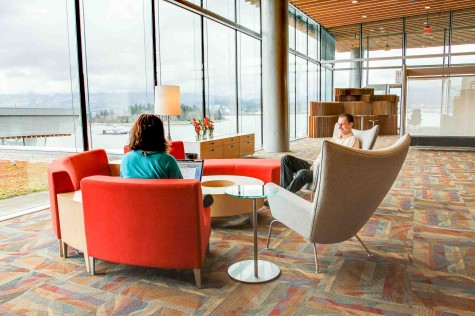 Image courtesy of Workspring Meeting Experiences
Biller works with Tom Condon of T Condon, LLC to design workspaces for clients. Condon says that providing a range of posture options is key. "If you give people a variety of seating styles, from lounge chairs to stack chairs to stools, people can choose what fits their comfort level," Condon explains. For full day or multiple day meetings, he says people may switch things up depending on the time of day, choosing a lounge chair in the morning and something else later in the day. "Their posture is changing," he says, "which helps keep the energy level up. It's a huge difference from sitting in a stack chair all day." Biller says it's also important to think about how people work differently. "You want to provide the right space, for the right people, at the right time," he says.
In addition, using different types of seating can impact attendees' attitudes towards the space. For example, Workspring might provide low seating in the front, like plush leather chairs, and higher, ergonomically designed seating in the back. When the plush leather is in the front row - traditionally the space attendees avoid - suddenly it changes the dynamic of the space. People who would typically head for the back may arrive early to select those premium seats.
There's also an immediate benefit from the visual attendees get when they walk into a Workspring-designed meeting room. Instead of seeing essentially the same set up they've seen at every other conference, they see something brand new. "When people walk in and see what we provide, they kind of do a double take," says Biller. They think, "Wow, they did this for me? They feel valued and, if people feel valued, they're much more likely to focus and bring their 'A' game. You end up creating this system where people want to do their best work."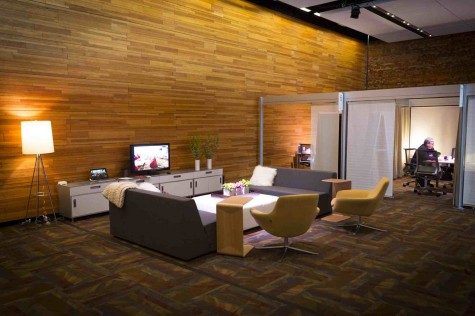 Image courtesy of TED. Photo: Ryan Lash.
Although furniture is certainly a part of this new meeting design, there's more to it than comfy chairs. Biller says their designs are based on research and created to intentionally elicit a positive business response. "This is about much more than furniture," he explains. "Furniture is a part of it, but it's much more about the entire experience and how we make it special."
For example, another component Workspring considers as they design space is how attendees use technology. "We design spaces so that people have a place to write a quick email or take a quick phone call, and then get right back and be engaged," says Biller. They've found that when you design space according to the meeting's objectives and attendees needs, people spend more time in that space. "For some attendees, some of the richest moments can be when they strike up a conversation and make a new connection that will last longer than the conference days," says Condon. "When you think about making a memorable meeting experience, it's not just fitting as much as you can into the schedule, it's also letting those random connections happen."
Condon says that as they work with meeting planners, they also consider how to include activities for attendees. "We look at how we can create an agenda that involves people and gets them up out of their chairs, whether they write on a white board or rearrange their tables into smaller group," says Condon. "Just that action, that involvement, enriches the experiences and also brings energy to the room. It brings people out of their shells and makes the experience that much better."
Implementing these types of changes to meeting space involves implementing the latest concepts based on research and insight culled from experience. "Our ideas have been tested many times," says Biller. "We constantly refresh our space and incorporate new ideas."
If redesigning your meeting space sounds daunting, Workspring makes it look easy without being cost-prohibitive. "When you look at what a meeting costs," says Biller, "the biggest cost is people's time." He says that so many companies worry about the city where they're going to host a conference but when the attendees arrive, they walk into a room that looks similar to every conference room in every city they've ever been to. "We're concerned with where people spend 80 percent of their time," he explains. "What would it mean if a large meeting is able to be a few percent more productive? What if people stay an hour longer? What if people are forging strong connections? What's that worth?" he asks.
From his end, Biller sees the heavy workload meeting planners carry and enjoys collaborating to help design space that helps them meet their objectives. "They call us and trust us with their event," he says. "We handle all of the logistics, all of the installation, and they don't have to worry about a thing. We take care of the back end so people can get down to work and be productive."