When you hear the term "international meeting," your brain might automatically go to large cities like New York City or Los Angeles.
But smaller destinations, like Grand Rapids, Michigan, have a lot to offer meeting planners and their international attendees, including a more personable experience, walkable destinations, and unique, off-the-beaten path attractions.
Sixteen international conferences were booked in Grand Rapids in 2017-2019, showing that the attraction is there, said Kelsey Helstowski, national sales manager for Experience Grand Rapids.
"Some already happened and some are coming in the next couple of years," she said.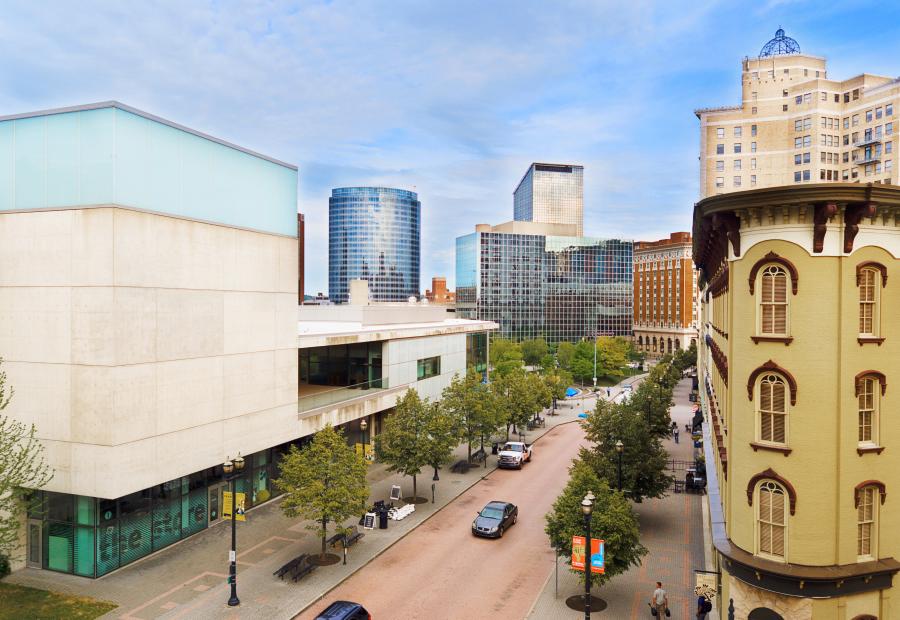 Grand Rapids' Convention Center is centrally located nearby plenty of shops, hotels, restaurants, and activities.
Photo by Grand Rapids Aerial Drone Video - Bradley Scott
Walkability
Walkability is a desirable characteristic for meeting planners and Grand Rapids has more than 100 restaurants within walking distance of the convention campus.
"I think that plays into the value experience for the whole convention," said Tim Nelson, director of convention services for Experience Grand Rapids. "And while some cities have more chain restaurants than any other, we're lucky in the number of locally-owned, independent restaurants we have. We get a lot of comments about it."
The city also features many breweries within walking distance of the city's center, evidence of Grand Rapids' title as Beer City USA.
In addition, many restaurants, breweries, and other downtown venues offer space convenient for off-site gatherings when meeting planners want to take attendees off campus.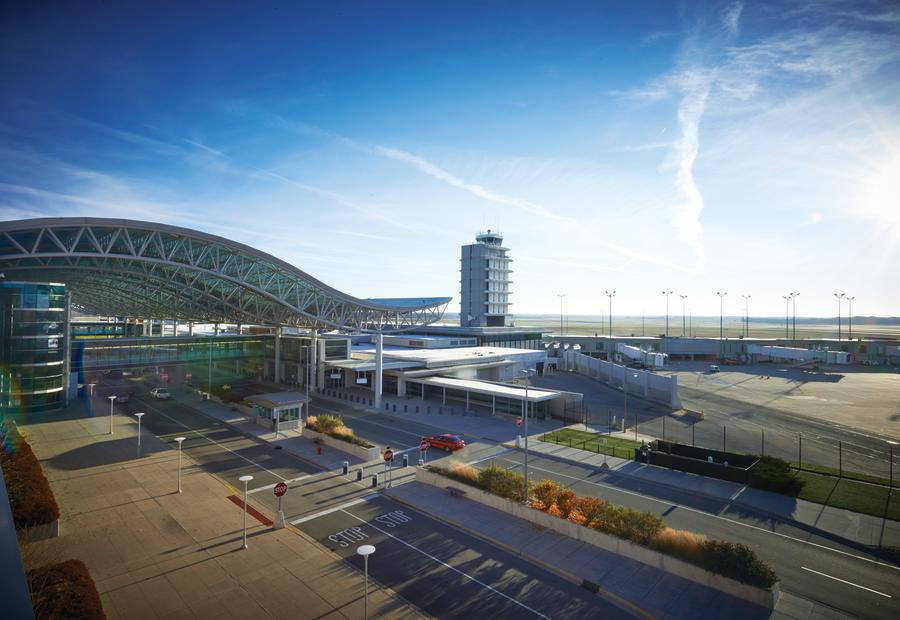 The Gerald R. Ford International airport was ranked the number one airport by size in 2016.
Photo by Experience Grand Rapids
Airlift
Gerald R. Ford International Airport is serviced by six passenger airlines offering over 100 nonstop flights a day to 30+ major market destinations with continuing service available to points around the world.
"As a city, we are really easy to get to," said Kelsey Helstowski, national sales manager for Experience Grand Rapids. "Our airport has great lift, and our proximity to Chicago and Detroit with the heavy international lift they have, that last leg gets you to Grand Rapids very quickly."
The ease of maneuvering the airport helps mitigate tagging on a connecting flight, too. The Gerald R. Ford International Airport recently completed a $45-million renovation that improved food and beverage offerings before and after security and streamlined the security check-in process to greatly reduce wait times.
And work recently started on the second phase of renovations: $18-million in improvements, including more space and automation at passenger check-in and an updated luggage return area.
The airport recorded more than 2.8 million passengers in 2017 - the fifth straight year of record growth - and is on pace to reach the 3 million passenger mark in 2018.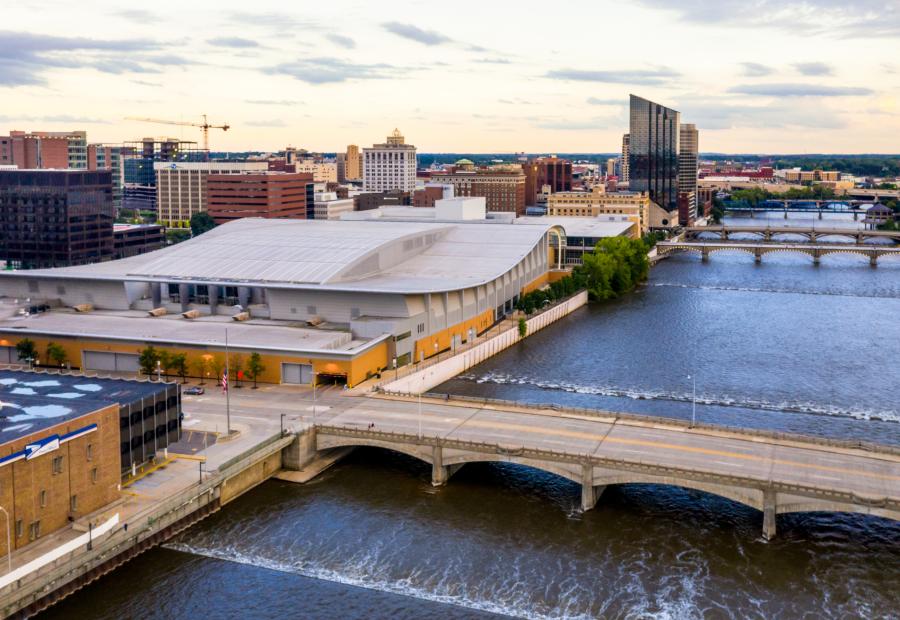 Renovations to the Grand River will increase public spaces and recreational areas along the scenic waterway.
Photo by Experience Grand Rapids
Ground transportation
Downtown Grand Rapids sits at the intersection of two major expressways. It's a 15-minute ride from the airport, a two-in-a-half-hour ride from Detroit and a three-hour ride from Chicago.
For those who prefer riding the rail, Amtrak provides daily rail service between Chicago and Grand Rapids.
The proximity to Chicago and Detroit make it ideal for visitors to tack on a few days at the beginning or end of the conference for that larger city experience. However, Grand Rapids and West Michigan have their own leisure attractions for the person who wants to mix business with pleasure.
Leisure seekers
The Grand River offers plenty of options for recreation, and plans are underway for major improvements to the stretch of the river winding through downtown, including restoring the rapids for paddlers and tubers and adding several public access points.
Lake Michigan is only a 25-minute drive from the city and its beautiful beaches will rival any ocean-front location.
Grand Rapids also offers a variety of museums and other cultural attractions, including the Gerald R. Ford Presidential Museum, John Ball Zoo, and Frederik Meijer Gardens and Sculpture Park. Stop by seven of Grand Rapids' top attractions, and receive discounts to many more, by purchasing a Culture Pass GR!
Attendee love
Michelle Savoie is a certified meeting planner who recently brought the International Association of Emergency Managers to Grand Rapids for its annual conference. As a planner, she prefers locations in major hubs that don't require connecting flights, but she found Grand Rapids had a lot to offer.
"Super friendly and helpful people," she said, highlighting unique offerings like the Grand Rapids Public Museum and the Gerald R. Ford Presidential Museum. "Although not downtown, the Frederik Meijer Gardens & Sculpture Park are spectacular and unique, well worth the visit."
Early feedback she received from attendees was positive, too, and the conference is slated to return to the city in 2021:
"Grand Rapids was a fantastic location for the conference and it should be held there again."

"The city and location of the conference was great. The hotel was beautiful, and all the surrounding amenities were excellent."
For more information on hosting a meeting in Grand Rapids, contact the Experience Grand Rapids team.