For decades, game changing building and revitalization projects driven by strong public-private partnerships have been the hallmark of the Kent County region. Grand Action – or more recently, Grand Action 2.0 – is the private sector organization behind many of these pivotal partnerships. In downtown Grand Rapids – in the heart of Kent County – it's impossible to walk a block or two without standing in the shadow of a project that began as a Grand Action vision.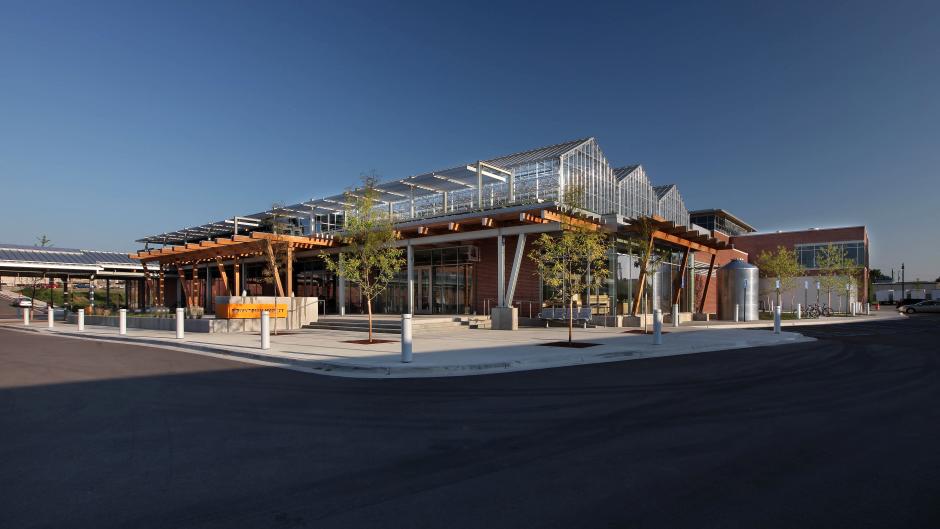 The Downtown Market Grand Rapids is one example of the public-private partnerships fostered by Grand Action.
Photo Credit: Grand Rapids Downtown Market
---
Planning for a stronger future
While the pandemic had an immediate and devastating impact on the West Michigan regional economy, Grand Action 2.0 has always been focused on planning and advocacy for the long-term. They understand that unless community leaders plan now, it will be much more difficult to recover from the impact of the pandemic on our local economy, businesses, workers and residents. 
So, instead of putting the vision cast in 2016 on hold, they engaged CSL International to conduct a Venue and Attraction Development study focused on the feasibility of three recommendations from the 2016 study:
Long-term investment in DeVos Place Convention Center to maintain and enhance its competitive position in the industry.
Development of a new professional soccer and entertainment event stadium.
Development of a new concert and entertainment outdoor event amphitheater.
Experience Grand Rapids, along with dozens of community stakeholders, participated in the study. On behalf of Grand Action 2.0, CSL presented their study findings and recommendations in November 2020, including projecting that these will be some of the most impactful projects ever for our community.  As the Experience Grand Rapids team looks to the future of the convention and visitor industry, we could not agree more.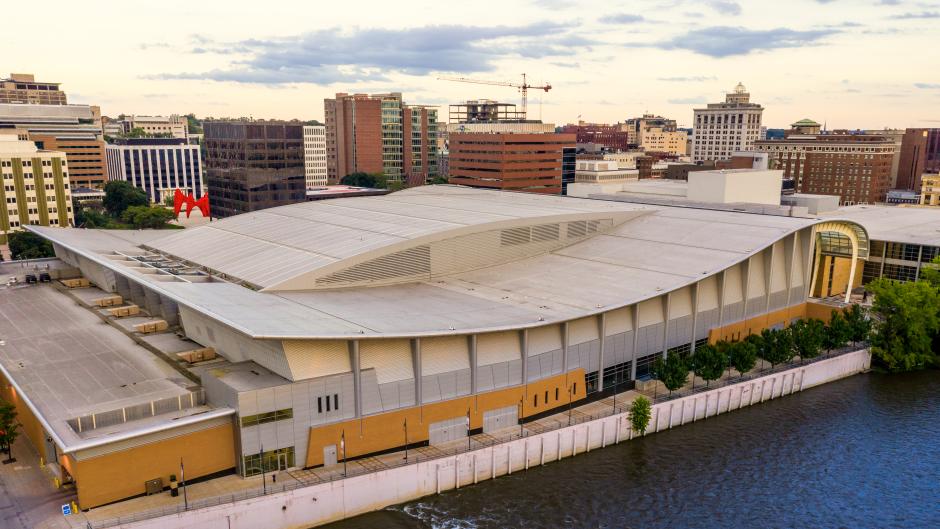 Long term investment of DeVos Place Convention Center will help maintain Grand Rapids' competitive position in the meetings industry.
Photo Credit: Experience Grand Rapids
---
Adapting to new ways of meeting
As Grand Rapids has grown in population, reputation and vibrancy over the years, so has its convention and meetings sector. Though as this sector grows, the available space necessary to house it needs to as well. Opened in 2004, the DeVos Place Convention Center (DPCC) has hosted a wide array of local, regional and national conventions and tradeshows, and its success has become a point of pride for many stakeholders in the community. To maintain and enhance market capture, the CSL study outlined zero to five-year and five-to-10-year investments that focus on various initiatives to address post-COVID-19 conditions and other industry trends.
In the first five years, investments, such as expanded meeting space of 10,000 square feet, would improve DPCC's ranking among its competitive set from fifteenth to sixth. Additionally, enhancing broadcast, streaming and other new technologies will be important as virtual meetings continue to grow during and after the pandemic. Similarly, expansion and the creation of open spaces, including lobbies, concourses and an outdoor event area adjacent to DPCC, are necessary in navigating the post-COVID event industry.
In years five to 10, they recommend the launching of 550 or more new hotel rooms in and around the downtown area to support any future large-scale DPCC expansion, with 300 to 500 of these rooms being attached or adjacent to the facility. In years six through 10, finalization of program targets and expansion of the DPCC could take place, provided market demand and overall occupancies warrant this increase in event space.
Bolstering the economy through professional sports
Interest in professional soccer has seen significant growth in the U.S. in the past several years. Given the size of the Grand Rapids market, and based on the feedback from league officials, the United Soccer League Championship (USLC) classification represents the best fit to maximize Grand Rapids' market potential. While the market currently supports other minor league professional sports, soccer appeals to a broader millennial audience, in addition to the families typically drawn to the affordable entertainment offered by minor league teams.
To secure a USLC franchise for Grand Rapids, an ownership group would need to be identified, with some form of public or private partnership to finance the new stadium. Based on the characteristics of the local market, physical and operational characteristics of comparable USLC stadiums and feedback from project stakeholders and potential users of the venue, the CSL study recommends a stadium with a seating capacity of 7,000, supported by 2,000 parking spaces within walking distance. The stadium would consist of premium and club seats, small group boxes, luxury suites and a variety of stadium amenities.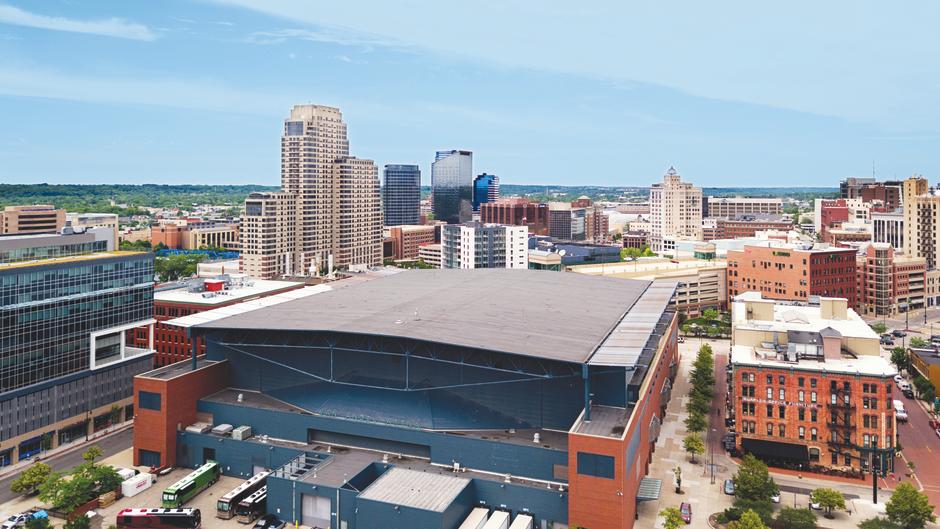 The CSL study recommends adding an outdoor amphitheater to downtown Grand Rapids to complement the indoor capacity of the Van Andel Arena pictured here.
Photo Credit: Experience Grand Rapids
---
Bringing outdoor events and entertainment to Kent County
As Grand Rapids increasingly attracts touring artists and promoters to premier venues including the Van Andel Arena, Frederik Meijer Gardens & Sculpture Park, and DeVos Performance Hall, local stakeholders have noticed a gap in the local live performance venue infrastructure. This has forced large outdoor-specific tours to bypass the market due to the lack of a large, modern amphitheater venue.
Results of a comprehensive market research study estimate that a new amphitheater in downtown Grand Rapids could attract approximately 29 concerts with 223,000 attendees and 14 other events with 38,500 attendees annually. Other events could include community events, comedy shows and performances. Events would cater to a broad audience, reflective of the diverse cultures, ages and musical tastes of the entire community.
Based on characteristics of the local market, feedback from project stakeholders and potential user groups, and estimated amphitheater utilization, the CSL study recommends building an amphitheater with a seating capacity of 12,000. Modern amenities and premium seating would be available along with 3,000 parking spaces within walking distance to the venue. The group, along with public sector partners, have identified underutilized property along the city's namesake Grand River as the likely location.
The study lays out recommendations for more than just an amphitheater. It illustrates an opportunity for the venue to also host a variety of community amenities and attractions. These projects could include outdoor adventure space such as rock walls and rope courses, green space, urban water features and cultural spaces.
As a next step, Grand Action 2.0 has retained international urban planning and design firm Populus and partner Progressive AE, a national design firm based in Grand Rapids, to present designs for the dramatic riverfront development the group envisions for Grand Rapids.
Ambitious development leads to economic prosperity
Just like Grand Action 2.0, we're confident in West Michigan's economic recovery from the pandemic and see long-term, visionary investments as a key to ensuring our region continues to grow and thrive. Our community must look forward to the future of arts, conventions and entertainment to best maximize the potential of Grand Rapids' tourism and event industry.
The development of these key recommendations will enhance quality of life for West Michigan residents and workers, create jobs and attract business and talent to the region. As with anything Grand Action 2.0 does, public-private partnerships will be key to these developments. While the organization identifies opportunities and secures private investment up front, each of the projects will require public sector leadership and investment.
Our community's economic recovery will be dependent, in large part, on the public and private sector's readiness to take bold steps that stimulate growth, investment and employment. Fortunately, Grand Action 2.0 has outlined an ambitious path to follow. Experience Grand Rapids looks forward to supporting this journey, and we are confident it will elevate Grand Rapids as a national and international destination.
Don't miss a post!
Sign-up for the Meeting Minds Blog