The Grand Rapids food scene is now home to a James Beard award-winning chef as Paul Berglund assumes the executive chef duties at Mertens Prime, a downtown restaurant serving classic French cuisine and premium steaks and chops.
Berglund earned his "Best Chef: Midwest" award from James Beard Foundation in 2016 for culinary creations at The Bachelor Farmer in Minneapolis. (He was nominated for the same award in 2014 and 2015.)  He served as executive chef there since it opened in 2011, helping to craft its Northern European menu inspired by local ingredients.
Embracing West Michigan's Rich Agriculture
But the team at Mertens didn't have to lure him away to make him part of their team. Berglund and his wife, Dr. Tia Chakraborty, chose to move to Grand Rapids last year when Dr. Chakraborty accepted a job as a neurointensivist at Spectrum Health after she finished her residency and fellowship at Mayo Clinic.
Impressed by the food scene in Grand Rapids, Berglund was ready to go out on his own doing private events, teaching cooking classes and writing food blogs.
"Western Michigan is just an amazing place to be, from a food standpoint," Berglund said. "When I went to the farmers market and saw the first peaches, I was just overjoyed because peaches don't grow in Minnesota.
"To eat a ripe, locally grown peach made my heart sing."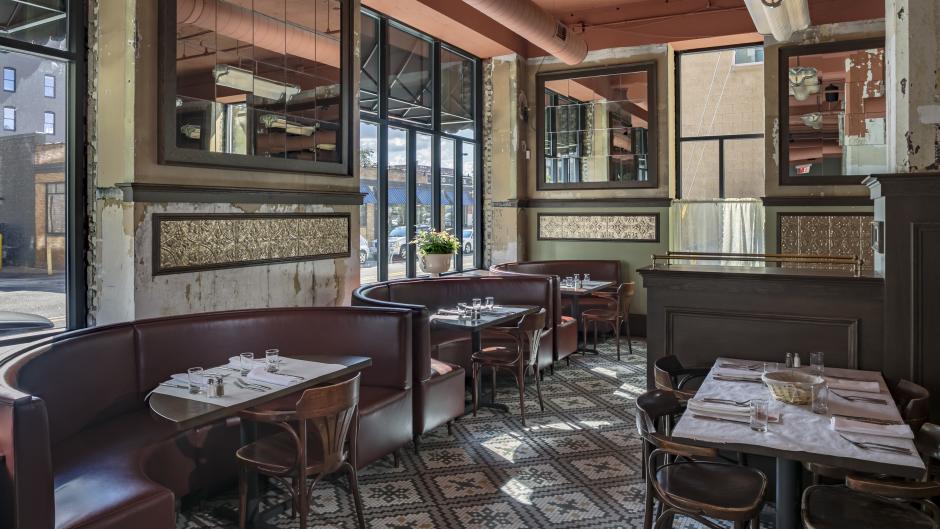 Merterns Prime, where Berglund will serve as executive chef, opened in 2017 in the restored lobby and dining room of the historic New Hotel Mertens.
Photo Credit: Provided by Mertens Hospitality
---
Finding Opportunity Amidst Change
The effect of the coronavirus prevented his plan A from taking off, but then plan B came along.
"Even before I moved here, Mertens was on my radar," he said, describing the research he did when he and his wife were planning their move. "It's a place that draws you in, even from a distance, because it's really beautiful."
Berglund said it was apparent that the restaurant, which opened in 2017 in the restored lobby and dining room of a former 1914 hotel, was created with a lot of thought and intention.
"I thought it would be worth getting in touch with the people that created the space, just to hear what their thought process was," he said. "They have a wonderful management team. They have a lot of ambition to contribute to the Grand Rapids dining scene in a real positive way."
Berglund said those ambitions match his own. "The Grand Rapids restaurant community has received its due national attention in recent years, and I am very excited to have the opportunity to contribute to the momentum the local area has generated."​
Anthony Tangorra, managing member and restaurant director at Mertens Hospitality, which includes Mertens Rooftop, Cafe Mertens, 9th St. Steaks and Mertens Prime, all operating out of the same building, said they're excited to have Berglund bring his expertise to the Grand Rapids food scene.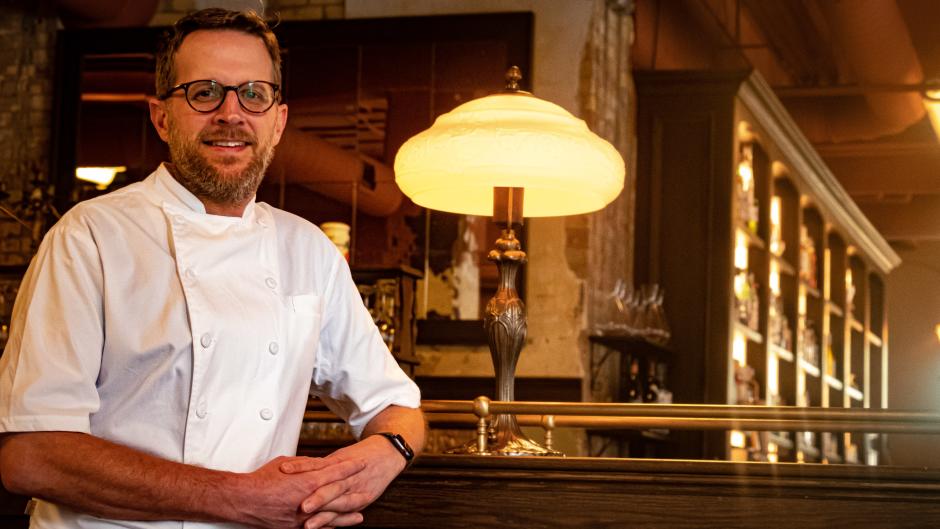 Berglund considers West Michigan "an amazing place to be, from a food standpoint."
Photo Credit: Provided by Mertens Hospitality
---
Growing the Grand Rapids Food Tourism Scene
James Beard Awards are the industry's highest honor, often said to be the Oscars of the culinary world. When Berglund and his wife made the move to Grand Rapids and he accepted the job at Mertens, he became the only James Beard Award best chef winner working at a restaurant in the state, Tangorra said.
"That is a reason to come see Grand Rapids," he said. "There are so many food tourists that go to Chicago, some to Detroit, but there are reasons to come to Grand Rapids, as well, and those reasons are building and building and building."
Tangorra said when he and his family moved to West Michigan in 2015, it was exciting to see the well-established beer industry attract visitors to Beer City.
"Since then, they come to taste our distilleries and spirits," he said. "And more and more they are coming to taste our food at our restaurants with the amazing chefs we have cooking around the city. Paul is one more reason."
Berglund's addition to the restaurant community has triggered enthusiasm in other parts of the Grand Rapids hospitality industry, too.
"Adding a nationally-recognized chef of Paul Berglund's caliber to our already-vibrant restaurant community is a huge win for Grand Rapids," Mayor Rosalynn Bliss said. "We welcome Paul with open arms and look forward to attracting visitors to Grand Rapids to explore his cooking among the many outstanding restaurants throughout our city."
Experience Grand Rapids CEO Doug Small said having a James Beard award winner contributing to the local culinary scene is great news for the city as it emerges from the challenges of the past year.
"We welcome Paul to our city and look forward to working together to bring more diners throughout the state and beyond back to the world-class restaurant and beverage offerings of downtown Grand Rapids," he said.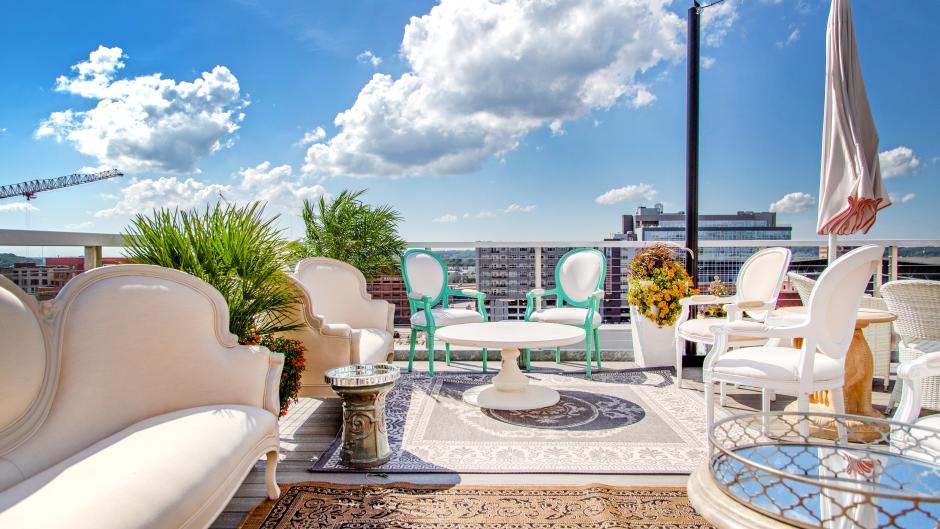 In addition to Mertens Prime, Chef Berglund will oversee the menus at Mertens Rooftop (pictured above), Cafe Mertens and 9th St. Steaks.
Photo Credit: Provided by Mertens Hospitality
---
Cultivating New Flavors
While Cafe Mertens and 9th St. Steaks are open for takeout, Mertens Prime suspended takeout service while Berglund works on the menu and perfects his dishes in preparation for the return of indoor dining. (See the Travel Updates and Openings page for details on indoor dining.) Berglund will also oversee the menu at each of these establishments as well as the menu of Mertens Rooftop, an outdoor venue that is open seasonally.  
"He's developing a menu that is designed to have him bring out his own talent and creativity within the expansive world of French cuisine and premium steaks and chops that is Mertens Prime," Tangorra said.
Berglund did not attend culinary school, but he calls himself a lifelong "student of food." He grew up in Missouri and graduated from the University of Michigan where his interests ensured he was eating way better than ramen noodles and mac 'n' cheese while cooking for himself.
He spent a year of college living in Spain. After graduation he joined the Navy and traveled, living in Japan and trekking through Peru and Argentina "sampling empanadas all along the way."
He got his first real culinary job and his true on-the-job training at Oliveto, a critically acclaimed restaurant in Oakland, California. He was taught classical Italian cooking, starting as line cook and moving up to chef de cuisine. "I learned from really exceptional teachers in a really great place," he said.
His love of local ingredients was fostered at The Bachelor Farmer and he plans to employ that at Mertens Prime, too.
"I love eating locally and there are a lot of restaurants here that have that as a value, and it's great to be able to contribute to that," he said.
Don't miss a post!
Sign-up for the Meeting Minds Blog