Considering a theme party for your next meeting? Maybe a luau or an under-the-sea adventure? Veteran event planner Amy Young, CMP, has one thing to say: Go big, or go home.
"If you're going to do it, you've got to really do it," said Young, co-owner of Grand Connection in Grand Rapids. "If you don't do it right and go full on, it's going to get lost on the attendees."
If you're going to do it, you've got to really do it.
We all know theme parties have been a staple of meetings and conferences for years, but Young said the plethora of savvy vendors offering themed party kits a party in a box, if you will -- has made them much more cost effective. If you want a unique party with original decorations, however, it will undoubtedly cost more. But creative event planners can find budget-friendly ways to pull it off, she said. "We just did a decades party. We went to a prop house and put together the event," she said. "We worked hard to put that together, but the pieces existed so we did it for a great price. And it was unique."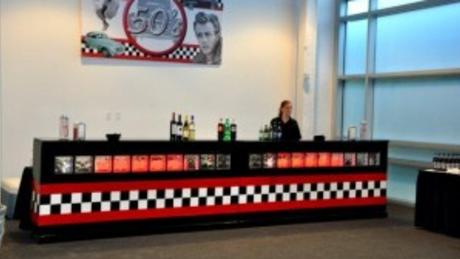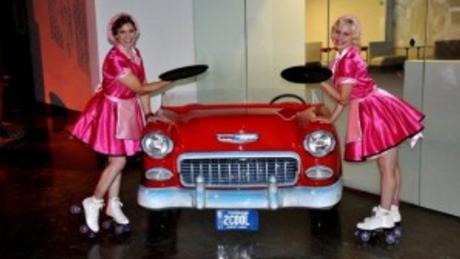 ---
For an event highlighting Michigan's tourism industry she was asked to create a Michigan beach party on an extremely frugal budget. You may think: Beach themes are easy. But she couldnt use palm trees and seashells. They're hard to come by in Michigan.
So she strung hammocks from the posts in the Amway Grand Plaza's ballroom and filled them with beach balls. And she had beach umbrellas and other beach furniture from a local store for the cost of delivery plus a sponsorship sign. She got the job done right and within budget, she said. Other places for unique decorations? Antique stores, Pier 1, World Market, Meijer, Target, record stores and even dollar stores.
Before you get to the decorations, however, you've got to choose a theme. Young suggests starting with the event itself.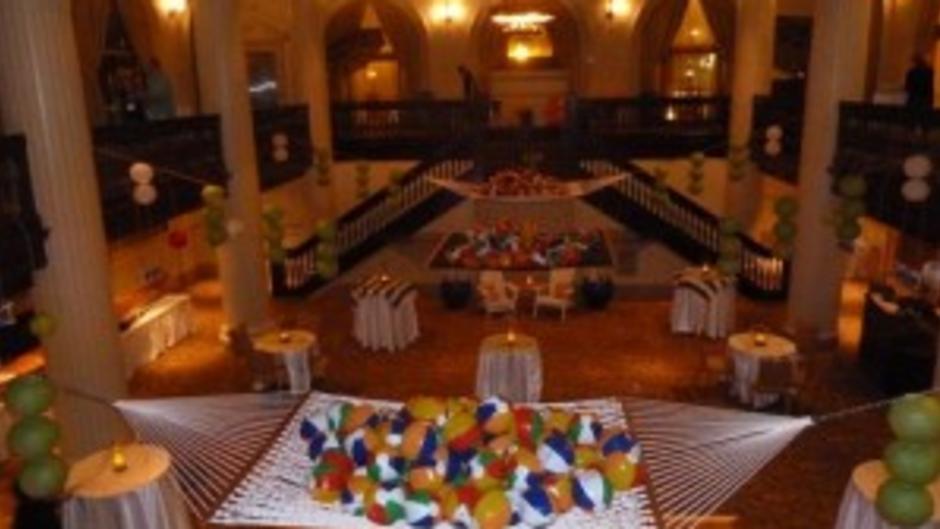 ---
"You could tie it into the message of the conference or meeting," she said. "We had a sales meeting where the theme was Street Smarts, so we went with that and had bikers and motorcycles."
Aside from event, the possibilities are endless: international, old Havana night, the Wild West, patriotic, the tropics, a safari, the Silver Screen, magic, Motown, sports, futuristic, pirates, you name it.
Or keep it simple with a color theme: a red party or black and white party.
"Those types of events are the most cost effective, because you're asking your attendees to be your decoration," she said.
And it might be easier to get attendee participation with a color theme than with a safari night.
"You've got to know your crowd," she said.
Whether it's a themed party or not, Young's second most important piece of advice is: Don't skimp on the food.
One way to save money there is to use the food as a decoration: "Serve the meal family style," she said, "letting the dishes take the place of costly floral centerpieces."
"People can have the dinner they want without going to a buffet," she said. "It feels more intimate."
The decorations could be eye-popping and spectacular, but if the meal was skimpy or the meat dry, guess what the attendees will remember?
"People will complain about the food," she said.
We posted a few pictures of Youngs work here, but if you want to see more, check out her blog blog.grandconnection.com or follow her on twitter: @GrandConnection. https://twitter.com/GrandConnection
Don't miss a post!
Sign-up for the Meeting Minds Blog