Tools like Twitter, Facebook, and LinkedIn provide a perfect opportunity to help your meeting's attendees connect with one other and promote meetings before, during, and after the actual event, when they're most excited and engaged. It's essential, though, to have a solid social media game plan in order to effectively harness to power of these tools.
If you're pondering how to make your next meeting much more Tweetable and "like"-able, consider these 5 Tips That Make It Easy for Meeting Attendees to Share Their Experiences:
Create a social media strategy.
Your event needs a Twitter hashtag, its own Facebook page, and a LinkedIn group page. Beyond that, you may want to consider:
Creating an informative and fun YouTube video to educate and engage attendees before your meeting begins.
Setting up meeting locations within Foursquare (the popular and free location app) so attendees can share which session or event they're attending during the meeting.
Creating conference badges attendees can share on their Facebook page or blog.
Communicate ahead of time.
Your social media plan will be most effective when attendees get onboard from the start. Be sure to identify a few key people who will be tweeting about the conference and share their Twitter handles regularly, so attendees can begin to follow the buzz. Use Facebook to disseminate new information and build excitement about speakers or giveaways. Most importantly, be sure attendees know the above information (Twitter hashtag, Facebook page, LinkedIn group page) long before they set foot in the building.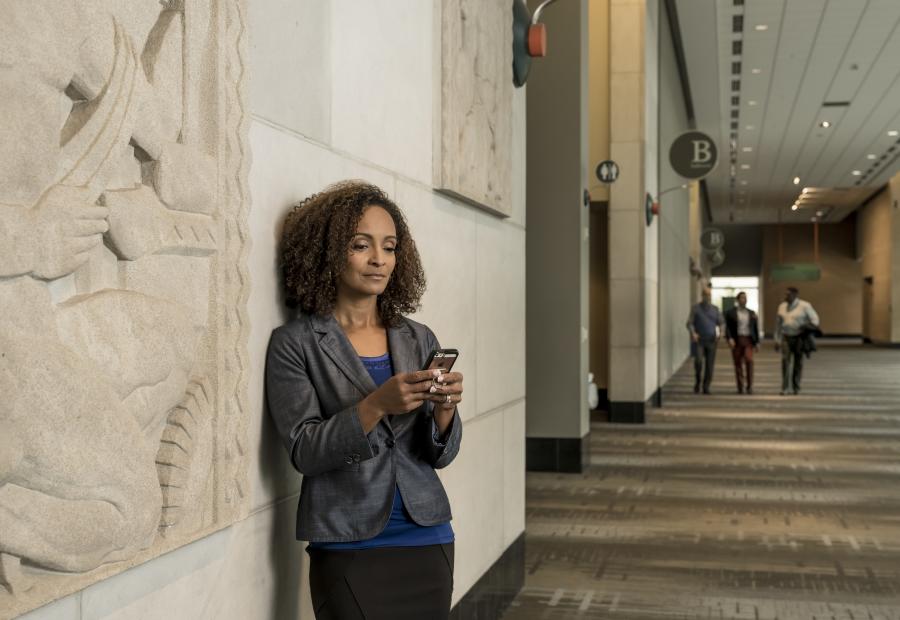 Twitter has become an essential tool for building buzz and connecting with attendees before and after your event.
Photo by Brian Kelly Photography
A pictures worth a thousand words.
Encourage attendees to post business-appropriate photos from meals and social events using social media. If you'd prefer more control, you can also set up an email address to aggregate the photos and ask attendees send them to the designated email address. You can then share them via your Facebook page or a photo-sharing site, like Flickr.
There's an app for that.
More and more planners are creating specialized apps specifically for their conference or other event. Price varies dramatically, depending on the depth and breadth of information you provide. Creating an app gives attendees instant mobile access to conference information, including session information, conference room locations, etc. It can also make it easier for attendees to tweet, blog, or use Facebook to share their experiences.
Give them Twitter-ready sound bites.
Attendees who love to tweet are limited to 140 characters. However, brevity and summing up big ideas in short phrases-- doesn't come naturally to many of us. Consider sharing a few nuggets of wisdom during each session that are easy for attendees to tweet. Again, be sure you've identified a hashtag for your event so attendees (and wanna-be-attendees, who may come next year) can easily follow along.
Do you have other suggestions for helping attendees share event information using social media?
invalid widget [plugins_common_blog_subscription] []