When the Ann Arbor CVB decided to dedicate $500,000 in funds to a partnership with Pure Michigan, they knew they'd reap dividends. They just didn't realize the page views for the Washtenaw County portion of the Pure Michigan page would jump 72 percent in the first year. Or that they'd see an increase in both their hotel occupancy and daily average room rate. The CVB is thrilled with its ROI and has doubled its investment for 2013, committing $1 million to the campaign.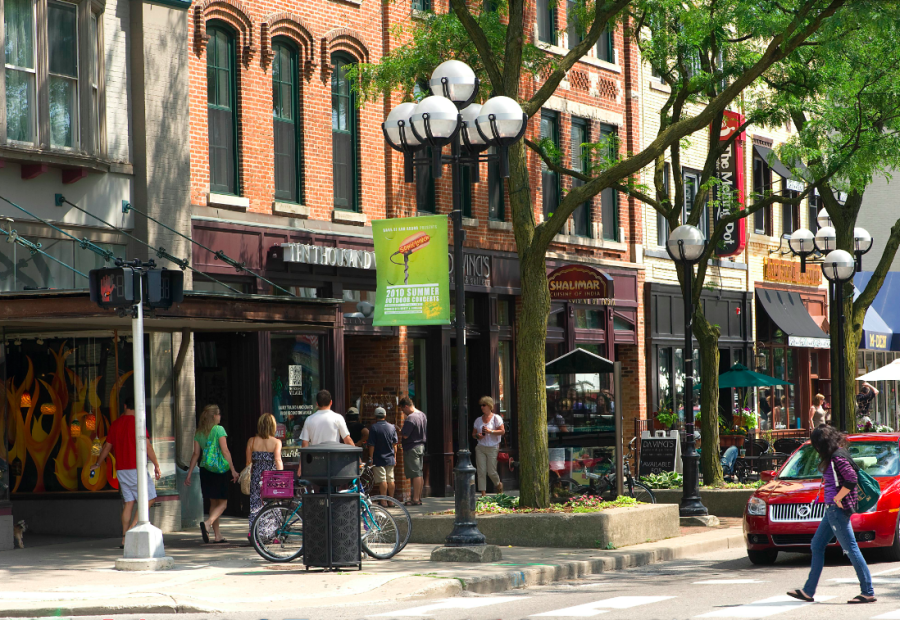 Downtown Ann Arbor
Photo by VisitAnnArbor.org
Its not just their website and hotels that have seen a boost - the national campaign is drawing more groups to Ann Arbor, too. Dennis Doyle, Executive Vice President of Sales and Marketing for the Ann Arbor CVB explains that being a part of the Pure Michigan brand helps Ann Arbor to stand out from a cold call standpoint, which is a boon for their sales staff. "We don't even have to try to sell the destination," he says. "It's already sold. Everybody loves that campaign."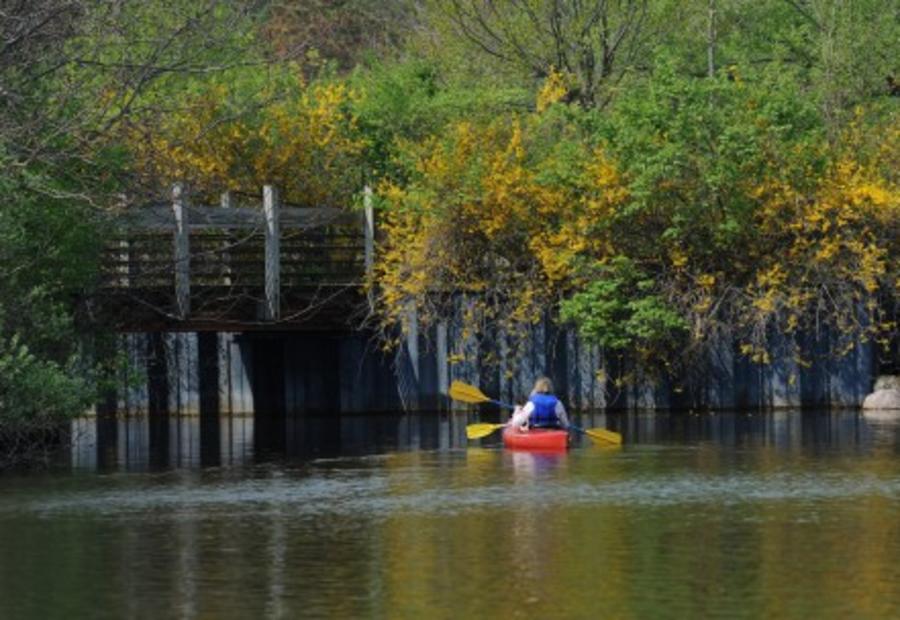 Kayaking in Ann Arbor
Photo by VisitAnnArbor.org
Because Ann Arbor is one of five national partners with Pure Michigan, its commercial runs in runs in larger cities, like Washington D.C., New York, Los Angeles, and Chicago. At a recent industry trade show, one of the first things the sales staff heard from a meeting planner was, "We saw your commercial on Ann Arbor and we love it. We're considering coming there with our group."
Doyle says that those large markets are too pricey for the Ann Arbor CVB to advertise in on a standalone basis. But the partnership with Pure Michigan allows them to reach more people with fewer dollars. In addition to the Ann Arbor TV commercials, which will air 720 times this year on 12 national cable networks, Ann Arbor is featured on every page of the Pure Michigan website. The CVB also includes informational articles in Pure Michigan's email newsletter, which Doyle says reaches meeting planners as well as tourists.
When the Ann Arbor CVB decided to partner with Pure Michigan they anticipated increased website interest so they developed and added several microsites, including a Meeting Planners site. Doyle says that investment has paid off. "We get three to four leads a week through our meetings micro site."
Across the state, Grand Rapids CVB (Experience Grand Rapids) has joined the Pure Michigan national campaign this year, too, with an initial investment of $500,000. They hope the partnership will help elevate the sense of place and communicate the Grand Rapids experience. "The time is right for us to talk to a national audience," says Janet Korn, Vice President of Marketing for Experience Grand Rapids. "Grand Rapids has many stories of innovation and entrepreneurship. There's a sense of momentum here. The time is right."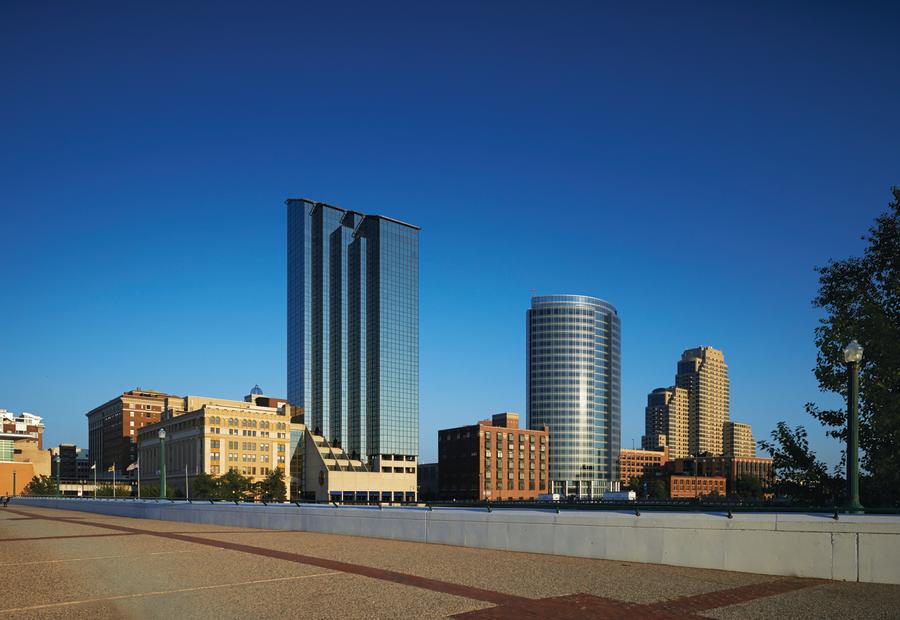 Downtown Grand Rapids, Michigan
Korn believes that sharing Grand Rapids sense of place will help with all stages of meetings recruitment, including making meeting planners more aware of what Grand Rapids offers, increasing desirability, and giving meeting planners confidence that their attendees will want to come to events there. "What we discover one hundred percent of the time," says Korn, "is that when we introduce new people to Grand Rapids for the first time they are always impressed."
"Creating a sense of place and building awareness of a city doesn't happen overnight," says Korn. She expects their ROI to be realized over a period of time. "This isn't like a coupon you redeem," she explains, "it's a long-term strategy of changing the awareness of Grand Rapids and what it has to offer."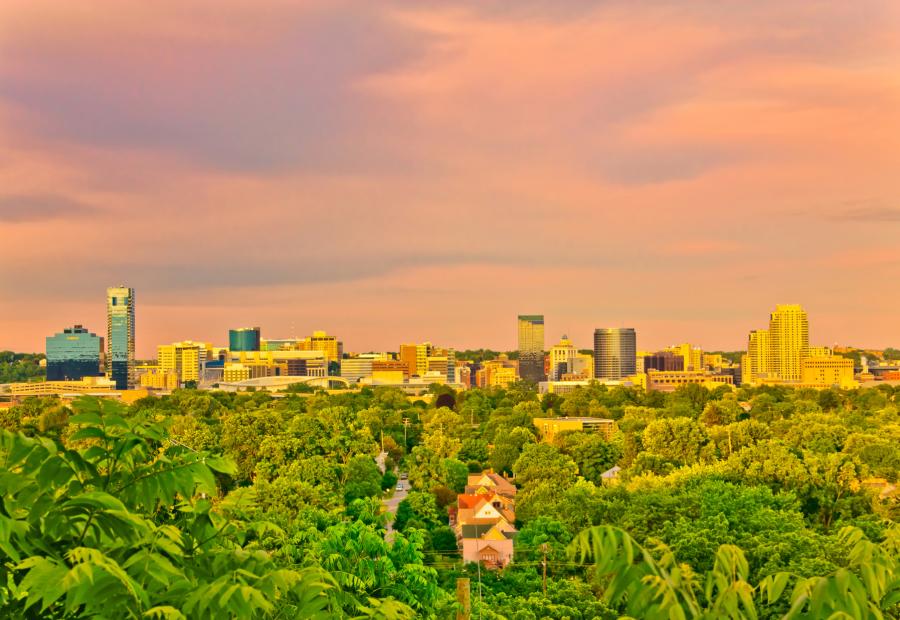 Grand Rapids is a growing city surrounded by nature.
Photo by Bryan Kelly
Like Ann Arbor, their new national partnership with Pure Michigan means TV commercials about Grand Rapids will air on multiple cable stations in large markets throughout the nation. Korn thinks using TV as a medium is key because its visual, which makes it easier for people to grasp the sense of place they're trying to communicate.
"Grand Rapids has a nice infrastructure, quality shops, produce, amazing art and culture, great food, wonderful entertainment, and kind, sincere people that live here," she says. Korn believes that partnering with the Pure Michigan campaign will help convey these assets and convince meeting planners to consider Grand Rapids to host their next meeting. One of the benefits of the campaign, she says, is that Travel Michigan is sharing the Pure Michigan umbrella brand. They're endorsing Grand Rapids as part of the Pure Michigan experience.
If Grand Rapids experience is similar to Ann Arbor's, Korn can expect only good things. "Our clients love it, our stakeholders love it, our hotels love it," says Doyle. "There's nothing bad anyone can say about the Pure Michigan campaign. It's an award winning campaign and we're proud to be part of it."
invalid widget [plugins_common_blog_subscription] []