Meeting planners coming to Grand Rapids with off-site functions have a great option for moving attendees west from downtown hotels: a free downtown area shuttle, commonly referred to as DASH. Part of The Rapid's transit system, the DASH West route is convenient for transportation to and from meetings and events, as well as simply exploring the city's West Side neighborhood.
While Grand Rapids is highly walkable and many restaurants, attractions, and venues can be reached in less than 10 minutes on foot from the convention campus, the DASH bus makes traveling throughout downtown that much easier, quicker, and more accessible.
The Basics: How to ride the DASH
Look for the pink and hop on!
The iconic pink buses trace through the city's downtown neighborhoods picking up passengers from designated stops every eight minutes during peak times. No tickets or fare are necessary. A reliable form of transportation for all visitors, all shuttles can accommodate bikes, strollers, and wheelchairs.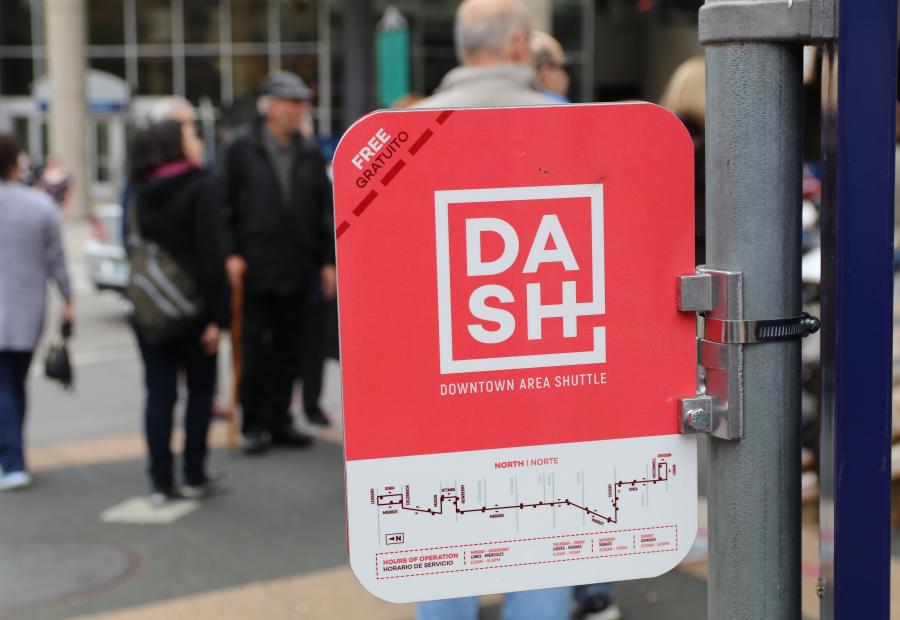 DASH sign
Photo by Experience Grand Rapids
How do I know where and when to stop?
Grand Rapids' transit system offers resources to make the DASH easy to ride, even for visitors. The DASH is served by two apps -- Transit and myStop -- both available for iOS or Android devices. Each app tracks individual shuttles in real time so you can see when it's close to your stop.
DASH maps are also often included in conference materials or on the conference websites, and Experience Grand Rapids provides a kiosk advertising the service at your event, but you can also view them on the transit apps or online. Use the app or a DASH map to find the closest stop to your destination.
How does the driver know I need to stop?
While riding the DASH, pull the cord at least a block away from your stop to let the driver know you need to exit. If you're not sure where your stop is, the DASH drivers are happy to assist.
To help the bus run smoothly, when you enter the bus, use the front door. Then when you exit, hop out through the back door!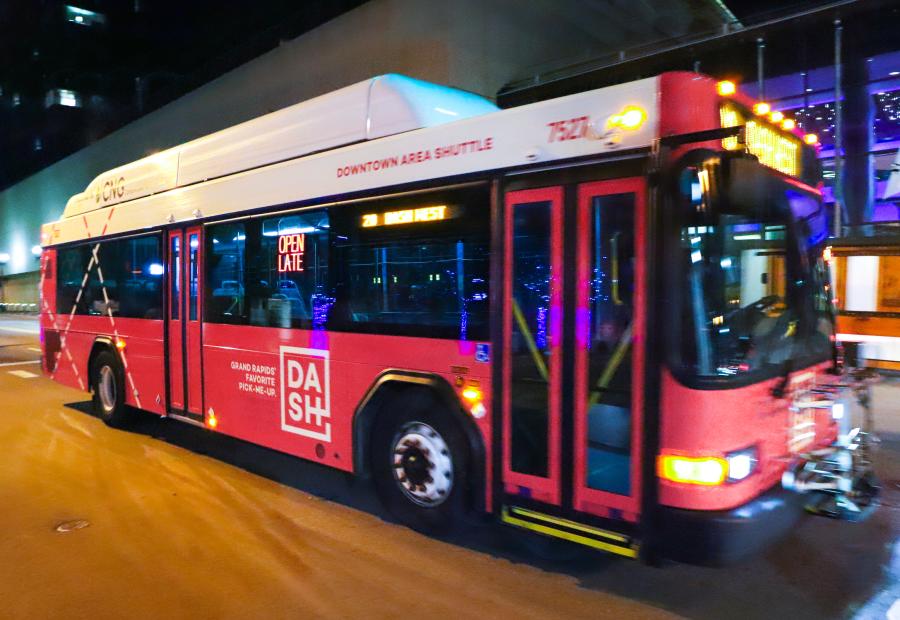 You can count on reliable transportation starting earlier and ending later, thanks to the DASH's extended availability.
Photo by Experience Grand Rapids
When can I take the DASH?
DASH recently extended its hours, making it a convenient option for traveling to breakfast, lunch, and dinner or for getting around during a night out on the town. Buses run from 6:30 AM - 10:30 PM Monday to Wednesday, 6:30 AM - 1 AM Thursday to Friday, 10 AM - 1 AM on Saturday, and 10 AM - 8 PM on Sunday.
DASH West destinations
The DASH offers four routes, but if you're looking to travel through Monroe Center or the Heartside and West Side areas of Grand Rapids, take a trip on the DASH North route.
You can access venues like Van Andel Arena from the DASH West route.
Photo by Bradley Scott - Grand Rapids Aerial Drone Video
Amenities and attractions
The DASH West route is ideal for people headed to businesses or attractions near Van Andel Arena to the south, including Studio Park, which is currently under construction and slated to open in fall 2019.
The new entertainment complex will feature restaurants, a movie theater, music venues, and an outdoor piazza -- perfect for off-site meetings or functions when conventions and conferences come to town.
Right off of DASH West stops, you can also access Rosa Parks Circle in the heart of downtown, as well as the David D. Hunting YMCA on the west side of town.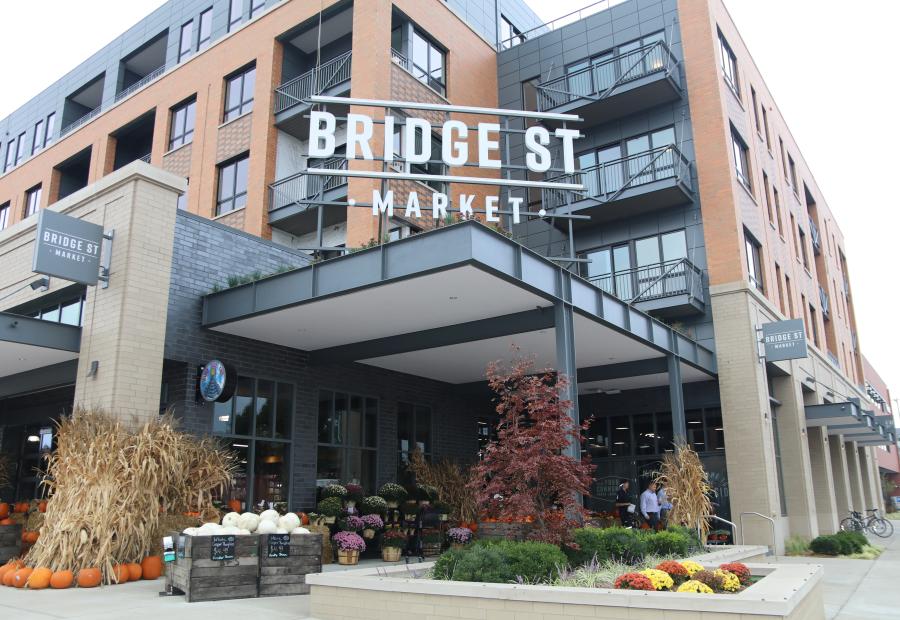 Take the DASH West to Bridge Street Market, where you can sit down for coffee, enjoy a meal, or grab food for later.
Photo by Experience Grand Rapids
Additional Dining and Restaurants
"For attendees at the convention campus who are on their own for lunch or dinner, the DASH stops are literally right outside their door," said Brandy McCallum, convention services manager for Experience Grand Rapids. "The routes really open the city up for them in every direction."
The DASH West route also winds around Grand Rapids' West Side neighborhood, which has its own draws, including breweries, bars, restaurants, and Bridge St. Market, a new grocery store serving downtown residents.
"Before the Bridge St. Market came around, there really wasn't a grocery store that was easy to get to in order to grab cost-effective items that you may have left at home," McCallum said. "The DASH has made that accessible, as well."
More information
Riding the DASH is easy for locals and visitors alike, but if you have questions, always feel free to ask the bus operator for assistance. They know the routes inside and out, and they're always willing to help.
To see more amenities and attractions along the DASH West Route view this previously published blog.
For more information on hosting an upcoming event in Grand Rapids, contact the Convention Services Team.
invalid widget [plugins_common_blog_subscription] []