It's always a bonus for meeting planners and attendees when a host city for their annual conference or convention has a great, easy-to-use transit system. Grand Rapids, Michigan, certainly fits that bill.
DASH, the downtown area shuttle service, is absolutely free and can take you within a few steps of most of the city's attractions. Take the DASH to breweries, restaurants, hotels, and more from the northern edge of downtown all the way to the Downtown Market at the southern end.
"[The DASH] connects so much more of the downtown community, so something that may not have seemed walkable before is now more attractive and accessible," said Brandy McCallum, convention services manager for Experience Grand Rapids.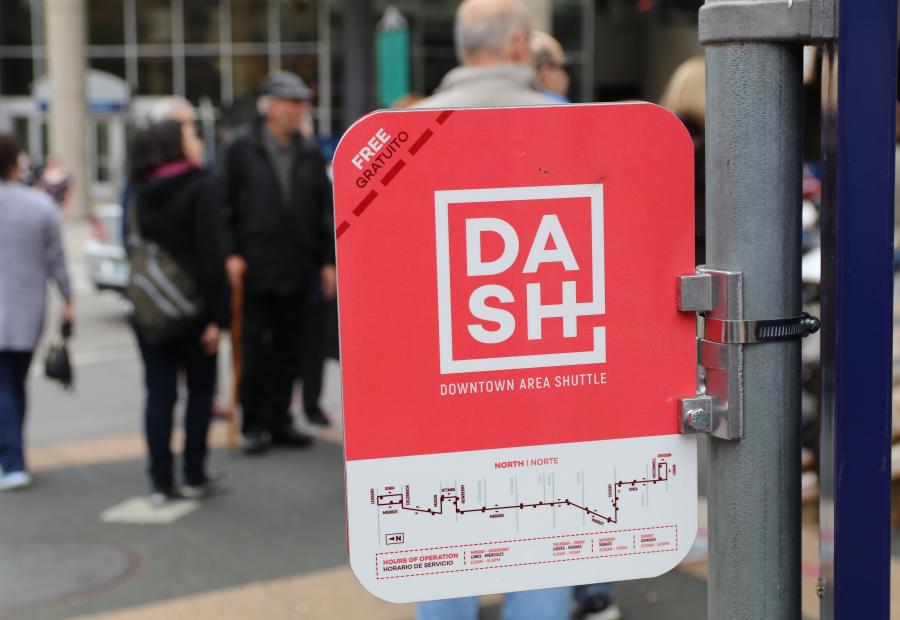 DASH sign
Photo by Experience Grand Rapids
The Basics: How to ride the DASH
Just hop on: It's that easy!
DASH features recognizable pink shuttles that pick up passengers every eight minutes during peak times. No tickets or vouchers are necessary. Just hop on at one of the many DASH stops across the city, and get off at the DASH stop that's closest to your destination. All DASH shuttles accommodate bikes, strollers, and wheelchairs, making this is a reliable form of transportation for all visitors.
DASH buses and additional public transportation services in Grand Rapids are served by two mobile apps: Transit and myStop. Both mobile apps are available for iOS or Android devices, tracks individual shuttles in real-time, so riders can see when it's close to your stop and which stop is closest to your destination.
"The DASH stops are well marked and the shuttles are easy to use, even for visitors or those who don't usually use public transportation," said Lisa Young, communications manager at The Rapid, which partners with the City of Grand Rapids to offer the shuttle service. "Riding the DASH is easy with the app, and The Rapid is here to help—people should feel free to ask their bus operator for assistance."
DASH maps are often included in conference materials or on conference websites or apps. The on-site convention services team provides a kiosk advertising this service at all conventions, but you can also view these items on the transit apps or online.
When is the DASH available?
With its recently extended service hours, DASH shuttles are available for early morning trips, dinner destinations, or late night adventures. The DASH runs from 6:30 AM - 10:30 PM Monday to Wednesday, 6:30 AM - 1 AM Thursday to Friday, 10 AM - 1 AM on Saturday, and 10 AM - 8 PM on Sunday.
"The longer hours during the week and on the weekends mean there's no waiting on a rideshare service where prices may surge depending on the time of day," McCallum said.
How does the DASH driver know if I need to exit the shuttle?
While riding the DASH, pull the cord to let the driver know you need to exit. Remember, if you're not sure where your stop is, just ask the bus driver when you enter the bus and he or she will be happy to assist you. (By the way, when you hop on, use the front door. When you exit, use the back door. This keeps people moving!)
Destinations along the DASH North route
The DASH offers four routes, but if you're looking to travel through the city's North Quarter and Heartside neighborhoods or the heart of downtown Grand Rapids, take a trip on the DASH North route.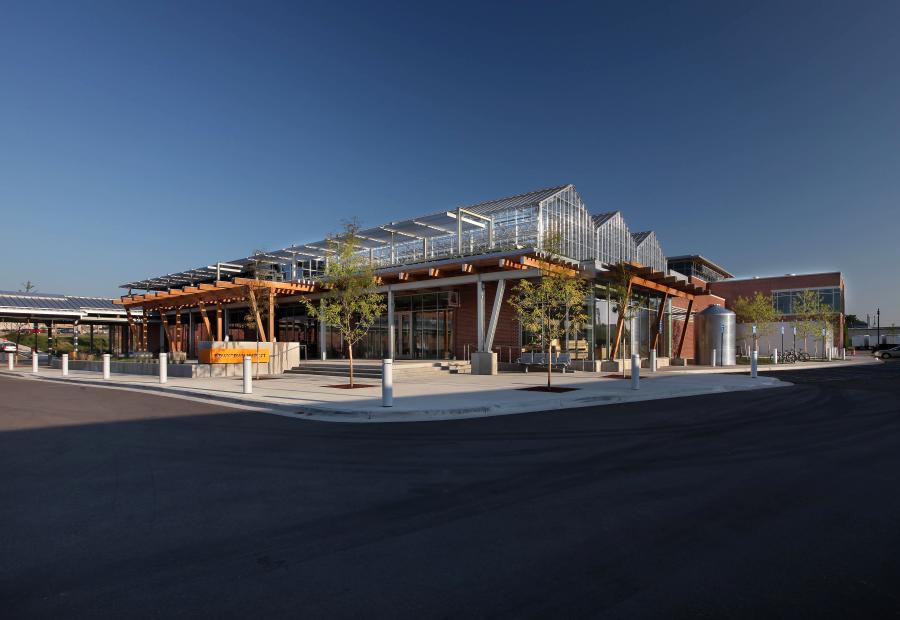 The Grand Rapids Downtown Market is one of several dining options along the DASH North route.
Photo by Grand Rapids Downtown Market
Restaurants and dining
Conference attendees looking to explore beyond the convention campus for a quick lunch or dinner can use the DASH North route to head up to great food and drink options north of downtown, including City Built Brewery, Gray Skies Distillery, Zoko 822 and the SpeakEZ Lounge to name just a few (search the restaurants page to discover even more restaurants).
DASH also connects attendees to the Downtown Market, opening up options for off-site conference sessions or special classes as well as breakfast, lunch and dinner offerings that are easy to get to.
"It allows our conference visitors, who may already be pretty weary from a long conference day, to enjoy seeing more of the city," said Nina Fox, convention services specialist for Experience Grand Rapids. "It also allows you to venture out for nightlife and not have to walk back to your hotel."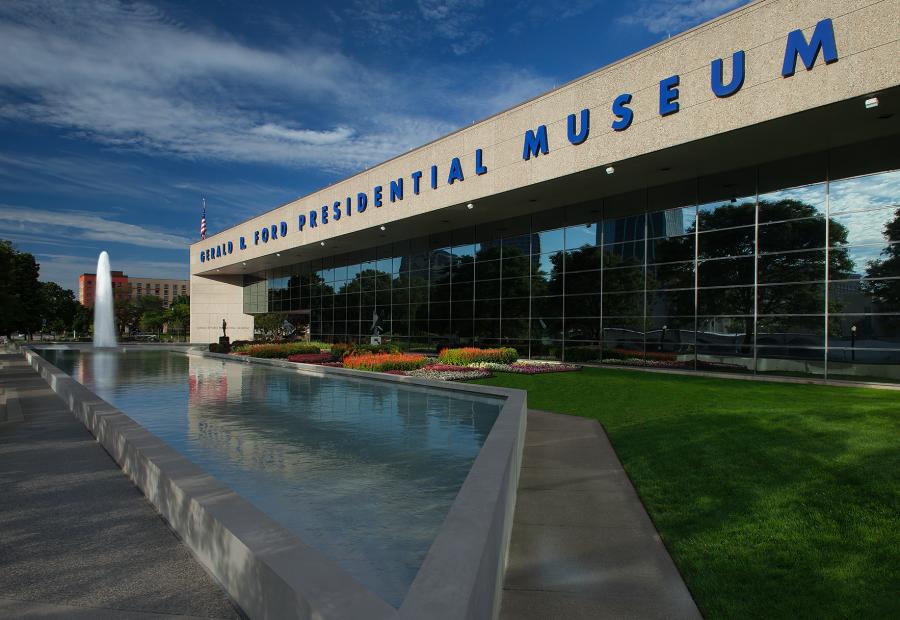 Explore Grand Rapids' unique museums, like the Gerald R. Ford Presidential Museum, along the DASH North route.
Photo by Gerald R. Ford Presidential Museum
Questions? Just ask
"Remember that there is a professional operator piloting every Rapid bus and DASH shuttle who knows the system inside and out—talk to them, ask questions, tell them you're new to the community when you board," Young said.
To see more amenities and attractions along the DASH North Route view this previously published blog.
For more information on hosting an upcoming event in Grand Rapids, contact the Convention Services Team.
invalid widget [plugins_common_blog_subscription] []