Has puppy cuddling ever been on your meeting agenda? What about bike building?
Those are some fun examples of giving back events that can be included at your next meeting or conference. Volunteer activities are always popular, but as the holidays approach they are top of mind.
Their popularity is one reason Kim Rangel of Experience Grand Rapids always includes the option when she brings meeting planners in to check out the city.
"It's a different way to experience the community," said Rangel, event sales and service manager. "You see the tall buildings, the restaurants, the museums, but you don't always have a chance to see the philanthropy that goes on in the community. So, its nice to be able to give them the opportunity to see that side."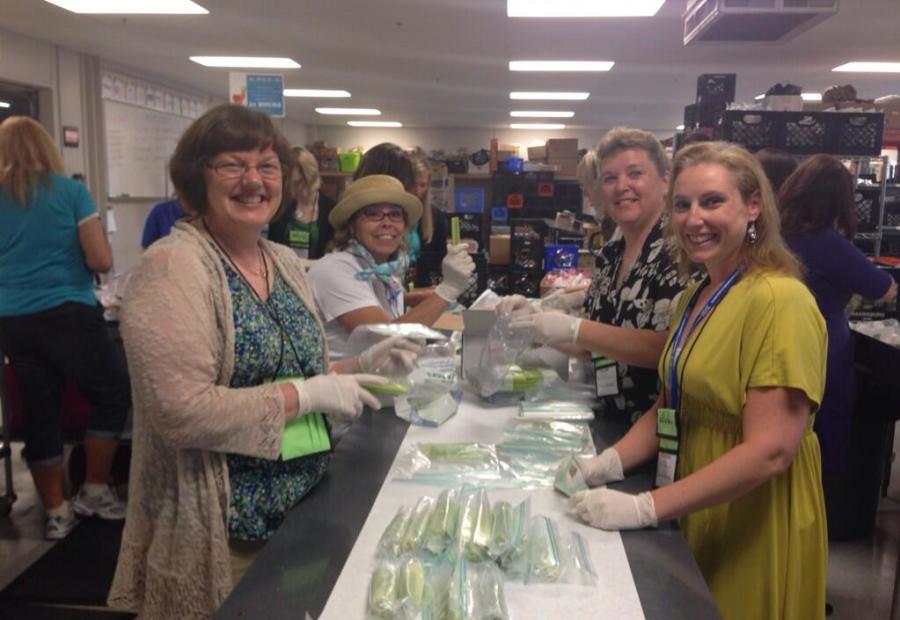 OrgPro 2014 attendees volunteering at Kids' Food Basket
Her teams have gone to Gilda's Club Grand Rapids to rake leaves on the property or make greeting cards that are sent to the club's members for birthdays or other special occasions. They've also gone to Kids Food Basket to pack sack suppers for the 6,000 hungry children who receive them each weekday.
There's a good chance your destination city has similar organizations. Or maybe you can take a page from the American Bus Association and work with a local animal shelter or rescue operation. When the association brings travel and tourism professionals to St. Louis, Missouri, in January, attendees can sign up for events put on by Stray Rescue.
The organizations main mission is to rescue homeless street dogs from the inner city. For a donation, attendees can cuddle puppies, walk dogs or make dog treats.
And events don't always require an off-site trip. There are plenty of options for onsite activities, too, Rangel said.
Invite attendees to bring a child's gift to the conference and set up a wrapping party before they're donated. Or work with an organization like Build a Bike Team Building, which does exactly what its name indicates.
It uses bike kits to skillfully combine team-building with giving back. Attendees are divided into small groups to tackle the task. And it culminates with actually giving the bikes to area children.
And, if you simply want to offer your attendees a way to give back without taking time out of the conference schedule, consider the Make-a Wish Foundations Wishes in Flight program, which allows people to donate airline miles to grant the wishes of ill children.
"This is just one simple way you can grant a life-changing experience for a child with a life-threatening medical condition," said Leah Borst, communications manager for Make-A-Wish Michigan. This year alone, Make-A-Wish Michigan estimated that more than 80 percent of wishes require air travel, requiring more than 120 million air miles annually.
Michigan is part of a large-scale Wishes in Flight campaign put on by the 61 Make-A-Wish chapters across the country, she said. And the process is extremely easy. Planners can include the link in their communications to attendees and right on the registration page. And the best part: Once donated, the miles never expire.
Do you have more ideas to add to the list? Leave a comment and let us know!
invalid widget [plugins_common_blog_subscription] []