Some of the many cranes dotting the skyline of Grand Rapids, Michigan, right now are working on Studio Park, a project that developers hope will expand the heart of the city's center, build on its pedestrian-friendly foundation and provide new opportunities for hosting festivals, outdoor movie nights, concerts and even conferences, conventions, and business meetings.
It may seem like a big goal, but not when you consider everything planned for a multimillion-dollar project slated to open in the fall of 2019.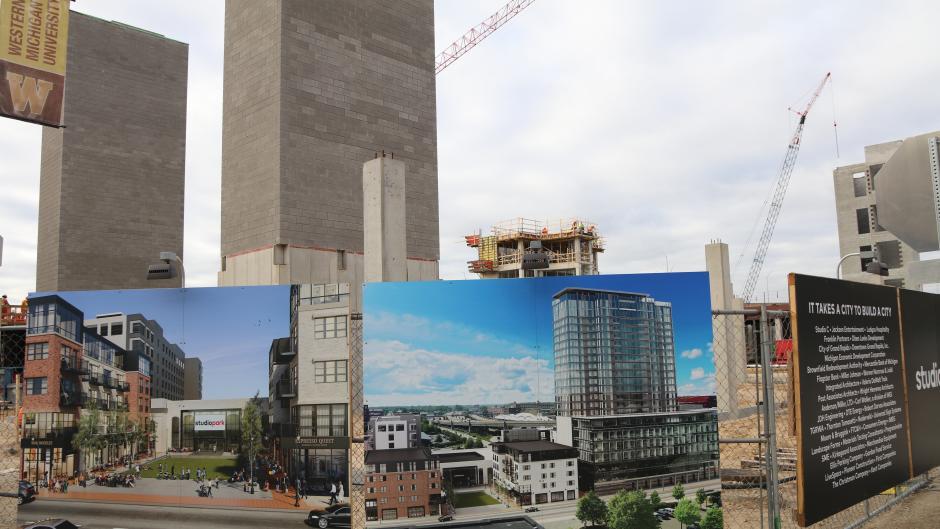 Once completed, Studio Park will host a movie theater, residential units, office and retail space, restaurants, and hotel accommodations.
Photo Credit: Experience Grand Rapids
---
Studio Park: a "great landing spot"
Anchored by a nine-screen movie theater, a 200-seat listening room and a spacious piazza with year-round outdoor screening capabilities, the park will also feature more than 100 residential units, a 155-room Canopy by Hilton hotel, a parking ramp for nearly a thousand vehicles, office space, retail space and several restaurants.
And it's all located directly south of the Van Andel Arena in the Heartside Neighborhood, within walking distance of several established restaurants, venues and other attractions.
Emily Loeks, director of community affairs for Studio C, the parent company of the Studio Park project, said it's a good addition to the strategic plan for the area.
"It's a great landing spot from which so many other things can be accessed," she said. "Our city is becoming much more pedestrian friendly, and this is certainly a piece of it. …One of the things we're working on is navigational tools so people can orient themselves quickly to the city and its major institutions."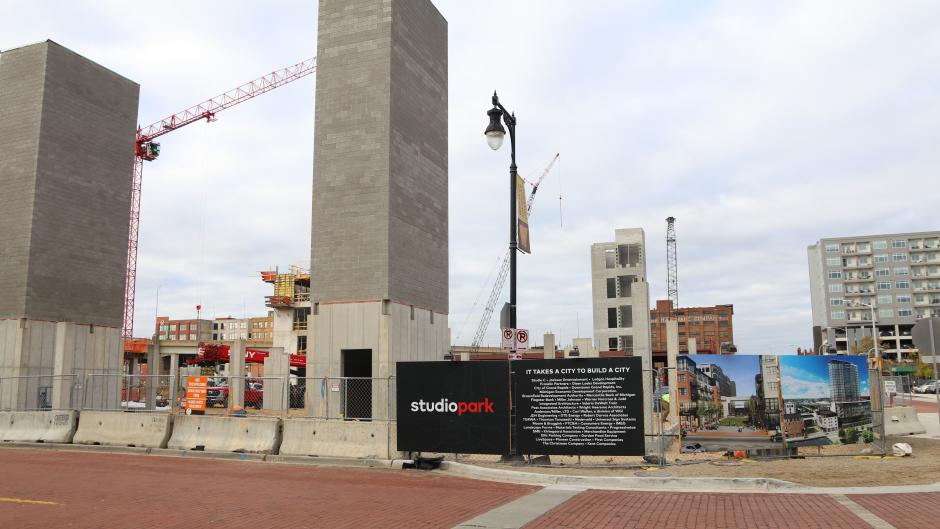 Studio Park is located south of the Van Andel Arena in the Heartside Neighborhood, within walking distance to several attractions.
Photo Credit: Experience Grand Rapids
---
Ideal venue for meetings
Loeks, whose parent company includes the Michigan-based movie theater chain Celebration! Cinemas and trade show organizer Showspan Inc., also sees the park as a great new option for meeting planners looking for something a little different.
"I do feel that there's a real reimagining of the meeting experience that could happen at Studio Park," she said, "especially with the kind of AV capabilities that will be built into an auditorium for several hundred people with comfortable stadium seats.
"We're interested in exploring corporate training and how you can connect that with entertainment and go right into happy hour."
With a piazza that can accommodate 600-1,000 people, depending on the event, Loeks hopes the park will be home to several new festivals and maybe a few established ones, creating a boom for the area.
"There's a rich ecosystem of businesses there already," she said. "We're hopeful that the activation of this central space will have a ripple effect that's positive on all the neighbors."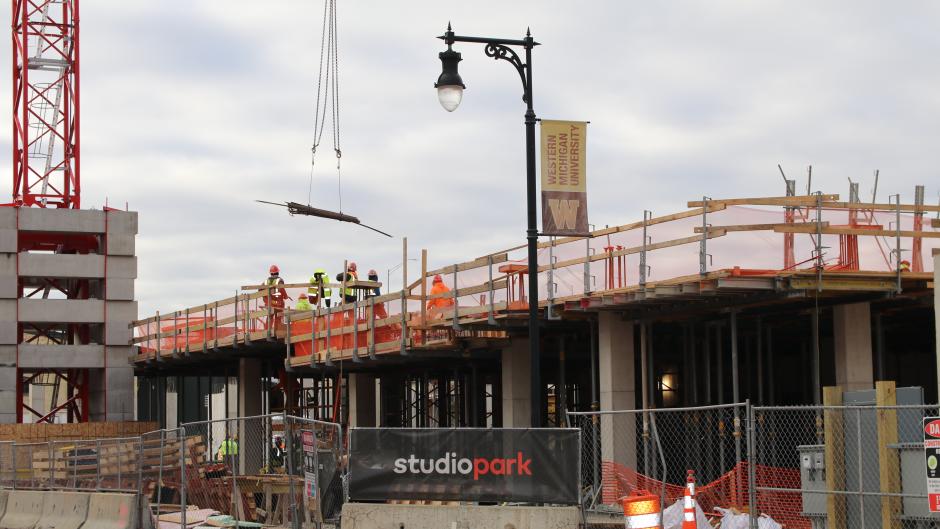 Studio Park's amenities will be able to accommodate groups of 600-1,000 people, making it a perfect meeting destination.
Photo Credit: Experience Grand Rapids
---
Unlimited possibilities for collaboration
Celebration! Cinema's longtime partnerships with Laughfest, ArtPrize and other institutions will likely flourish with this new space, Loeks said, and she's looking forward to new opportunities.
"I'm particularly eager about the potential for doing more with film festivals and collaborations with the [Urban Institute for Contemporary Arts] UICA and other partners," she said. "Because now there will be a concentration of film venues that can pull off some pretty cool events."
Capping off the project with a 2020 target opening is the Canopy by Hilton hotel. Crews broke ground on the hotel this summer on the southeast corner of the Studio Park development. Loeks said Canopy is a fairly new boutique Hilton brand and there are only 13 in operation right now.
"They focus on localizing their hotel with both the art on the walls and the products they use," she said. "One of the things they're really excited about is that there is such a vibrant local business scene here.
"There is something distinctive about our downtown that makes it different from many other generic big cities."
Visit the Developments page for more information on Grand Rapids' latest additions, including Studio Park.