Adam London had a challenge.
As a board member of the National Environmental Health Organization, he and his colleagues are responsible for planning an education conference that draws health officers from across the country each year.
Their conferences were losing money, despite the fact they were in top-tier locations like Las Vegas or Orlando. And they also were not representing the ideals of their organization.
"Our association is environmental health, so the environment and the health of communities are very important to us," London said. "In looking at some of the locations we were choosing, we were kind of scratching our heads and asking ourselves: Are our business decisions matching our values?"
What about Grand Rapids?
So, London and his colleagues began to seriously look at how and where they were holding their events. That's when Grand Rapids, Michigan, entered the discussion.
As director of the Kent County Health Department, London works in Grand Rapids and started investigating what it would take to move the conference to his home city.
First, he addressed attendee feedback from previous conference locations.
"Our members were telling us that the locations were not walkable and there was not a lot of things that they could do within a quarter of a mile from the hotel," London said. "They wanted to have the feel and the culture of a community. They wanted to see music and street food and museums.
"They wanted to feel as though they were going someplace special, not just a hotel near an airport," he added.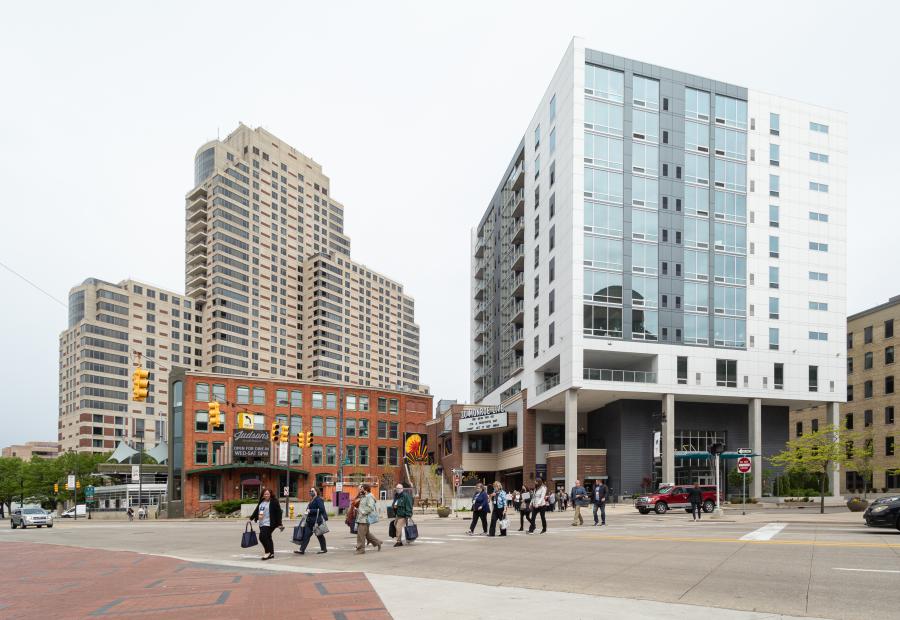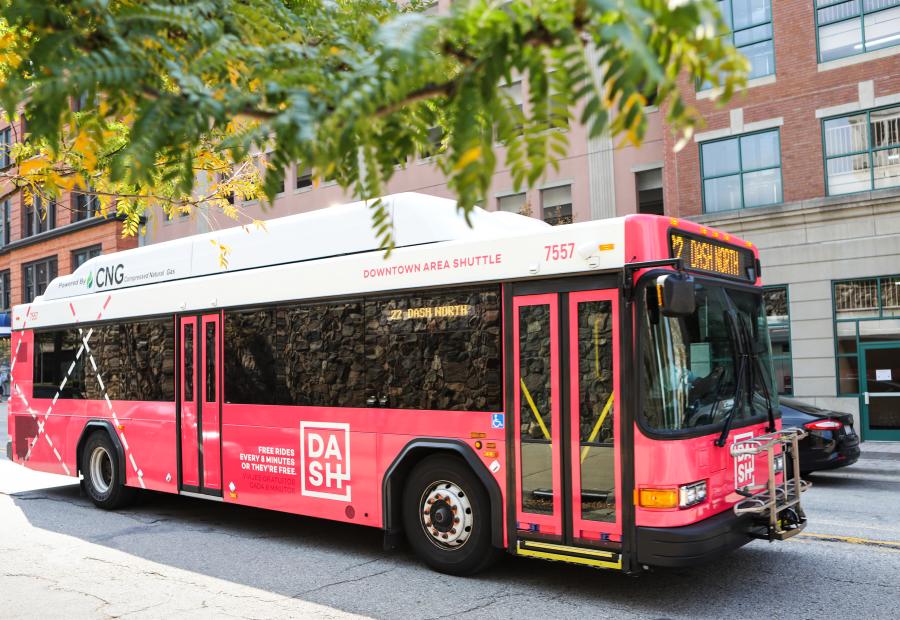 Nearby dining, entertainment, off-site venue options and a free downtown bus service make it easy for attendees to get around and reduce their carbon footprint.
Photo by Experience Grand Rapids
Walkable with a lot to offer
In Grand Rapids, the convention neighborhood is located in the heart of the city, where attendees can walk to restaurants, other hotels, museums, the river, entertainment venues, shopping, breweries, distilleries, and much more.
Weather doesn't have to be an issue, either, thanks to the city's climate-controlled skywalk, which stretches from Van Andel Arena to DeVos Place Convention Center. There's also DASH -- the free Downtown Area Shuttle system with two routes that can take you anywhere downtown you need to go.
Sustainability is a priority in Grand Rapids
Grand Rapids also has an impressive sustainability pedigree. Over the years it was named the Nation's Most Sustainable City by the U.S. Chamber of Commerce, was one of five Model Cities for Sustainability named by Earth Day Network, and was one of eight inaugural cities for the Climate Resilient Communities program.
Sustainability is a priority for the city government, infrastructure, area businesses, the transportation system, cultural institutions, and community initiatives.
Many of the city's venues and hotels prioritize sustainability, too. One example is the city's largest hotel, the Amway Grand Plaza, part of the Curio Collection by Hilton. Hotel management is continually making improvements to lower its impact on the environment.
Grand Rapids venues and hotels focus on reducing the amount of waste going to the landfill, among other sustainability efforts.
Photo by Experience Grand Rapids
Sustainability is good business
The area's hotels and convention center know sustainability is important to groups holding their meeting or convention in Grand Rapids. 
A major focus has been on reducing the amount of waste going to the landfill. AHC, the company that runs the Amway Grand Plaza hotel, works with a company to compost as much food waste as possible. They, along with the convention center, have an aggressive recycling program that includes plastic, glass, paper, electronics, and Styrofoam.
Making the pitch
While Grand Rapids seemed to be the perfect location, London had an uphill battle convincing his board of that.
"Trying to get people from Sacramento and Dallas and Boston and Atlanta on our board of directors to say, 'Yeah, we're willing to take our premier event to Grand Rapids,' was a challenge for us," he said.
He succeeded in narrowing down the choices to Chicago and Grand Rapids, but none of the board members had a real idea of what Grand Rapids was like. London wanted to give them a better perspective of the city, so he reached out to Experience Grand Rapids for help.
Site visits are key
"Recognizing what the problem was, they helped bring those board members here for a weekend, and by the time we left it was unanimous," London said. "People saw what type of downtown it was, what a location this was and how much of a great fit it would be for our membership."
London said they were impressed with the culture of the city and the friendliness of everyone they encountered.
"Not everywhere in the country offers that kind of culture," he said. "They felt that while they were here, going to our restaurants, going to our museums, seeing the people who live here, interacting with them. It helped to turn the vote."
A successful event
London heard similar reactions from attendees, too, many of whom said they were planning trips back to Grand Rapids with their families.
"They said they learned about ArtPrize and they learned about orchards, and Lake Michigan and said, 'I'm coming back, what a great place for a family vacation,'" London said.
Many also asked if the conference could return to Grand Rapids in a few years.
"That was part of our measure of success," he said. "We didn't want this to be a one-off. We want it to be so successful that people wanted to come back again."
London credited the team at Experience Grand Rapids, the city's excellent service industry, and the community commitment to sustainability for helping to bring his event to Grand Rapids and making it successful.
"This ongoing commitment from our community and from our business owners is an important part of it," he said, "especially for the organizations that have sustainability or environmental concern as part of their core values."
To begin planning your meeting in Grand Rapids, contact a member of the sales team.
photo by Experience Grand Rapids

Must
Read

7 min
Sustainability in the event industry is more than a trend. It is becoming an industry standard. In 2021, the global Event Industry Council released four Guiding Principles for Sustainable Events…