For Kathy Woronko, manager of brand event experiences at Steelcase Corp., holding the office furniture manufacturers dealer conference in their hometown of Grand Rapids made perfect sense.
"We have several demonstration spaces here that bring our research, insights and products to life," Woronko said.
But Woronko also decided to hold the conference at the same time as ArtPrize, an innovative art competition that results in hundreds of thousands of people visiting downtown Grand Rapids, walking the streets from venue to venue to see more than 1,500 pieces of art. 
So, was maneuvering 1,200 conference attendees through the throngs of ArtPrize-goers worth the hassle?
"It was the best decision I ever made," Woronko said. "Our streets were alive with art lovers, artists and artworks of all stripes, our restaurants and shops were bustling and the attendees of our conference were thrilled to be part of it."
There are definitely pros and cons to pairing your event with a large public function. Will your attendees ditch your event to play hooky all day? Will they be able to get where they need to go? And, while you can control your event, you have no control over the public one.
However, the public event serves as free entertainment where someone else worries about the headaches. It's unique, adding local flavor to the conference, increasing attendance and making it memorable. If it is in your hometown, it paints a bigger picture of your company and your role in the community.
Amy Young, co-owner of event planning company Grand Connection, handled Steelcase's conference during ArtPrize. She said organizations looking at similar pairings should seriously consider a company specializing in logistics.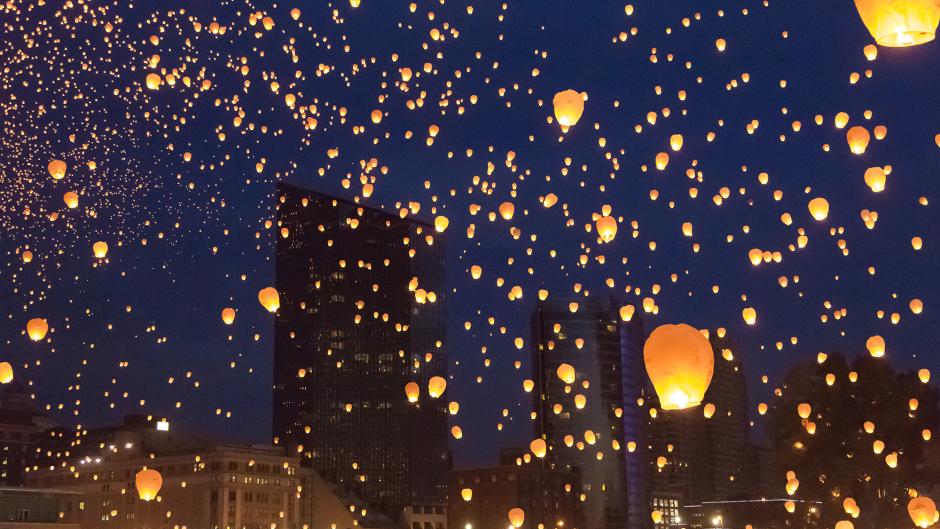 ---
"It required a lot of staff on site and a lot of advance planning," she said, describing efforts to stop cars for tour buses, put out traffic cones to claim parking and mapping out routes that were free of left turns. (No waiting for pedestrians!)
Young recalled transporting all of the attendees out of downtown for an event at one of Steelcase's facilities. It was the same night that an ArtPrize entry released thousands of Chinese lanterns into the sky. "We had 25 buses that we had to maneuver in and out of downtown in a short period of time; we knew we were going to be challenged," she said." But it was very successful. It was worth it."
Other organizations can help plan the pairing, too. During ArtPrize, the Grand Rapids Art Museum and Frederik Meijer Gardens & Sculpture Park -  both venues for the competition - work with companies or groups to hold guided tours, artist lectures or special tram rides that can be scheduled ahead of time.
Annemarie Smartz, Meijer Gardens facility rental manager, said one company held a meeting at the gardens during ArtPrize and hosted their own art competition as a team building exercise. Other companies hold daylong meetings or evening fundraisers and use the gardens, sculpture park and art entries as an additional attraction for breaks.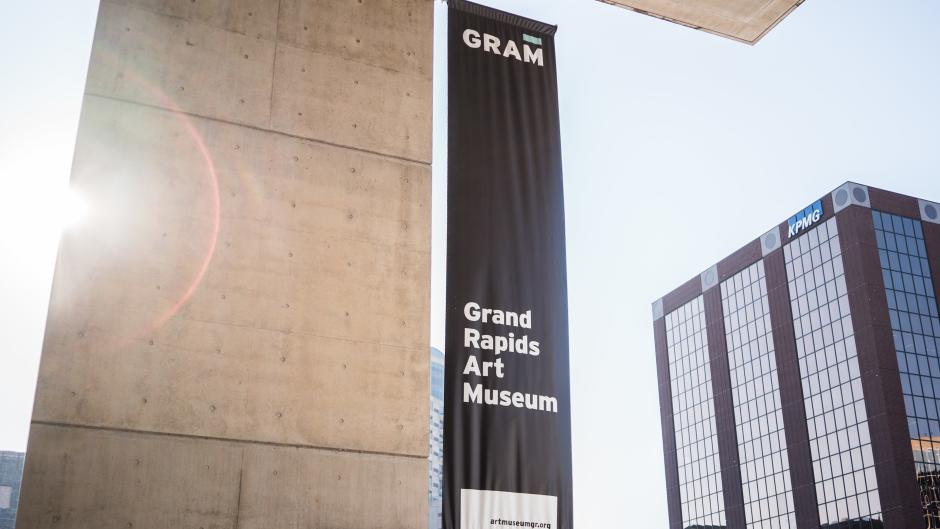 Grand Rapids Art Museum exterior
Photo Credit: Experience Grand Rapids
---
The art museum had several organizations schedule events during ArtPrize, with each of the meeting attendees receiving small gift bags to mark the occasion. The morning hours were reserved for members and group tours, allowing those guests to bypass the lines that formed for the noon opening.
"People would rent some of our spaces and use them almost as a hospitality suite," said Elizabeth Wilson-Fischer, GRAM's guest services and group tours coordinator. "Guests could come and go as they please, get a few snacks and go out again."
"We're happy to accommodate all sorts of different options," she said.
Many of the Steelcase events were held in the Amway Grand Plaza , DeVos Place convention center and The B.O.B., all of which also hosted ArtPrize entries that were highlighted by conference staff.
A few things to remember if you want to plan your own conference during a special event: Schedule early. Karen Carpenter, GRAM's special events coordinator, said people are already reserving rooms for next year.
And, be flexible.
The Lights in the Night lantern release was scheduled for a week earlier, but delayed because of bad weather. While the lanterns were soaring above the city, Steelcase guests were being shuttled out to an offsite party.
"We missed the lantern launch," Woronko said. "Now that would have been awesome to incorporate into our event."
Don't miss a post!
Sign-up for the Meeting Minds Blog