Meeting planners are well-versed in using Twitter to #promote their events. It's become an essential tool for building buzz and connecting with attendees before and after your event.
But Twitter is about more than event promotion.
When you follow feeds that share current industry information, trends, and studies, Twitter becomes a valuable learning resource.
With that in mind, here's our list of the Top 10 event professionals you should be following on Twitter for ideas, tips, and advice.
1. @JeffHurt (11,000+ followers)
Hurt is the Executive VP, Education and Engagement, for the event/conference consulting firm Velvet Chainsaw. A frequent tweeter, Hurt shares all sorts of useful information, both from Velvet Chainsaw's blog, Midcourse Corrections, and around the web. (Velvet Chainsaw President, Dave Lutz, also tweets under @VelChain.) Recent tweet link: Do You Want Your Audience to View Your Video or Learn From It?
2. @cvent (31,000+ followers)
In 2013, the Content Marketing Institute named Cvent's event planning blog the best overall corporate blog. Cvent promotes its own suite of services, but shares enough industry information to earn a follow even if you're not a potential customer. Recent tweet link: 12 Tips for Facilitating International Virtual Meetings
3. @PlanYrMeetings (15,000+ followers)
Plan Your Meetings is both a magazine and a website dedicated to educating and connecting event professionals. Its chock-full of helpful resources, industry news and best practices. The website also including a planner's corner filled with relevant posts. Recent tweet link: Success is in the details. Track Your Event.
4. @BizBash_News (17,000+ followers)
BizBash is another magazine and website focused on industry news and trends. We like their Twitter feed because they share a wide variety of germane articles and information. Recent tweet link: 5 New Ways to Manage Your Event Online
5. @PlannerWire (6,000+ followers)
Keith Johnston started blogging when he was a meeting, event and incentive planner. Now, he specializes in helping associations and corporations maximize the benefits of technology with respect to event planning. His website, plannerwire.net, continues to provide valuable industry insight and Johnstons twitter feed shares lots of industry articles from other sources. Recent tweet link: 9 Things You Need To Know About Finding the Perfect Venue: An Event Manager's Tips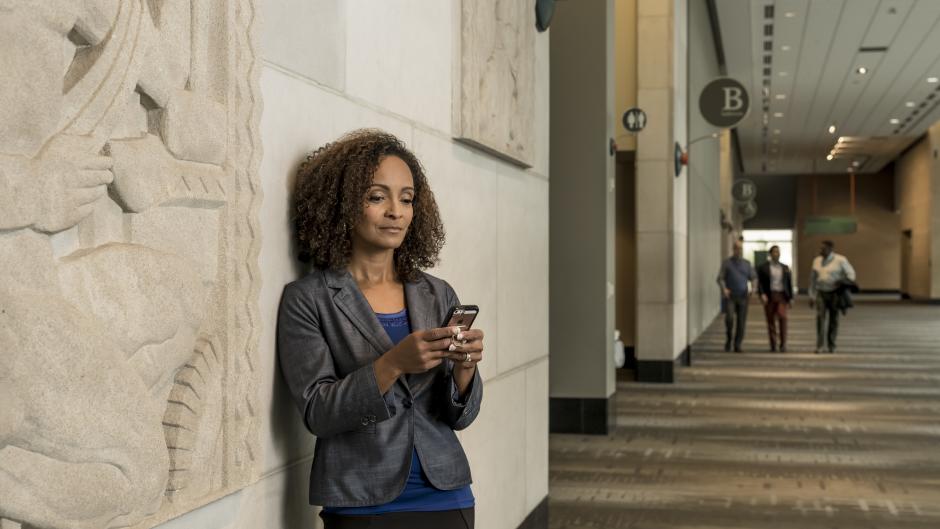 Twitter has become an essential tool for building buzz and connecting with attendees before and after your event.
Photo Credit: Brian Kelly Photography
---
6. @corbinball (7,000+ followers)
Named one of 2012's 25 most influential people in the meetings industry by Successful Meetings, Corbin Ball, CSP, CMP, MS focuses on helping clients use technology to become more productive. His twitter feed shares a plethora of industry information, including links to his newsletter, The Corbin Ball CSP, CMP Daily, which gives readers a quick snapshot of whats happening in the industry around the web and world. Recent tweet link: The Best Tech Gadgets for Event Professionals
7. @MeetingsNet (6,000+ followers)
MeetingsNet's website is chock-full of current articles about the event planning industry as well as tools for meeting planners. Their twitter feed frequently links to their own (timely) articles but also includes plenty of pertinent retweets. Recent tweet link: Certified Tourism Ambassador Program Bestows 10,000th CTA in Columbus
8. @meetingsmags (5,000+ followers)
From social media tips to expert advice on just about every area of event planning, meetingsmags.com brims with current industry information. Their associated print magazine, Meeting + Event Media Group, which is published four times a year, also provides meeting planning professionals with information on a wide range of topics. Web editor Ada Walton tweets. Recent tweet link: DIY Show Flow- learn how to get it done on your own with these tips from Jim Tzitzura
9. @pmcahq (8,000+ followers)
The Professional Convention Management Association tweets all sorts of stuff. Billed as THE leading organization for meeting and event professionals, their website is another good resource for meeting planners. @pcmas twitter feed contains a lot of banter with followers (read: engagement), but amidst the chatter you'll find worthwhile links to articles on their website as well as other industry sites. They also publish the award-winning Convene magazine and post content to Convene online. Convene has its own twitter handle: @pcmaconvene. Recent tweet link: Heres Were Your Attendees Are Going to Pay More
10. @SuccessfulMtgs (7,000+ followers)
SuccessfulMtgs retweets a lot, often tweets that lead back to articles on their website. But thats okay - they have an informative website that features up-to-date news and resources. Their magazine, Successful Meetings, is published monthly for meeting planners. Recent tweet link: 3 Big Ways Social Media is Changing the Face of Events
This is just a fraction of the many event professional feeds on twitter. Some of them tweet more about their own products or services, some are more interactive, and lots share relevant links that can help you do your job better.
To find feeds that pertain specifically to the type of meetings you plan, try searching several hashtags until you find feeds that interest you. A few popular hashtags are #eventprofs, #meetingprofs, and #mpi.
Don't miss a post!
Sign-up for the Meeting Minds Blog