Event planners in the Lansing, MI area recently had the opportunity to attend a Lunch & Learn technology seminar hosted by Experience Grand Rapids.
During the seminar Kim Young, Director of Technology & Business Systems, shared helpful tips and tricks planners can use in Outlook, Word and Excel. Young says these functions can help you get your work done more quickly, something everyone can appreciate.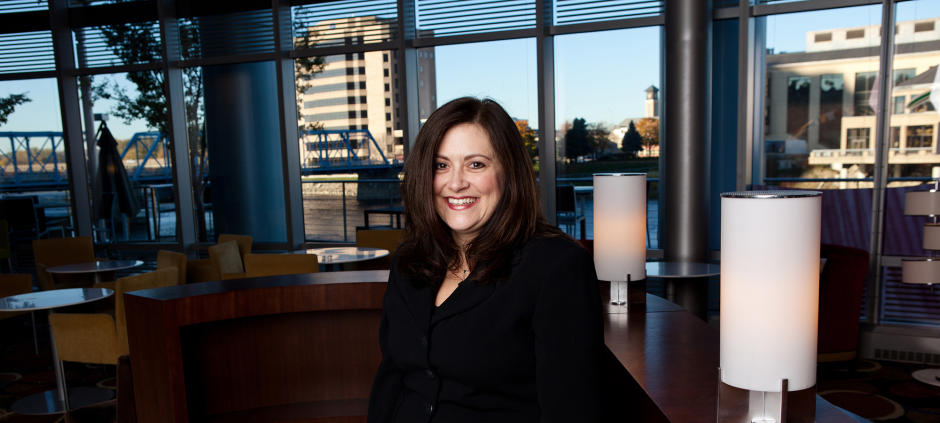 Kim Young, Director of Technology & Business Systems
---
Young's instruction is based on Office 2010, but she says most of the tips are relevant even if you use Office 2007 or have the newer 2013 version.
Here are a few highlights from the Experience Grand Rapids Lunch & Learn seminar:
Microsoft Outlook
Feature: Managing Tasks Young says there are several ways to create tasks in Outlook, including these two with which you may not be familiar:
Scheduling tasks from Calendar. A task bar appears at the bottom of your calendar when you're in day, work week, or week view. You can click and enter tasks right there. Double click to set a reminder.
Assigning tasks. To delegate a task, open a task you've created and click Assign Task. When you type in an email address, the task is sent to that colleague. After he or she marks marks the task as done, you'll receive an email letting you know its taken care of.
Instructions on creating tasks Customizing tasks
Sharing Your Calendar Meeting and event planners calendars are full of meetings and their inboxes are often brimming with requests for more meetings. Instead of going back and forth via email or phone, you can share your availability in an email.
By using this feature, you can send a copy of your calendar for a designated timeframe via email. Your email will show colleagues when you're busy or free, so there's no more "How about Wednesday at 10:00am? Nope. Okay does Thursday at 2:00pm work?"
One quick email and colleagues can see when you're available and when you're not.
Three ways to share your calendar
Microsoft Word
Styles You can use Styles to quickly and easily format your documents, says Young.
You can choose from pre-formatted Style Sets which automatically format your document. Or you can customize a Style by changing colors schemes, fonts and more.
If you modify an existing style while working on a document, Young explains that the Style change will save with that particular document. But it won't change for other documents, she says (although its possible to make a permanent change to a Style if you choose.)
Editing pictures "There are lots of things you can do very fast in Word to make your pictures look a little better," says Young.
She says that a lot of people know how to crop, but you can also remove backgrounds (entirely or partially); make pictures bolder, brighter or darker; add borders; wrap text; and apply artistic effects, like black & white, or making a photo look like a line drawing.
If you don't like the changes, says Young, you can choose Reset Picture and it takes you back to the original format.
EXCEL
Conditional Formatting Using Conditional Formatting allows you to quickly identify certain data. For example, you can highlight accounts with the highest sales this year, or this years top 10 accounts, or only accounts with particular area codes.
Bar graphs and color scales are popular Conditional Formatting options, but creative types might want to opt for traffic light icons. Whichever format you choose, this is an extremely useful tool for analyzing your data.
Tutorial for Conditional Formatting Reference Card for Conditional Formatting
Drop Down Lists Did you know you can create your own Drop Down Lists in Excel?
You can use this tool to when you have a file that you frequently update with data that has recurring components - the names of employees or departments, for example. Doing this allows you to select names from a drop down menu rather than re-typing the entire name every time.
This tool also comes in handy if you're sharing an Excel document with others and want to limit entries to defined parameters.
Reference Card for Drop Down Lists Tutorial for Drop Down Lists
Training Resources
Young wrapped up the session by offering attendees several resources to help them learn more about how they can use Outlook, Word and Excel to work more efficiently.
She created this online resource website for Experience Grand Rapids, which contains links to instructional tutorials for all of the functions she discussed, and more.
Young also recommended the following resources:
Grovo: Free online training and videos for cloud applications such as Facebook, Twitter,Evernote, LinkedIn and more.
Lynda.com:Low-cost online training (or download onto your tablet); Free 7-day trial.
SimonSezIT.com: Low-cost online training on common software programs; over 400 hours of tutorials
Don't miss a post!
Sign-up for the Meeting Minds Blog