When the staff at Experience Grand Rapids gives gifts to Meeting Planners, at trade shows, or to groups who come to visit the city (like their Customer Advisory Board), they like to go local.
"We try to use local products as much as we possibly can," says Heidi Schmitt, Director of State Accounts for Experience Grand Rapids. One of her go-to local gifts is a delicious, large, square chocolate from Mary Ann's Chocolates.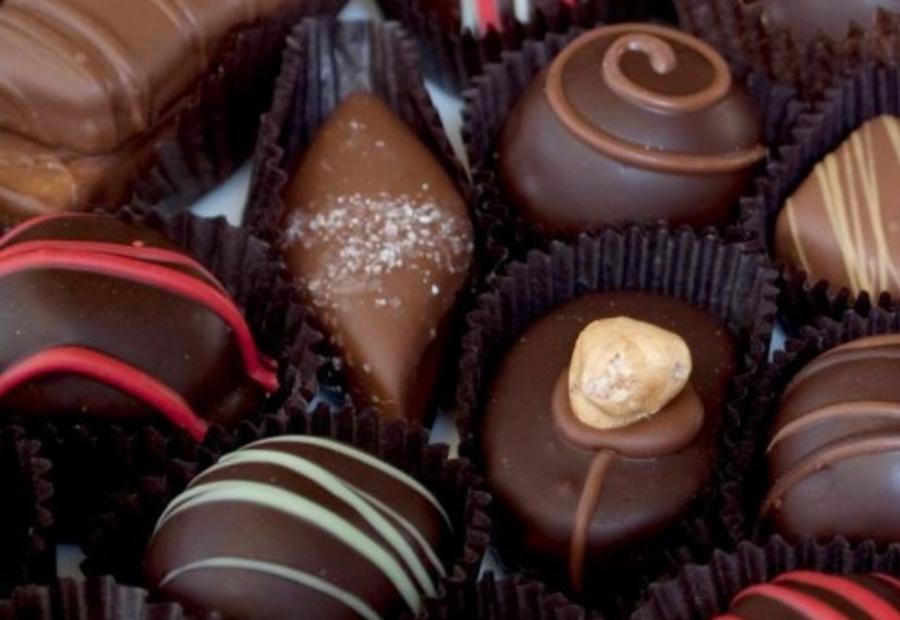 A few of Mary Ann Chocolate's delicious treats
She also gives popcorn from Dorothy and Tony's Popcorn or olive oil from the Old World Olive Company, both of which are sold at Grand Rapids' Downtown Market.
"When we give people the popcorn and they realize that it's made here," says Schmitt, "they're experiencing a little bit of Grand Rapids."
Thats the idea: to show thanks or offer a warm welcome to someone while showcasing some of the local goods that Grand Rapids has to offer.
As you consider what types of local gifts to give from your area, Kim Rangel, Group Sales Events Manager at Experience Grand Rapids, suggests you identify something you want to share about your community. "When people think of your city, she says, ask yourself what you want them to remember. Then think about products that promote that image and visit those vendors," says Rangel.
Even when planners host their event in another city, Rangel will reach out to them. "I send a Meeting Planners Survival Kit and wish them good luck!" she says. "We're hospitable by nature in Grand Rapids and we want to extend that to our clients."
When she chooses gifts to send, Rangel likes to partner with local companies for gifts for many reasons. "Buying local is great for the community, but there's also so much to be proud of in Grand Rapids. There are so many things that we can source right down the street that it seems silly not to buy local," she says.
When they're providing gifts to planners who will be traveling, Experience Grand Rapids keeps size and convenience in mind. Its easy to take a chocolate bar with you; not so easy to take a six-pack of Grand Rapids award-winning Founders beer.
So instead of giving Founders Ale as a gift, they found an alternative.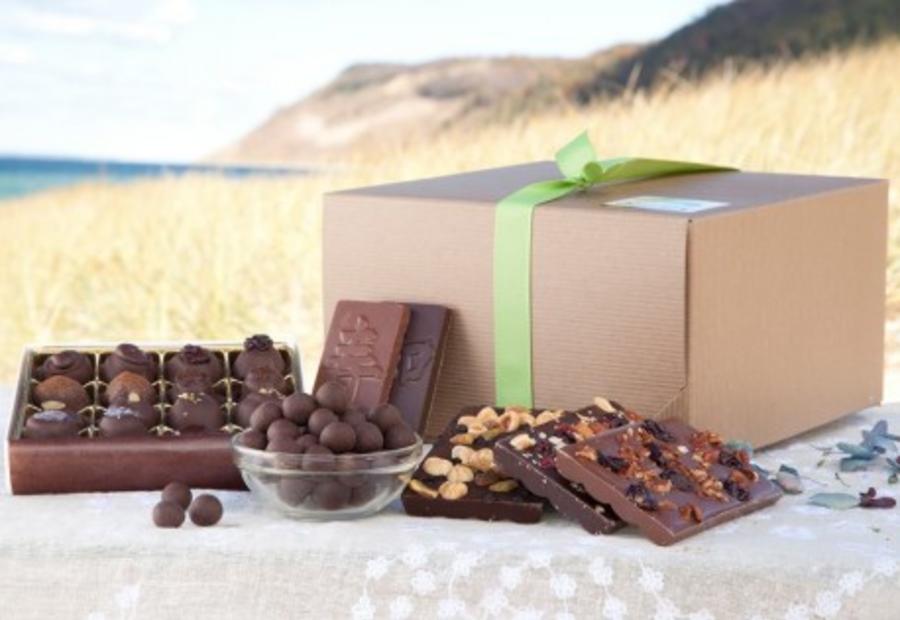 Yummy Grocer's Daughter Chocolates
"Grocer's Daughter Chocolates in the Downtown Market makes truffles that are infused with Founders beer," explains Rangel. "It's a great way to showcase two Grand Rapids products with one scrumptious gift."
Grocer's Daughter truffles typically come in a larger box of 12, but Rangel met with the vendor to explain their needs. Grocer's Daughter was able to package the truffles into 2-item boxes for Experience Grand Rapids to give as gifts.
"I start with a vendor that I want to share with people," says Rangel, "then talk to them to see if they're able to work with us.
"If you have the time and ability to be creative, you can come up with some pretty cool things."
Another company that was able to re-package a product for Experience GR is the Old World Olive Company. They partnered with Experience GR to make unique mini sample jars. Being able to give locals gifts like these allows clients to have a small taste of some of the many unique products available in Grand Rapids.
Sometimes vendors aren't able to accommodate a smaller package. Founders Brewery, for example, has a wonderful mustard but isn't able to put in into smaller give-away sized jars. So instead of using it for smaller gifts, Experience Grand Rapids incorporates the larger mustard jars into baskets for raffles. Schmitt says that at some trade shows Experience GR will raffle a Beer City USA basket (Grand Rapids has won the moniker for 2 years running) that includes Beer City glasses, the Founders mustard, a few other fun goodies, and perhaps some of the local beer. Other times, they'll promote the city's outstanding Downtown Market, using products from local market vendors in the basket.
"What we want," explains Schmitt, "is for people to experience in every way what we have here in Grand Rapids. The more they can experience, the more they'll come back. We love our community and it shows."
invalid widget [plugins_common_blog_subscription] []