While the size of in-person events continues to be capped for many places due to the coronavirus, the possibilities and features for virtual and hybrid events taking their place are growing and evolving every day. 
Also growing is the challenge for meeting planners to find the right virtual platform and features that meet their new needs.
Most planners are not technical experts, and more than likely their staffs and budgets have been cut, requiring them to do even more with even less. 
One answer is to rely on a quality destination management company (DMC) that has been immersed in the work – learning from every experience – and remains on top of the latest developments and offerings.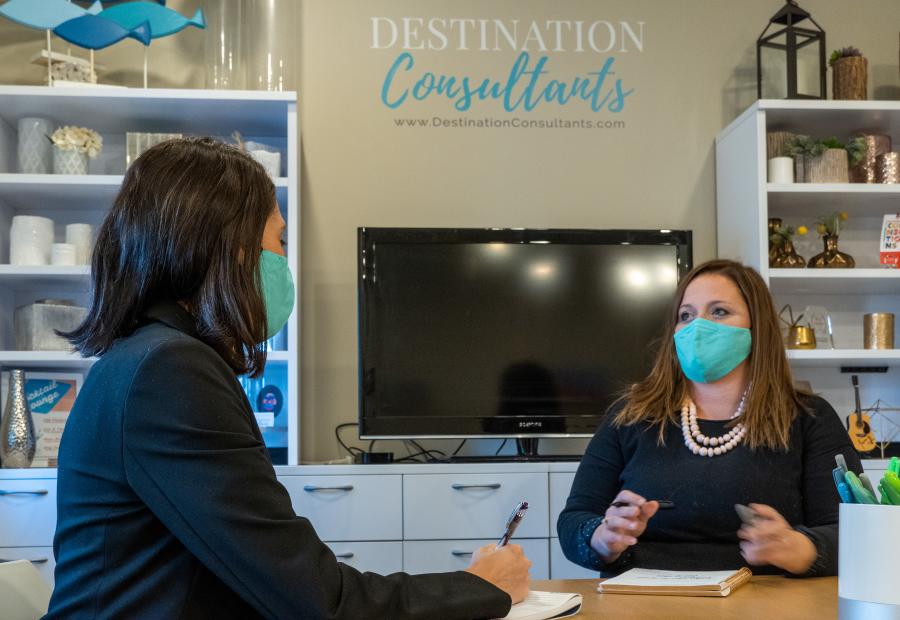 The Team at Destination Consultants, LLC Working on an Upcoming Meeting
Photo by Experience Grand Rapids
DMCs Are Key Partners
Destination Consultants in Grand Rapids, Michigan, has been helping planners make the transition since the spring when restrictions first began. For one organization, they were already deep into planning their regular conference when they had to retool.
Their annual three-day in-person event turned into a virtual gathering spread across eight days. It's no small task to transition an in-person event that has been happening for decades into a completely virtual experience or a smaller hybrid one while achieving the same satisfaction from attendees.
Kim Rangel, CMP, vice president of Destination Consultants, compared it to translating something into a new language.
"We're trying to still deliver on the experiences that you would expect when you attend an event, but deliver them in a totally different language," she said. "Going virtual is not something that you can watch a few webinars on and be good to go. It's a massive process that involves a lot of thought and assessment of needs."
In-Person vs. Virtual
After tackling that translation for multiple events over the last several months, Rangel said they have a process nailed down to help planners look at their goals and finances to assess which virtual features and vendors will best meet their needs.
"I have a prioritization checklist that I give our client and I ask them to have every person on their planning team fill it out individually, and then have them meet and talk and see where their differences are. The group needs to come to a consensus."
This is a new step that her team did not have for traditional event planning. It's easy to plan for networking and tradeshows when your venue is set up to accommodate them. But the virtual world is much more specific, she said.
"If you want to have a trade show, there's a fee for that. If you want to have networking experiences, there's a fee," she said. "The virtual world is much more specific because you're having to create every single space from scratch."
Budgeting for a Virtual Event
The cost projections can be among the most difficult challenges. Planners may be a pro at estimating food and beverage, but how do you gauge how many people will attend a virtual or hybrid event? How much do you charge? What will the technology costs be? 
"It takes quite a bit of time to nail down the finances," Rangel said. "We highly recommend planners use a DMC to help and put together an RFP (request for proposal) that's specific to your event and what you want to deliver on virtually."
Once an RFP is drafted, it will help a DMC determine which vendors to reach out to. If you're looking for a high production value to deliver information and not so focused on attendee interaction, then you're not likely to pursue the platform that touts its networking above all else.
"Part of the benefits we can bring to the table is we can filter out the expertise level of who the vendors are," Rangel said. "With our RFP, we can really hone in on what we need for the conference and ask the right questions so we're not paying for features we don't need."
Executing the Planner's Vision
After the platform vendor is secured, the DMC staff continue their role as translators, serving as the go-between with the platform staff for a virtual or hybrid event to ensure the planner's vision is executed.
"You really can't put the pressure of delivering a full experience on an AV company," Rangel said. "There's still a need for an event company to manage the experience part of your event. And our staff are all certified meeting planners (CMPs) so we're still hitting it with a meeting planner's perspective and assessing it from an experience standpoint."
That role is even more key at hybrid events, where planners are essentially putting on two different events with the same content at the same time. Planners can only be in one place at a time.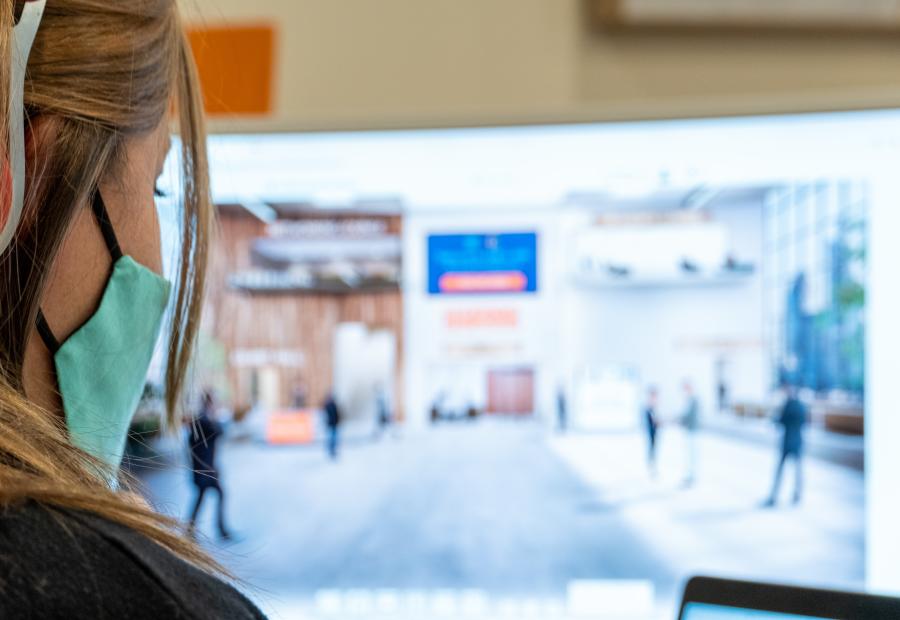 Managing a Virtual Conference at Destination Consultants, LLC
Photo by Experience Grand Rapids
Plan Ahead for Troubleshooting
Unlike in-person events, when problems arise in the virtual environment, planners can't physically walk over to help or find a solution. 
The team at Destination Consultants has learned from experience what information attendees need for a successful, glitch-free virtual or hybrid experience.
"There's a whole control factor that meeting planners have in person that we don't have in the virtual environment," Rangel said. 
"So we arm attendees with a lot of useful information as much as possible and, even more so, arm your helpdesk team. If it's in the budget, we'll even require someone from the platform provider to be present."
DMCs Provide Local Expertise
The role of a DMC pays off even more at hybrid events. They have the advantage of knowing and working with all the local vendors, which is another cost savings, Rangel said.
"In Grand Rapids, all of us work really well together, and every local vendor and AV team can do these events," she said.
"You don't need to bring someone in from Chicago or Vegas or New York. We have all the capability right here in Grand Rapids to deliver a hybrid event, and that's a huge cost savings in itself. You don't have to travel far to bring the expertise in."
An Industry Shift
For planners, DMCs can be key partners in maneuvering the current landscape.
"They are really giving planners a chance to focus on the other parts of the event and letting us do the new things that they don't have time to master," Rangel said.
Looking ahead, all the new meeting technology will be a boon for the industry even when in-person events return in full force.
"I don't see in-person meetings going away by any means," Rangel said. "But the way we have stretched technology in the past eight months will not go away either.
"We're going to find a way, as an industry, to capture the people that cannot attend a conference and get them to attend as well which means a growth in attendance overall."
invalid widget [plugins_common_blog_subscription] []