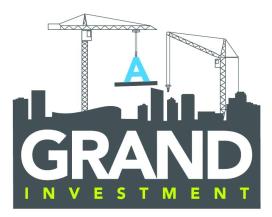 Grand Rapids has long been a model of sustainability nationwide. Government, business and nonprofit partners have come together to set – and exceed – aggressive sustainability goals, earning the community top sustainability honors for more than a decade. In fact, the city was recently awarded gold certification, the highest honor from the Michigan Green Communities Network, for its wide range of environmental sustainability projects. It's no wonder residents and visitors, alike, find meaningful ways to get engaged and advance their own commitment to a healthy environment.
Grand Rapids: a national model of sustainability
Grand Rapids has long been a model of sustainability.
In 2006, the U.S. Green Building Council estimated that metro Grand Rapids had more square footage per capita under LEED certification than any other city in the United States. LEED accomplishments include the world's first LEED certified transit system, school, church, residence, YMCA, healthcare project and municipal building. Grand Rapids also boasts Michigan's first LEED Platinum library, the country's first LEED Silver production brewery and the world's first LEED Gold art museum.
In 2010, the U.S. Chamber of Commerce named Grand Rapids the most sustainable mid-size city in the country. And in 2012, then-Mayor George Heartwell won the U.S. Conference of Mayors' Climate Protection Award for large cities.
Having adopted the Green Grand Rapids amendment to the City's master plan in 2012, and with it, a plan to establish a goal of 40% tree canopy throughout the community, the City partnered with Friends of Grand Rapids Parks to launch the Urban Forest Project. The project calls on residents to become Citizen Foresters and volunteer to help plant trees throughout the community.
The City went on to adopt a Quadruple Bottom Line approach to sustainability in 2016, adding Governmental Accountability to the trio of Environmental Quality, Social Responsibility and Economic Prosperity performance measures.  
Grand Rapids is currently one of 12 U.S. cities participating in a project to develop a policy roadmap toward a zero net carbon building sector by 2050. And, using its sustainability plan as a guide, the City aims to:
Reduce the city's greenhouse gas emissions to 25% below 2009 levels by 2021,
Double water reuse and recovery by June 30, 2021, and
Increase energy use from renewable sources such as wind, solar, biogas and geothermal from 30% to 100% by June 30, 2025.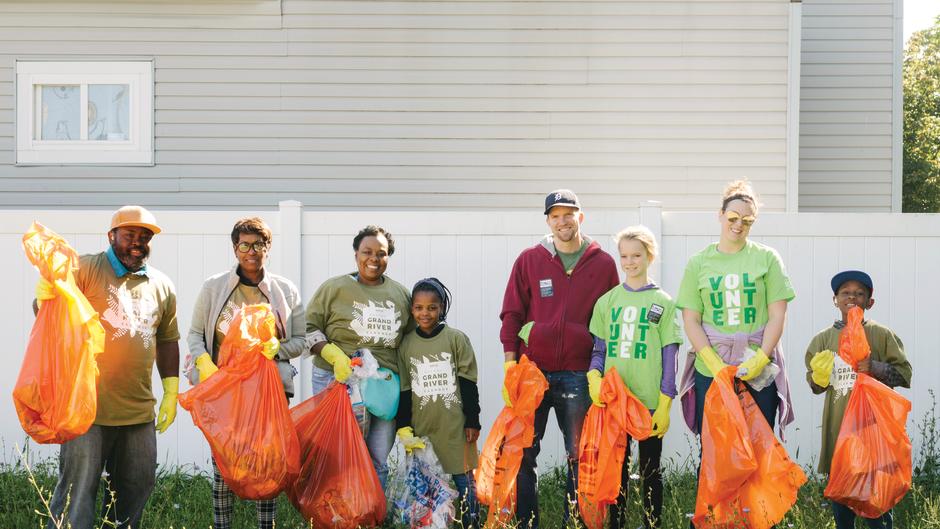 Volunteers from WMEAC helping out at the Mayor's River Clean Up event.
Photo Credit: West Michigan Environmental Action Council
---
Volunteer all year round
Given these aggressive environmental initiatives and national accolades, it's no surprise the community is full of opportunities to get involved year-round.
Whether you're here for a conference, a family visit or you call Grand Rapids home, you'll find fun and meaningful volunteer opportunities 12 months a year. Here are just a few examples.
January
Blandford Nature Center has lots of volunteer opportunities year-round – even in January! Check out how you can help with their Eco-Stewardship Work Days focused on habitat restoration, trail maintenance, stream clean-up and removal of invasive species. Volunteers receive instruction not only on removal but also on identification of several native Michigan plant species and general ecology. Volunteers learn to identify and manage plants that may be growing in their communities and how those plants and their volunteer efforts impact their surrounding environment.
Other organizations like the Kent Conservation District also need volunteers to help control invasive species. They point out that winter is a great time to find vines like Oriental Bittersweet that are threatening trees and wildlife habitat.
February
Join the West Michigan Environmental Action Council (WMEAC) and hundreds of individuals interested in advocating for themselves, for others, and for the environment at the annual Women and the Environment Symposium.  This multi-day symposium delivers inspiring social and learning opportunities throughout Grand Rapids, raises awareness of actionable environmental issues in the community, brings together a wide-ranging network of women and provides connections and resources for civic engagement.
March
Volunteers help control invasive species, increase site biodiversity and maintain hiking trails during Stewardship Work Days at the Calvin College Ecosystem Preserve. The work days run March through May.
For more volunteer opportunities, check out the volunteer page on their website.
April
Join the Mayor of Grand Rapids, Friends of Grand Rapids Parks, the City of Grand Rapids' Forestry Department and hundreds of volunteers for the Mayor's Greening Initiative annual Arbor Week Tree Planting and Community Celebration.
Since 2016, the partners and more than 1,000 volunteers have planted over 800 trees and given away 400 saplings to elementary school children to ignite their passion for nature.
May
The Lower Grand River Organization of Watersheds (LGROW) unites and empowers local municipalities and community stakeholders to protect and revitalize the Lower Grand River and its watersheds.
LGROW leads and partners on several important regional programs that rely on volunteer support to get the job done. Volunteers get engaged year-round. But activities really kick into gear from May through the fall months in a variety programs including:
Planting bioswales and rain gardens with native plants
Weeding and other maintenance of bioswales and rain gardens
Installing temporary or permanent markers on storm drains with "Dump No Waste" messages
Invasive species management (pulling garlic mustard, cutting buckthorn, etc.)
River and stream trash cleanups
Assisting with water quality testing and macroinvertebrate surveys
Culvert surveys (some training required)
To volunteer, sign up on the LGROW website, or for information about what's happening now, check out their Facebook page.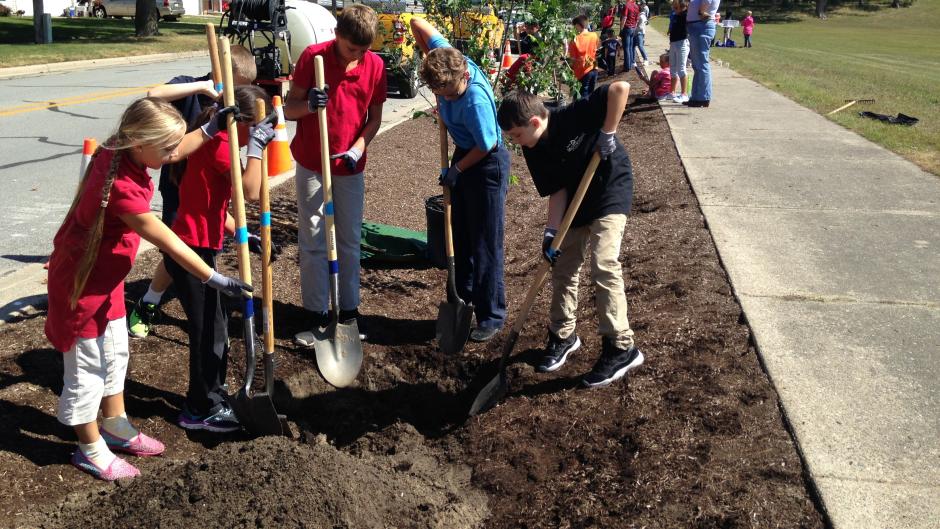 Kids and adults of all ages planting trees with Lower Grand River Organization of Watersheds (LGROW).
Photo Credit: Lower Grand River Organization of Watersheds (LGROW)
---
June
Give native plant seedlings a boost by transplanting them to larger growing spaces at a Plaster Creek Stewards Greenhouse Night.
Plaster Creek Stewards works to restore the health and beauty of the Plaster Creek watershed through community education, research, and on-the-ground restoration projects. The watershed is a 58 square mile area that drains into the Grand River and is considered the most degraded urban waterway in West Michigan.
July
Thanks, in part, to its green roof, WMEAC was the first zero-stormwater discharge site in Grand Rapids. Volunteers help weed the green roof garden throughout the summer to keep it working the way it should.
Or, join WMEAC's Teach for the Watershed crew as they build the next generation of Great Lakes advocates through watershed education. Some training is required.
Email WMEAC at volunteer@wmeac.org  to let them know you want to share your enthusiasm for the environment and lend a hand.
August
The month of August is always blooming with opportunities to get involved with Friends of Grand Rapids Parks. Volunteers might help build a playground, beautify a park, or supplement the Urban Forest Tree Map as they wander through a local park or tree-lined street.  
Check out the FGRP website or Facebook page to find out what's happening now.
September
Get a whole new perspective and make a big impact on the city's namesake – the Grand River – by volunteering at the Mayors' Grand River Cleanup, hosted by WMEAC.  Join volunteers and mayors from Grand Rapids, Grandville, Wyoming and Walker to pick up trash at sites along 30 miles of the Grand River, as well as tributaries and storm drains in area neighborhoods that empty into the river.
Later in the month, Experience ArtPrize while helping to make Grand Rapids' biggest event more sustainable. Volunteer to educate event-goers about composting, recycling and waste reduction at ArtPrize S.O.R.T. (separate organic, recycling, trash) stations.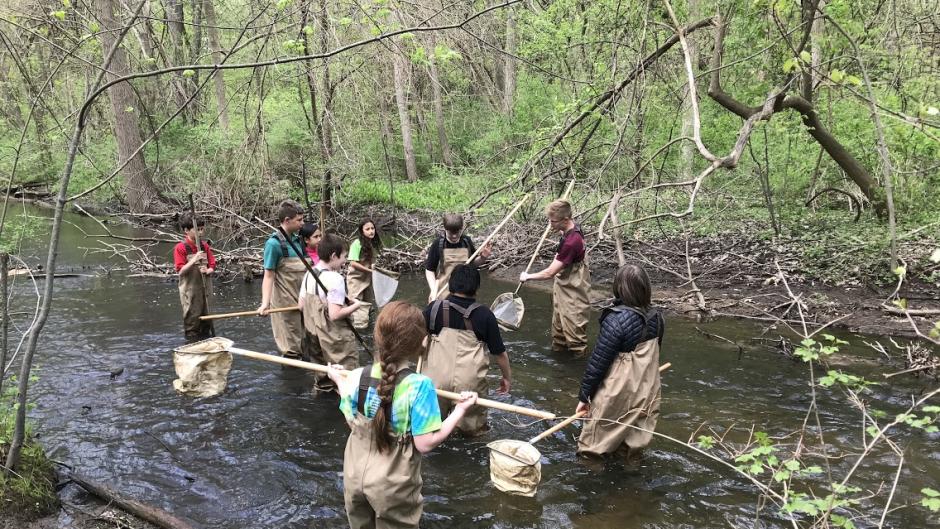 Grand Rapids students participating in the Teach for the Watershed program at WMEAC.
Photo Credit: West Michigan Environmental Action Council (WMEAC)
---
October
Enjoy a crisp fall day during Stewardship Saturdays at the Wittenbach Wege Center – Agriscience and Environmental Education.  Volunteers help locate and cut invasive shrubs, gather native seeds, plant and label native seedlings, spread mulch and prepare the ground for prairie seeding the following spring.
And for a true Beer City environmental experience, join the Friends of Grand Rapids Parks and local craft brewers at the annual Brewers Grove Tree Planting.  Plant some trees, then crack open a local craft beer, talk with area brewers, and offer your tree-themed ingredient ideas. Be sure to come back for Experience Grand Rapids' Beer Month GR in February and catch the annual Tree Beer release – proceeds to benefit Friends of GR Parks.
November
The weather may be chilly, but WMEAC warmly welcomes all who work in the environmental field to meet up for Green Drinks. The informal events are held on the third Thursday of the month in the evening at various venues throughout Greater-Grand Rapids and the Lakeshore. Volunteers are needed to support the WMEAC table the day of the event and to help greet attendees.
Whether its staffing booths at festivals, clearing trash from area rivers and streams or helping with invasive species management, LGROW keeps volunteers busy late into the fall, as well.  Check out their Facebook page for current opportunities. 
December
Winter in West Michigan can be the most beautiful time of year, especially on a crisp, clear day after a December snowfall.  Friends of Grand Rapids Parks counts on volunteers to capture that beauty in December – and year-round – by photographing parks and tree canopy throughout our community.  Submit your best shots to info@friendsofgrparks.org and they might appear on the organization's website or in promotional materials.
Clearly, there's no shortage of ways to get involved. Check out one of these opportunities and join us in building a more sustainable community.
A Grand Investment is an ongoing series exploring the business landscape of Grand Rapids. Michigan's fastest growing metro area and one of the nation's strongest economies, Grand Rapids is fueled by a creative, collaborative spirit that generates global, national and entrepreneurial investment. This series highlights leading sectors of the local economy and underscores the city's suitability for innovation-focused meetings. 
Don't miss a post!
Sign-up for the Meeting Minds Blog to get the next A Grand Investment story!