When you think of a big city, you may think of how complex the traveling may be, how expensive activities will cost, and how hard it is to get around once you're there. Grand Rapids is different. The city is recognized for its affordability, walkability, and the services offered to ensure the safety and accessibility of residents and visitors.
Whether it be navigating to and from a conference location or gathering with others for post-conference activities, the city has plenty of options.
Take a look at the top three reasons why Grand Rapids is a great host city: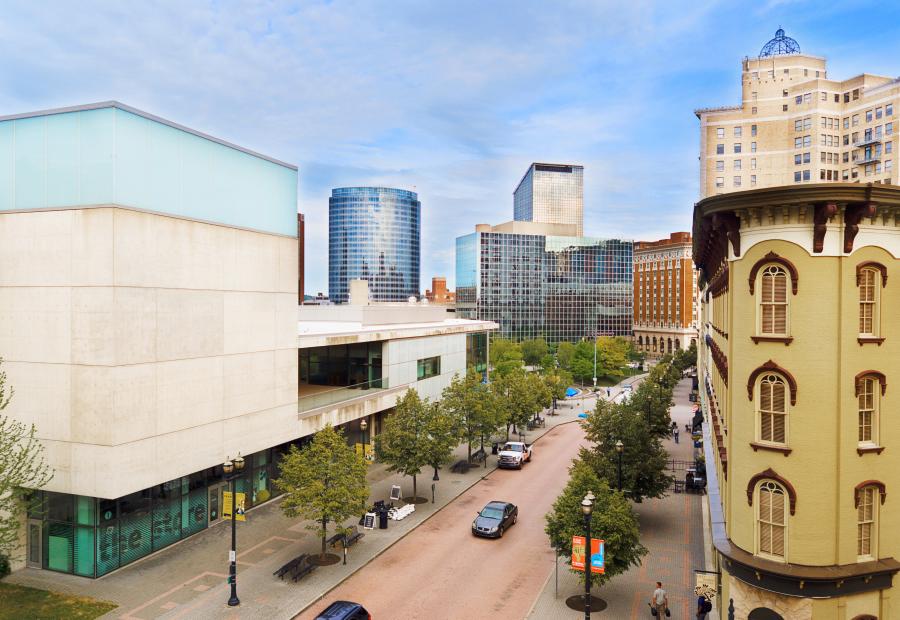 Grand Rapids' Convention Center is centrally located nearby plenty of shops, hotels, restaurants, and activities.
Photo by Grand Rapids Aerial Drone Video - Bradley Scott
Walkability
Our downtown convention campus is compact and easy to navigate, yet it encompasses an impressive array of amenities and attractions for attendees to enjoy, including: seven hotels, six museums, 100+ shops and restaurants, a bustling nightlife, and multiple live music venues all within walking distance.
In fact, the majority of establishments located in downtown Grand Rapids are within a 10-minute stroll of the convention center. Visitors will find that the city's wide, well-maintained sidewalks, street crossings, and pedestrian bridges make foot-traffic a breeze.
Worried about walking in inclement weather? Grand Rapids' skywalk allows year round walkability throughout downtown. The skywalk is a climate-controlled system that connects the convention center to numerous hotels, restaurants, and entertainment venues.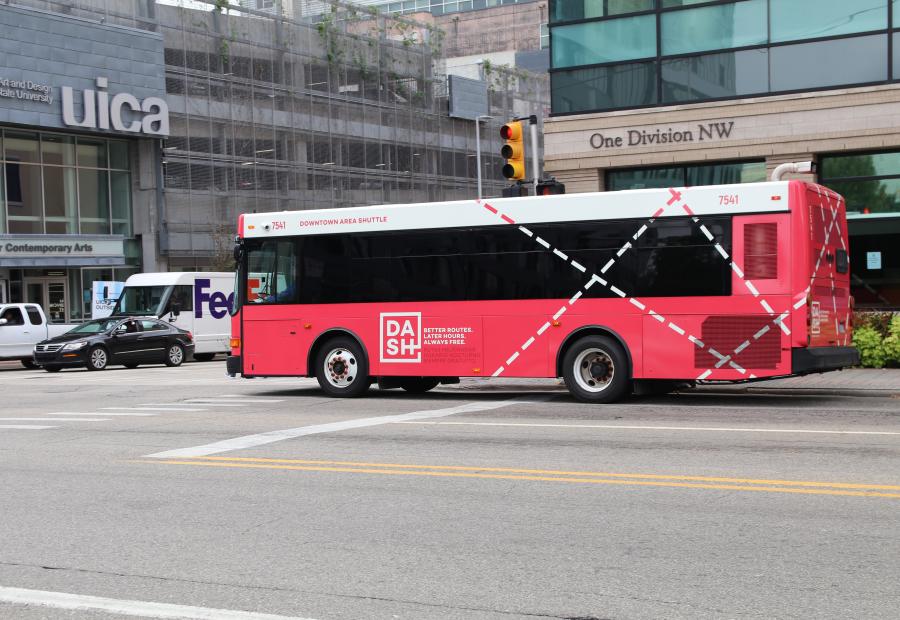 DASH bus downtown Grand Rapids
Photo by Experience Grand Rapids
Safety & Accessibility
Grand Rapids is a walkable city, but there are also alternative, accessible, and affordable transportation services for visitors.
One of the most accessible, affordable, and frequented transportation options is the Downtown Area Shuttle (DASH). The DASH runs two continuous routes, and every stop is visited every eight minutes. The DASH is a great transportation option for visitors because it doesn't require a ticket or pass to ride, plus the DASH buses are bright pink, making them easily identifiable. For more accessible transportation options, visit the Public Transportation page.
Visitors can stop by the Welcome Center at Grand Rapids Art Museum for assistance and recommendations, or ask the many Certified Tourism Ambassadors™ who staff the city's hotels, shops, and restaurants. Certified Tourism Ambassadors are easily identifiable thanks to their lime green uniforms.
Seperate from a Certified Tourism Ambassador, visitors can also reference Downtown Ambassadors for directions, information about events, places to eat, and more.
Downtown Ambassadors roam area the city's dynamic downtown to ensure the area remains clean, friendly, and safe for all. The Ambassadors team is comprised of local citizens who share a common affinity for downtown. Members are highly trained, and are easily identifiable in bright teal uniforms. To request Ambassador services, call (616) 250-8263.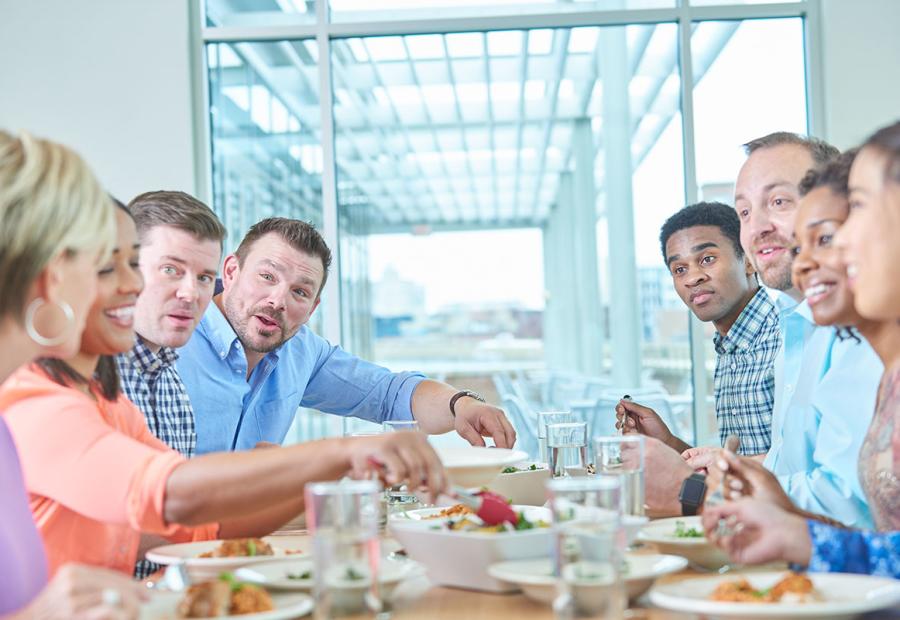 In 2017, Grand Rapids was named one of the most affordable cities in WalletHub's list of Best Foodie Cities in America.
Photo by Experience Grand Rapids
Affordability
Whether your next meeting is expecting to attract hundreds, or an intimate group, Grand Rapids, is an affordable destination for all parties.
In 2015 and 2016, Grand Rapids made Forbes list of America's 20 most affordable cities thanks to its affordable housing and cost of living. The city even fell below the national average for several price points, including groceries, utilities, transportation and health.
The staff at Experience Grand Rapids understands that sticking to a budget can be one of the most challenging factors for meeting planners, which is why the staff can help to make your visit even more affordable with a variety of free services for your group. The staff can also be a great resource for other assistance that can lower your cost, such as finding volunteers, serving as liaison with city officials, or securing local and affordable vendors.
If the expense of dining options is a main concern for meeting-goers, don't worry. In 2017, Grand Rapids was named one of the most affordable cities in WalletHub's list of Best Foodie Cities in America.
Don't just take our word for it; Come experience Grand Rapids for yourself. For more information on hosting a meeting in Grand Rapids, contact our convention services team.
invalid widget [plugins_common_blog_subscription] []