Have you taken notice of all the cranes throughout downtown lately? There are a variety of construction projects in the works from restaurants, entertainment venues, hotels and much more. In fact, in the next year alone, Grand Rapids is expected to add an estimated 1,100 hotel rooms to its inventory. As our city and industry grow, so will the demand for jobs at all levels. The question is, who will fill those jobs?
According to the U.S. Bureau of Labor Statistics (BLS), employment in the leisure and hospitality sector has surpassed pre-recession levels in nearly half of the nation's major markets. Forty-four of the 100 biggest metropolitan areas employed more leisure and hospitality workers in February 2012 than during the same month in 2008. The BLS also estimates that nearly 4.5 million people comprised the lodging industry's domestic workforce in 2010 with an expected increase of 8% over the next 10 years.
However, a 2012 NAACP hospitality report, which provides a comprehensive review of diversity and inclusion in the lodging industry, reveals that representation of people of color in positions that are not solely low-level positions remains disproportionally low. People of color make up 34% of the population, yet the industry isn't equitably represented in positions of management or ownership. Many of the jobs held by people of color are low-wage paying and don't offer the economic stability compared to their counterparts.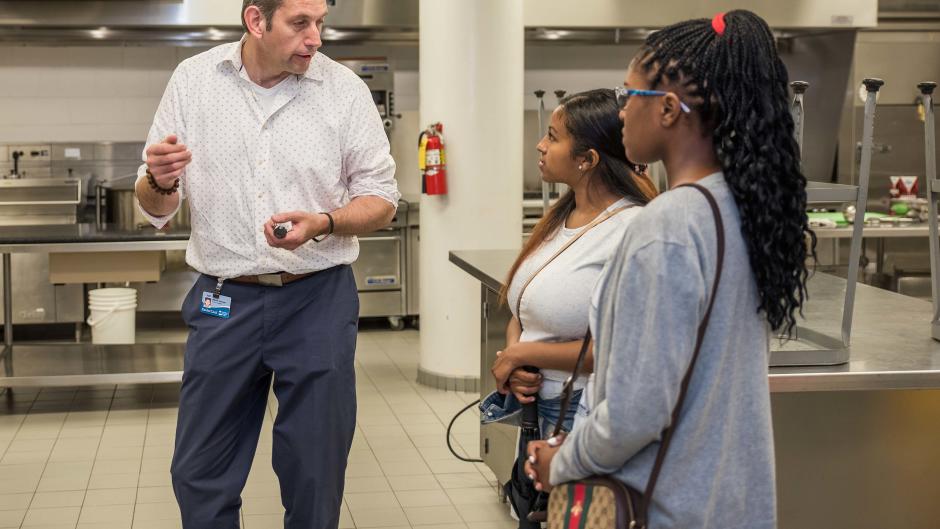 Students talk with instructor during Discover Tourism Grand Rapids' tour.
Photo Credit: Rich P Photography
---
Representation Matters
That's why it's been a priority for Experience Grand Rapids and our industry partners to develop a professional pipeline initiative – Discover Tourism GR – to help strengthen and diversify the hospitality industry. Discover Tourism GR seeks to recruit and retain qualified, diverse talent for local hotels, restaurants and visitor attractions.
In the pilot year of this initiative, we are proudly partnering with Morehouse College – a historically black college in Atlanta, Georgia. Although it does not have a hospitality management program, Morehouse welcomed the opportunity for us to engage with their students.
We sought students majoring in business, engineering and even IT because these functional business roles and skill sets are needed in the hospitality industry.  During a reception with students in early September, we learned that, while many did not initially consider hospitality and tourism as a career path, many left with newfound interests and even enjoyed learning about Grand Rapids as a community in which to work and live.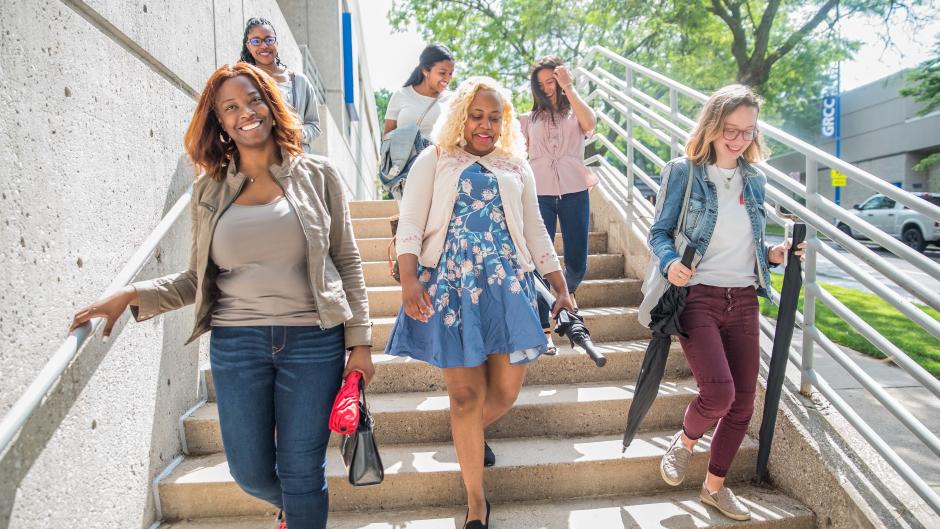 Students tour Grand Rapids' hospitality establishments from restaurants to hotels.
Photo Credit: Rich P Photography
---
Following a meet and greet reception in Atlanta, we invited participants from Morehouse College to join us in Grand Rapids from November 3 through 6. During their visit, they will:
Looking to the Future
Discover Tourism GR will be an annual event, with plans to continue our successful partnership with Morehouse College. However, we plan to expand our reach by strategically partnering with organizations that will help link more students, primarily of color, with the fields of hospitality and tourism. For example, we're looking into partnership opportunities with the National Society of Minorities in Hospitality, a student-led leadership program. The group works to channel minority students into the industry through leadership pipeline roles.
Through initiatives like this we hope to do our part in reducing the gap in our overall workforce shortage as well as increasing the representation of minorities in management.
Visit the Discover Tourism GR page to learn more about the program. 
Don't miss a post!
Sign-up for The Rapid Exchange Blog