Art matters to Grand Rapids. Especially public art. That affinity is evidenced in the city's veneration of La Grande Vitesse, a 42-ton steel sculpture by Alexander Calder that graces Calder Plaza in the heart of downtown. This year, Grand Rapids celebrates the 50th anniversary of the beloved stabile – as well as the Festival of the Arts and public art movement that it inspired. 
A local effort launched in 1967 by Nancy Mulnix Tweddale and the Women's Committee of the Grand Rapids Art Museum helped make the $128,000 sculpture installation a reality.  The classic Calder-red stabile was installed in 1969 and marked the nation's first civic sculpture jointly financed by National Endowment for the Arts and private funds.
Since then, the piece has become a symbol of a city committed to public art, inspiring artist Joseph Kinnebrew when he was commissioned to create a new Grand Rapids logo in 1982.  The whimsical graphic representation of the Calder standing alongside the city's namesake Grand River now adorns everything from street signs to city vehicles.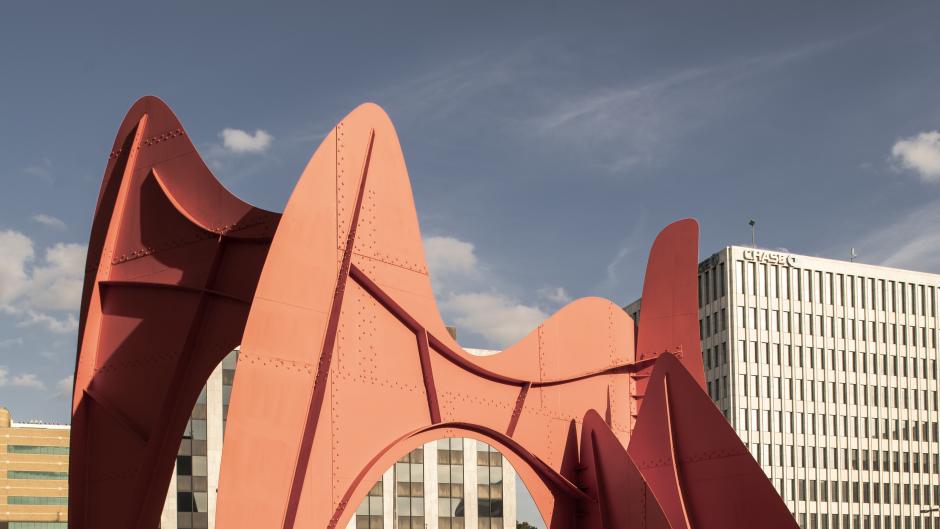 La Grande Vitesse, a public sculpture by American artist Alexander Calder, is located on the large concrete plaza surrounding City Hall and the Kent County Building in Grand Rapids, Michigan, United States. Popularly referred to as simply "the Calder", since its installation in 1969 it has come to be a symbol of Grand Rapids, and an abstraction of it is included in the city's official logo.
Photo Credit: Experience Grand Rapids
---
In an article for the National Endowment for the Arts, city historian Gordon Olsen noted that the Calder  "changed the role of the arts and public sculpture in the life of this community because of the sheer magnitude of La Grande Vitesse and the excitement surrounding it, as well as all the work the community did to bring it here."
In the 50 years since the Calder installation, the Grand Rapids community has been expanding its art collection. Much of the work – like the Calder – is in public places and easily enjoyed by all.  
Kinnebrew, for instance, has notable artworks within walking distance of La Grande Vitesse. Visitors can explore the Fish Ladder Sculpture along the west side of Grand River near the Sixth Street bridge and Aspiration of Inspiration located on Fountain Street across from Fountain Street Church.
And one of the most recent additions to the downtown public art landscape is LOVE by Robert Indiana . Installed in May 2018 as a gift to Grand Rapids by the Frey Foundation, it quickly became a favorite photo spot for locals and visitors alike. It's located at Louis Campau Promenade along Monroe Ave – stop by for your own LOVE portrait when you're in the area. 
A running tour stops to admire LOVE by Robert Indiana.
Photo Credit: Experience Grand Rapids
---
If you're interested in exploring other pieces of public art along a one-mile downtown walk, find Vamonde in the app store and navigate to the Art Around the Corner adventure. There you can read about ten pieces of public art and see them on the walk.
Beyond its growing number of public art installations, Grand Rapids became home to the most attended public art event on the planet when ArtPrize launched in 2009.  After 10 years hosting this radically open art competition, the folks from ArtPrize have launched Project 1, a multi-sited, curated public art exhibition slated to begin September 7, 2019. The inaugural exhibition will feature works by Amanda Browder, Heather Hart, Olalekan Jeyifous, Paul Amenta and Ted Lott, and Rafael Lozano-Hemmer at three sites in and within a few miles of downtown. The seven-week event will include art installations, sculptures, public events, performances, urban interventions and community-oriented projects.
ArtPrize, now a biennial event, will return in 2020.
So, whether you stop by for a LOVE selfie, enjoy a late summer picnic at Fish Ladder Park, or plan a Grand Rapids-getaway during Project 1, remember it all began 50 years ago with a community passionately committed to making art accessible for all.
Don't miss a post!
Sign-up for The Rapid Exchange Blog