West Side
"The West Side is the best side," according to the residents and business owners of this venerable neighborhood, which was first connected to downtown Grand Rapids via footbridge in 1842. German, Polish, and Irish immigrants soon populated the area, establishing distinct business districts amidst tree-lined residential streets. Today, the West Side is experiencing a major revitalization, as new buildings and new businesses cater to an increasingly diverse population.
Ideas for West Side Fun!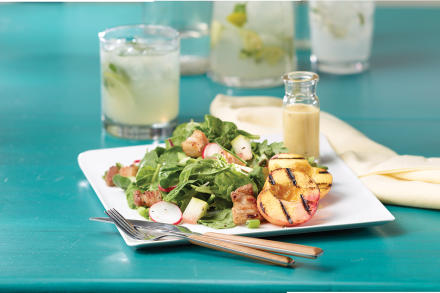 Summer has officially arrived, and it's obvious that it's here as the farmer's markets swell with more stalls and colorful produce. There's something to be said about eating during this time of year:
Ribs at Two Scotts Barbecue Photo courtesy of Two Scotts There is nothing like a good barbecue, especially if you aren't cooking! Early 2015, somenew restaurants are joining Memphis Smokehouse ,
Photo Courtesy of Long Road Distillers Grand Rapids has nurtured craft beer lovers for around a decade now, calling all types of beer drinkers to appreciate the subtlety of just four ingredients.
Where to Eat:
The Bitter End, voted best coffeehouse by Grand Rapids magazine readers, is located in a restored century-old bank building. Craft-roasted coffees, teas, smoothies, and more.
Blue Dog Tavern is a new eatery in a 100 year-old building with a storied restaurant past. Come for the food and drink, linger for the historic touches and neighborhood vibe.
El Granjero Mexican Grill serves delicious authentic dishes - including tacos, quesadillas, grilled cactus and wonderful desserts - with a farm-fresh focus.
Maggie's Kitchen is an unpretentious yet award-winning cafe specializing in authentic cuisine from the Michocan region of Mexico.
Mitten Brewing Co. is a vintage baseball-themed microbrewery and gourmet pizzeria located in a Victorian-era firehouse.
Monarch's Club was originally founded in 1925 during prohibition and was a illegal Speakeasy started by Polish Immigrants on the west side of Grand Rapids. Monarchs Pub Menu features the westsides famous "Red Lion Chilli Dog".
O'Toole's Public House is an Irish pub offering delicious, outrageously-topped gourmet burgers and sandwiches plus multiple Michigan beers on tap and daily drink specials. 
Salvatore's Italian Restaurant and Pizza is a multi-generation family restaurant serving authentic old-world recipes. Winner of a People's Choice Best Pizza award.
Where to Shop:
Ball Park Floral & Gifts is your source for fresh-cut flowers, arrangements and creative gifts for every occasion. Serving Grand Rapids since 1904.
DENYM is an upscale jean shop geared to men and women seeking casual wardrobe options that fit both the office and a night out.
The Conscious Collective Consignment offers gently used men's and women's fashions, plus home decor items and new products handmade by local artisans. 
Rylee's Ace Hardware stocks hard-to-find hardware items plus housewares and garden goods along with good old-fashioned neighborhood-store service.
Freewheeler Bike Shop has been supplying new bikes and excellent bike service to Grand Rapids cyclists since 1978.
What to Do:
Hit the links- the Mines Golf Club is an 18-hole course right around the corner from John Ball Zoo. Built atop old gypsum mines, the rolling terrain makes it a joy to play. One of Golf Digest's "Best New Public Courses Under $75" in 2006.
Hike, bike, or blade Kent Trails, a 15-mile paved pathway that follows abandoned rail lines through wetlands, forests, meadows and city neighborhoods. John Ball Park is an access point.
Experience the West Side-style nightlife at neighborhood bars and clubs:
What to See:
See more than 2,000 animals at John Ball Zoo, one of the nation's oldest surviving urban zoos and Michigan's fourth most popular cultural attraction. There are many rides and activities to choose from, and you can picnic in the adjacent park. (Bring bread to feed the ducks!)
Visit three majestic Catholic churches erected by the area's early immigrants. The Germans build St. Mary's, the Irish built St. James, and the Polish build St. Adalbert, all within a few blocks of each other. Another Polish church, Sacred Heart, towers over John Ball Park.
Local Favorites:
Arnie's Bakery & Restaurant is a West Side institution with roots dating back 100 years. Rebuilt after a 2009 fire, the restaurant serves hearty breakfasts, lunches, and dinners, plus swoon-worthy desserts.
Brann's Steakhouse & Sports Grille is a casual restaurant masquerading as a sports bar. Home of the "legendary sizzling steak," it boasts more TVs than just about any restaurant in town - and it's run by one of the town's favorite restaurant owners.
Hidden Gems:
Ferris Coffee and Nut House has been a Grand Rapids staple since 1924, offering the very best coffee, nuts, and gourmet treats made right here.
Frank's Market and Lewandoski's Market offer a huge selection of authentic German and Polish foods, including fresh and smoked kielbasa, metwurst, German wieners and more.
Scrumptious Cupcakes and Sweetery serves up mouthwatering gourmet and cocktail cupcakes plus a variety of other goodies.   
To find all of the other places to see, eat, and visit in this neighborhood, use the drop down menu below.