Media
Experience Grand Rapids Media Contact
Stephanie Kotschevar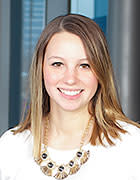 Public Relations Specialist
AKA: Shameless Publicity Seeker
SKotschevar@ExperienceGR.com
(616) 233-3577
Travel journalists and bloggers should contact Stephanie for information and assistance with any Grand Rapids-related stories. She can provide facts and images, connect you with community sources, and facilitate on-site visits and appointments.
She generates an ever-changing array of attention-grabbing story ideas, so she can help you find a topic or direction that will engage your readers.
Also, connect with Stephanie for information on the impact of tourism and its importance to the local economy, as well as the details on local events and promotions. She can connect you with local media members, community figures and Experience Grand Rapids personnel.
She's always looking for new ways to increase awareness of Grand Rapids and Experience Grand Rapids, so she's a great resource for you.