Grand Rapids has long been a model of sustainability. In 2007, it became the first U.S. city to be recognized as a Regional Centre of Expertise for Education and Sustainable Development by The United Nations University. It was dubbed "America's Greenest City" by Fast Company magazine in 2008. And it was named the most sustainable city in the nation by the U.S. Chamber of Commerce and Siemens Corp. in 2010.
Our commitment to environmental stewardship has continued to flourish in the years since, as government, business and nonprofit partners have come together to set – and exceed – aggressive sustainability goals. Sustainability is one of six core values the City of Grand Rapids has embedded across all of its operations and services, and its sustainability goals include sourcing 100% renewable energy by 2025, reaching 85% carbon reduction by 2030 and achieving carbon neutrality for all municipal emissions by 2040.
The local focus and effort devoted to advancing environmental protection includes the opportunity for individuals to get involved and make a difference. Whether you're here for a conference, a family visit or you call Grand Rapids home, you'll find fun and meaningful volunteer opportunities any time of year. Here are just a few examples – click on the links for volunteering details.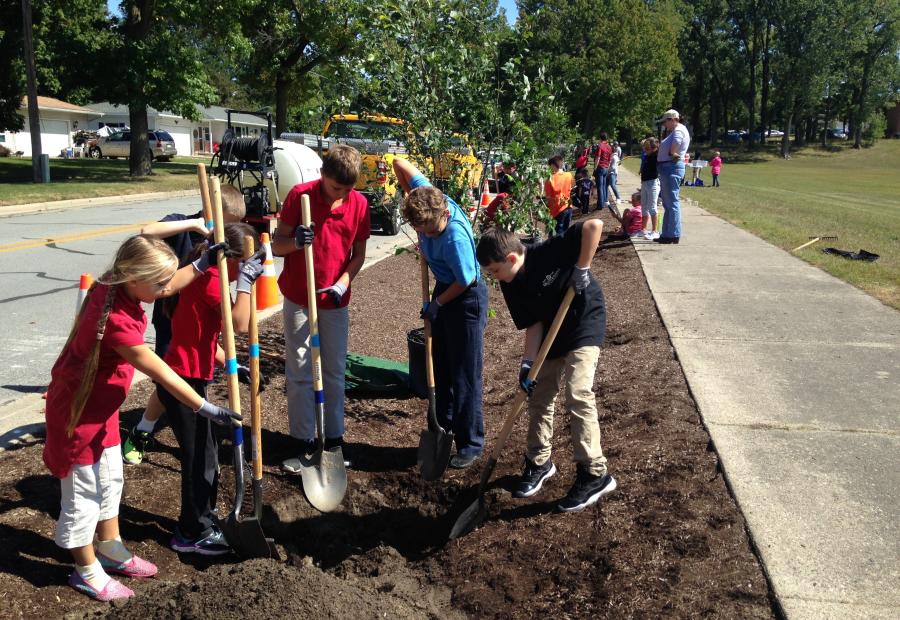 Kids and adults of all ages planting trees with Lower Grand River Organization of Watersheds (LGROW).
Photo by Lower Grand River Organization of Watersheds (LGROW)
Plant a tree
Each spring and fall, Friends of Grand Rapids Parks and the Grand Rapids Forestry Department sponsor ArborFest, which brings community and corporate volunteers together to plant 300+ trees in a different neighborhood. It's part of an effort to achieve 40% tree canopy over the city.
Friends of Grand Rapids Parks also hosts volunteers for open community projects throughout the year, which may involve planting or pruning trees, beautifying flower beds and cleaning up parks.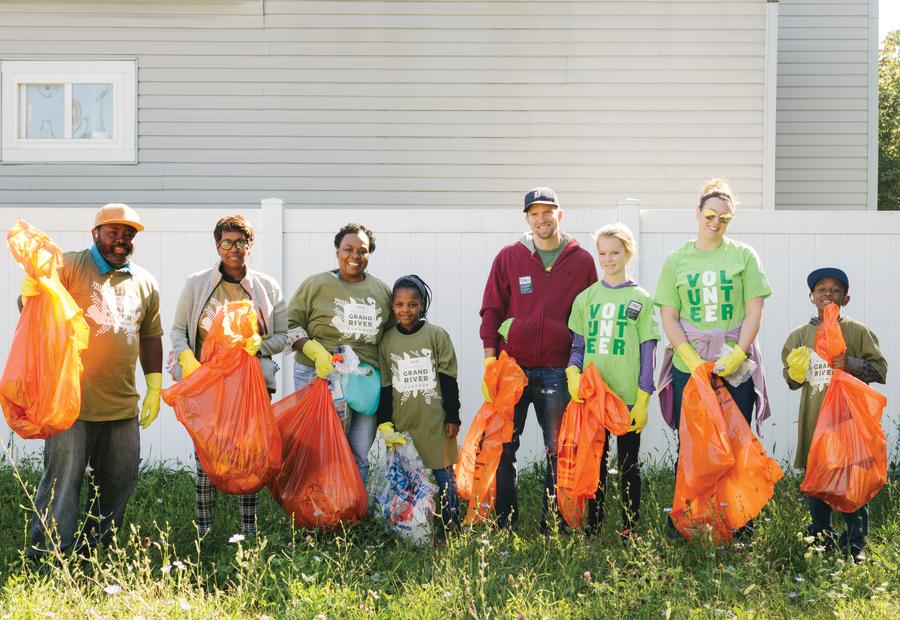 Volunteers from WMEAC helping out at the Mayor's River Clean Up event.
Photo by West Michigan Environmental Action Council
Clean up local parks, rivers and beaches
Removing trash, debris and invasive species from natural spaces is a year-round job.
Kent County Parks and Trails manages more than 7,000 acres of public land in 43 parks and maintains more than 100 miles of trails within and outside its parks. Volunteers can help with park & trail cleanup, invasive species control, habitat restoration and more.
The Land Conservancy of West Michigan welcomes volunteers for Second Saturday workdays, held from 9am-noon the second Saturday of every month. The focus is on invasive species removal, seed collecting, native plant installation, general cleanup and trail maintenance at 16 local nature preserves.
The Lower Grand River Organization of Watersheds (LGROW) offers a variety of volunteer and community service opportunities, including river and stream cleanup, bioswale maintenance, storm drain cleaning and insect sampling.
Grand Rapids Water Protectors sponsors cleanups at different parks, beaches and waterways throughout the year.
Friends of Buck Creek conducts an annual summer cleanup of this 20-mile long Grand River tributary. Volunteers receive a map of a section to clean along with gloves and garbage collection bags.
The Mayors' Grand River Cleanup is a week-long event that brings together mayors, elected officials and volunteers from several different west Michigan communities to remove trash from a vital part of the West Michigan community. It's one of many events hosted by the West Michigan Environmental Action Council to keep people engaged with their environment. Look into WMEAC volunteer opportunities here.
Kent Conservation District seeks volunteers to assist with tree and native wildflower sales, tree plantings and an invasive species strike team that takes action against several aggressive invasive species during the growing season.
Adopt-A-Highway, Adopt-A-Park, Adopt-A-Stream and Park & Trail Stewards programs empower individuals and businesses to take ongoing responsibility for cleanups and other aspects of environmental health.
Work on a farm or garden
This is a great way to learn about sustainable agriculture and help feed the community.
Blandford Nature Center has lots of volunteer opportunities to weed, wash produce and clean its farm facilities from late spring to early fall. Volunteers can also help pull invasive plant species along Blandford's nature trails, tend to Wildlife Ambassadors and teach youth about the wonders of nature.
Volunteer opportunities at Frederik Meijer Gardens & Sculpture Park include digging, planting, weeding, pruning watering and other tasks in both the indoor and outdoor garden areas.
Volunteers at the Wittenbach Wege Center for Agriscience and Environmental Education play a vital role in helping protect the land and gardens of this 141-acre outdoor classroom. Check their Facebook page for volunteer events.
Calvin Ecosystem Preserve & Native Gardens welcomes volunteers to help maintain/create trails, plant native species, collect seeds and assist with invasive species control.
Plainsong Farm works toward a healing practice of Christian faith fully integrated with the care of Creation. Volunteers can work on a variety of field, property and conservation projects.
The New Growth Project offers inclusive job opportunities to individuals with developmental disabilities. Volunteers assist in this mission by working in the fields, greenhouse, production barn and Farmer's Market.
Growing Roots utilizes gardening and the care of rescued animals to empower those with autism and other developmental disabilities. This nonprofit organization is always looking for volunteers to assist on the farm and with events.
The Critter Barn teaches kids about farming and agriculture through hands-on experiences. Volunteers of all ages work around the farm and its animals, and help visitors explore the miracles of nature.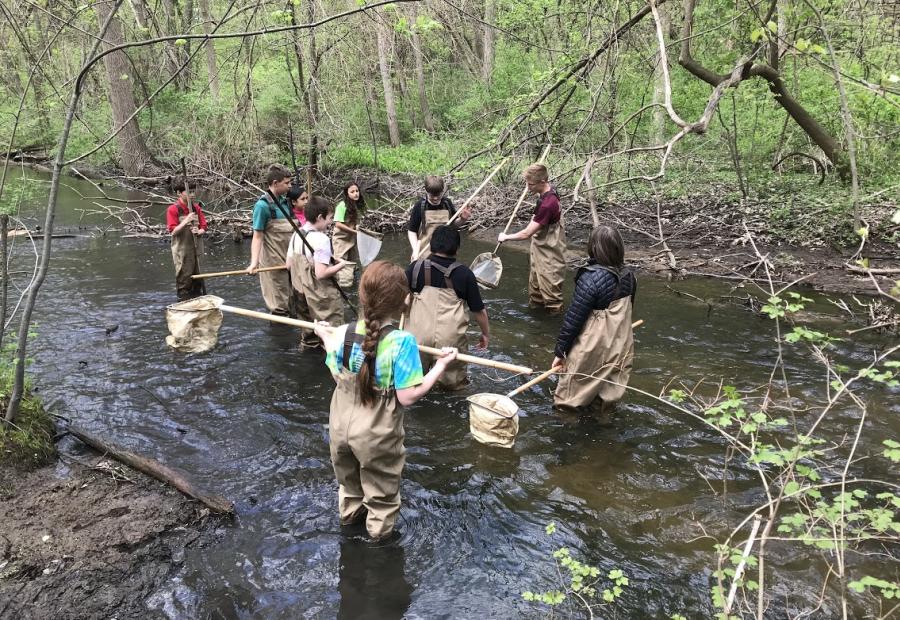 Grand Rapids students participating in the Teach for the Watershed program at WMEAC.
Photo by West Michigan Environmental Action Council (WMEAC)
Educate others about sustainability issues
Use your talents to advance the cause.
Kent County Parks Foundation is a nonprofit organization dedicated to expanding and improving parkland, protecting the environment and preserving open space. Volunteers are needed to assist with photography, fundraising, event planning and office work.
The Sierra Club of Greater Grand Rapids is dedicated to exploring, enjoying and protecting the planet. Its Growing Green volunteers help organize presentations at neighborhood associations, garden tours, festivals and even door-to-door.
The Greater Grand Rapids Bicycle Coalition advocates and educates for sustainable transportation. Volunteers can write letters to representatives, staff information booths at community events, write articles, teach classes and more.
Clearly, there's no shortage of ways to get involved. Check out one or more of these opportunities and join us in building a more sustainable community.