The near west side of Grand Rapids, just across the Grand River from downtown, has undergone a startling renaissance in the past decade or so. Entrepreneurs have breathed new life into neglected commercial districts originally built by German, Polish and Irish immigrants in the 1800s. Today, an ever-increasing number of trendy restaurants, breweries, bars and shops are nestled amidst longstanding West Side businesses and residential neighborhoods.
As historic buildings were revitalized, attention was also paid to making public spaces more attractive and inviting. Muralists have led the way, transforming bare walls and drab streetscapes into eye-catching works of art.
Take the self-guided tour below – you can walk or drive – to see some of the neighborhood's most distinctive murals.
Craving more eye candy? Check out our City Center, Heartside, North Quarter, Southtown, and Uptown mural tours, as well as the Rad Women A-Z Initiative, which spans 26 mechanical boxes in the downtown area.
A Bridge to Great Art
Start your tour at the Bridge Street Market, an urban grocery store concept from local supermarket titan Meijer. You might want to pop in for a look around and a beverage at the in-store café operated by Ferris Coffee, which has been serving Grand Rapids since 1924. Fuel for your trip!
"Palate/Palette"
405 Seward Ave. NW
Located on the north side of the Market, viewable from the first floor of the parking structure adjacent to it, this 23-ft. x 108-ft. mural is by North Carolina artist Lara Nguyen. She calls the mural a "community table" of different kinds of produce meant to honor the beauty of diversity.
The intersection at the east side of the Bridge St. Market is Bridge/Seward. Head north on Seward Ave. to 4th St. (about 1/3  of a mile). Take a left (west) on 5th to the intersection of 4th and Stocking Ave.
"What Lifts You"
638 Stocking Ave. NW
One of the city's favorite selfie spots graces the north wall of the Blue Dog Tavern (fronting 4th St). Nashville artist Kelsey Montague painted a pair of butterfly wings here as part of a series of wings on buildings across the country. Snap a photo of yourself between the wings and share it on social media at #WhatLiftsYou.
Go back east on 4th St. to Seward and turn left (north) in the direction of 6th St.
"Looking Up, Looking Out"
567 11th St. NW
Just past 11th St., on the east side of the street, is this mural by prolific local artist George Eberhardt, whose work is also featured in the Gerald R. Ford International Airport and Slows Bar-B-Q in the Grand Rapids Downtown Market, in addition to other murals in most every corner of town.
Continue north on Seward to the Leonard St. intersection, about one third of a mile. Head east on Leonard, just past the next intersection (Elizabeth Ave.).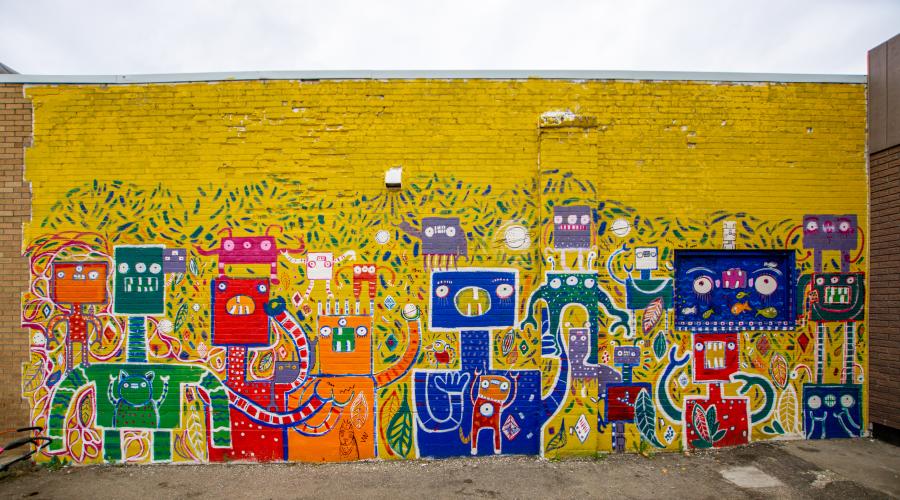 The Comedy Project Mural by artist Sarah Jean Anderson
Photo by Artist: Sarah Jean Anderson
"The Comedy Project Mural"
540 Leonard St NW
Grand Rapids-based artist, comic and character actor Sarah Jean Anderson painted a colorful band of robots on the west side of this building housing The Comedy Project, GR's home for improv and sketch comedy. It's on the south side of Leonard St.
Head east to the other side of the Comedy Project building.
"Floating Buildings"
536 Leonard St. NW
This is one of two murals in the parking lot of Two Scotts Barbecue. This one is by Michigan-based illustrator, printmaker and mural painter Nick Nortier.
"Covid Corvid"
536 Leonard St. NW
Directly across from "Floating Buildings," on the exterior of the Two Scotts building, is this mural by local artist (and clinical psychologist) Kim Kunze. Like many of her pieces, this one explores the impact of nature on our world.
"Protect Our Public Lands"
536 Leonard St. NW
Located on the north side of the Two Scotts building, this mural was created by local artist, designer and entrepreneur Edgar Hernandez. It depicts landscapes from Monument Valley Navajo Tribal Park, Bears Ears National Monument and the Arctic National Wildlife Range – all of which the artist says are at risk of exploited and destroyed for their natural resources.
Continue east past the Quarry Ave., Hamilton Ave. and Broadway Ave. intersections.
"Our Diversity is Our Strength"
422 Leonard St. NW
Artist George Eberhardt's second piece on this West Side Mural tour was created at the behest of the West Grand Neighborhood Organization to showcase the community's diversity. The mural was an ArtPrize 2017 entrant. It's on the east side of the Shade Shop building.
Now turn around and head west on Leonard, back to the Quarry Ave. intersection where Two Scotts Barbecue sits.
Serpentine Locomotion
537 Leonard St. NW
Situated at the northwest corner of the Leonard/Quarry intersection is this mural by Grand Rapids artists Kyle DeGroff and Brooke Rosier. It occupies the (really big!) east-facing wall of Long Road Distillers.
Turn left (south) at the next intersection, Seward St., and head back to the Bridge St. Market, your starting location. If you're hungry/thirsty after your adventure, you'll find many excellent restaurants, breweries and bars on Bridge St., just east of the Market.