Historic Sites 
The recorded history of Grand Rapids extends back some 2,000 years to Native Americans that settled the Grand River Valley. Tucked away off Interstate 96, within the boundaries of Millennium Park, stand a series of burial mounds containing artifacts from these Hopewell peoples. The Norton Mound National Historic Landmark is currently closed to the public, but artifacts from these mounds can be seen at Grand Rapids Public Museum.
Another notable burial site in Grand Rapids is that of the 38th President of the United States, Gerald R. Ford. President Ford wasn't born in Grand Rapids - but he was raised here and represented the city in the U.S. House of Representatives from 1949-1973. Richard Nixon selected him to replace Spiro Agnew as Vice President in 1973, and Ford assumed the Presidency less than a year later in the wake of Nixon's resignation.
All of this and more is brought to engaging life at the Gerald R. Ford Presidential Museum in downtown Grand Rapids. The President and Mrs. Ford are buried on the grounds of the Museum, on a hillside spot that attracts a steady stream of people paying their respects to our native son and his dear wife.
More recent Grand Rapids history is on display throughout the region:
Bridges. From picturesque covered bridges to storied urban bridges.
Historic Homes. Including Heritage Hill, named the best old-house neighborhood in Michigan by This Old House magazine.
Dutch Heritage. Large numbers of Dutch immigrants settled in West Michigan beginning in the early 19th century and the region is still associated with Dutch American culture.
Lighthouses. Michigan has more lighthouses than any other state, and some of the best are just a short drive from Grand Rapids.
Maritime History. Museums, festivals and events keep the rich maritime history of nearby Lake Michigan alive.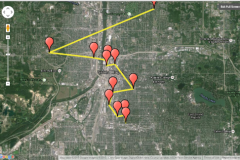 Explore these historic sites around the area:
187 Monroe Ave. NW
Grand Rapids, MI 49503

(616) 774-2000
925 Cherry Street SE
Grand Rapids, MI 49506

(616) 719-1604
18 LaGrave Ave. SE
Grand Rapids, MI 49503

(616) 454-9088
3251 Deposit Drive NE
Grand Rapids, MI 49546

(616) 942-7000
805 Taylor Street
Jenison, MI 49428

(616) 457-4837

|

(616) 457-4837
1 Ionia Ave. SW
Grand Rapids, MI 49503

(616) 458-7000
325 W. Main St.
Lowell, MI 49331

(616) 897-7688
450 Madison Ave. SE
Grand Rapids, MI 49503

(616) 246-4821
12350 James St.
Holland, MI 49424

(616) 396-1475
560 Mart St
Muskegon, MI 49440

(231) 728-8387
272 Pearl St. NW
Grand Rapids, MI 49504

(616) 456-3663
1 Lincoln Ave.
Holland, MI 49423

(616) 355-1030