The rivers that criss-cross Grand Rapids and West Michigan were integral to the region's explosive growth in the 19th century - especially after bridges were built to traverse the waters. Here are a few must-sees for bridge aficionados: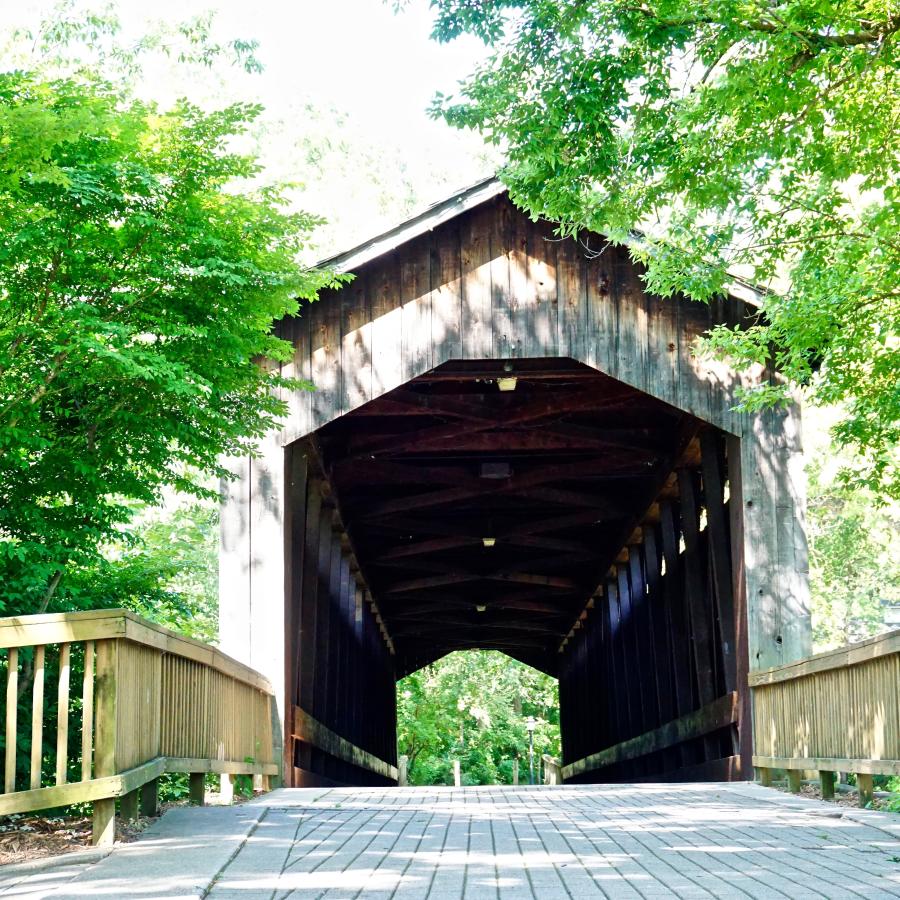 Ada Covered Bridge and Fallasburg Bridge are must-see covered bridges in the area.
Photo by Brian Craig for Experience Grand Rapids
Covered Bridges
Ada Covered Bridge at Leonard Park. Spans the Thornapple River, connecting the village of Ada to a public park on the other side. Rebuilt to its 1850s-era glory with the help of Ada's Amway Corporation.
Fallasburg Covered Bridge. One of only three covered bridges open to vehicle traffic in Michigan, it spans 100 feet across beautiful Flat River.
White's Covered Bridge. The bridge was the oldest covered bridge in Michigan, built in 1869. Located about 20 miles east of Grand Rapids. Unfortunately, this bridge burned down in July 2013. Here are photos of the bridge.
Bowen's Mill Bridge. A quaint scale replica of the covered bridge that once crossed the Thornapple River. A 17 foot water wheel and 1864 Grist Mill can be viewed from the bridge, which is about 20 miles south of Grand Rapids.
Grand Rapids Bridges: Blue Bridge, Pearl Street Bridge and the Gillett Bridge
Photo by Brian Kelly Photography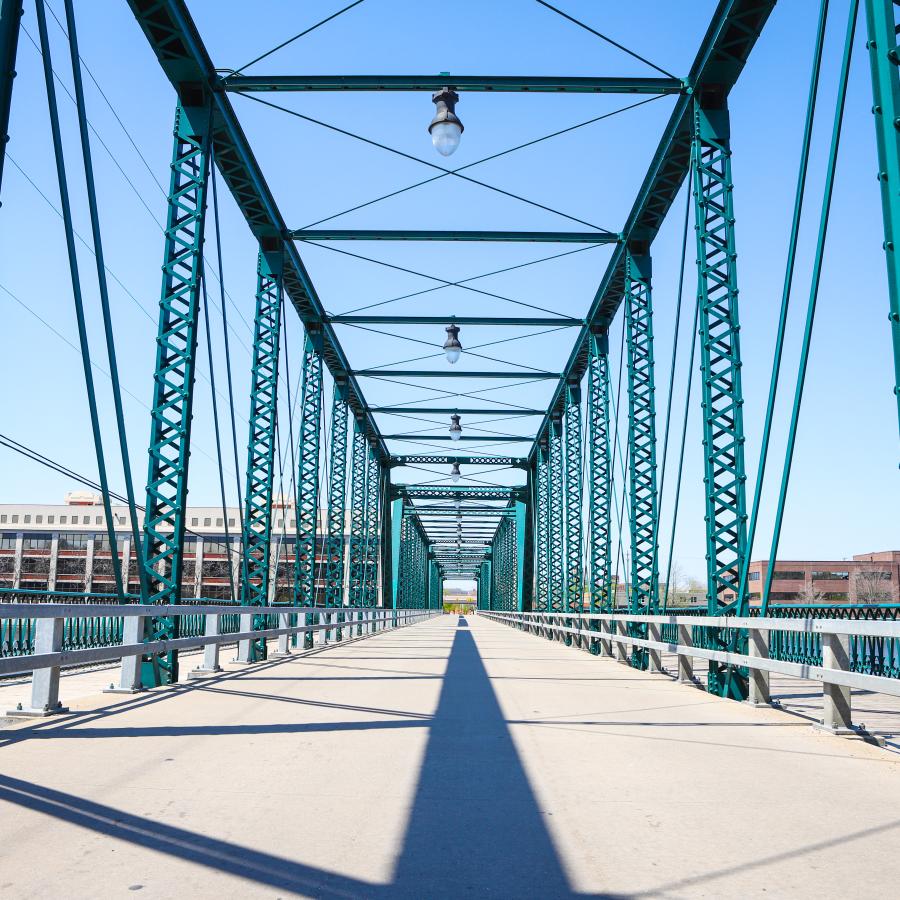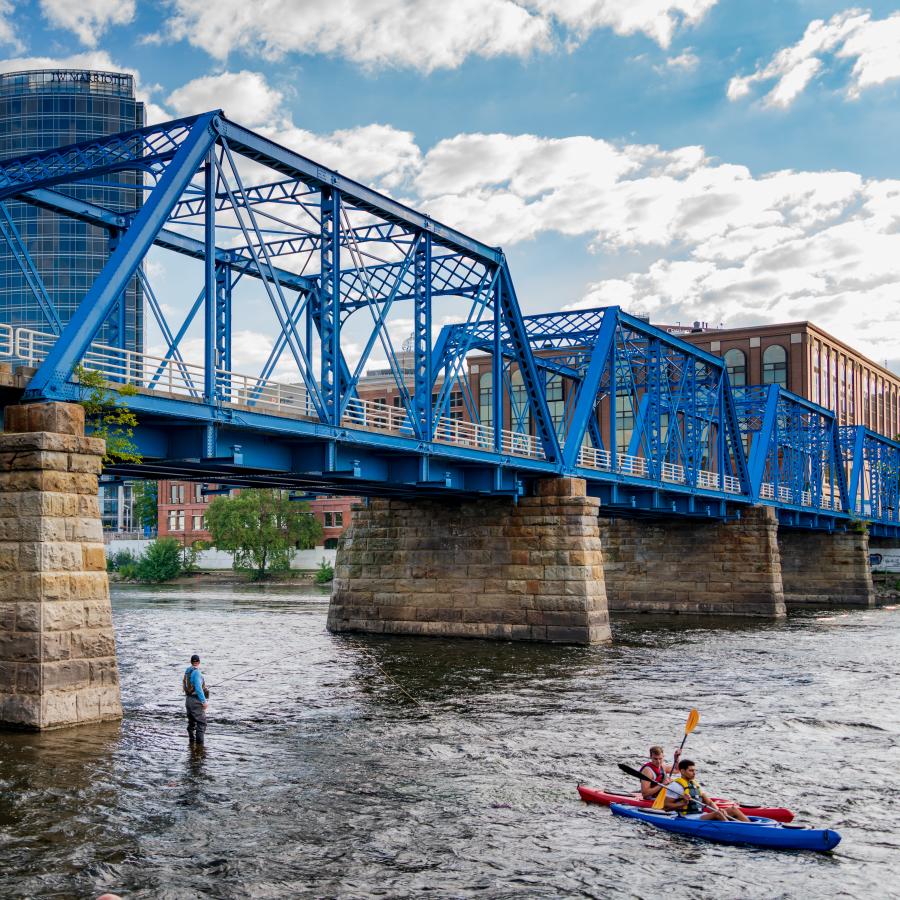 The Sixth Street Bridge and the Blue Bridge are iconic bridges of Grand Rapids.
Photo by Experience Grand Rapids
Rail-To-Trail Bridges
Kent Trails Bridge. Built in 1894, this 138-foot former railroad bridge over the Grand River connects Millennium Park to the southern suburbs of Grandville, Wyoming and Byron Center. It's also called the Hopewell Indian Mounds Railroad Bridge for the adjacent historic mounds site (not open to the public).
North Park Bridge. One of the longest truss bridges ever built in Michigan (circa 1904) once connected the cities of Grand Rapids and Walker over the Grand River. A 116-foot section of that original bridge was relocated to Riverside Park in 1991, where it now crosses a canal on a bike/hike path.
Oxford Trail Bridge. Renovated railroad trestle spans 680 feet over the Grand River to connect Millennium Park and the Kent Trails Network to the city's Black Hills Neighborhood (named for the numerous Black Walnut trees sprinkled throughout).