Many destinations have "signature events."
If you go to Hawaii, chances are you'll attend a luau. Headed to Orlando? An event at Disney is likely in your future. But what about Grand Rapids, Michigan? That's the question Amy Young, president of Destination Consultants, asked herself.
"I realized Grand Rapids really didn't have a signature event, and it would be nice to incorporate the river into events since the name of our city is Grand Rapids," said Young, CMP, CTA.
So Young began planning events for the Gillett Bridge, a 474-foot long, 27-foot wide pedestrian bridge over the Grand River. The downtown structure conveniently connects the convention center with Ah-Nab-Awen Park and the Gerald R. Ford Presidential Museum.
"It's an event that is authentic Grand Rapids," she said. "It's something people can talk about when they think of Grand Rapids, and share photos with their friends on social media."
The first bridge party Young organized, back in 2016, featured a fishing theme, complete with fly fishing lessons and a photo booth where guests could take a picture holding a record-breaking "catch."
Since then, Young and her Destination Consultants crew have helped stage memorable events on the Gillett Bridge for numerous groups and organizations – including ESTO (Educational Seminar for Tourism Organizations), the leading annual learning and knowledge-sharing forum for destination marketing professionals. ESTO 2022 was held in Grand Rapids and included a reception on the bridge.
At least, that was the plan. More on that later. First, here's a look at some of the considerations that go into using a nontraditional location.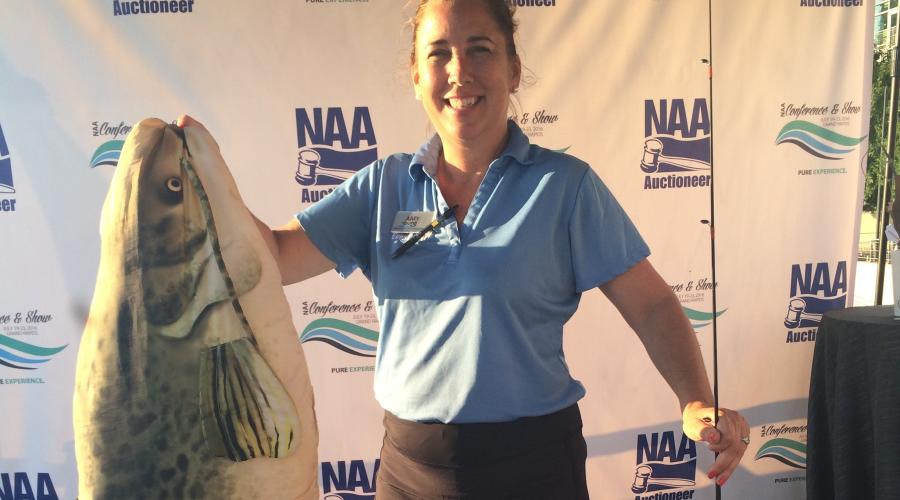 For her first-ever bridge event, meeting planner Amy Young had a photo booth onsite, complete with a "big catch" to play up the fishing theme.
Photo by Amy Young
Permits
Whether it's a bridge, a rooftop or a public plaza, make sure you get all the permissions needed to take over the space. For example, the city of Grand Rapids requires a 6-foot pedestrian egress through bridge events, says Jackie Stone, senior meeting & event producer for Destination Consultants. That applies to both the Gillett Bridge and The Blue Bridge, another pedestrian bridge within a 10-minute walk of the convention center. "Additionally, we have to set up the day of the event unless we want to hire security to watch the items on the bridge overnight," she said.
"We have staff on either side of the bridge to let the public know that there is an event going on and they may use the walkway space we have provided to cross," says Stone, who produced the ESTO event.
Food
Young says to make sure the caterer visits the site before the event: "It's incredibly important for the food to be good. If the caterer does not have accessibility to a kitchen, it can be tricky." Maybe the answer is a food truck or a buffet in a nearby building.
The food for the ESTO 2022 gathering was catered by AHC Hospitality, the exclusive caterer for DeVos Place Convention Center, which was the primary site for the forum. In addition to their kitchen being just steps away from the Gillett Bridge, AHC Hospitality is experienced at securing liquor licenses for bridge events.
Transportation
The Gillett Bridge is walkable from the convention center and downtown hotels. If it weren't, transporting attendees to the location would be another challenge, says Young. "A lot of (event planning) has to do with convention groups, so we have to think about the logistics of getting everybody there."
Visualization
Good diagramming software can be a godsend. "For the bridge event, we actually put it together like we do a floor plan for a ballroom," explains Young. "We used the Google Earth image of the bridge, which really helps the client have a visual. It is much easier to sell the concept to a client if they can see a diagram."
Weather
Weather is one thing you can't control, so "always have backup plans and another space contracted," urges Stone. "Be sure your caterer can use the backup space."
The bridge can be breezy, so Stone makes use of heavier centerpieces and linen clips along with weighted tents. She also takes steps to ward off insects and swooping red-winged blackbirds.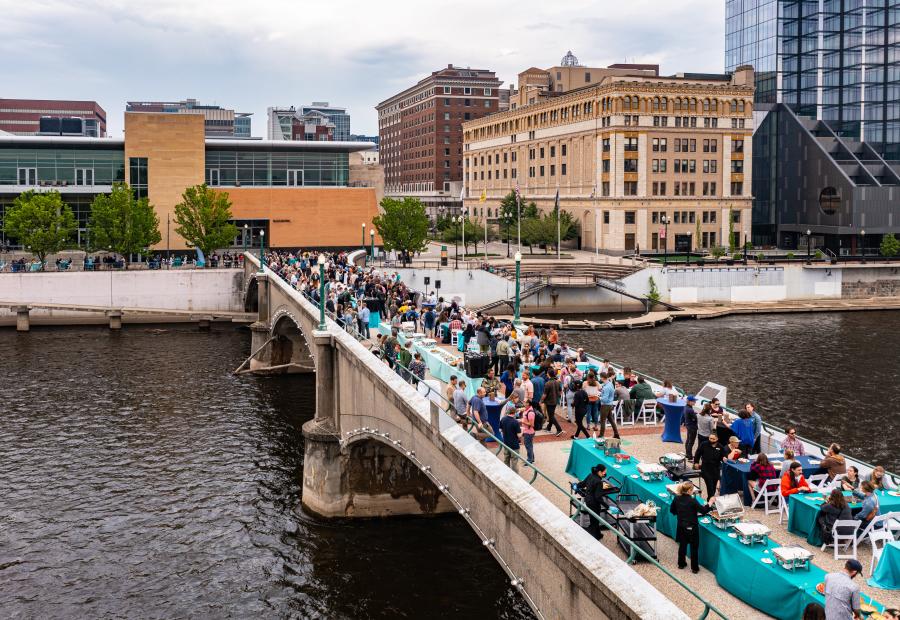 The Gillett Bridge, just behind DeVos Place, offers both a convenient location and a change of pace for meeting planners and attendees alike.
Photo by Credit: Experience Grand Rapids
Planning assistance
Stone reels off a list of additional considerations: Restrooms need to be close and plentiful. (Proximity to DeVos Place solves that for bridge events.) Using tents, generators and other equipment requires inspections by the City of Grand Rapids – "make sure you allow enough planning lead time to get through all the proper city channels." Trash removal must be arranged. Sound curfew is 10pm.
The City of Grand Rapids offers a Special Event Planning and Resource Guide that covers most everything planners need to know – permits, fees, checklists and more – for nontraditional locations like the Gillett and Blue bridges. Experience Grand Rapids and Destination Consultants are well-versed in these policies and can help planners save considerable time and avoid unnecessary complications.
The end result is well worth it, says Experience Grand Rapids Director of Convention Services Brandy Martin. "Utilizing the bridges right outside the doors of our convention center is a creative and fun alternative for receptions and parties," she says. "To be able to take in the Grand River, a focal point of the downtown community, is a great way to showcase the destination for attendees."
The best-laid plans
ESTO 2022 included an outdoor adventure focus, so a bridge event tied in nicely. Unfortunately, the weather didn't cooperate – the forecast called for a 50% chance of pop-up thunderstorms all day long. "It was extremely humid and the future track of the radar showed us getting hit by the storms," says Stone.
She huddled with the ESTO and AHC Hospitality event managers that morning and the trio reluctantly decided it was best to bring the event indoors to DeVos Place. Backup planning ensured that the transition was virtually seamless – the only sticking point was that, "The convention space for the evening events was being used for conference session breaks, so instead of starting setup at 10 am like we would have on the bridge, we had to wait until 3:30 pm. Labor from the rental company was long gone by then, so we had to rely on our team and the DeVos Place team to get everything in place."
That's the kind of "make-it-happen" attitude planners have come to expect from Grand Rapids, where the whole city seems to come together to ensure successful events for groups.
The indoor reception was a smashing success by all accounts, though Stone is still wistful for what might have been. "Bridge events are a LOT of fun for conference and meeting attendees – people are so excited to get out of a ballroom or meeting room!"