Many destinations have "signature events."
If you go to Hawaii, chances are you'll attend a luau. Headed to Orlando? An event at Disney is likely in your future. But what about Grand Rapids, Michigan? That's the question Amy Young, president of Destination Consultants, asked herself.
"I realized Grand Rapids really didn't have a signature event, and it would be nice to incorporate the river into the event since the name of our city is Grand Rapids," said Young, CMP, CTA.
So Young began planning events for the Gillett Bridge, a 474-foot long, 27-foot wide pedestrian bridge over the Grand River. The downtown structure conveniently connects the convention center with Ah-Nab-Awen Park and the Gerald R. Ford Presidential Museum.
"It's an event that is authentic Grand Rapids," she said. "It's something people can talk about when they think of Grand Rapids, and share photos with their friends on social media."
For her first bridge party she organized last year, Young used a fishing theme, complete with fly fishing lessons and a photo booth where guests could take a picture holding a record-breaking "catch."
She has three more events in the works, including one that incorporates a rubber duck race in the river to benefit charity.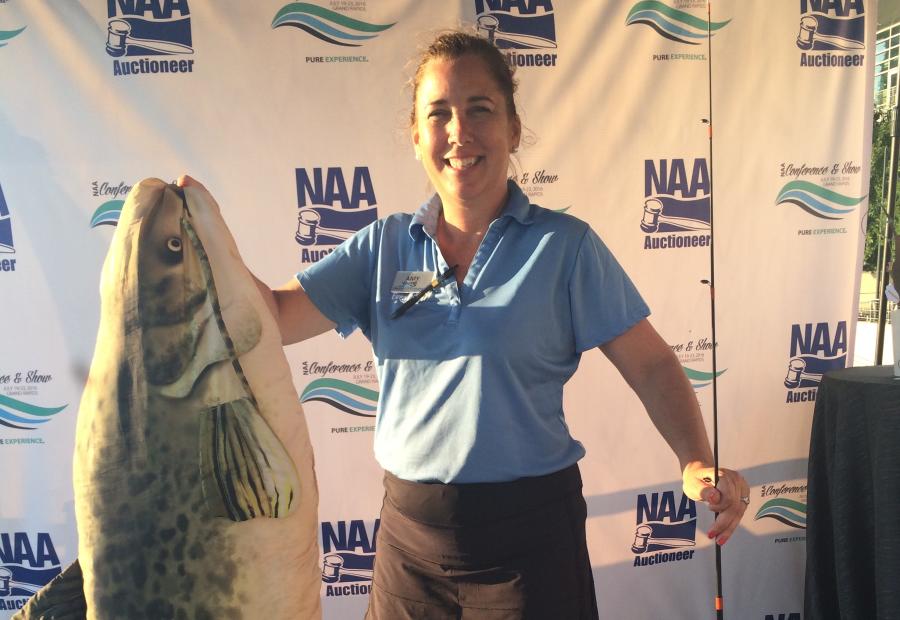 For her first bridge party she organized last year, Young used a fishing theme.
Photo by Amy Young
With meeting planners clambering for something that breaks away from "a boring ballroom event with no character," Young says the bridge event has been an easy sell. But, as with any nontraditional location, there are some logistics to think about to ensure success.
Permits
Whether it's a bridge, a rooftop or a public plaza, make sure you get all the permissions needed to take over the space. For example, Young said, the city of Grand Rapids requires a 3-foot pedestrian pathway through any event on the bridge.
"Additionally, we have to set up the day of the event unless we want to hire security to watch the items on the bridge overnight," she said.
Food
Young said to make sure the caterer visits the site before the event: "It's incredibly important for the food to be good. If the caterer does not have accessibility to a kitchen, it can be tricky." Maybe the answer is a food truck or a buffet in a nearby building.
Transportation
The Gillett Bridge is walkable from the convention center and downtown hotels. If it weren't, transporting attendees to the location would be another challenge. "A lot of (event planning) has to do with convention groups, so we have to think about the logistics of getting everybody there."
Weather
The Gillett Bridge's location near the convention center makes an indoor back-up easy. Tents using water barrels for weights are also allowed. Make sure your venue is equipped to handle the weather, Young said.
Plan it out for the client
Start with good diagramming software. "For the bridge event, we actually put it together like we do a floor plan for a ballroom," Young said. "We used the Google Earth image of the bridge, which really helps the client have a visual. It is much easier to sell the concept to a client if they can see a diagram."
And once you hold a successful event, the pictures can tell the story for the next person.
invalid widget [plugins_common_blog_subscription] []