Beer City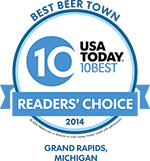 Grand Rapids Wins Best Beer Town!
Beer lovers of America have made their voices heard, and Grand Rapids can now call itself the Best Beer Town, according to readers of USA TODAY and USA TODAY 10Best.  

There are many reasons why Grand Rapids is becoming known for craft beer. After a nation-wide vote in May 2012, it became official that Grand Rapids was BeerCity USA 2012. And for a second year, Grand Rapids was named BeerCity USA 2013! Here are a few reasons why our craft beer community is so special:
• Founder's Brewing Co. has been named the 3rd best brewery in the world (ratebeer.com), and it serves one of the planet's top 10 beers.
• Hopcat has been designated the #1 brewpub in the nation (ratebeer.com) and for the last several years the #3 beer bar on earth.
• Brewery Vivant was one of Midwest Living's top 25 new places in 2012.
• Grand Rapids was named one of the top 10 Best Vacation Cities for Beer Lovers.
• More than a dozen craft breweries are located in the metro region - and new ones are popping up all the time! It's the perfect time for a tour of our incredible breweries and beer bars. Grand Rapids was just named one of the Top 10 Best Vacation Cities for Beer Lovers - so pack up your thirst and come on over!
Grand Rapids is the perfect place for your next beer vacation. With 15 breweries in the Grand Rapids area and another 6 West Michigan breweries - explore our craft beer tour to plan out your route!
The creative spirit that distinguishes Grand Rapids extends to the region's beer makers. Our local brewmasters take an artisan approach to their craft, conceiving and formulating unique beers full of big character and flavor.