Grand Rapids has been known as Beer City USA since 2012, when the city tied Asheville, North Carolina in an online poll to determine America's best beer city. The next year, Grand Rapids won the poll by a landslide – and it's been the sole holder of the Beer City USA title ever since.
How did a city whose previous claim to fame was "Furniture Capital of the World" – a distinction earned in the late 1800s – become a power player on the national (and international) craft beer scene? Read on!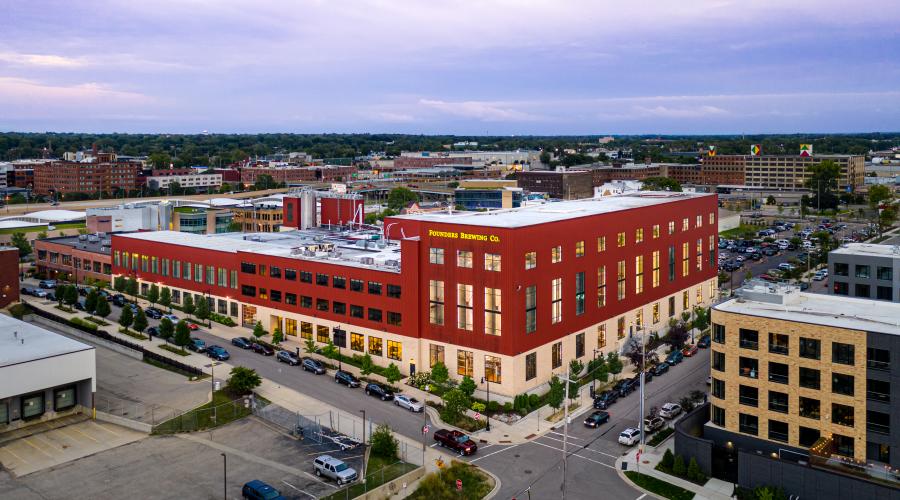 Founders Brewing Company, which produces some of America's top-ranked beers, was key to the rebirth of Grand Rapids beer culture.
Photo by Experience Grand Rapids
The Craft Beer Boom
Created by author and homebrewing pioneer Charlie Papazian in 2009, the Beer City USA poll was designed to measure "community spirit and support for beer businesses" at a time when America was in the midst of a craft beer boom. The domestic beer industry, previously dominated by a handful of gargantuan corporations, was being revolutionized by an explosion of independent, small-scale breweries from coast to coast.
These upstarts focused on fuller flavor, greater variety and a personal connection with local beer lovers to separate themselves from national brands. That was certainly the case with Founders Brewing Company, which was incorporated in 1997 and staved off bankruptcy before becoming the city's largest brewery and jump-starting the rebirth of a local craft beer culture that had last thrived around the turn of the century. (We're talking the 20th century, not the 21st.)
Founders and its circa-2012 contemporaries – including Brewery Vivant, Grand Rapids Brewing Company, Harmony Brewing Company, Hopcat, Perrin Brewing Company, Pike 51 Brewing, Rockford Brewing Company, Schmohz Brewing Company and White Flame Brewing Company – created a passionate local fan base for their innovative beers and sociable taprooms. Those supporters, with the help of business and leisure travelers that had sampled the city's brew scene, propelled Grand Rapids to the top of the Beer City USA poll in 2012 and 2013 – abetted by "get out the vote" campaigns orchestrated by the brewers and Experience Grand Rapids.
Papazian retired the poll after 2013, writing that it had "served its purpose." That left Grand Rapids as the reigning Beer City USA champion.
Marketing the Title
The poll had come to an end, but Grand Rapids had just begun to capitalize on the Beer City title. Local breweries and municipalities collaborated with Experience Grand Rapids on ways to market the Beer City experience to residents and beer aficionados across the country. The Beer City Ale Trail was mapped out, making it easy for visitors to locate dozens of breweries within an hour's drive. Beer City Brewsader® – a passport enabling users to earn a free t-shirt for visiting eight local breweries – was launched. Beer Month GR and other assorted beer festivals celebrated the importance of craft beer to the community all year long.
These efforts – and the continued flow of fantastic beer from taps across Kent County ­– has kept Grand Rapids front and center in any national discussion of craft beer. It's been voted Best Beer Town (2014) Best Beer Scene (2017) and Best Beer City (2021) in USA Today reader polls. It's earned a hops' basket full of additional recognitions, from Travel+Leisure's "#1 Best Beercation" to CNN Travel's "1 of 15 Best Beer Cities Around the World." And it's helped Grand Rapids/Kent County build and polish a reputation as a premier travel destination, noted in outlets like the New York Times, Lonely Planet, Expedia and Thrillist.
Experience Grand Rapids created a Beer City logo to use in marketing campaigns targeting beer lovers, and granted free use of the logo to local breweries and tourism & hospitality providers.
Photo by Craig Van Der Lende
The Bottom Line
A 2019 Economic Impact Study commissioned by Experience Grand Rapids found that "beer tourism" was a significant factor in the local economy. Beer tourism accounted for more than 94,000 visitors during the study year, and they spent $23.9 million in Kent County on craft beer, accommodations, food, transportation and other expenses. This spending generated a net new economic impact of $38.5 million.
In addition, beer tourism supported 378 local jobs and $9.9 million in earnings in the county.
In the decade-plus since the Beer City title win, the local craft beer scene has expanded to include 50+ breweries offering an endless variety of styles and flavors. Community support for artisanal beer has also helped give rise to other craft beverage makers, including cideries, distilleries, meaderies, wineries, juiceries and coffee roasters.
Grand Rapids breweries, like foodservice establishments across the country, were especially hard hit by the covid pandemic, enduring enforced shutdowns, strict capacity limits and acute labor shortages. Many brewers responded by reinventing their operations to offer takeout and delivery of beer and food offerings. This effort was warmly received by a community eager to help these businesses stay afloat (and thirsty to enjoy their favorite brews again).  
Even with community support, a few breweries did close in the wake of the pandemic. However, new breweries sprung up in their place, helmed by entrepreneurs confident in the resilience and continued growth potential of the craft beer market. Today, Grand Rapids actually has more breweries than it did the day covid hit our state.
So the next time you visit one of our breweries, lift a glass to the accomplishments of our beer community. (Be sure to check in with your Brewsader passport.) Then consider a second toast to the future of the Grand Rapids beer scene – because the best is yet to come!