Not only does Grand Rapids have a plethora of breweries, but many of these breweries offer tasty meals to pair with their award-winning brews.
We asked locals what breweries they recommend for savory craft beer and food options, and here are the seven we heard the most about: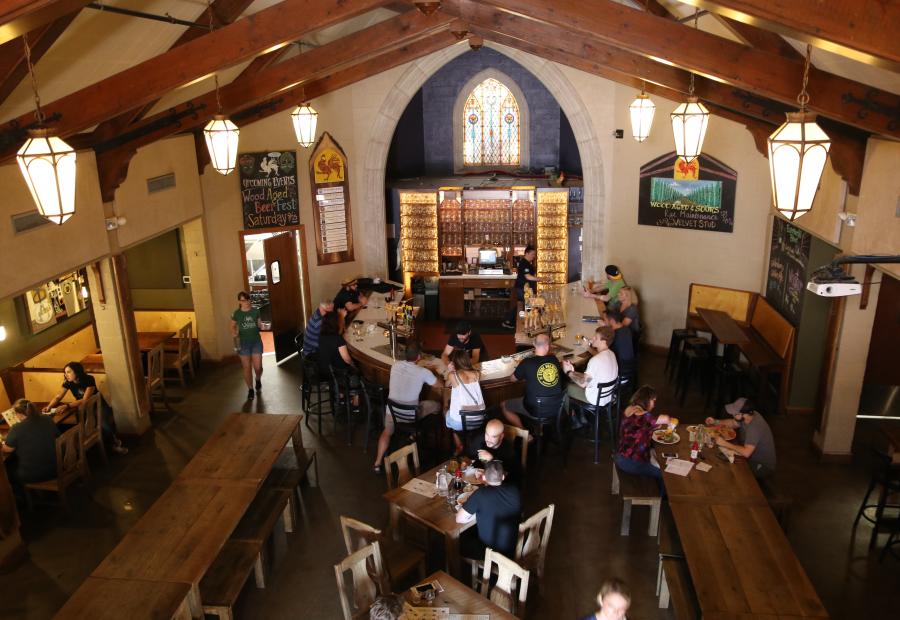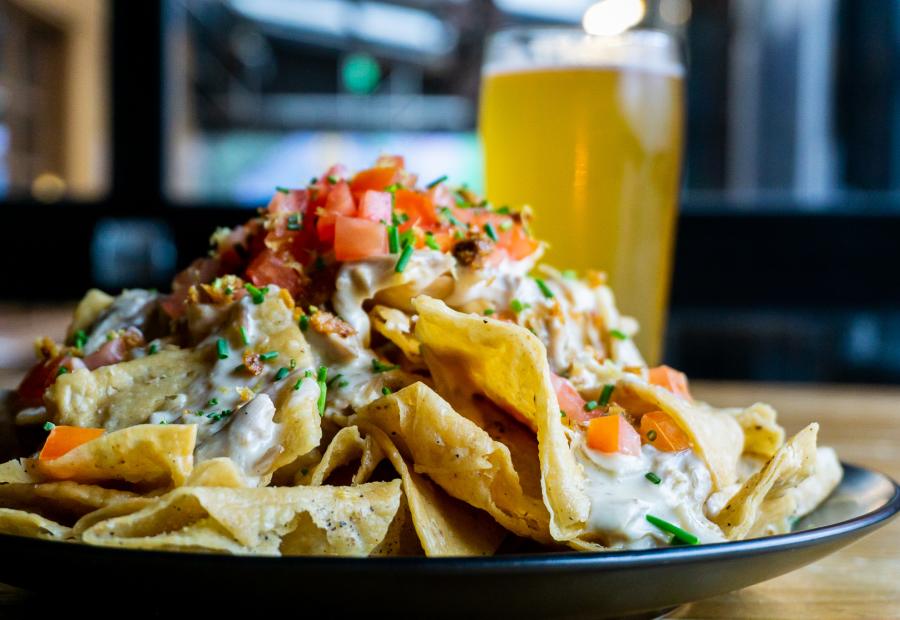 Brewery Vivant: unique location with great duck nachos.
Photo by Experience Grand Rapids
Brewery Vivant
Address: 925 Cherry St SE, Grand Rapids, MI 49506
Brewery Vivant has a lot to offer, such as a unique building that was once a funeral home, award-winning Belgian-inspired ales, raves in Thrillist and Bon Appetit, and a desirable location nestled in the Cherry Hill area.
The culinary focus here is on made-from-scratch dishes using locally sourced ingredients. Franco-Belgian influences can be tasted in such dishes as Duck Confit Nachos, Poutine, Escargot and Coq au Biere (beer-braised chicken leg and thigh). There's also a nice selection of burgers, salads and delectable house-made desserts. It's an elevated yet very approachable pub-food menu.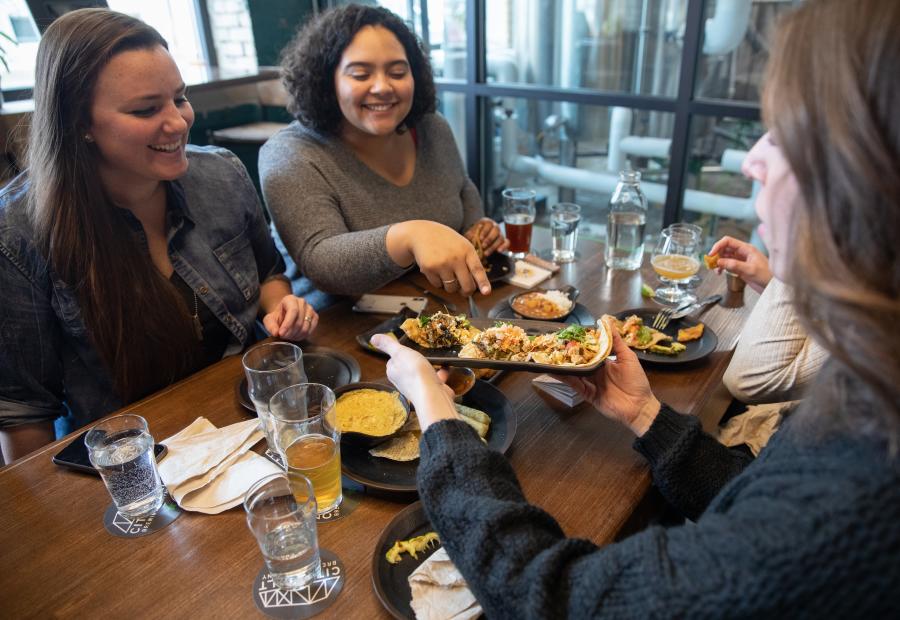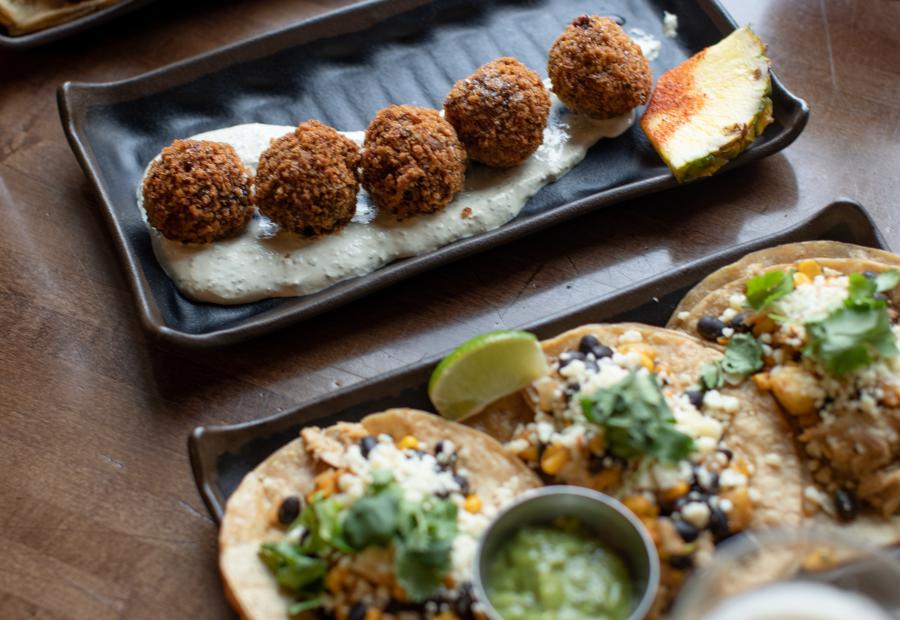 Make a new friend or two at City Built's large community tables.
Photo by Experience Grand Rapids
City Built Brewing Co.
Address: 820 Monroe Ave NW #155, Grand Rapids, MI 49503
Known for its unique Puerto Rican-inspired menu, City Built Brewing Co. is also a highly recommended dining-and-craft beer destination.
Authentic dishes include Yuca Fries, Pastelillos, Bori Balls and Tostones. Even the tacos here boast a Puerto Rican twist, with filling options that include crispy pork belly, fried coconut breaded shrimp and chicken tinga.
Li Grand Zombi, the "Creole-inspired alter ego of City Built," also operates out of the brewery's kitchen and offers a rotating weekly selection of Louisiana-style dishes, which has included such mouthwatering creations as Creole Pot Roast and Gravy, Smoked Chicken and Shrimp Gumbo, and Fried Frog Legs.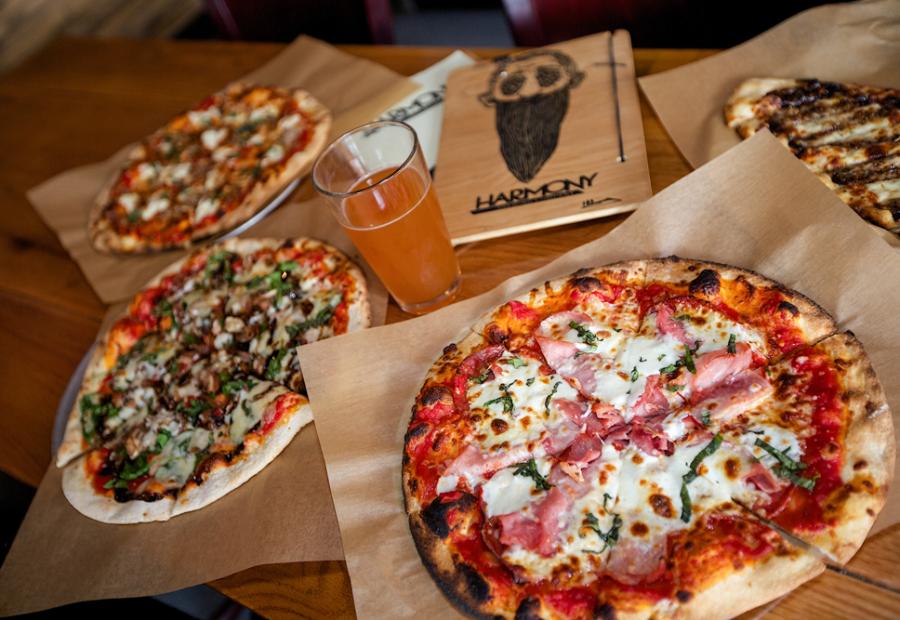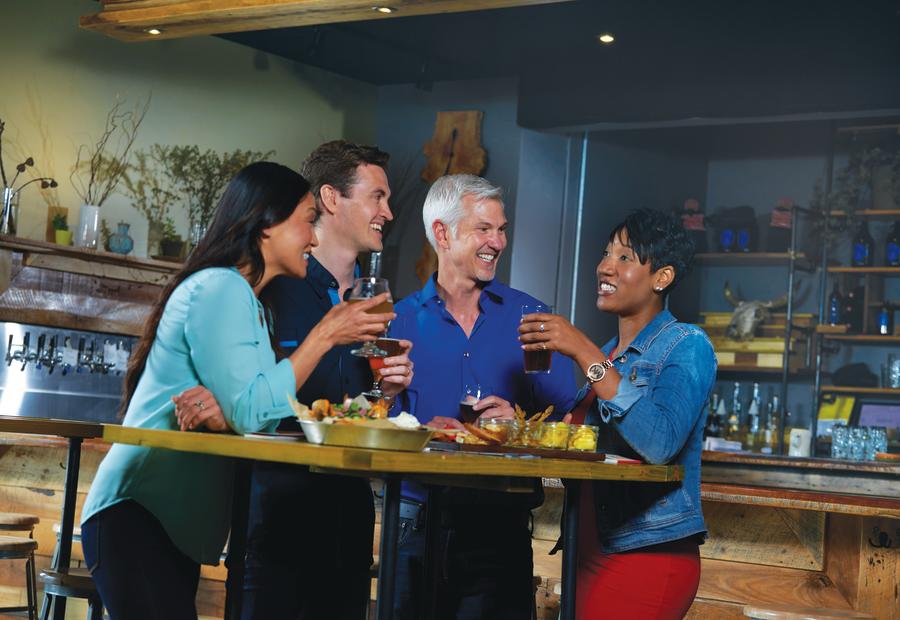 Pizza and Beer at Harmony Brewing
Photo by Experience Grand Rapids
Harmony Brewing Company & Harmony Hall
Harmony Brewing Address: 1551 Lake Dr SE, Grand Rapids, MI 49506
Harmony Hall Address: 401 Stocking Ave NW, Grand Rapids, MI 49504
Harmony Brewing Company, located in Grand Rapids' Eastown area and Harmony Hall, on the city's West Side, offer a menu of "familiar yet remixed" comfort foods prepared with fresh, locally sourced ingredients.
Pizza is the big drawing card at both locations, as Harmony's wood-fired pies have won multiple local and regional awards. From a classic Margherita to a ham-and-pineapple-topped Hawaiian Volcano to a vegetarian Sliding Doors pizza with butternut squash and sweet potatoes, Harmony will satisfy every pizza preference.
Pub-style appetizers, salads and desserts round out the menu, which is a bit larger at the Eastown location.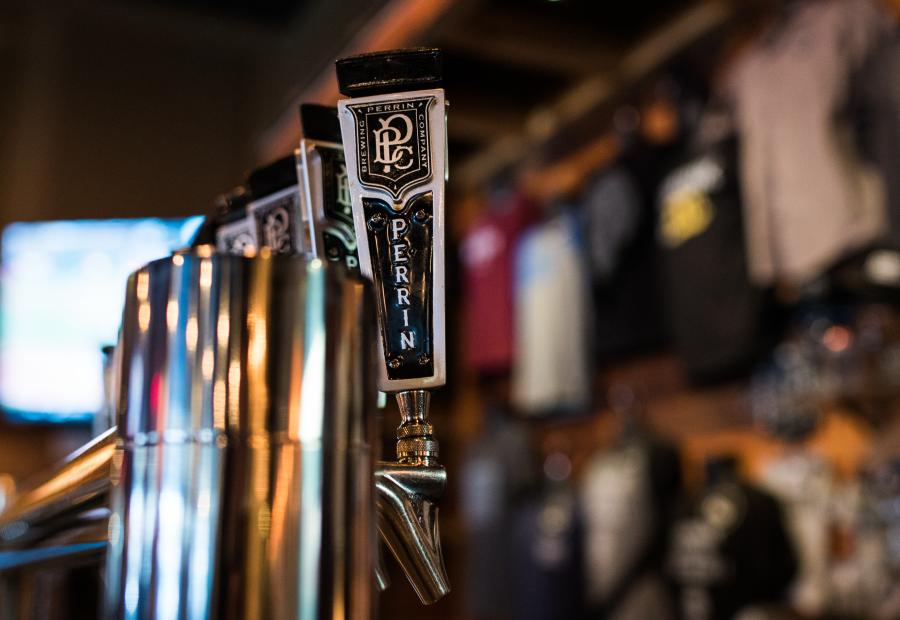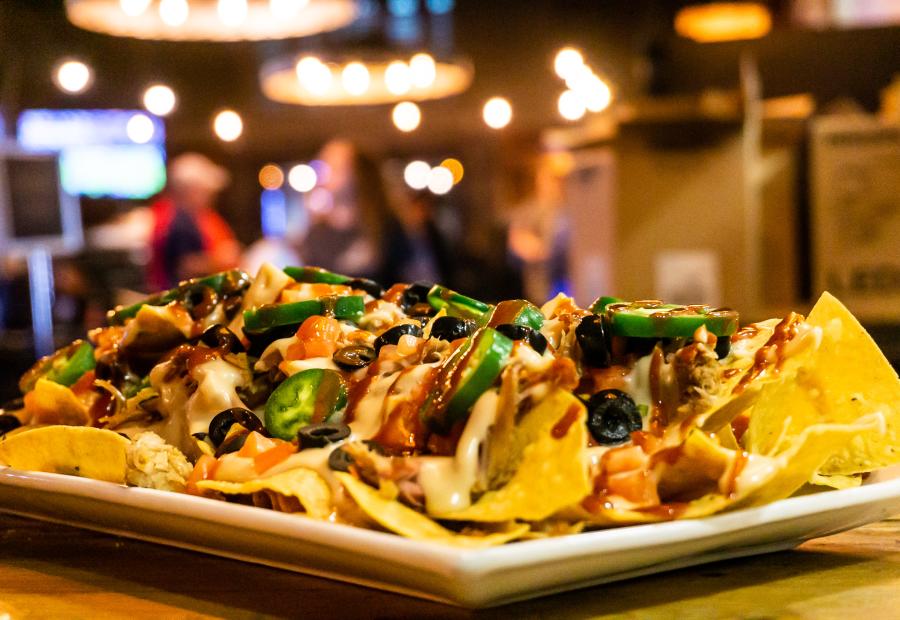 Perrin Brewing Co. has over 15 craft beers on tap and a full menu to suit your taste buds.
Photo by Experience Grand Rapids
Perrin Brewing Company
Address: 5910 Comstock Park Dr NW, Comstock Park, MI 49321
Located about 10 minutes north of downtown, Perrin Brewing Company  is known for its burgers, shareables and sandwiches.
The menu offers eight burgers (at last count), including beef, turkey and veggie varieties. Shareables include a giant pretzel made by local Nantucket Baking Co. and topped with Perrin Gold Ale beer cheese. There's even a kid's menu to satisfy younger palates.
Perrin also serves a Sunday Brunch with such options as Chicken & Waffles, Shrimp N' Grits and the Perrin Pub Breakfast featuring buttermilk pancakes, bacon, potatoes and scrambled eggs.
TwoGuys Brewing
Address: 2356 Porter St SW, Wyoming, MI 49519
Located in Wyoming, TwoGuys Brewing  is a "must visit" for craft beer and food enthusiasts due to its decadent food, dessert, and craft beer selections.
TwoGuys makes most of its items in-house, to the extent of house-smoking beef, corned beef and turkey, hand-dredging chicken and hand-cutting potatoes for fries. The menu emphasizes shareables, from tacos, fried pork rinds, and wine-braised mushrooms to cheese curds, charcuterie boards, and chorizo fundido, a sausage-and-beer cheese combo.
You can also count on a tantalizing special or two, always made with the freshest local ingredients.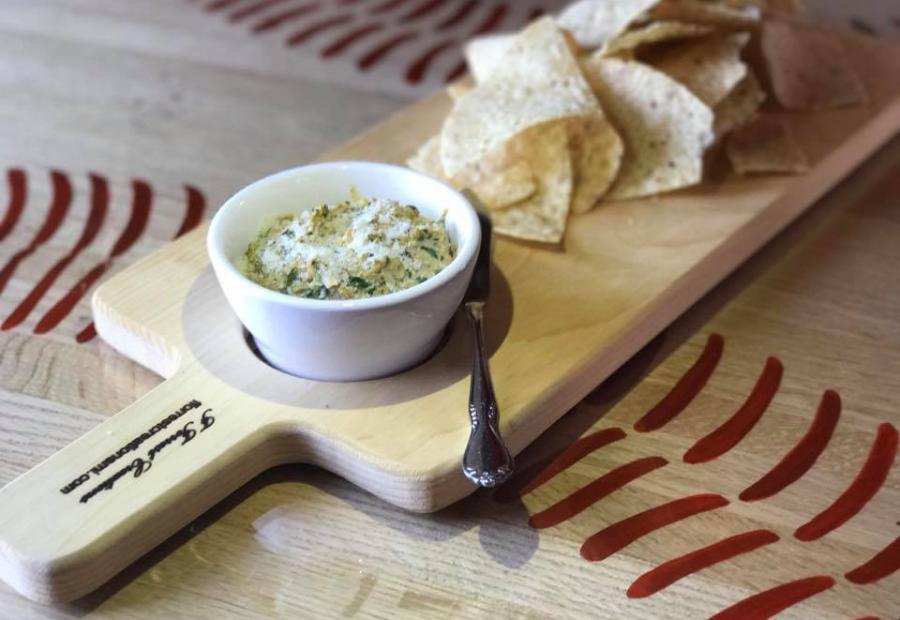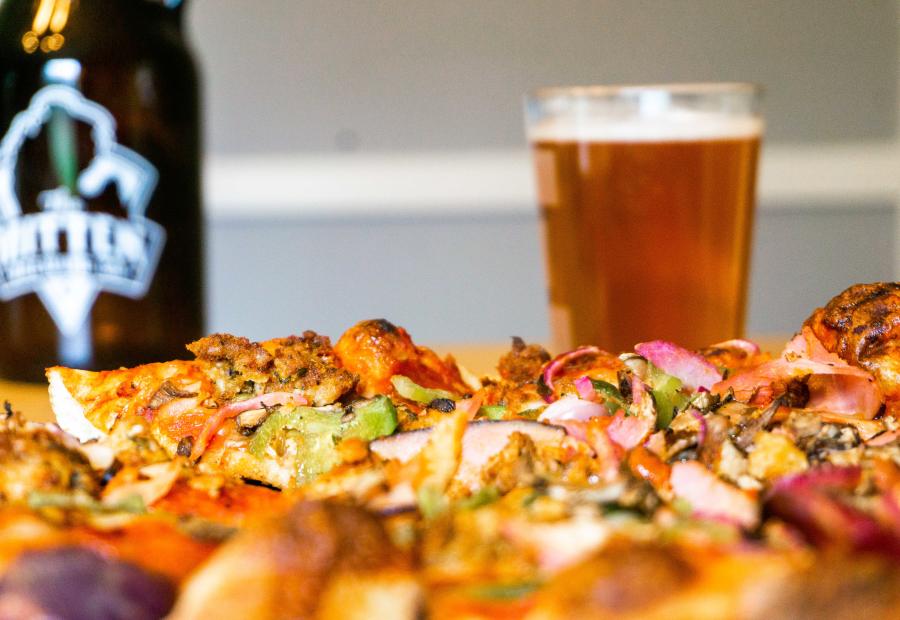 The Mitten Brewing Company is serving up pizza, appetizers, and more on its vegan menu.
Photo by Photo courtesy of Kolene Allen - Vegan Grand Rapids.
Mitten Brewing Company
Address: 527 Leonard St NW, Grand Rapids, MI 49504
Baseball fans, history buffs and pizza lovers can all unite at the Mitten Brewing Company. The Mitten is known for specialty pizzas, including a "pizza flight" of six different varieties.
Daily pizza selections like Hog Heaven (topped with pulled pork), Westerdog (topped with all-beef franks) and The Heater (featuring andouille sausage, jalapenos and habanero sauce) are complemented by a weekly pizza special. Most pies can be made vegan and/or gluten-free.
Even if you're not into pizza, you'll have plenty of choices, including a Cuban sandwich, Cajun chicken wings, a veggie burger and several versions of breadsticks. A kid's menu includes a personal-size cheese or pepperoni pizza and a macaroni bowl.
Founders Brewing Company
Address: 235 Grandville Ave SW, Grand Rapids, MI 49503
Founders Brewing Company takes simple sandwiches and makes them exceptional with the addition of top-quality breads, meats, artisan cheeses, house-made sauces and fresh vegetables, all of which complement the brewery's award-winning craft beer.
The Dissenter (made with bourbon barrel-smoked-in-house pastrami), The Glutton (featuring bourbon barrel-smoked pork plus thick-cut bacon) and Founders Cheesesteak (an in-house take on a Philadelphia staple) are three of 15 sandwiches on the menu. A wide selection of pizzas, salads and side dishes are also available.
Don't forget the munchies – start your meal or linger over your beers with shareable beer cheese dips, hot pretzels or chips & guacamole.
All of the breweries above are featured in our Beer City Eats video series spotlighting the people behind the menus at local breweries. These brief videos are a great way to get a feel for the food vibe at each location.
All seven breweries are also Beer City Brewsader® participants. Download the Brewsader app and visit just eight (8) of 50 local breweries to become a Brewsader and earn a free t-shirt.
More to Nibble On
Here is just a sampling of the many distinctive food creations at other local breweries:
All of these breweries take great care in assembling beer and food menus that complement each other, so be sure to ask your server about beers that pair well with your dish of choice.
Note that menus may change without notice. Visit brewery web pages for their latest food offerings, and check our brewery and restaurant pages for a full list of food and drink options in Grand Rapids.