When Kris and Jason Spaulding opened the doors to Brewery Vivant in 2010, the French and Belgian inspired beers opened eyes to styles of beer rarely seen in Grand Rapids, and even West Michigan as a whole. 
Building on the incredible beer culture of the European nations, Brewery Vivant's beers were far different than Grand Rapids' first craft breweries, pushing the boundaries of customers mostly familiar with light lagers. 
The brewery stretched the imagination of beer lovers' palates with unique, quality beer, as well as French and Belgian inspired food, and it continues to do so today.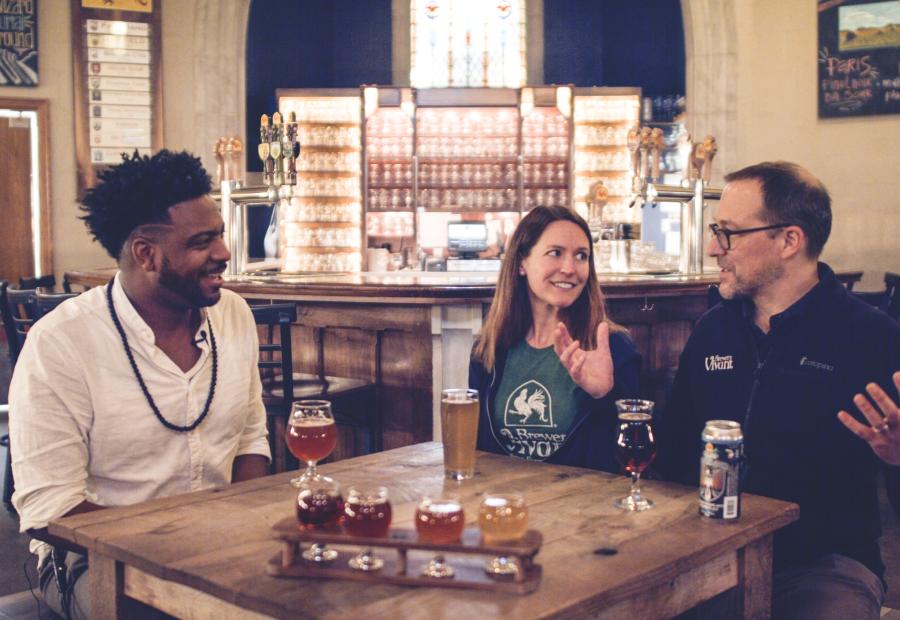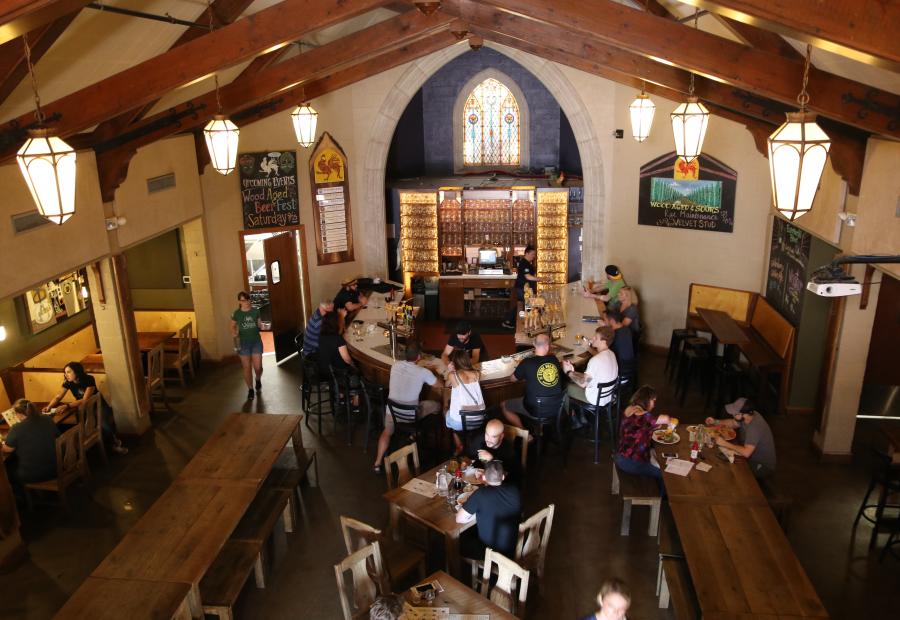 Kris and Jason Spaulding opened Brewery Vivant in 2010 in an old funeral home building.
Photo by Experience Grand Rapids
Brewery Vivant History
There was plenty of beer pedigree behind Brewery Vivant, as Jason Spaulding was one of the founders of New Holland Brewing Co. in Holland. 
Spaulding had in mind a small, community-focused brewery making beers not readily seen across the U.S. beer market at the time. 
The Spauldings eventually found the perfect building for their brewery that felt European, evoking a monastery-like atmosphere, which was fitting as some of the most renowned breweries in Belgium are monasteries. The building, a long-time funeral home, is now LEED-certified as Brewery Vivant is a leader in brewing sustainability.
Along with Brewery Vivant's focus on environmental sustainability, a triple bottom line approach means the brewery is focused on treating its neighbors and employees well to help ensure the business is on solid footing. Each year, the business releases its "Beer the Change" report, a look into its sustainability efforts.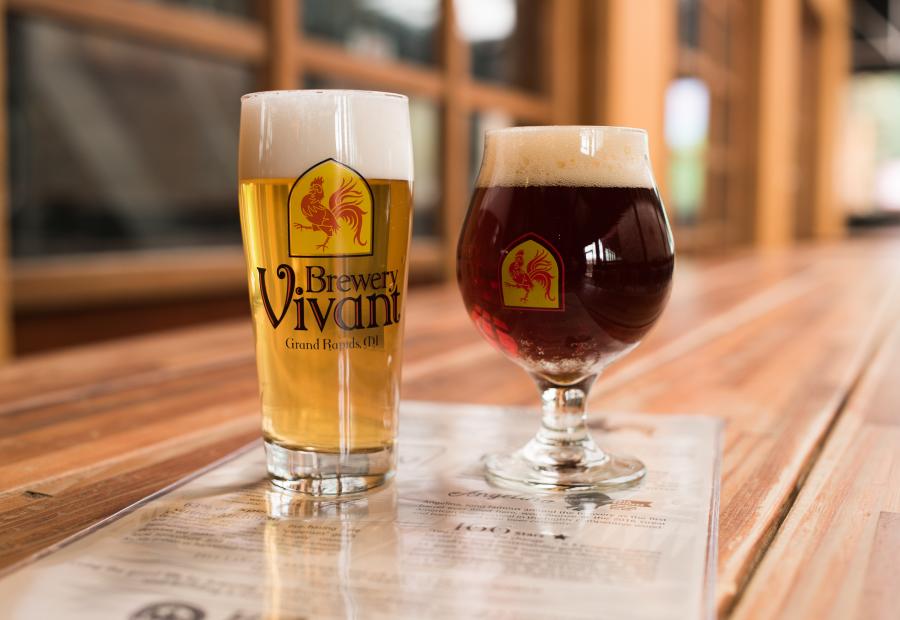 Brewery Vivant's beers most often resemble styles found in Europe, namely Belgian styles.
Photo by Experience Grand Rapids (taken by Bree Girard)
What's on Tap?
Brewery Vivant's beers most often resemble styles found in Europe, like the flagship Farm Hand, a light and slightly sweet farmhouse beer. 
Other beers in the portfolio tend to be more American-esque takes on traditional styles, like Tropical Saison. The brewery has also expanded its barrel-aging and sour beer program. Vivant rotates the beer on its menu, so you'll find an updated list when you visit, or you can call ahead to see what's on tap.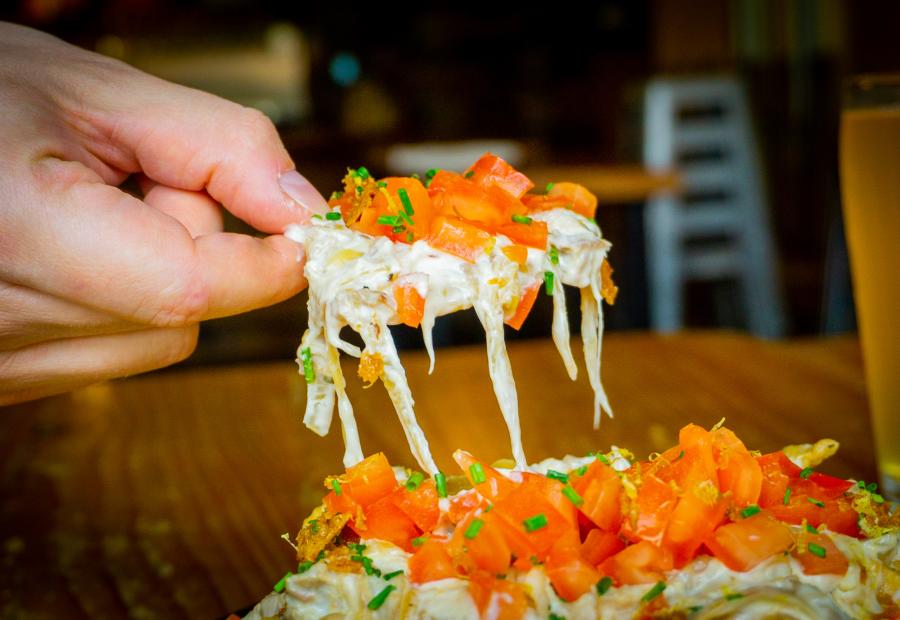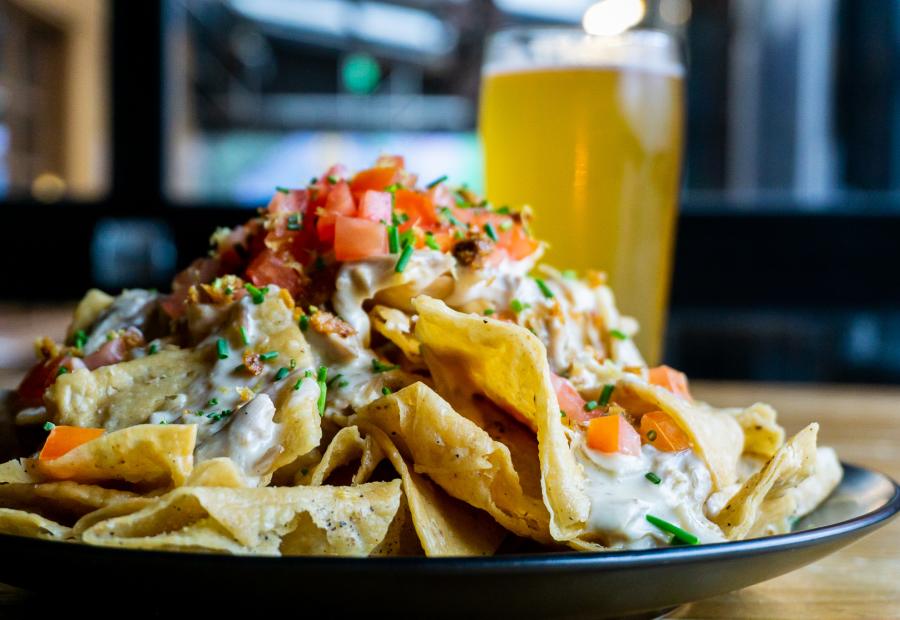 Don't miss out on the infamous duck nachos at Brewery Vivant.
Photo by Brian Craig for Experience Grand Rapids
Grade A Menu
While the beer is delicious - and award-winning - the brewery's menu is equally delicious and well thought-out. 
From the incredible hamburger to the infamous duck nachos, the food menu helped other breweries, even outside of Grand Rapids, begin to push the boundaries and offer varietal, out-of-the-box food options.
Broad Leaf Local Beer
For much of the brewery's history, the building housed most of the brewing operations. In the summer of 2019, the Spauldings opened Broad Leaf Brewery + Spirits in Kentwood. Broad Leaf gives the company's brewers more freedom to explore beers beyond the Belgian-style heavy portfolio. In 2022, they opened a second Broad Leaf location on the West Side. In addition to craft beer, both Broad Leaf locations have a food menu and serve cocktails, including several non-alcoholic options. 
Check out Brewery Vivant on this episode of Beer City Eats, with host Adrian Butler.
For more information on local breweries that also offer unique food and craft beer experiences, visit our list of beer events, and be sure to download the Beer City Brewsader® Passport app. A visit to Brewery Vivant and both Broad Leaf locations counts towards your Brewsader (check-ins at eight breweries) or Ultimate Brewsader (check-ins at 40 breweries) status! Also, explore some of the other Breweries That Built Beer City like Founders and Schmohz.
Learn more from the Spauldings' complete interview below:
About the Breweries That Built Beer City series: Grand Rapids first earned the title Beer City USA in 2012, when there were far fewer breweries than the 50+ currently on the Beer City Ale Trail. This blog series focuses on those early pioneers – breweries that built an industry from the ground up starting in 1997 and firmly established the city's reputation for world-class craft beer.
Eight "stamps" in your passport and you become an official Beer City Brewsader! Get the app today!