Voted Best Beer Town, Best Beer Scene, Best Beer City and Beer City, USA, the Grand Rapids area is surrounded by more than 80 breweries. However, only a couple of decades ago, Grand Rapids wasn't nearly as prominent on the map. 
In this third installment of a blog series exploring some of Grand Rapids' longest-standing breweries, we focus on Schmohz Brewing Company. 
When Schmohz Brewing Company first opened, Grand Rapids only had a few other breweries, including Founders Brewing Co. One of Beer City's founding microbreweries, Schmohz now distributes its brews throughout Michigan.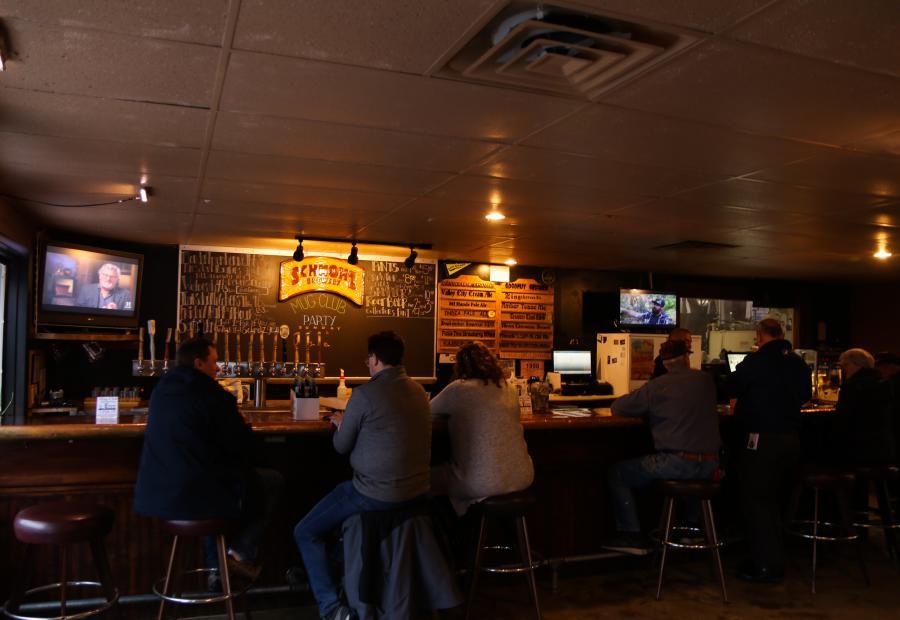 Schmohz's regulars and visitors alike enjoy the casual, friendly atmosphere.
Photo by Experience Grand Rapids
Schmohz's Origins
Jim Schwerin, a Michigan Technological University alumnus, opened Schmohz in 2004 during the first wave of the microbrewery industry. Many breweries, including Founders Brewing Co., struggled to make ends meet before craft beer gained significant popularity, and many others closed up shop. In fact, Schmohz opened in the building of the former Robert Thomas Brewing Company.
Schwerin hired Gabi Palmer to work alongside him as a brewing assistant and named her head brewer in 2015. Meet her and other Women Crafting the Beverage Industry in Grand Rapids.
A Community for Locals and Visitors Alike
Schmohz is located in an industrial part of the city, near the Gerald R. Ford International Airport. It keeps a casual atmosphere with a bevy of regulars.
The taproom staff strives to learn the names and occupations of the brewery's mug club members as well as their taste in beer. New guests are thrilled to discover an extremely receptive environment, as regulars are eager to share opinions on what beers to try and what else to see and do around Grand Rapids.
The brewery's proximity to the airport makes Schmohz a logical first step to those flying into Grand Rapids. From Schmohz, it's easy to hit a variety of breweries around town for a tasty weekend — which is what helps make Grand Rapids a great beer city.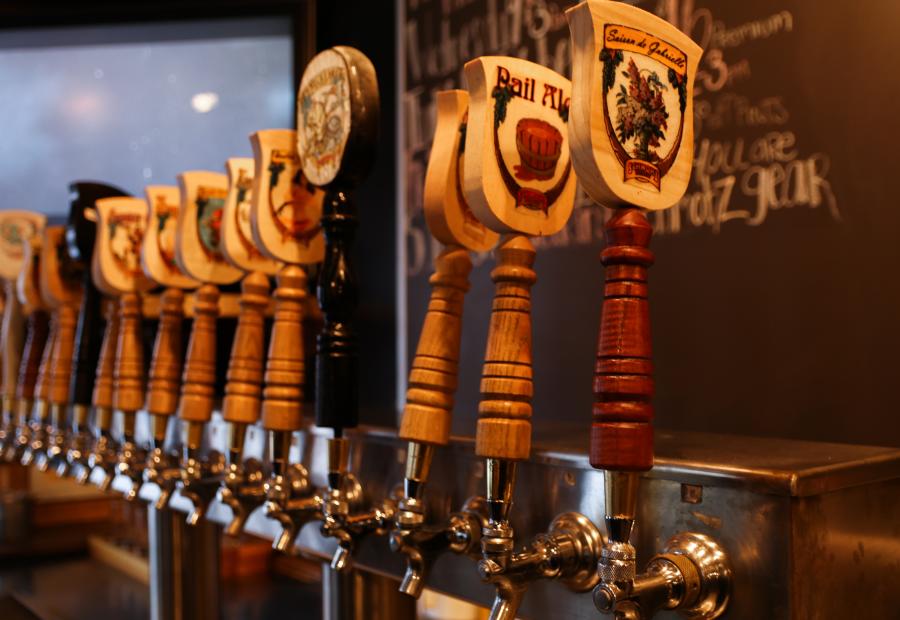 With 16 taps and varying brew styles, Schmohz Taps of Grand Rapids pours beer for almost any taste preference.
Photo by Experience Grand Rapids
What's on Tap
Schmohz features an eclectic mix of beers reminiscent of how the early craft beer industry gained popularity, specializing in a few like the Treasure Chest ESB, Amber Tease Ale, Pail Ale, and Bone Crusher Stout. More specialty beers like Mad Tom's, Miracle of 28th Street, and Pickle Tink Ale round out the annual releases.
The taproom has 16 taps, and the brewery makes dozens of varieties of beer to satisfy almost any taste preference. Since 2009, when the brewery purchased a bottling line, Schmohz beers have been found across much of the state.
Open Monday through Saturday, Schmohz offers great daily specials – including a $1.75 pint with a growler fill on Tuesdays and $3 off pitchers on Thursday.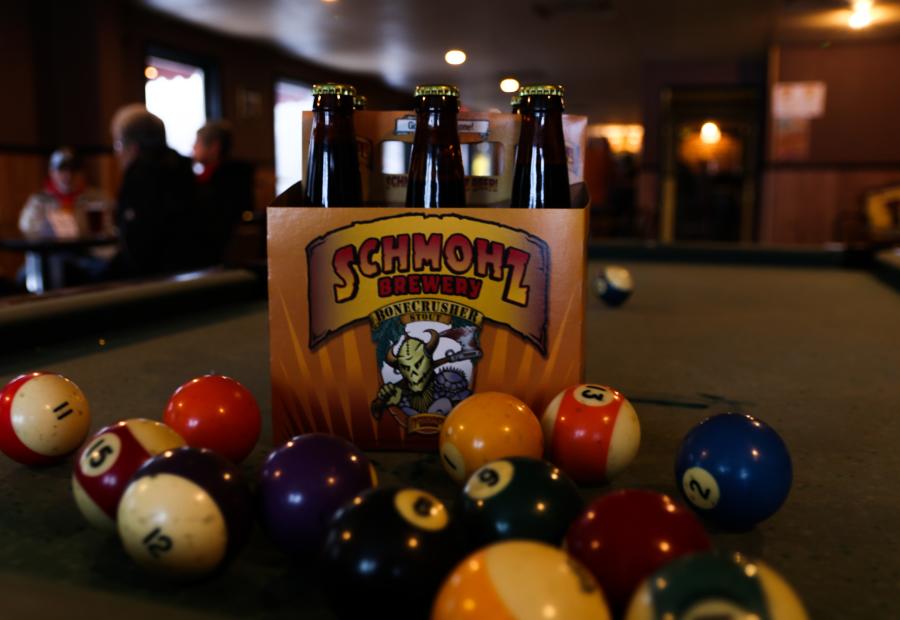 A game of pool pairs nicely with any of Schmohz's brews.
Photo by Experience Grand Rapids
Microbrewery Benefits
As a fairly small operation, Schmohz tries its best to accommodate groups - just fill out a form on its website to ensure space for your group. Schmohz also has a mug club, with limited spots to avoid a factory warehouse club feel. Members receive $3 beers on Mondays. 
Schmohz serves up free popcorn, but it doesn't have a kitchen, so it's outside food-friendly. Many patrons have dishes delivered from JT's Pizza, a nearby business.
The brewery isn't just for beer fans; they also make drinks like root beer and black cherry soda – great non-alcoholic options for designated drivers or non-drinkers.  
For more information on local breweries that also offer unique food and craft beer experiences, visit our list of beer events, and be sure to become a Beer City Brewsader®. Start by downloading the app. 
A visit to Schmohz counts towards your Brewsader (check-in at eight breweries) or Ultimate Brewsader (check-in at 40 plus breweries) status!

About the Breweries That Built Beer City series: Grand Rapids first earned the title Beer City USA in 2012, when there were far fewer breweries than the 50+ currently on the Beer City Ale Trail. A third USA Today win in 2022 capped a decade of increasing national and international recognition for our craft brewery community. This blog series focuses on those early pioneers – breweries that built an industry from the ground up starting in 1997 and firmly established the city's reputation for world-class craft beer.