USA Today has recognized Grand Rapids as the Craft Beverage Capital of America. We want to recognize some of the women who helped us get there. Their leadership has helped Grand Rapids stand out from the pack of other craft beverage destinations – and has inspired more local women to pursue their own careers in breweries, distilleries, cideries and wineries across the area.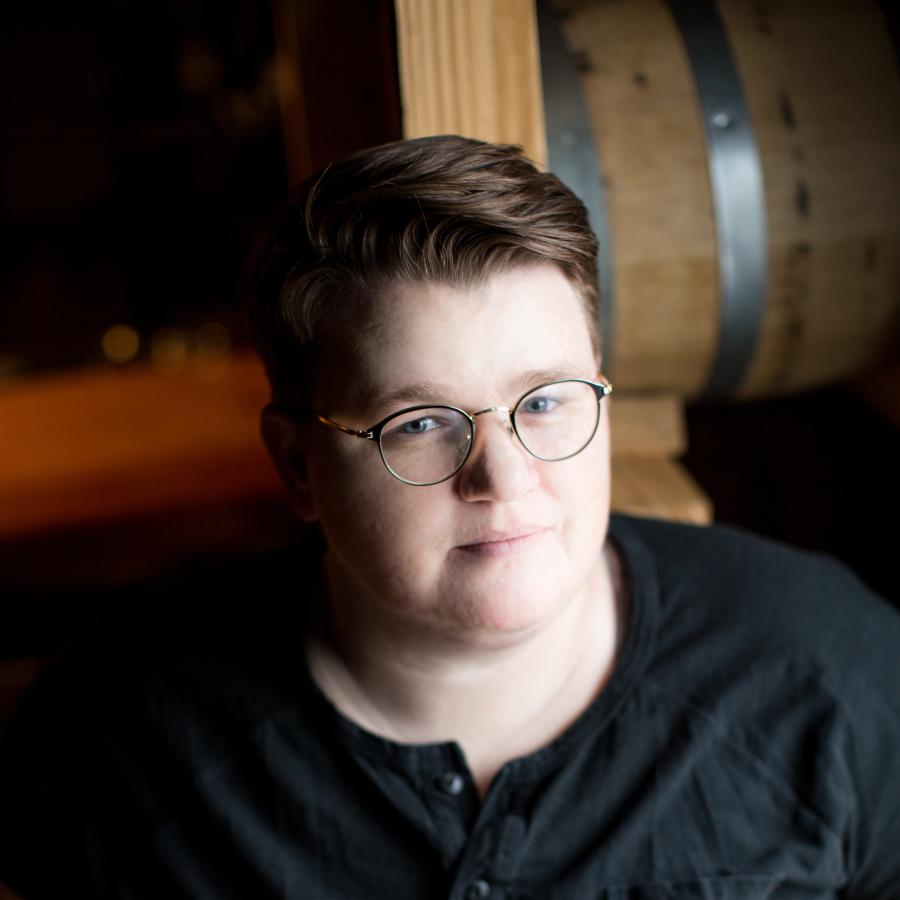 Long Road Distillers' team, Jenney Grant included, live and breath by the philosophy, "Take No Shortcuts."
Jenney Grant, Director of Operations and Education, Long Road Distillers
After working and learning through multiple positions at New Holland Brewing Company, Jenney Grant fell in love with distilling after shadowing and assisting the head distiller. 
As she climbed the ranks and earned a position as a general manager at a start-up distillery, she met the owners of Long Road Distillers and knew that was the place she wanted to land. 
"Take No Shortcuts" is the guiding principle at Long Road Distillers. The entire team lives and breathes through the process of creating something from scratch and using locally sourced ingredients. 
"My influence at Long Road has been connecting the dots," said Grant. From tasting spirits to giving and gathering feedback on product that's being developed, she helps craft a unique flavor profile. "It is my responsibility to ensure that all of our employees have what they need to fulfill their roles on our team. From our production staff to our kitchen crew, we all work from the same principle: Take No Shortcuts, and I am grateful to be able to help foster that."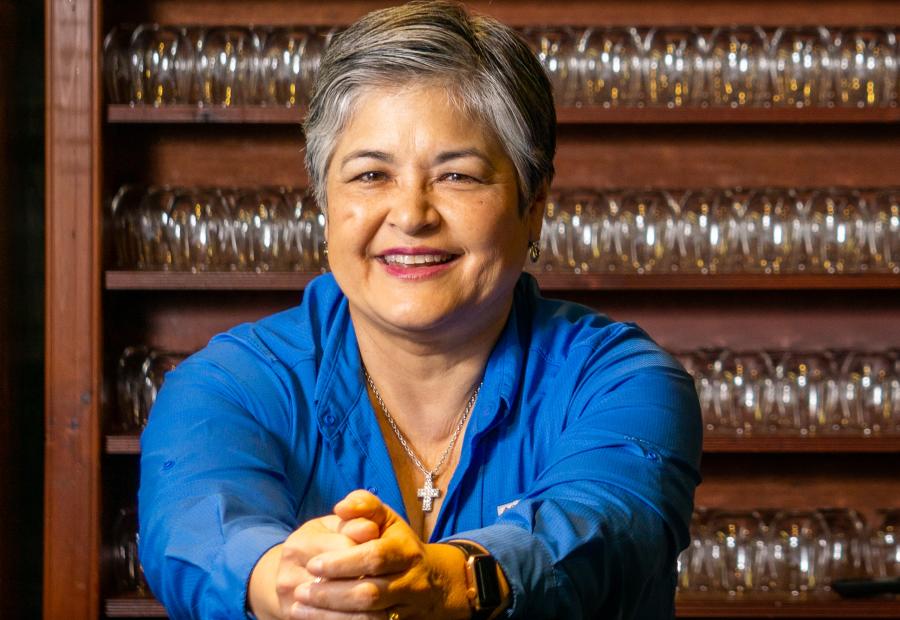 Alicia Robinette oversees several aspects of Robinette's Apple Haus & Winery from merchandising to personnel.
Photo by Brian Craig for Experience Grand Rapids
Alicia Robinette, Treasurer, Robinette's Apple Haus and Winery 
Folks may know Robinette's Apple Haus and Winery as a popular orchard for apple-picking and hayrides, but the company also produces wine. Alicia Robinette is part of the family business at Robinette's by marriage. 
While her official title is treasurer, she also manages the winery's tasting room, inventory and personnel, and is the head buyer for all items for the company's store. Her responsibilities in business administration have kept the company running smoothly for more than 20 years.
Alicia stays on top of consumer trends and changes in the industry to ensure the winery offers top-notch products for its customers. "I pay close attention to what our customers want while managing how much the business spends," said Alicia. "We have to be flexible and be ahead of planning in order to manage the shop effectively while also serving our loyal customers."
Alicia credits her business savvy from her education at The University of Michigan. 
Her favorite wine is Barzilla's Brew, Robinette's first hard cider named after the founder of the Robinette farm, Barzilla Robinette. "It's dry and makes me happy... The Rapids Red and Chocolate Wine are also two of my favorites."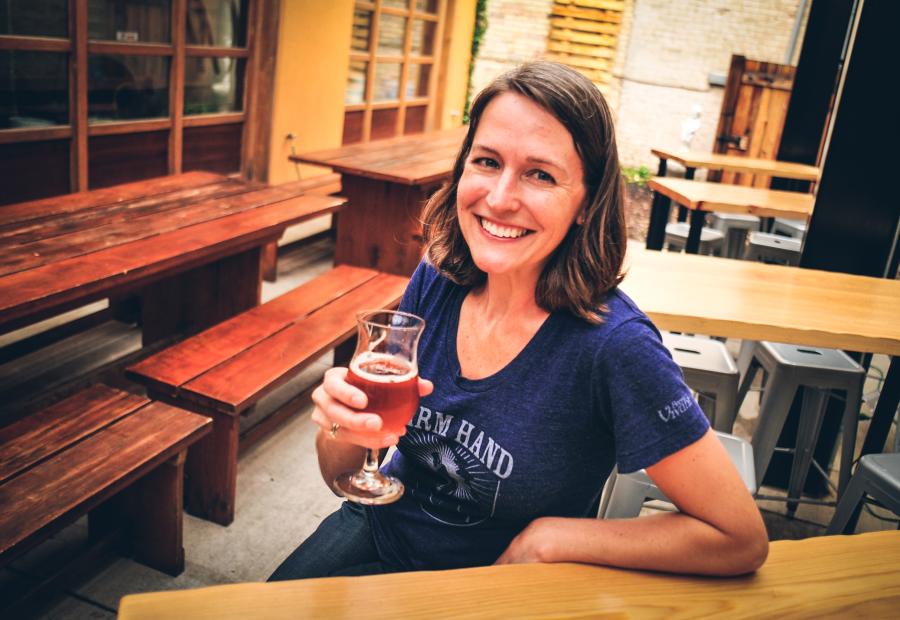 Kris Spaulding, co-founder of Brewery Vivant, helped it become the world's first LEED certified microbrewery.
Photo by Steph Harding
Kris Spaulding, President, Brewery Vivant 
One sip of Bell's Amber Ale was all it took for Kris Spaulding to become hooked on craft beer. Her love for the beverage began to transform into a career when she met and married her husband, who co-founded New Holland Brewing Company in 1997. The two put their heads together and crafted a plan to open Brewery Vivant in 2010. 
Spaulding not only oversees the brewery's operations, but she's also the sustainability director. In fact, she was the driving force in the pursuit of Vivant's LEED and B Corporation certifications. B Corporations are businesses that meet the highest standards of verified social and environmental performance, public transparency, and legal accountability to balance profit and purpose. Because of Spaulding's passion, Brewery Vivant is the world's first LEED-certified microbrewery.
Although the craft brewing industry is male-dominated, Spaulding shares that she hasn't experienced obstacles because of it. "Being female may have opened more doors for me as opportunities come up that seek representation from women," Spaulding said. "Times are changing quite a lot, especially recently as I regularly meet more women brewers, owners, and suppliers."
Spaulding's favorite beer these days is Grand Lager. "This classic style is perfect for this time of uncertainty. Lagers are the most popular beer style worldwide, but it takes a fantastic brewer to make an exceptional one since the simplicity of the style offers no opportunity to hide off flavors or quality issues. I'm very proud of what our team has accomplished with this beer."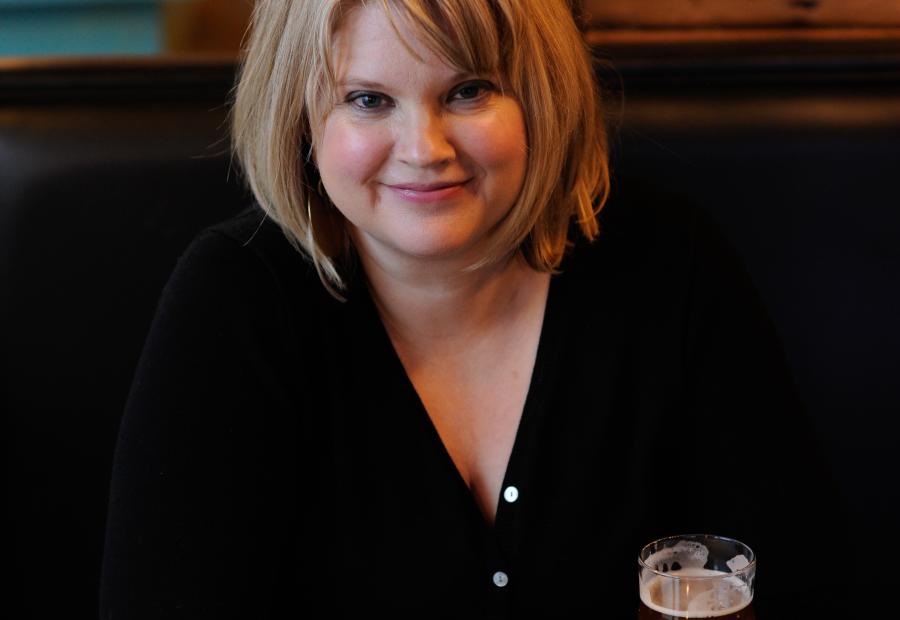 Heather VanDyke-Titus, co-owner of Grand Rapids' Harmony Brewing Company, incorporates her skills of storytelling to shape the brewery's offerings.
Photo by Steph Harding
Heather VanDyke-Titus, Co-Owner, Harmony Brewing Company and Harmony Hall 
Heather VanDyke-Titus broke into the brewing industry with family by her side. Back in 2012, she and her two brothers started Harmony Brewing Company in the Uptown neighborhood born from a passion of homebrewing. 
Later that year, Grand Rapids won the title of "Beer City USA" which created a boom in the brewing industry thereafter. With much success and desire for expansion, the trio opened Harmony Hall on the West Side in 2015. 
VanDyke-Titus incorporates her skills of storytelling to shape the brewery's offerings. She says Harmony's beer is expressive by either using unique ingredients the team hasn't used before or connecting the senses of smell and taste to a fond memory. 
One example is the popular Lovely Day IPA. "This is my favorite beer based on a trip to Stone Brewing's farm in Southern California," VanDyke-Titus recalled. After trying a lavender Saison and enjoying the scenic beauty, she later asked her brother to try to make a version of it back home. The drink was perfected and aptly got its name originating from the trip. 
Heather also plays a big role in establishing the brand's culture. "Our beer hall is a more dynamic space than our location in Eastown," said VanDyke-Titus. The extra space has allowed for more room for entertainment and bigger community events. Past events include drag shows, trivia nights, and live music.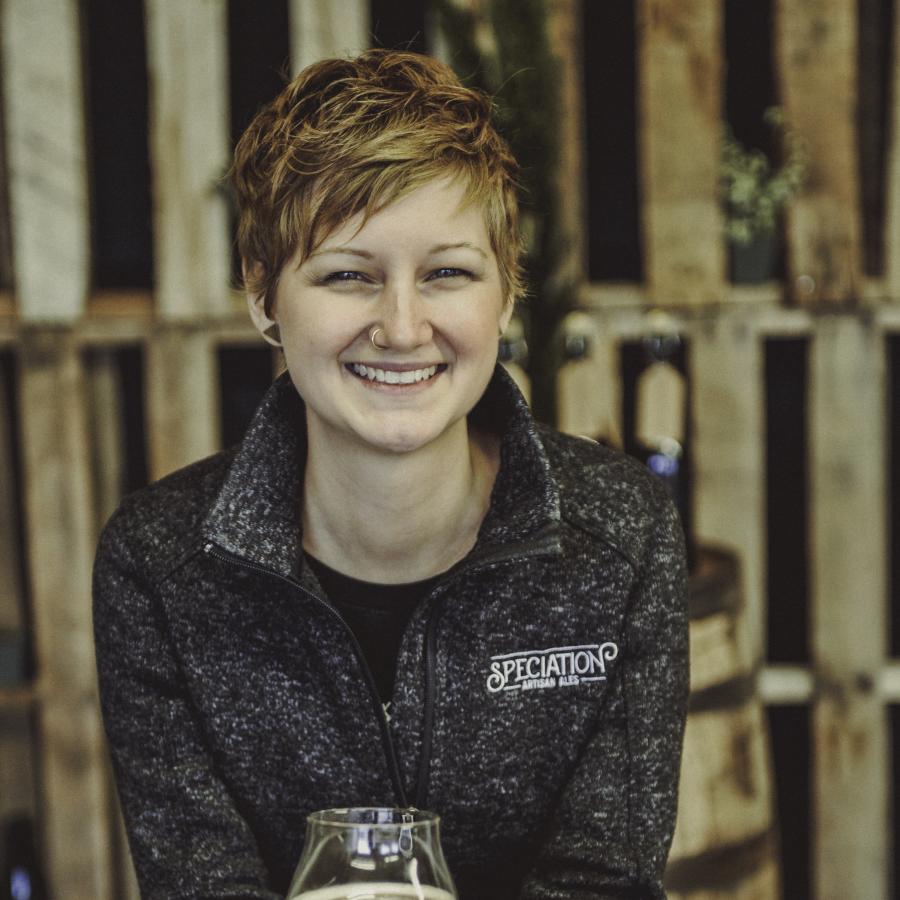 Whitney Ermatinger wears many hats as co-owner, including tasting and approving Speciation's brews.
Photo by Photo Courtesy of Whitney Ermatinger
Whitney Ermatinger
Speciation Artisan Ales
Speciation Artisan Ales, a small brewery in Uptown, is the brainchild of Mitch and Whitney Ermatinger. Initially, Speciation was a one-man show with Mitch leading the charge, but eventually, Whitney left her career in social work to join her husband. As co-owner, Whitney wears many hats, including tasting and approving the wild fermented beer Mitch crafts. 
Speciation uses a natural fermenting process to craft the beer. This results in a product with varying degrees of sourness. While the process is a bit more labor intensive, especially without machinery or automation, Whitney says that it just means their beer is literally handmade, a fact she's very proud of.
Another thing Whitney is proud of is being a woman in Grand Rapids' beer scene. "I hope in a small way I am making craft beer more welcoming to women both as customers and as creators, whether that's making our taproom more child and family-friendly, calling out misogynistic behaviors, or being a welcoming environment for other women to congregate or work."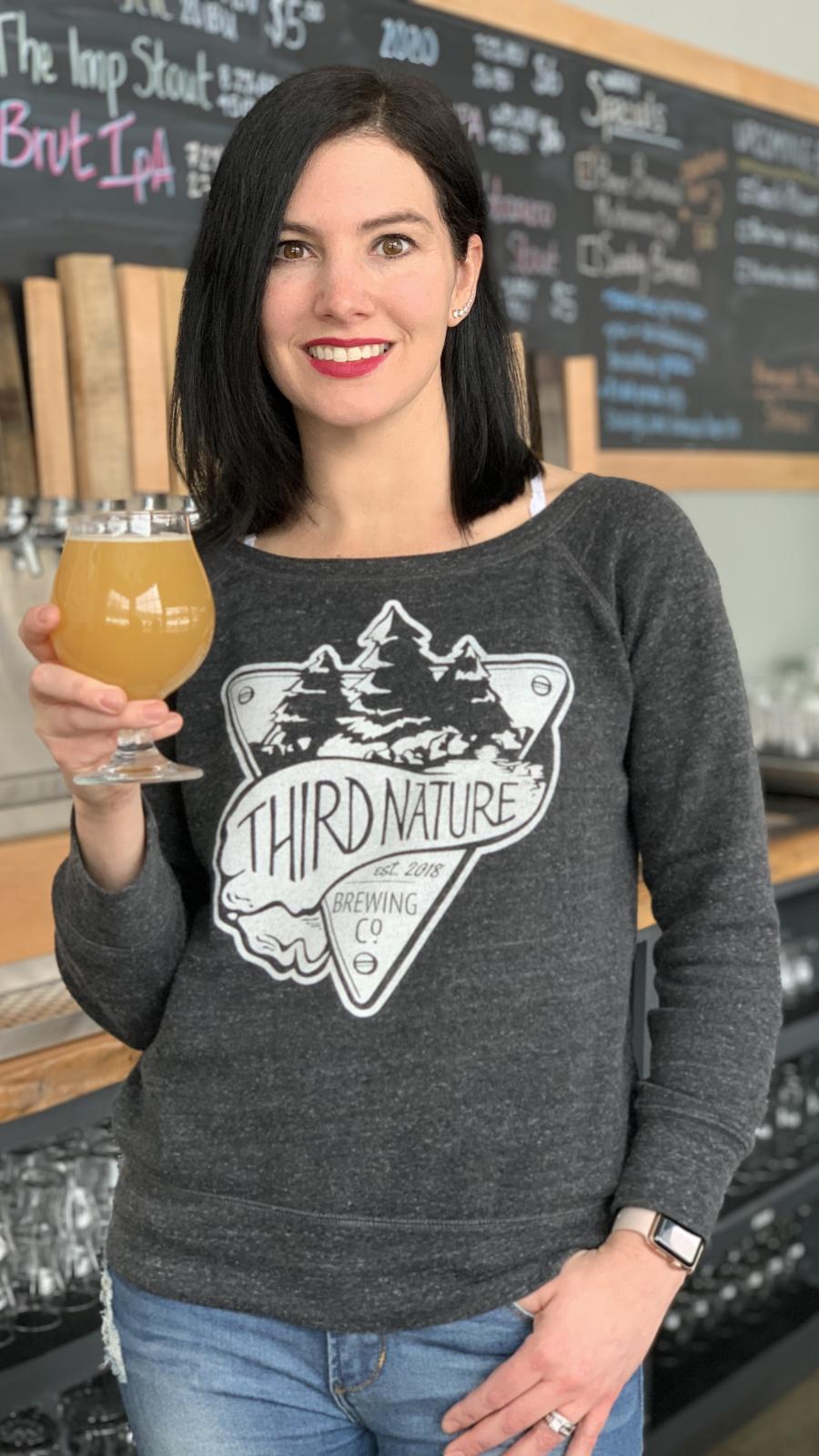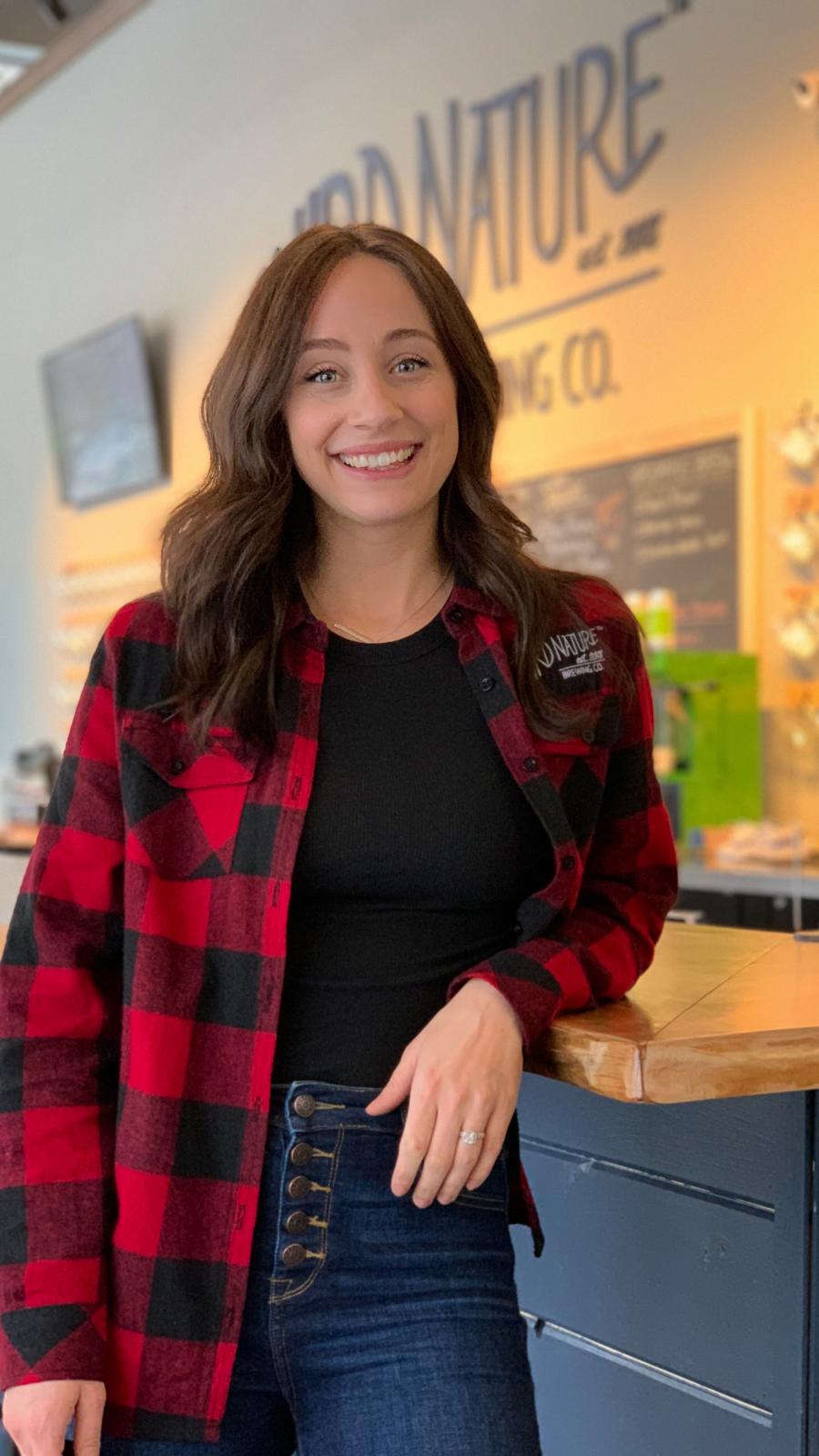 Lisa Roebke and Hayley Zitzelsberger co-own Third Nature Brewing.
Photo by Photo Courtesy of Lisa Roebke
Hayley Zitzelsberger, Lisa Roebke, and Donghee Zitzelsberger
Third Nature Brewing
Third Nature Brewing in Rockford is a family affair made up of three siblings and their spouses. The women behind the beer there include Hayley Zitzelsberger, Lisa Roebke, and Donghee Zitzelsberger. Hayley and Lisa are co-owners of Third Nature Brewing, taking on a variety of roles like marketing, social media, human resources, and merchandising. Donghee is the brewery yoga master and has taught regular yoga classes at the brewery.
Nestled in the woods where the White Pine Trail meets the Rogue River, this 100% family-owned brewery has a real outdoor vibe. The experience and atmosphere people can enjoy there is something Hayley, Lisa, and Donghee say they love to observe. "It's great getting to be a part of people's lives this way and be a part of their memories," says Hayley.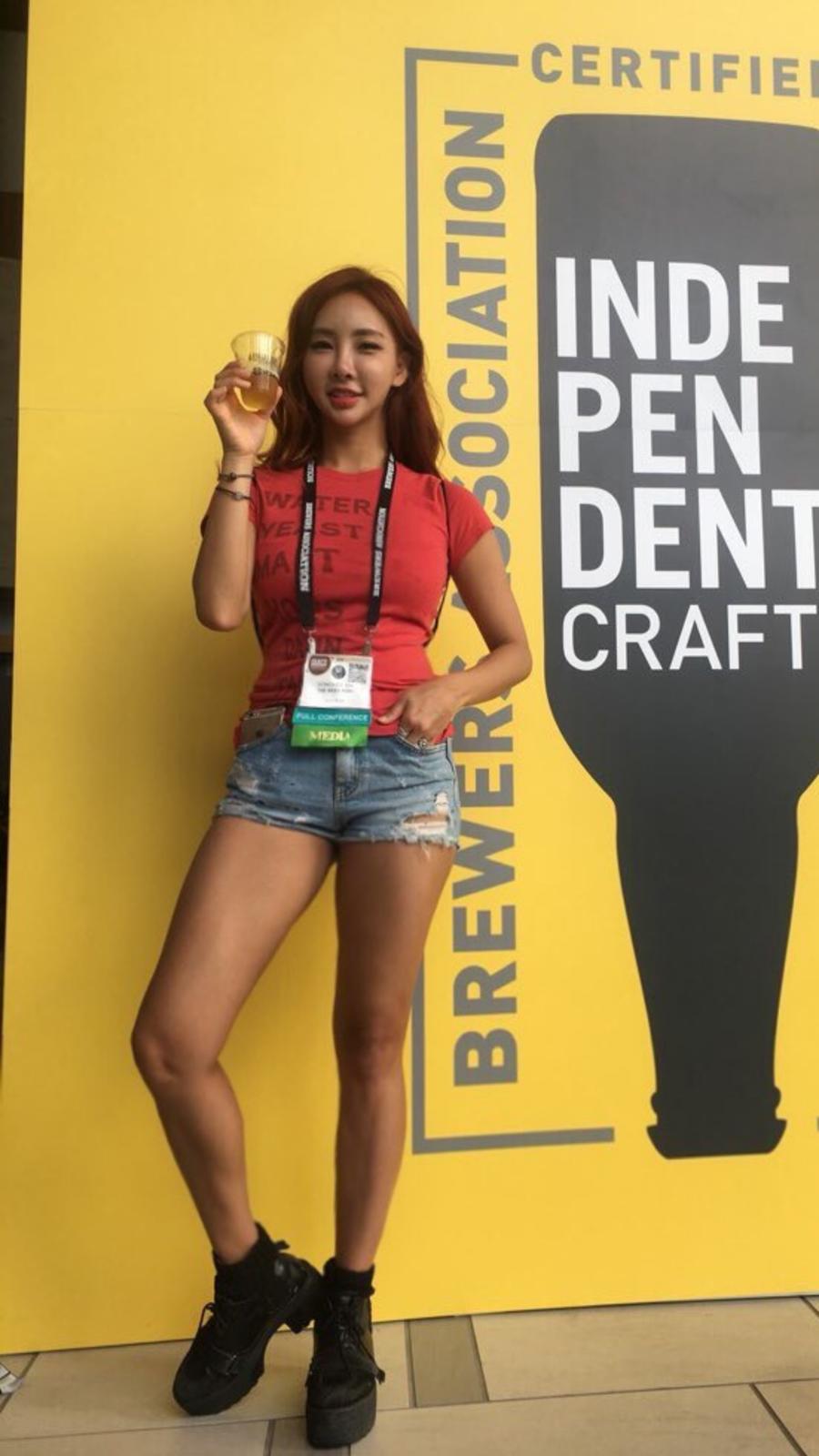 Third Nature Brewing is a family affair, with Donghee leading yoga classes at the brewery.
Photo by Photo courtesy of Donghee Zitzelsberger
Brewing the beer at Third Nature Brewing is something everyone in the family gets involved in, even the youngest members of the Zitzelbergers. "I have had the opportunity to brew with my brother, Troy [Zitzelsberger], and the whole process is fascinating and so involved. My daughters even love to assist in adding the hops," says Lisa. "It feels great doing something we all enjoy together," adds Donghee.
As Third Nature Brewing continues to grow, Hayley hopes she and her sisters can show the craft beer scene that it is possible to be a woman, mom, craft beer lover, and a rockstar businesswoman all at the same time.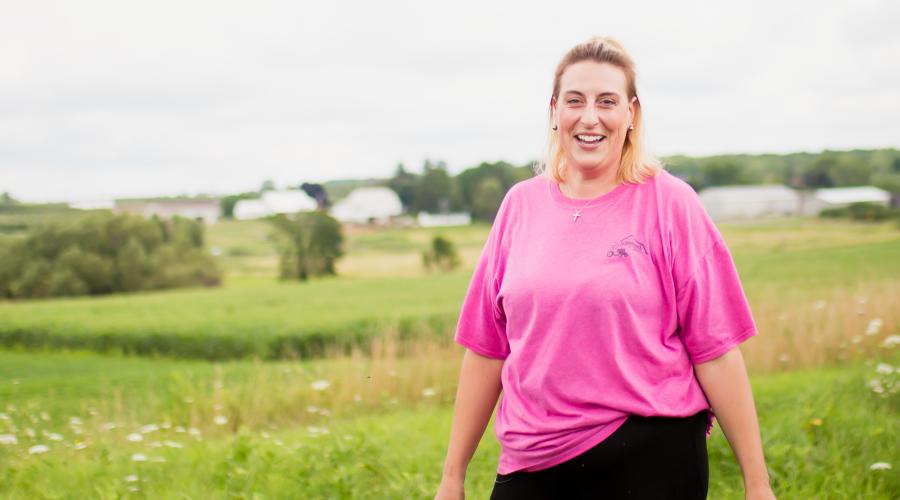 Stephanie Ginsberg heads up the latest venture of Ed Dunneback & Girls Farm: Pink Barrel Cellars.
Photo by Courtesy of Stephanie Ginsberg
Stephanie Ginsberg
Pink Barrel Cellars
At Ed Dunneback and Girls Farm in Grand Rapids, Stephanie Ginsberg is one of the girls. She helps run the farm, market, and now Pink Barrel Cellars. Pink Barrel is the newest addition to what the fourth-generation family of farmers offers to the community.
"For generations, families have come to our farm to enjoy the view, food, and slow down life.  Adding our own beer, wine, and hard cider was a natural fit," says Stephanie, "We want people to come and really start making their own memories at our farm. 
Brewing beer is something that's familiar to the family. Stephanie's father helped to build Perrin Brewing Company in 2012. Shortly after, and at the suggestion of Perrin's founders, the Dunneback farm started growing hops for local breweries. After eight years of growing hops for others, the Dunnebacks decided to get into the brewing business for themselves in the form of Pink Barrel Cellars.
As a female farmer, Stephanie says she's used to being a part of an industry that's thought of as being male-dominated. Her mother has run the farm for the last 40 years and now Stephanie and her sister help work to keep it going.
Callee Knoll
Archival Brewing
Callee Knoll is a relative newcomer to the local craft beverage community, having opened Archival Brewing with her husband and co-owner Levi in July 2021. Located in Belmont, just five minutes from LMCU ballpark, Archival specializes in historic-style beer, mead and cider along with seasonal, regional cuisine.
The couple met at Grand Rapids' Secchia Institute for Culinary Education, where Callee was enrolled in the Culinary Arts program, with the goal of becoming a personal private chef. But after graduation, the Knolls decided instead to work on something together, and channeled their 30 years of combined foodservice experience into planning their own restaurant-brewery.
Levi worked in the craft brewing industry for seven years and was an avid home brewer, but "I had no background in brewing when we opened," says Callee. She learned the ropes by serving as assistant brewer to head brewer Jake Steele. "I've surprised myself at how I can adapt and learn and grow, and what I can accomplish when I step up."
The Knolls continue to work as a team on every aspect of the business, though Callee focuses more on back-of-the-house and marketing issues while Levi supervises the front of the house. The approach is clearly working, as Archival's skill at recreating beers, meads and ciders from history – there's a great story behind every drink – has built a loyal and ever-growing following.
As the Knolls approach the one-year anniversary of their business, they're opening a new outdoor biergarten and welcoming dogs to the outdoor space every Monday for "Pups and Pints" night.
Callee says the support of the local brewing industry – and the growing number of women involved – has been invaluable to their success. "We recently got together at City Built Brewing Company to celebrate International Women's Collaboration Brew Day, which we renamed 'She/Them/They Brew Day' to be even more inclusive. This is an amazing community!"
Next time you're enjoying a delicious Castle Rock from Long Road Distillers or sipping on a White Pine Pils from Third Nature, consider this insight from Callee Knoll: "Women essentially invented beer. They were the original brewers. We're just reclaiming the craft!
Take a moment to raise your glass to the women who are making it happen in the craft beverage industry. If you haven't yet tried out any of the locales mentioned in this blog post, be sure to check them out – your tastebuds will thank you.
The breweries profiled above are all included in the Beer City Brewsader® program. Download the Brewsader app and check in to eight local breweries to get a FREE exclusive t-shirt!
Note: This story was originally written by Sasha Wolff and has been updated by Experience Grand Rapids.