National Nachos Day is celebrated every year on November 6, as Americans from all walks of life unite to honor the ooey-gooey goodness of tortilla chips covered in cheese and other delectable toppings. It's become a comfort food for many – and it's a dish many Grand Rapids restaurants and breweries do exceedingly well.
We asked our social media followers to tell us where they go for a nachos fix around Grand Rapids, and there was no shortage of suggestions. We've narrowed it down to 15 for this list, presented here in no particular order. Your nacho-loving taste buds will thank you for a trip to these destinations, on National Nachos Day and throughout the year.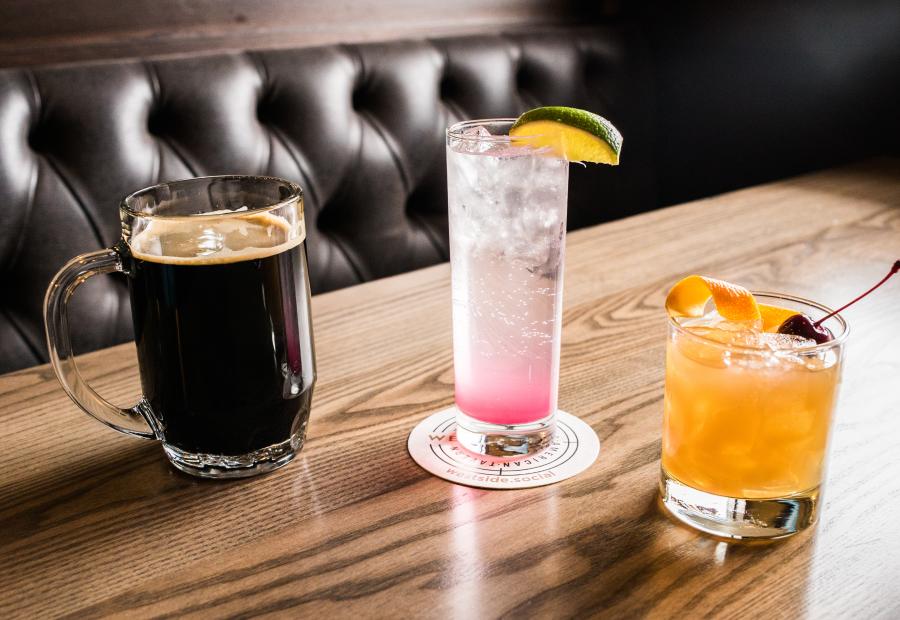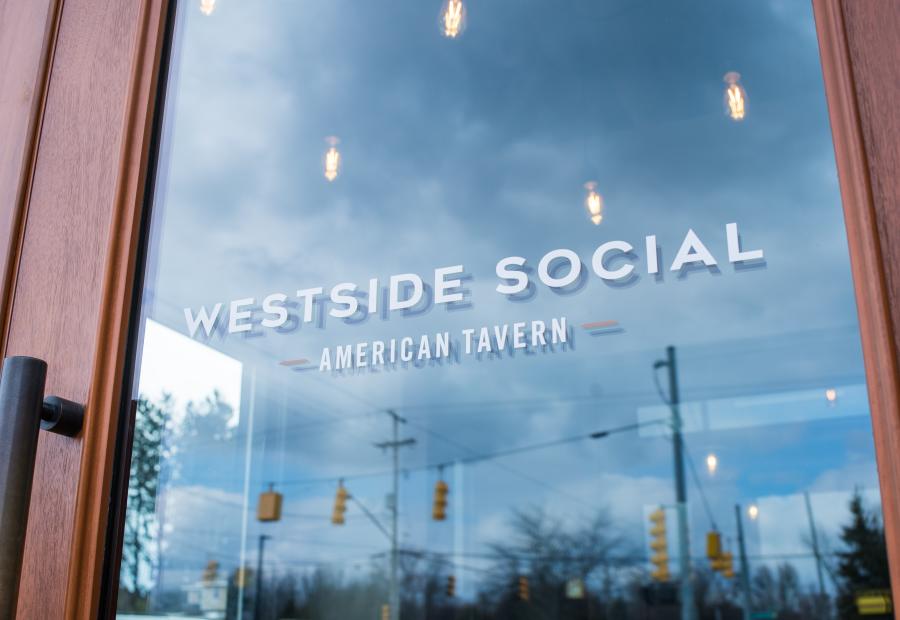 To wash down your nachos, Westside Social offers a full bar with 24 drafts to choose from.
Photo by Experience Grand Rapids
Westside Social American Tavern
2802 Lake Michigan Dr NW, Grand Rapids 49504
This "American Tavern with a Hint of Genius" earned kudos for its namesake Westside Nachos, featuring fresh tortilla chips piled high with your choice of braised short rib or smoked pulled chicken, plus house-pickled jalapenos, cilantro lime crema, red cabbage, pico de gallo, queso fresco and ancho chipotle queso. One bite and you'll see why devotees are adamant that the Westside is the Best Side.
To wash down your nachos, Westside Social offers a full bar with 24 drafts to choose from, along with a rotating selection of creative feature cocktails.
Cabana Tres Amigos
1409 60th St SE, Kentwood MI 49508
The Nachos Al Carbon at this Mexican restaurants were singled out on social media – not a surprise, since the dish features tender grilled chicken, steak and shrimp atop crisp, housemade tortilla chips covered with cheese, lettuce and pico de gallo. But it's just one of four crowd-pleasing nacho plates on the menu. Nachos Supreme, Fajita Nachos and Nachos Jalisco (with al pastor meat and grilled jalapenos).
Cabana Tres Amigos offers a broad selection of authentic Mexican dishes to complement your nachos, including enchiladas, quesadillas, tacos, tamales and "Fresh Taste of Old Mexico" entrees such as Guisado Guajillo, Mar y Tierra and Pollo Pablano.
The Holiday Bar
801 5th St NW, Grand Rapids 49504
With more than 115 years in operation, The Holiday has had plenty of time to perfect its nachos – and it's settled on a classic approach, with tortilla chips topped with spicy queso dip, lettuce, tomato, black olives, jalapenos, green onion and cilantro. You can jazz it up with chicken, ground beef, pulled pork, New Mexico green chili, sour cream and guacamole, if you wish, but even fully loaded it tends toward the traditional. Which is just how The Holiday's many fans like it!
A smaller Happy Hour version of T.H.B. Nachos is available Monday-Friday afternoon (3:30pm-6:30pm), along with daily drink and draft specials.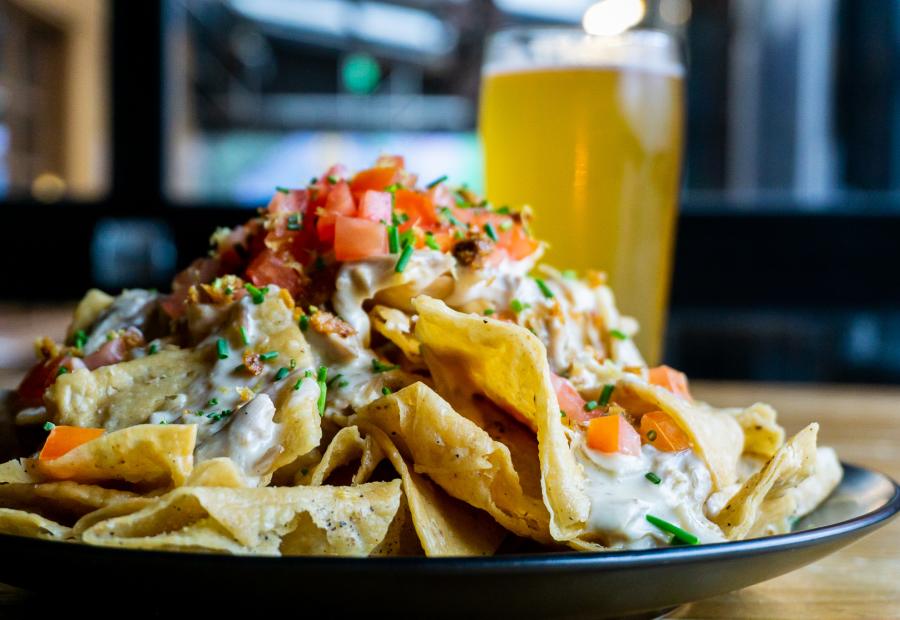 Try pairing Brewery Vivant's Duck Confit Nachos with the brewery's flagship beer, the Farm Hand.
Photo by Brian Craig for Experience Grand Rapids
Brewery Vivant
925 Cherry St SE, Grand Rapids 49506
What comes to mind when you think about the meat topping on nachos? Probably chicken, beef, or pork, right? Well, Brewery Vivant challenges the average nacho with its unique Duck Confit Nachos, made with housemade chips, finely shredded duck confit, velvety smooth brie cream, tomatoes, caramelized onions, chives, cracklin and lemon zest.
This munchie is so memorable that Thrillist once listed it among the best nachos across America. It pairs perfectly with Vivant's flagship beer, Farm Hand, a mildly sweet and tart farmhouse ale – but don't let that stop you from trying one of Vivant's other awesome beers with it.
Grand Rapids Garage Bar & Grill
819 Ottawa Ave NW, Grand Rapids 49503
The Nitro Nachos at this downtown GR eatery make a great shareable appetizer or a hearty meal in themselves. Tortilla chips are smothered in Detroit chili sauce, creamy cheese sauce, lettuce, tomato, jalapenos, house guacamole and green onions, with sour cream on the side. You can add chicken or pork, if you like.
The Garage is also the Home of the 2-3-4, meaning there's a $2 draft, $3 well drink and $4 beer on the menu all day every day, as well a full complement of other beverages to go with your nachos.
Sabor Mexicano
109 Riverside, Lowell 49331
This family restaurant opened in downtown Lowell in September 2022, but it had already built a faithful local following by that point, having offered takeout dishes via a pop-up food tent and an incubator kitchen. Its new permanent space offers dine-in and deck seating along the beautiful Flat River.
Sabor Mexicano translates to "Taste of Mexico" and that's just what you'll enjoy here – authentic dishes made to order and loaded with genuine south-of-the-border flavors. Nachos start with a bed of homemade chips, quesabirria tacos come with a tasty consommé for dipping, elote is a grilled Mexican street corn served on the cob … and there's so much more to choose from.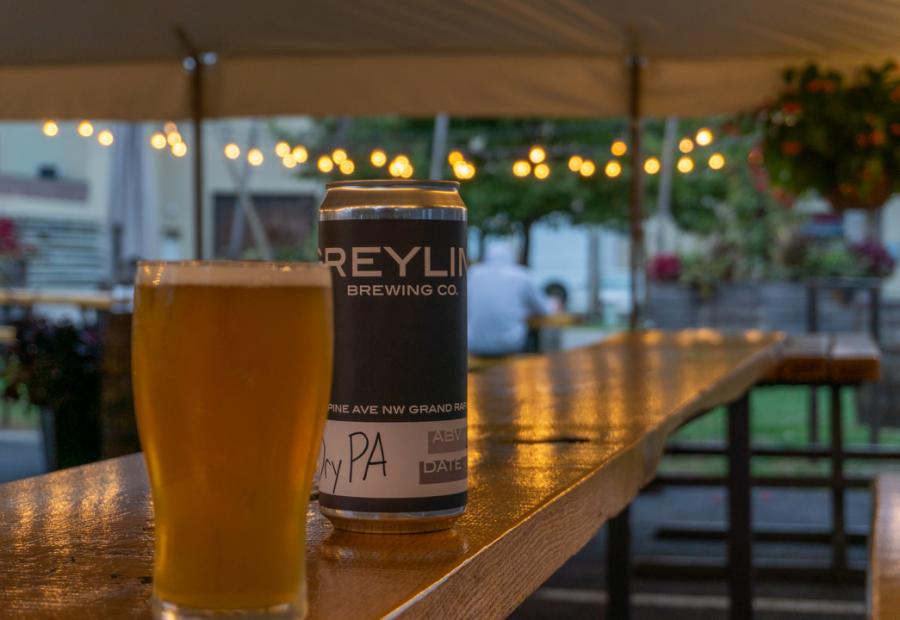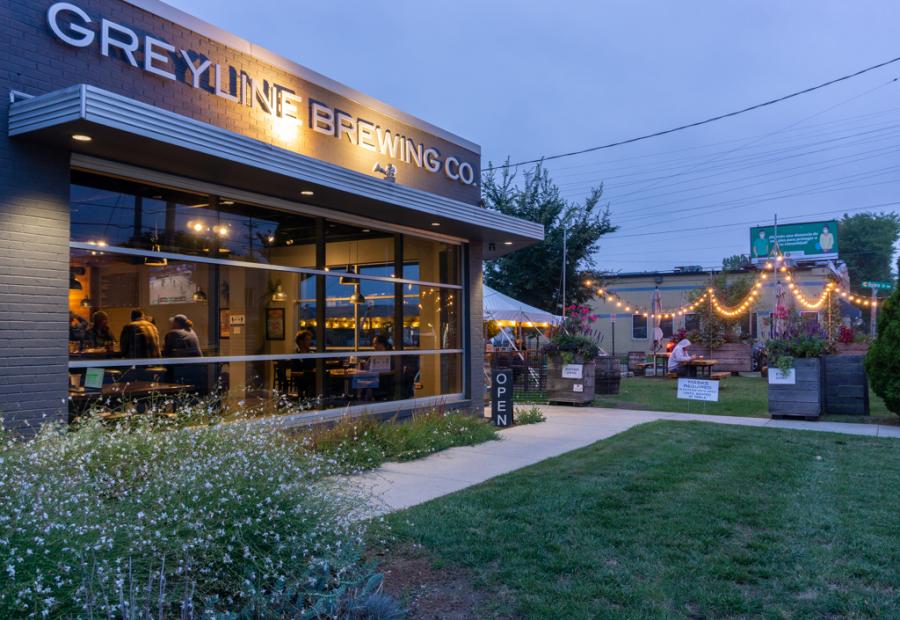 Grab some nachos and join Greyline Brewing for weekly Saturday night Trivia.
Photo by Experience Grand Rapids
Greyline Brewing
1727 Alpine Ave NW, Grand Rapids 49504
This Beer City Ale Trail brewery offers three different varieties of nachos to please any palate. Cuban Nachos feature mojo pork, Swiss cheese, shredded pickles and dijon sour cream. Deluxe Nachos are made with your choice of verde chicken or spicy honey sriracha steak, and topped with pickled onions, poblano peppers, a four-cheese blend and a spicy southwest sauce. Veggin Nachos substitute cucumbers and avocado for meat. They all start with locally made El Matador Tortilla Chips.
Of course, Greyline offers an enticing selection of handcrafted beers (and hard ciders) to accompany your nachos, as well as a bunch of non-alcoholic drinks.
Noco Provisions
4609 Cascade Rd SE, Grand Rapids 49546
Elevated comfort food is the hallmark of Noco Provisions, and Noco Nachos certainly fit that description. Tortilla chips are smothered with roasted green chili queso, charred sweet corn, cilantro, pickled red onions, black beans and ranchero cream. Additional options include BBQ chicken, seasoned beef and veggies. The dish is large enough to feed 4-6 people – but if you want to tackle it solo, hit the restaurant at Happy Hour (every day from 2pm-6pm) for a half portion. 
During happy hour, you can also get $2 off Noco's Bebida Margarita (along with other cocktails), which is a perfect complement to Noco Nachos. The Bebida Margarita is crafted with Noco's house-infused pineapple jalapeno tequila, house-made sour, orange liqueur, and served on the rocks with a salt and sugar rim.
Cantina Mexican Grill
2770 E Paris Ave SE, Grand Rapids 49546
Opened in 1976, Cantina Mexican Grill continues to draw crowds for its "great tastes of Old Mexico" ­­­– including Veggie Nachos, Nachos Supreme, Seafood Nachos and Fajita Nachos (featuring your choice of chicken or steak). If you're in a hurry, opt for the drive-thru and choose from Cheese Nachos, Deluxe Nachos (which add onions, tomatoes and peppers) or Supreme Nachos (with beef or chicken and beans, onions and peppers).
La Cantina offers a full bar, an outdoor patio and a downstairs lounge (with TVs, billiards and a jukebox) in addition to its main dining room, all great spaces to relax and enjoy Tex-Mex classics … and the restaurant's "famous bean dip."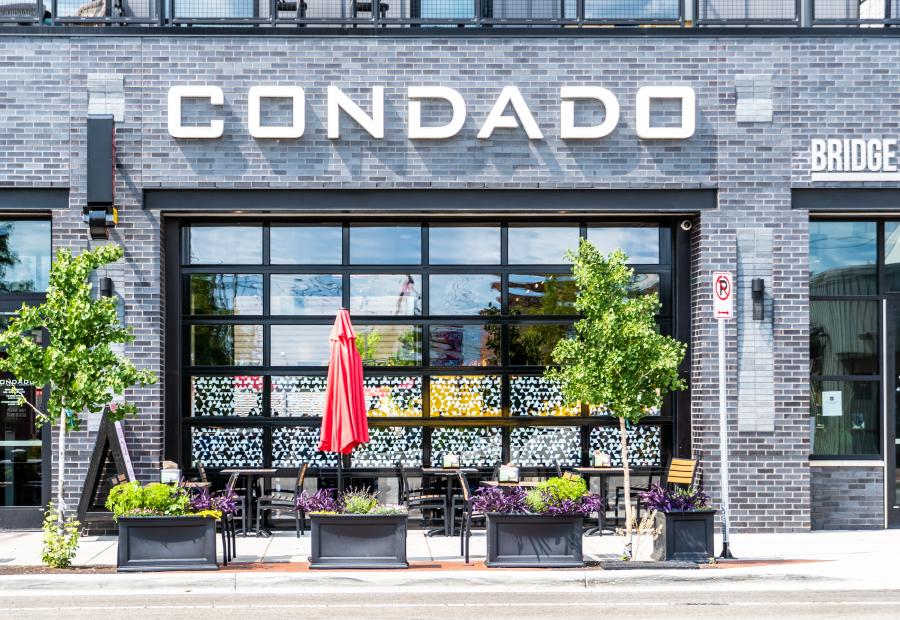 Condado offers customizable nacho toppings that pair well with their fresh in-house chips and queso blanco.
Photo by Experience Grand Rapids
Condado Tacos
449 Bridge St NW, Grand Rapids 49504
The only non-local restaurant on this list makes it by virtue of its Build-Your-Own Nachos option, which starts with tortilla chips made fresh in house and "to-die-for" queso blanco, then lets you add whatever crazy toppings you're cravin'. That includes vegetarian, vegan and gluten-free options, plus a choice of four salsas and seven sauces.
Condado's nachos are perfectly paired with a house or crafted margarita, and if you can't choose between the flavors, try a Mini Marg Flight! There are also many beer, wine, seltzer and alcohol-free drink selections.
Lindo Mexico Restaurante Mexicano 
1742 28th St SW, Wyoming 49519
The menu at female-owned Lindo Mexico offers page after page of mouthwatering options, including three nacho dishes using fresh, homemade chips as a foundation. Nachos Especiales tops chips with refried beans, ground beef, cheese, onions, cilantro, sour cream and Mexican cheese. Nachos Lindo Mexico build on that base with your choice of ground beef, chicken, steak or marinated pork, plus lettuce, tomato, pico de gallo and guacamole. And Vegy Nachos let non meat-eaters get in on the action.
Pair your nachos with a Mexican soft drink, beer, margarita or mixed drink. (There are plenty of American beverage selections, too.) Live music and lively art add to the friendly, festive atmosphere here.
The Beltline Bar
16 28th St SE, Grand Rapids 49548
The Beltline Bar is justly famous for its wet burrito – named one of America's best burritos by Food & Wine Magazine in 2018 – but locals loves the nachos at this Tex-Mex restaurant, too. The Beltline Bar offers a simple Chips & Cheese dish for purists and a Loaded Chips & Cheese option with ham, seasoned ground beef, tomatoes, green pepper, jalapenos and diced onions.
Also on the menu: a wide variety of tacos, fajitas, quesadillas and other delicious Tex-Mex food, plus salads, beer and cocktails.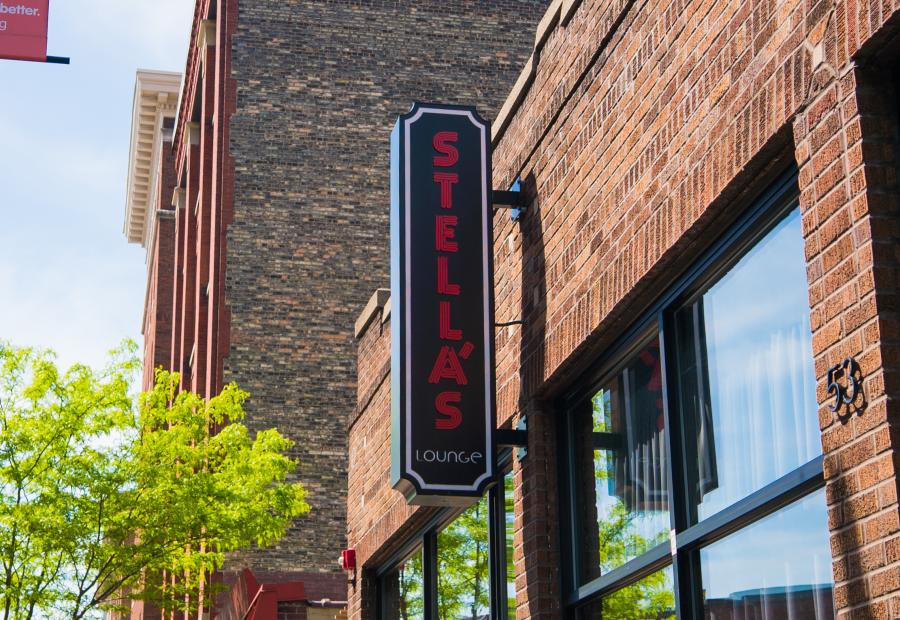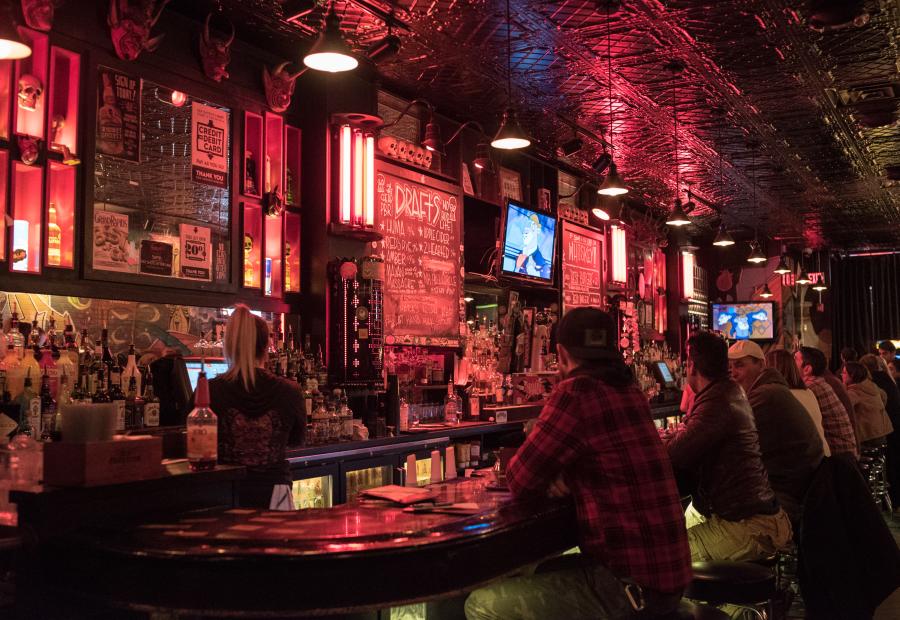 Stella's chronic hour is the perfect time to grab $5 nachos and $2 PBR drafts.
Photo by Experience Grand Rapids
Stella's Lounge
53 Commerce Ave SW, Grand Rapids 49503
The three nachos dishes on the menu of this unpretentious downtown eatery all start the same – with tortilla chips, Cuban black beans, lettuce, onion, tomato, fresh salsa and pickled jalapenos. From there, you can choose either Meathead (which adds spicy taco beef), Veghead (featuring vegan chorizo) or Full Montie (with vegan chorizo, vegan cheese and vegan ranch dressing).
Nachos are a perfect prelude to one of Stella's award-winning burgers, which go down easy with a creative cocktail or one of the restaurant's 250+ kinds of whiskey.
Bestside Bar & Grill
1645 Leonard St NW, Grand Rapids
Located in a refurbished auto service garage – with a still-working garage door to prove it – Bestside racked up social media votes for its nachos made with house-made chips, your choice of brisket or chicken, a Mexican cheese blend, pico de gallo, roasted corn salsa, jalapenos, cotija cheese and green sauce. It's a scrumptious starter to whet your appetite for the restaurant's soups, salads, sandwiches, burgers and pizzas.
Bestside offers lots of food and drink specials, as well, along with seasonal cocktail menus, live music, trivia nights and more.
Mill Creek Tavern
3874 W River Dr NE, Comstock Park 49321
"Great food, cold drinks and fun times with family and friends" is the promise at this neighborhood pub near LMCU Ballpark (home of the West Michigan Whitecaps baseball team). Mill Creek's Queso Nachos feature tortilla chips heaped with ground beef, queso cheese, romaine lettuce, tomato, onion, fire-roasted salsa and avocado creme fraiche, sized perfectly to share.
Mill Creek also offers a variety of traditional pub grub, craft cocktails and local beer, all served up by friendly folks eager to make you feel at home.
Be sure to download the Beer City Brewsader® app and use it to check in to Brewery Vivant and Greyline Brewing when you visit. Check in to eight Brewsader breweries and you'll get a FREE t-shirt!
It's also a good idea to check websites to confirm menu details before you go, as offerings and prices can change without notice.