We all have days when we want to dine on a dish that provides a little extra sense of comfort. For some that might be ordering pizza, a cheeseburger, or mac n' cheese, while for others, sweet treats like donuts or ice cream fulfill those comfort food cravings.
There's one other quintessential category of comfort food that many breweries and eateries around Grand Rapids excel at creating: nachos.
We enlisted our social media followers to tell us where to find some of the best nachos in Grand Rapids, and there was no shortage of suggestions. Here are five restaurants and breweries in the city that locals praise for their must-try nachos, many of which are available via take out. Check with each location for options.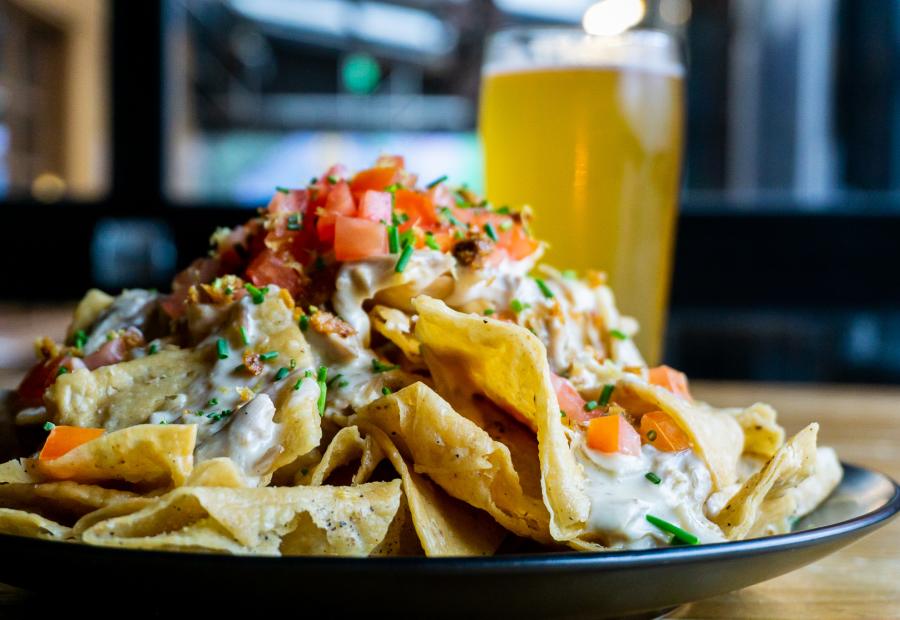 Try pairing Brewery Vivant's Duck Confit Nachos with the brewery's flagship beer, the Farm Hand.
Photo by Brian Craig for Experience Grand Rapids
Brewery Vivant
When you think about the meat topping on nachos, what comes to mind? Probably chicken, beef, or pork. Brewery Vivant challenges the average nacho with its unique Duck Confit Nachos.
"We cure our duck for 24 hours before slow cooking it in duck fat," says Executive Chef Christopher Vander Meer. "We then hand-pick the meat and shred it finely in an attempt to give our guests some delicious confit duck with every bite. We utilize everything in my kitchen, so we also peel off the skin from the duck, fry it until it's crispy, and then crumble it on top as a garnish."
To create a rich texture and velvety flavor, Vander Meer mixes a French brie cheese into the dish's cream sauce. All the ingredients used in the nachos, including tomatoes, onions, and tortillas, come from local sources. 
The housemade chips are incredibly light and crunchy, so you'll have more room in your belly for the delicious toppings. Plus, the flavors of the Duck Confit Nachos are perfectly prioritized as the duck and beer cheese sauce dominate, while the additional toppings amplify the flavor instead of distracting from it.
When enjoying Brewery Vivant's Duck Confit Nachos, Vander Meer recommends sipping the brewery's flagship beer, the Farm Hand. The award-winning brew offers a light body, mild sweetness, and a tartness from Biere de Garde yeast.
The Duck Confit Nachos are so popular and unique that the staff at Brewery Vivant celebrate them every year during Interstellar Duck Nacho Day. The day is filled with Duck Nacho themed art (and sometimes music), sampler sizes of the nachos for those who haven't tried them, and a limited edition Quack Burger. The next Interstellar Duck Nacho Day will take place on May 24, 2020.
Noco Provisions
Noco Provisions offers a relaxed atmosphere and comfort-inspired menu, including its exceptional nachos.
"We are all about a comfortable elegance, and we believe our nachos accomplish just that," says Andrew Engle, Executive Chef. "Our nachos look beautiful, and you might leave craving a nap."
The Noco Nachos include roasted green chili queso, charred sweet corn, cilantro, pickled red onions, black beans, ranch crema, and either BBQ chicken or Kalua pork.
"Our queso has a really good cheesy taste along with a little kick from the green chiles that provide a great balance," says Quinn McCormack, Assistant General Manager. "If you are an onion lover, we have pickled red onions on top that are pretty unique and add a nice bite to the dish."
In addition to great taste, the quantity is a big selling point because it's large enough to feed four to six people. But if you want to sample the Noco Nachos solo, the restaurant offers "Happy Nachos" – a half portion of Noco Nachos – during happy hour from 3-5 PM daily and all day on Sundays.
During happy hour, you can also get $2 off Noco's Bebida Margarita (along with other cocktails), which McCormack says is the perfect pairing with their nachos. The Bebida Margarita is crafted with Noco's house-infused pineapple jalapeno tequila, house-made sour, orange liqueur, and served on the rocks with a salt and sugar rim.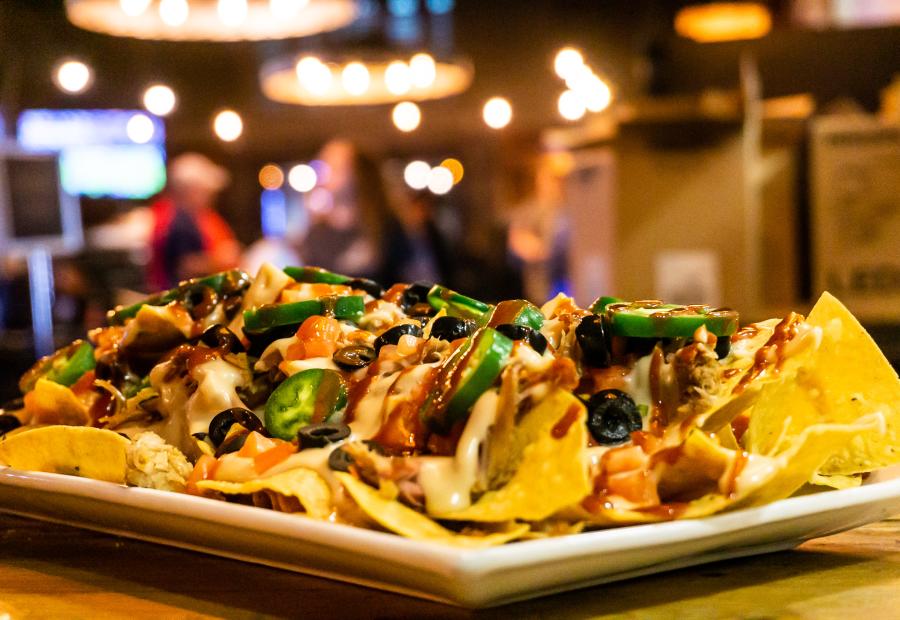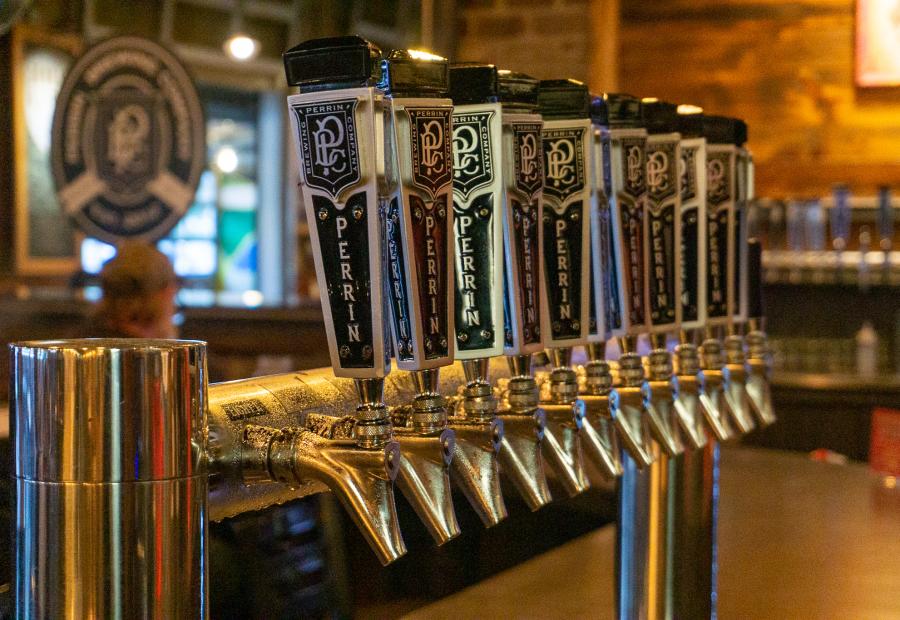 Perrin's nachos have a spicy and smokey flavor that pairs well with almost any option on the beer menu.
Photo by Brian Craig for Experience Grand Rapids
Perrin Brewing Company
Perrin Brewing Company serves up Slow-Roasted BBQ Pulled Pork Nachos with its popular beer cheese and Black Ale BBQ sauce slathered over pulled pork, tomatoes, black olives, jalapenos, and house-made corn chips. 
"Combined with our pulled pork, these nachos offer a unique spicy, smokey, and savory flavor profile that complements almost any selection from our extensive beer menu," says John Shupe, Kitchen Manager. 
Perrin's Pulled Pork Nachos were born out of a desire to offer guests an alternative way to enjoy the brewery's popular beer cheese, as well as offer an appetizer worthy of feeding an entire table.
A mainstay on Perrin's eclectic, "elevated pub food" menu since 2016, Perrin's nachos typically sell themselves.
"On more than one occasion as a runner carries a plate past their table, I have overheard guests asking their server, 'What are those?' I would call them a smokey, savory, gooey plate of munchie perfection," says Shupe.
He adds that Perrin's Black Ale, with its hints of semi-sweet chocolate and fresh coffee, is the perfect sidekick to the Pulled Pork Nachos, especially since the BBQ sauce is crafted using the popular brew.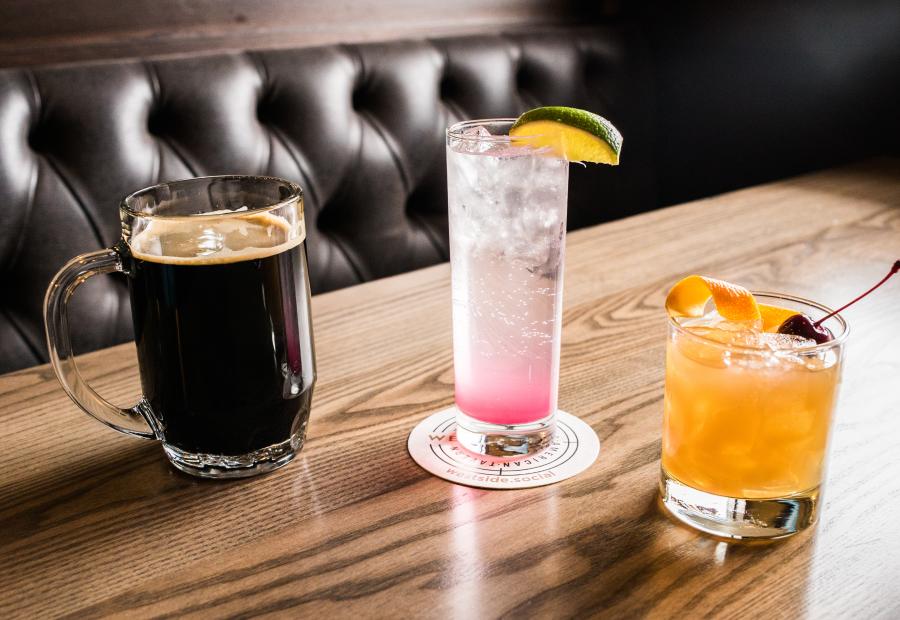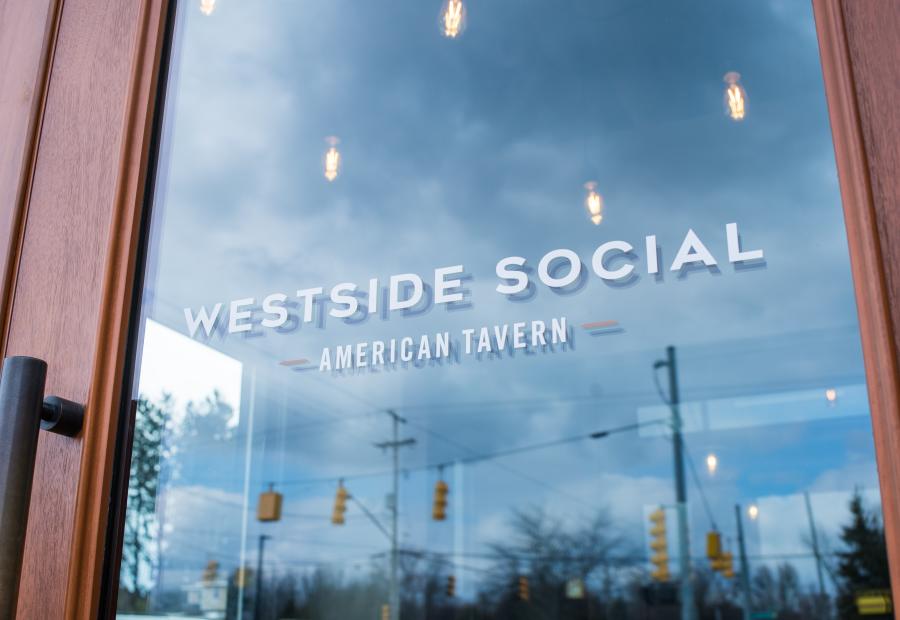 To wash down your nachos, Westside Social offers a full bar with 24 drafts to choose from.
Photo by Experience Grand Rapids
Westside Social American Tavern
The Westside Nachos are a relatively new item on the menu at Westside Social American Tavern, and the chefs at this eatery have been tweaking the recipe to develop a perfect blend of flavors. 
These nachos are made with homemade tortilla chips, slow-braised chipotle short ribs, house-made queso cheese sauce, red cabbage, pico de gallo, queso fresco, avocado crema, and jalapenos for an additional bite.
"Usually, when a customer is on the fence about ordering our nachos, I encourage them to try them because you won't be disappointed by the complex flavors," says Matt Benscoter, Executive Chef. "You can alter these any way you prefer, but we highly recommend you try them as is."
To wash down your nachos, Westside Social offers a full bar with 24 drafts to choose from, plus a happy hour five days a week. You can also sample other dishes on Westside's weekly rotating feature menu that highlights seasonal dishes and other specialty options.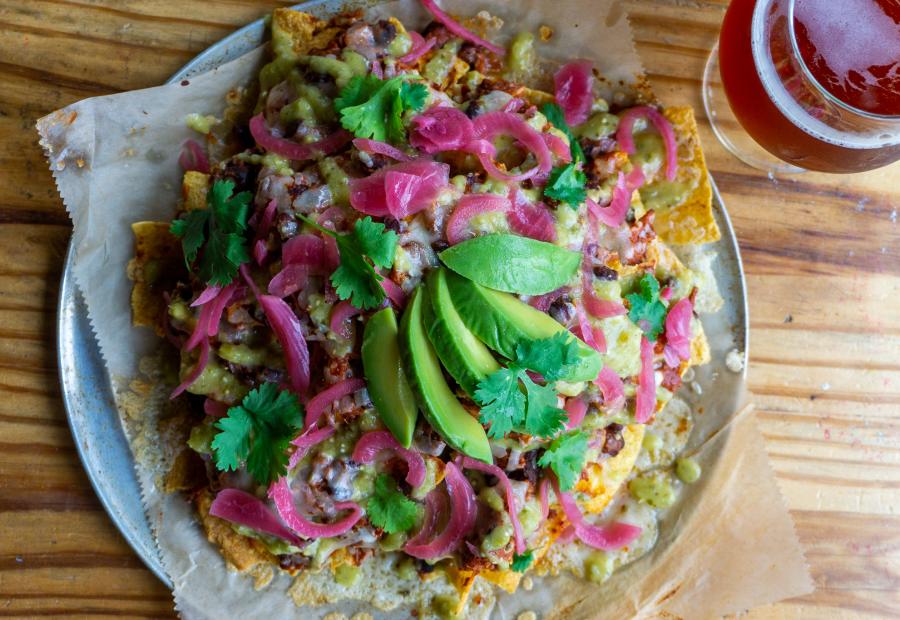 Amplify the spice in Jolly Pumpkin's Red Chicken Nachos by pairing them with La Roja, an award-winning amber sour.
Photo by Brian Craig for Experience Grand Rapids
Jolly Pumpkin Pizzeria and Brewery  
Jolly Pumpkin Pizzeria and Brewery's Red Chicken Nachos were created by Culinary Director Paul Olson and perfected in Jolly Pumpkin's Chicago and Detroit locations before joining the Grand Rapids location's menu in 2018. 
Kristina Coury, Kitchen Manager, says the Red Chicken Nachos are designed with the signature Jolly Pumpkin twist — traditional flavors mixed with non-traditional ingredients.
"We honor the origins of nachos by maintaining the Mexican flavor profile with spices like cumin, paprika, and chili powder, but we add our own twist with marinated chicken and homemade sweet and spicy salsa verde for the perfect mix of feel-good and unexpected," says Coury.
The Red Chicken Nachos include red chili marinated chicken, black beans, pepper jack, white cheddar, salsa verde, avocado, pickled red onion, and cilantro. For those with a spice sensitivity, the nachos do have a mild bite to them, but the kick enhances the flavor rather than overpowers it.
The sweet and spicy salsa verde exemplifies the attention to detail and personal touch that makes these above-average nachos.
"From our red chili marinated chicken to our homemade salsa verde, we put a lot of work into preparation," says Coury. "We make all of our sauces from scratch, so our in-house sweet and spiced tomato sauce truly sets our nachos apart. We start with locally sourced tomatillos, then husk, peel, and roast everything in-house to bring you a salsa verde like none other. You can really taste the difference."
To kick your nachos experience up a notch, Coury recommends the snack-and-sip combo of the Red Chicken Nachos with Jolly Pumpkin's award-winning La Roja — a Flemish-style amber sour with undertones of caramel, fruit, and spice.
Honorable Mentions
Your craving for nachos will be satisfied at any of the aforementioned eateries, but why stop there? Check out these other Grand Rapids eateries recommended by locals for their enticing nachos:
And don't forget your Beer City Brewsader Passport when visiting Brewery Vivant, Jolly Pumpkin, and Perrin because all three can get you one stamp closer to becoming a Brewsader! (Pro tip: you can also download the Brewsader App to conveniently check-in!)