With more than 50 breweries along the Ale Trail in the greater Grand Rapids area, it's no wonder the city is known as Beer City, USA. However, only a couple of decades ago, Grand Rapids wasn't nearly as prominent on the map. 
In this installment of the blog series "Breweries That Built Beer City, USA," we're taking a look at a brewery that helped found the city's reputation for craft beer: Founders Brewing Co.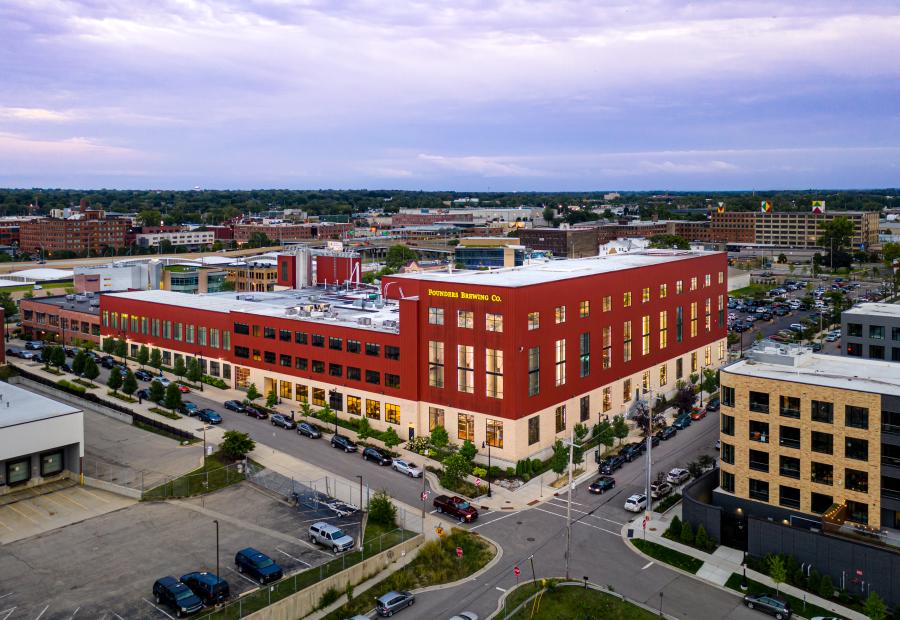 Despite its massive size (the brewery now takes up an entire city block), Founders' focus on quality brewing is still showcased by its specialty taps in Grand Rapids.
Photo by Experience Grand Rapids
Establishing Roots
Many Grand Rapids locals regard Founders Brewing Company as one of the main breweries responsible for establishing Grand Rapids as Beer City, USA. 
Following its opening in 1997, Founders didn't immediately find its strong foothold in Grand Rapids' craft beer scene. Mike Stevens and Dave Engbers opened Founders during the nation's first major wave of brewery openings in the mid-1990s and began brewing some beers that didn't warrant as much success as the co-founders anticipated.
After nearing bankruptcy, the pair decided it was time to take the lid off their creativity. They created beers like their now-infamous Dirty Bastard and KBS (Kentucky Breakfast Stout).
Since 2007, Founders has maintained a double-digit growth rate, becoming one of the nation's largest breweries distributed across the nation.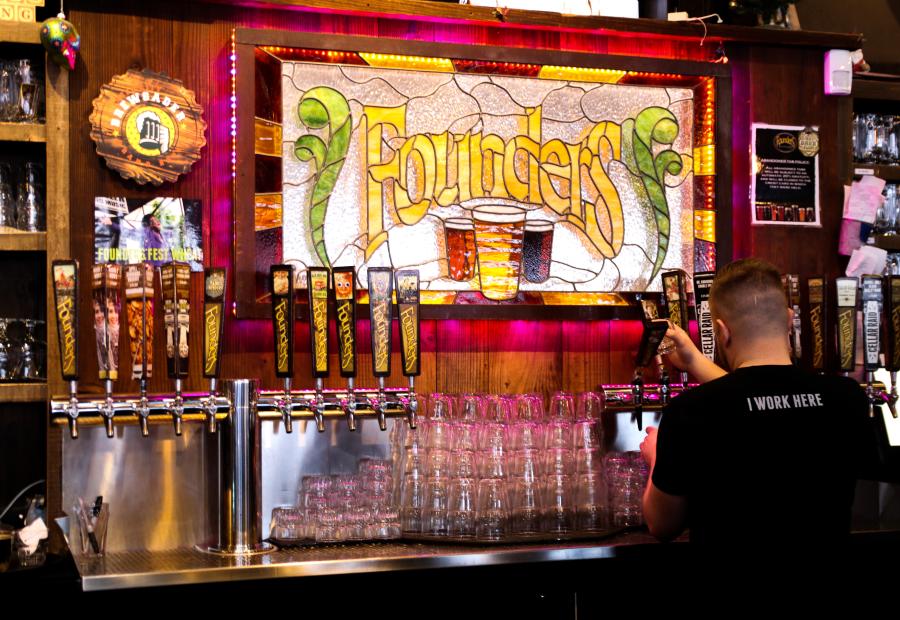 Founders' focus on beer that's "Brewed For Us" lead to the creation of brews like Dirty Bastard and Kentucky Breakfast Stout.
Photo by Experience Grand Rapids
"We can't take all the credit … I would think we've played a fairly significant role in that and it brings a lot of attention to West Michigan," says Mike Stevens, Founders co-founder. "It's been neat to watch."
Trusting their gut after their initial struggles is where the brewery's "Brewed For Us" slogan derives from. Stevens and Engbers realized that it was better to follow their instincts than following trends or brewing what they thought people wanted.
"We never looked anywhere but inward to satisfy the beers we wanted to make," Stevens says. "We didn't pay attention to what the market was looking for or demanding. It's been cool to know that we've done it our way."
All of Founders' barrel-aged beers are worth a try, but the flagships like Centennial IPA, Porter, and All Day IPA are all worth sipping on. At the taproom, however, you can find samples of dozens of creations not available across the brewery's nationwide distribution footprint.
Despite its massive size (the brewery now takes up a full city block), Founders' focus on quality brewing is still showcased by its specialty taps in Grand Rapids.
Trading Spaces
In 2006, coinciding with the beginning of its massive growth spurt, Founders Brewing Co. moved across downtown Grand Rapids, from its original Brass Works Building location to its current space at 235 Grandville Avenue. 
Since moving in, the building has gone through multiple renovations, becoming a hub for beer lovers, families, visitors, and locals, alike.
The move was not unfounded, as craft beer aficionados began flocking to the brewery. The large, open taproom is often bustling with activity and buzzing with conversation. Several days a week, it's filled with music from local, regional, and national musicians. The outdoor patio area stays busy much of the year, even into the cold seasons, thanks to a few giant outdoor heaters.
Impressive accolades, like Thrillist proclaiming Founders the best brewery in Michigan in 2018 and Zymurgy magazine ranking four Founders offerings among America's 10 best beers, suggest that pilgrimages to Founders won't end any time soon.
Menu Options
Along with its world-class beers, Founders also serves up great food options — like the Blushing Monk, with housemade cranberry chicken salad, provolone, smoked gouda, lettuce, tomatoes, and red onions on a telera roll. The menu boasts regular specials, munchies, sandwiches, salads and sides.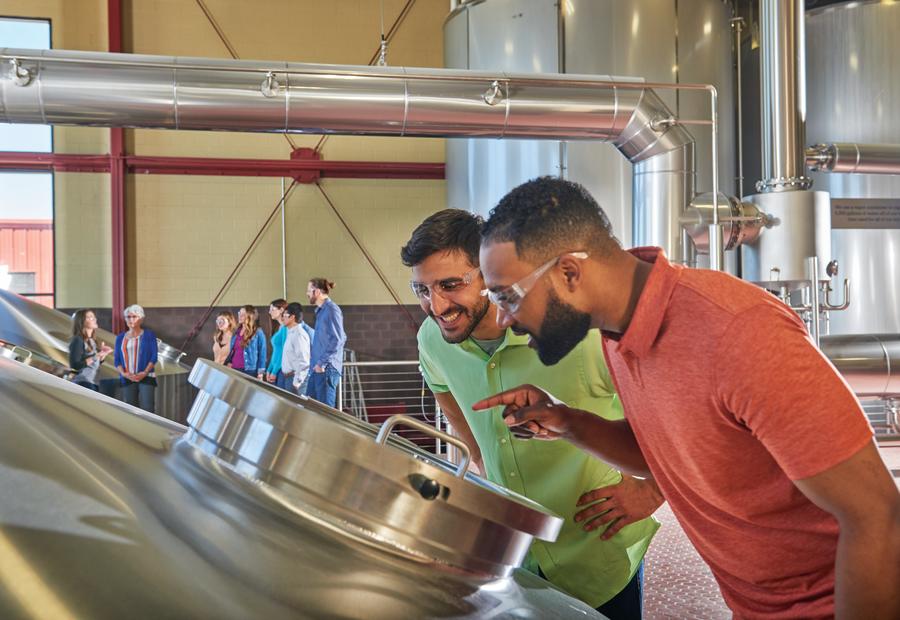 Touring at Founders Brewing Company.
Photo by Experience Grand Rapids
Facility Tours and Events
Before or after grabbing a beer and grub, customers can take a private guided tour of the brewery or a casual tour and tasting starting at $15 per person. These tour & tasting events are available at various times on various days of the week and must be booked in advance on Founders' tours page.
The brewery also features live music on a regular basis, including national, regional, and local acts. For more events, visit Founders' events page.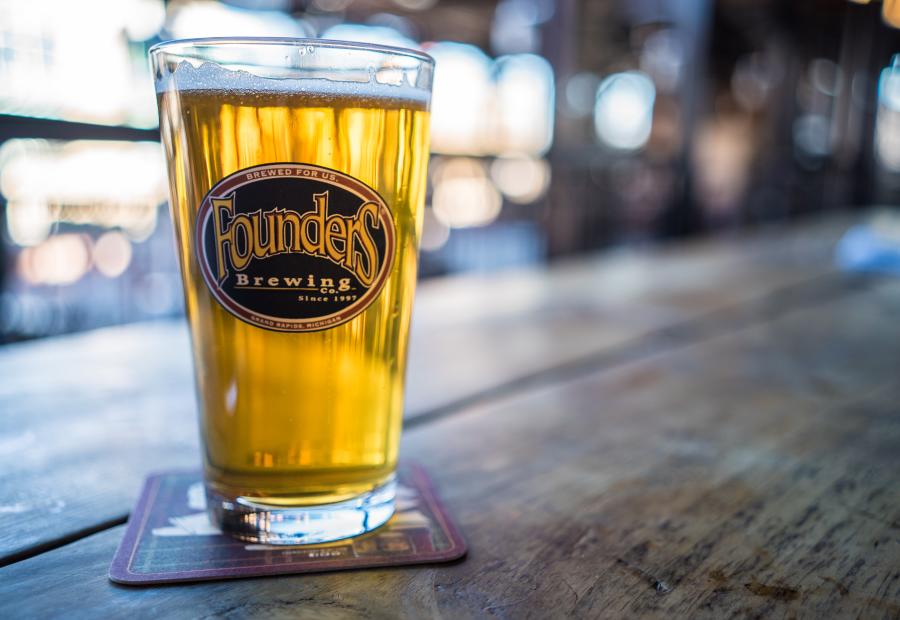 Founders' Mug Club offers several exclusive perks, including a personalized mug and discounts on beer at the brewery.
Photo by Experience Grand Rapids
Mug Club
If you're a fan of Founders, check out their Mug Club, which offers plenty of exclusive benefits to members, like a personalized mug, everyday discounts (including $1 off all beers and 20% off all to-go beer), member-exclusive merchandise sales and more.
As a member of the Mug Club, you also become the first to have access to insider information about the brewery. Find out more on Founders' website.
Learn more about Founders Brewing in this episode of Beer City Eats, which is hosted by Adrian Butler.
A stop at Founders is a step toward becoming a Beer City Brewsader®. Download the Brewsader app and check in at eight participating breweries to earn a FREE exclusive t-shirt. Check in to 40+ breweries to attain Ultimate Brewsader status.
Visit our Beer City page for information on additional local breweries, beer tours, hotel-beer packages and more, and check out our Events Listing for fun beer-themed things to do – just click Beer Events under Categories.
For more information on local breweries that also offer unique food and craft beer experiences, visit our list of beer events, and be sure to become a Beer City Brewsader®. Start by downloading the app from the Apple Store or Google Play. A visit to Founders counts towards your Brewsader (check-ins at eight breweries) or Ultimate Brewsader (check-ins at 40 breweries) status!

About the Breweries That Built Beer City series: Grand Rapids first earned the title Beer City USA in 2012, when there were far fewer breweries than the 50+ currently on the Beer City Ale Trail. This blog series focuses on those early pioneers – breweries that built an industry from the ground up starting in 1997 and firmly established the city's reputation for world-class craft beer.