The Grand Rapids area has been my home for nearly 15 years now – and I'm always thrilled to show it off to my friends and family back on the east side of the state. One of my best friends, Danielle visited me this June with her family. With her husband out of town on business, it seemed like the perfect time to make the short trip to GR for a getaway with her mom and three boys. Danielle's boys are Chase (age 5), Nolan (age 3) and Bennett (age 1). I'm also a boy-mom to Luca (age 3) and Camille (10 months). Between us – 5 boys, 5 and under! 
As a metro Detroiter, Danielle was familiar with Grand Rapids but had never done a family trip here. She was a bit skeptical that Grand Rapids could measure up to her larger city in terms of activities and amenities. But she and the kids loved their experiences here – and we're already planning for their return trip!
I thought I'd share our itinerary to give you some ideas on things to see and do if you're planning or hosting a family visit.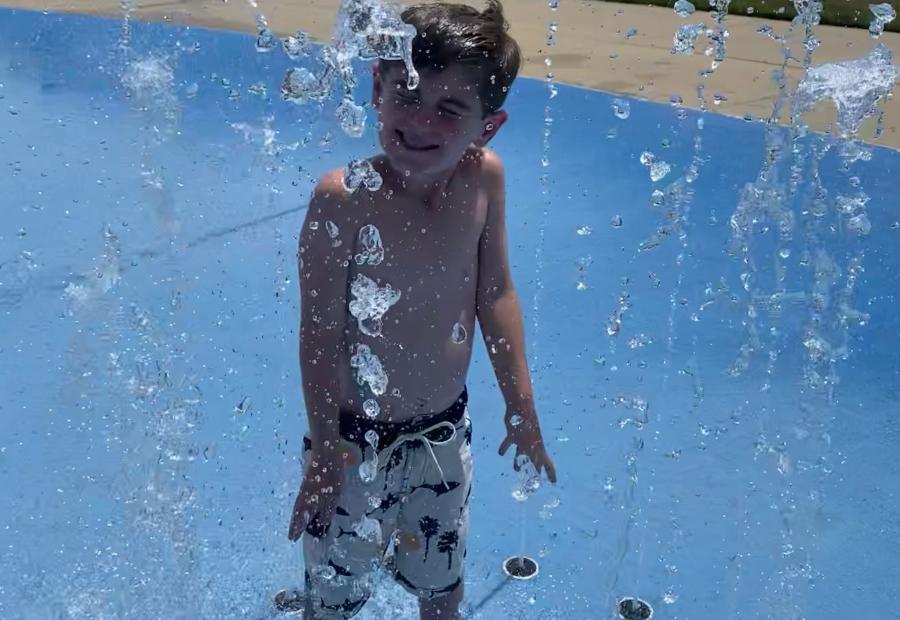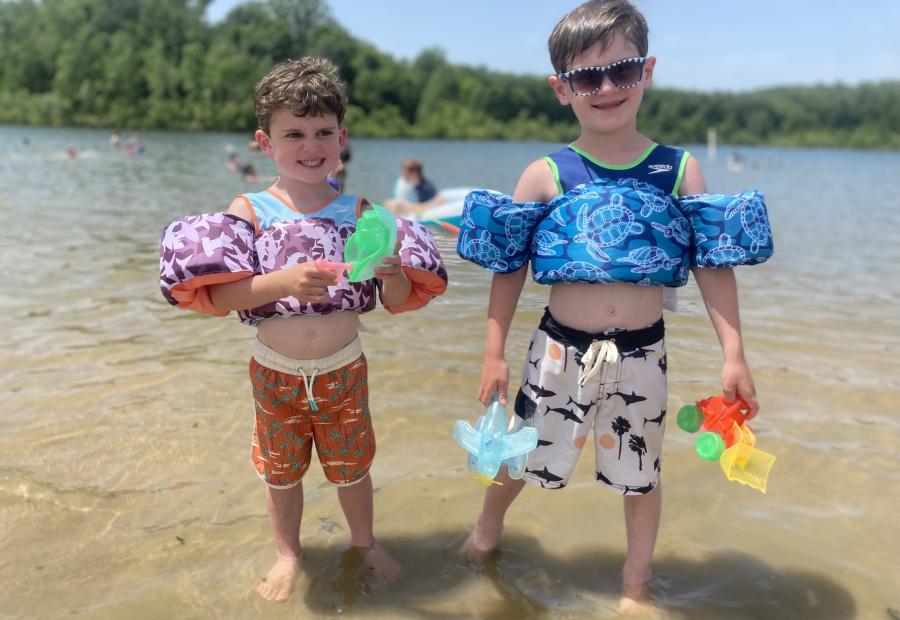 Millennium Park: "It's nice that the water is shallow and that there's a refreshment area with ice cream right there."
Photo by Danielle
Day One 
Danielle and family departed Metro-Detroit about 9:00 am and arrived here around noon. They checked in to the Embassy Suites Downtown to drop off their bags and grab swimsuits for their afternoon activity. (It was a HOT day!) 
This is a great hotel for kids because it's all suites – so there's plenty of room to spread out – and it's located right on the Grand River, with balconies off the guest rooms for viewing the water. Of course, 5-year-old Chase was more enchanted with an indoor water feature – the huge fountain wall in the lobby. "Wow, this is cooler than Disney World!"
The Embassy Suites is located in the walkable Monroe North neighborhood of downtown, and Danielle and her family walked to Jimmy Johns to refuel with a quick lunch. "Jimmy Johns didn't have a lot of seating, but we took the food back to the hotel, which had tons of tables and chairs – thank goodness, because eating without tables is tough with kids," says Danielle.
The family then headed to Millennium Park (a 15-minute drive) to cool off on the beach and in the splashpad. "The boys loved playing in the sand and the water," says Danielle. "It's nice that the water is shallow and that there's a refreshment area with ice cream right there. Nolan had so much fun he wants to come back for his birthday."
They reluctantly packed up and headed back to the hotel so everyone could freshen up before dinner at my house. I picked up food from Licari's Sicilian Pizza Kitchen, which pleased adults and kids alike, and we had a great time hanging out. It's not often we can get our families together, and it's so fun to see our boys interacting and becoming fast friends.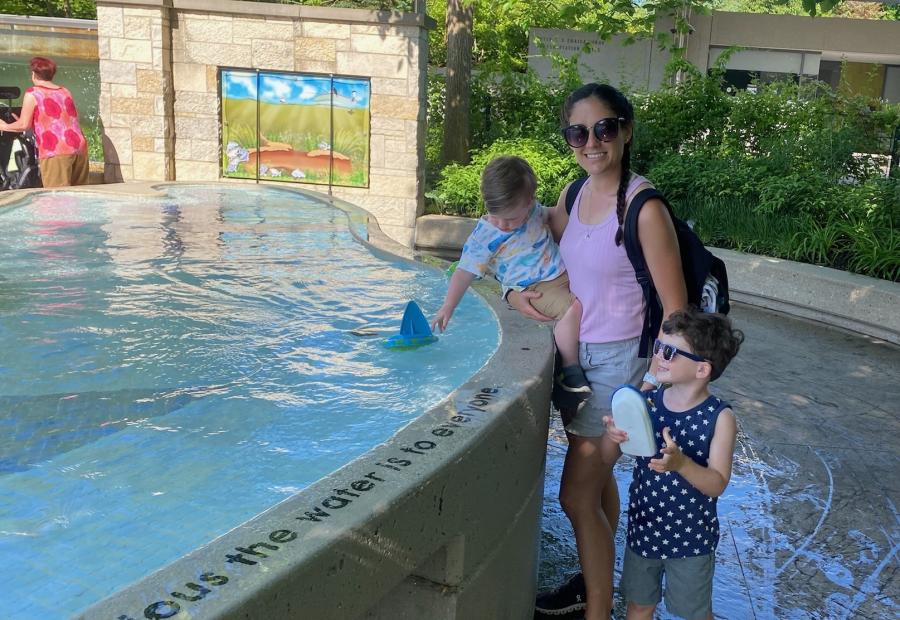 A must-stop is Frederik Meijer Gardens & Sculpture Park and of course a summer fav, Jersey Junction.
Photo by Danielle
Day Two
Day two began with free, made-to-order hot breakfast at the hotel. Then it was a 10-minute drive to the area's biggest tourist attraction, Frederik Meijer Gardens & Sculpture Park, while I was at work. Honestly, I had to convince Danielle to visit the Gardens, because she couldn't imagine what about it would interest three young boys. But I got a text from her late morning: "Wow, we love the gardens! We could have stayed a lot longer."
"It was our favorite place," says Danielle. "We spent a lot of time at the Great Lakes Water Garden and we also hit Treehouse Village, the Sense Garden, the Rock Quarry and the Log Cabin. The education components worked into the play are wonderful. I wish we had allowed for more time – we didn't have time to see many sculptures or the indoor play area. We will definitely go back."
Hopcat, a restaurant/brewpub four minutes from Meijer Gardens, was the choice for lunch, followed by a visit to Rocket Fizz, a soda pop and candy shop with thousands of sweet treats from around the world.
Then it was back downtown to the Grand Rapids Children's Museum, which is celebrating 25 years of play in 2022. "It's such a cute and neat set-up with different play areas – the rescue vehicles were Chase's favorite and Nolan loved the postal service and grocery store. They were fascinated by the Live Hive of bees and together we made a colorful cloud in the craft area. I'm a bit of a germ freak, so I appreciated all the hand sanitizer stations and the workers constantly straightening things up!" 
They returned to the hotel for a bit of a rest before driving out to meet me and my kids at Rose's in East Grand Rapids. ("The hotel parking lot was so easy to get in and out of," raves Danielle). Rose's has a very approachable menu and picture-perfect views of Reeds Lake, which we strolled around after dinner. It was still hot, so we walked to nearby Jersey Junction, an old-fashioned ice cream parlor, for a little sweet relief. There were smiles all around – at least, until my 2-year-old dropped his entire bowl of ice cream on the ground.
It was a very full day for my friends, so they headed back to the hotel for a good night's sleep.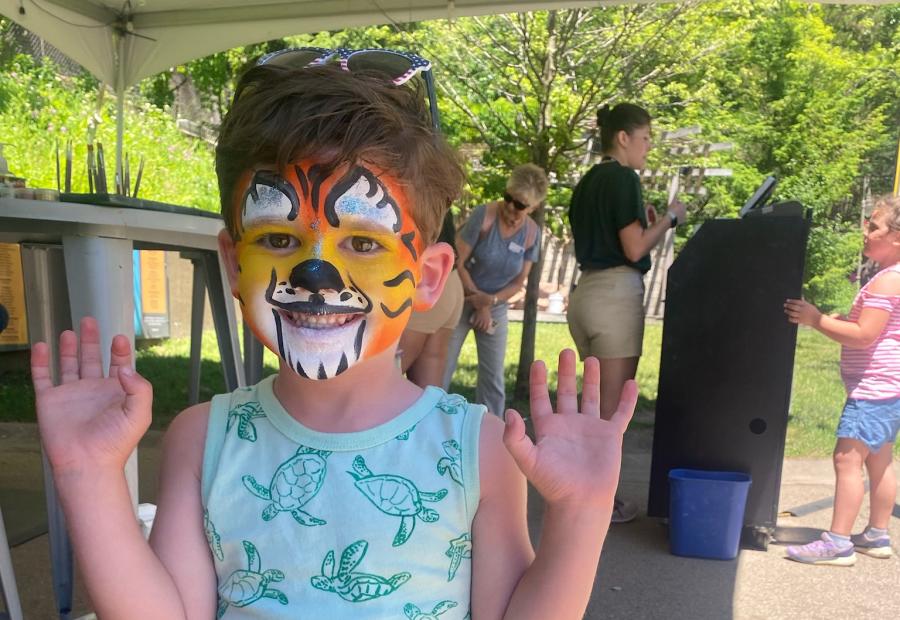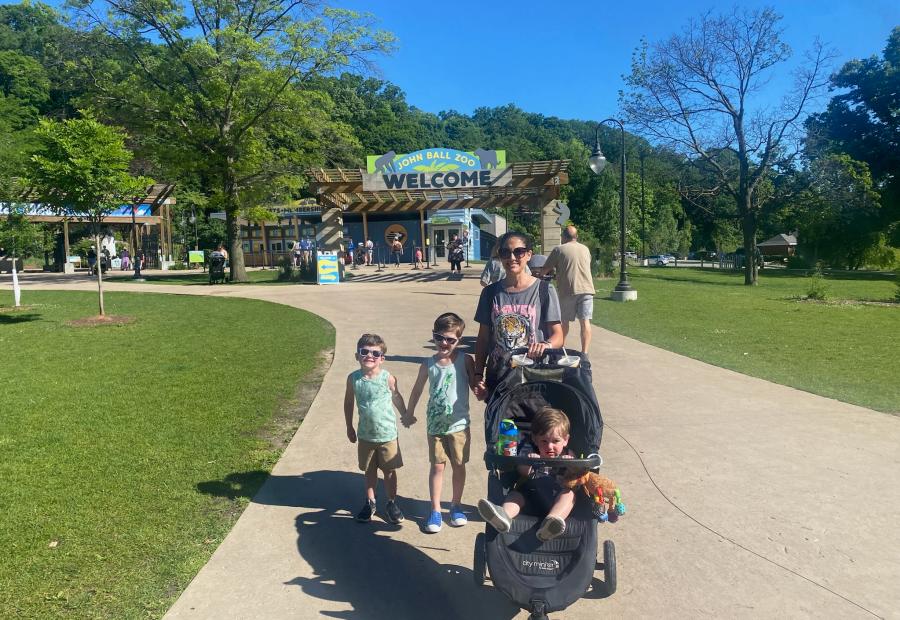 At John Ball Zoo, "Chase's highlights were the spider monkeys and the penguins, and he liked the education about animals at each exhibit."
Photo by Danielle
Day Three
Danielle wanted to get back on the road home by noon, so the family enjoyed breakfast at the hotel again before a 10-minute drive to John Ball Zoo, which opens at 9:00 am. I was curious to learn what they thought of John Ball compared to the Detroit Zoo. 
"We loved it!" Danielle told me. "We saw animals Detroit doesn't have, like brown bears, and we got to watch them being fed, which was very exciting for the boys. The tigers and otters were very active, too. Chase's highlights were the spider monkeys and the penguins, and he liked the education about animals at each exhibit."
Zoo activities were also a big hit. "We rode camels, played bongo drums, had our faces painted and explored the gift shop." They also toured the zoo's 2022 temporary exhibit, Washed Ashore, which features giant sea-life sculptures made entirely of marine debris collected from the beaches of Oregon. "Per Chase's request, we took a picture with every single one."
There was just enough time for lunch at the Monkey Island Café overlooking the spider monkey exhibit before it was back into the car for the trip home.
We're already planning a return visit for Danielle and her family. Next time, I'd like to introduce them to the Grand Rapids Public Museum and Deer Tracks Junction Adventure Park, and maybe join them on a day trip to Lake Michigan beaches and towns (30-45 minutes away). But who knows – the kids had so much fun, they might want to repeat this trip!    
Looking for more family-fun ideas? Check out all these things to do with kids in Grand Rapids.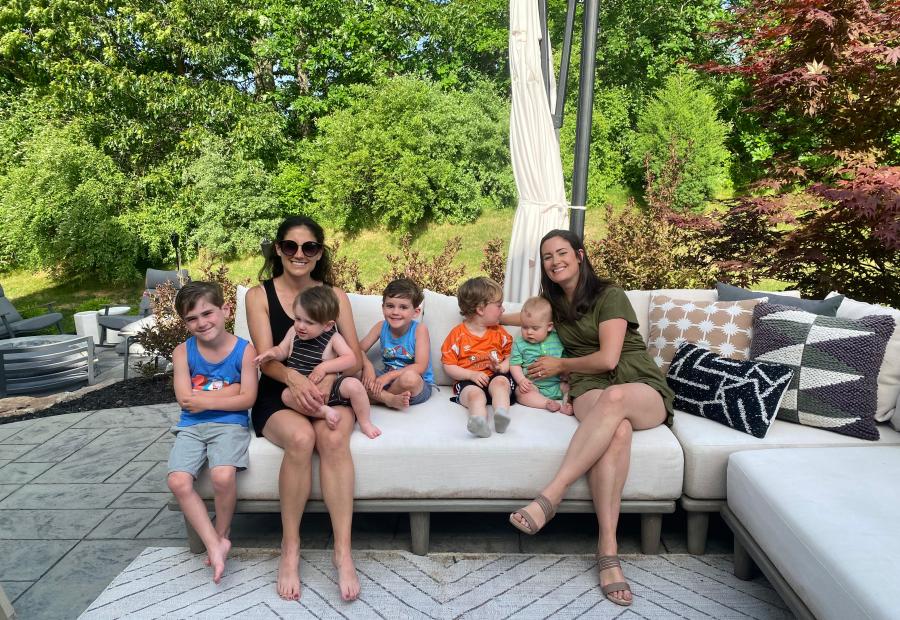 Visiting friends and family is one of the top reasons people visit the GR area and I'm glad Danielle and her boys (left) came to visit me and mine (right).
Photo by Danielle