Farm to Fork Dining
West Michigan is one of the world's finest growing regions - and hundreds of family farmers work the land with loving care. These farmers sold their harvests directly to area restaurateurs long before the farm-to-fork movement gained traction across the country
This tradition continues today, as most independent Grand Rapids restaurants rely on local farms for at least some of their food ingredients - produce, dairy, meat and more. Here are just a few places where you'll taste the freshness in every bite.
Downtown
Bagger Dave's. Michigan-based burger-and-beer chain customizes each location with fresh, local ingredients and locally inspired décor.
Bartertown Diner. Almost everything at this vegetarian/vegan/raw restaurant is local - and even if it's not, it's fair trade and organic.
Bistro Bella Vita. Specializes in Mediterranean country cuisine made from scratch with fresh, natural ingredients purchased daily from local farmers in seas.
Cult Pizza. Locally sourced meats, cheeses and veggies top the East Coast-style pizzas at this "farm-to-crust" pizzeria.
Gilmore Collection Restaurants have been buying fresh product from local farmers since 1978. That tradition continues at these downtown Gilmore restaurants: B.O.B.'s Brewery , Bobarino's , Gilly's , H.O.M.E. and Judson's Steak House .
Grand Rapids Brewing Co. The Midwest's only USDA-certified organic brewery sources as much local produce, meat and cheeses as possible, all from organic farmers.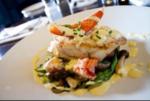 Hopcat. Named America's best brewpub, Hopcat offers a large and varied menu dominated by fresh, seasonal ingredients from local farms.
One Trick Pony. The "chef-driven kitchen" at this grill and taproom serves up homemade soups, pastas, pizzas, sandwiches, salads, entrées and daily specials.
Osteria Rossa. Italian-inspired cooking featuring the local ingredients of Michigan farms served in a friendly, comfortable atmosphere.
Reserve Wine & Food. "A local food menu to raise your glass to" is the promise at this eatery, which works with local family farms to offer an impeccable selection of seasonal dishes.
Rockwell/Republic. Fresh, locally farmed ingredients and from-scratch cooking, plus incredible sushi and martinis galore.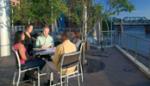 . Named one of America's Top 50 Hispanic restaurants, this "tapas bistro" features the food and fun of Spain by way of the finest local ingredients.
six.one.six. Eat local and feel global in the signature restaurant and destination lounge of downtown's JW Marriott Hotel. The chef's pantry is bursting with locally grown ingredients, some of which are picked just a few feet away at the JW Chef's Garden.
Stella's Lounge. Home of America's Best Burger (according to GQ magazine), Stella's also offers numerous vegan and vegetarian options featuring local produce.
Uptown
Brewery Vivant. Brewery and 120-seat taproom offers wonderful pairings of craft brews and French countryside-inspired foods made with simple, local ingredients.
Brick Road Pizza Co. Locally produced food and goods dominate the menu at this eatery, which offers a varied menu including many vegan selections.
Electric Cheetah. Imaginative, affordable, fresh-from-the-farm cuisine served in a comfortable atmosphere befitting one of the city's hippest neighborhoods.
. This gastro pub features a creative, ever-changing menu using a global range of eclectic flavors prepared with ingredients from local farmers. Lots of local craft beers and wines, too.
Grove. Earth-to-table dining spot celebrates "fresh, artfully crafted cuisine" and sources as much as is available from local, family and sustainable farms and businesses.
Mangiamo! Italian-inspired restaurant in a beloved 19th-century mansion continues the Gilmore collection tradition of using fresh, locally sourced ingredients.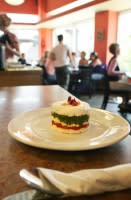 . Serves Mediterranean-inspired cuisine using as much locally grown and raised food as possible. Authentic, economical, friendly and fun!
Terra GR. "Inspired, handcrafted foods that nurture both body and community" - made with the freshest, health-filled ingredients from the region's most dedicated growers.
The Winchester. A neighborhood hangout offering a nicely eclectic menu emphasizing local ingredients - like vegetables from the garden across the street.
Northeast
Bostwick Lake Inn. Established in 1910, this Gilmore Collection restaurant offers wonderful lakeside views and a casual, eclectic menu highlighted by fresh, local ingredients plus fair-trade coffee and espresso.
Graydon's Crossing. Offers a balance of traditional pub foods and fusion-inspired dishes, all centered on fresh, local ingredients.
Green Restaurant. All organic/all-natural eatery sources local ingredients and offers free-range beef burgers, grass-fed bison burgers, a variety of specialty-meat burgers and more.
Kitchen 67. Classic recipes from one of the area's leading restaurant families are prepared using the freshest locally sourced ingredients.
Twisted Rooster. Menu features "American fare with a twist" made with locally grown food in an energetic and family-oriented atmosphere.
Northwest
Amore Trattoria Italiana. Chef Jenna Arcidiacono prepares authentic Italian foods using locally sourced meats, eggs, cheeses, produce and more. Take one of her free Italian cooking classes, held every second Saturday of the month.
Crooked Goose. Classic corner pub offers old-school tavern favorites with a twist, made with locally grown ingredients.
Southeast
Bagger Dave's. Michigan-based burger-and-beer chain customizes each location with fresh, local ingredients and locally inspired décor.
Derby Station. Pub-style restaurant works with local farms to provide tasty and nutritious products without any toxins, chemical fertilizers or pesticides.
Marco New American Bistro. Regional American and European cuisine handmade using the finest ingredients, sourced locally when available.
Rose's on Reed's Lake. Blends Mediterranean, Italian and Casual American influences, linked by a philosophy to use as many fresh, local ingredients as possible.
Southwest
Bagger Dave's. Michigan-based burger-and-beer chain customizes each location with fresh, local ingredients and locally inspired décor.
Lindo Mexico Restaurant. Freshly prepared Mexican food cooked with fresh ingredients, including locally available produce and locally produced tortillas.
On the Farm
Lubbers Family Farm. In collaboration with local restaurants, Lubbers Farm hosts farm-to-table meals on the family homestead. Guests are served multi-course meals accompanied by the stories behind the food.
Arts & Eats. A backroads tour of art, food, and farms conducted every October. Drive the countryside and see artists creating in their studios. Visit working farms that grow the food we eat and the fiber we wear. Stop along the way to dine at restaurants that serve locally grown food.