Widely recognized for both its exceptional food and easy sociability, Grand Rapids is a great place for brunch – which is, after all, a social event as much as a meal. Restaurants across the city offer unique weekend brunch menus that let you and your dining companions enjoy breakfast and lunch fare (and often, some delectable adult beverages), all the way from early morning to mid-afternoon.
We asked our social media followers to recommend their favorite weekend brunch spots across the region, and the following restaurants earned the most mentions. Each of them puts a unique spin on one of the best parts of a Grand Rapids weekend.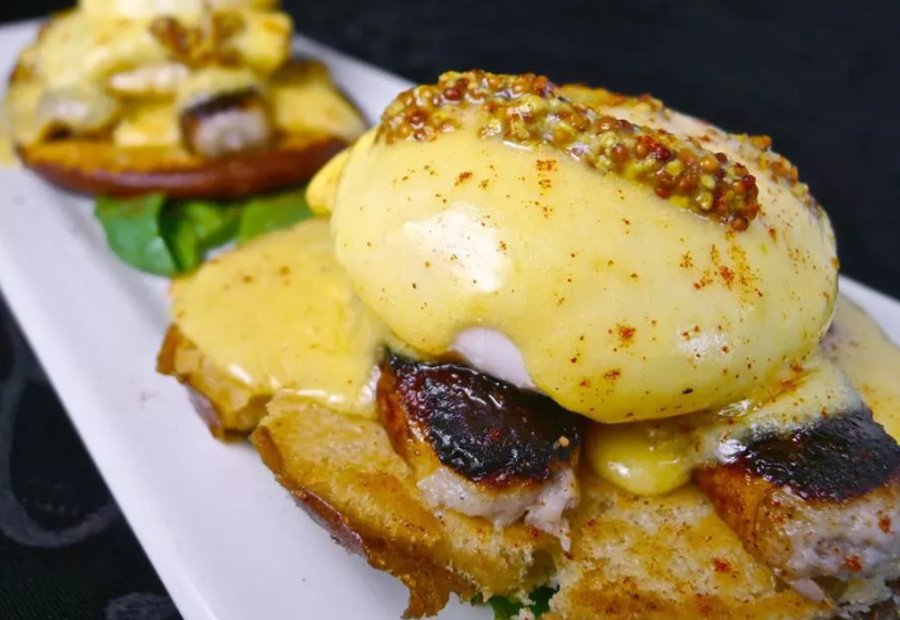 Try SpeakEZ Lounge's unique take on the classic eggs benedict
Photo by Experience Grand Rapids
SpeakEZ Lounge
As a Prohibition-themed eatery, downtown's SpeakEZ Lounge naturally excels at the art of brunch cocktails.
If you've ever asked yourself, "What can I drink in the morning if I'm not a Bloody Mary fan?", SpeakEZ has your answer. Several of them, actually, including the Suffering Bastard, made with Ford's Gin, orange juice, lime, vanilla, mint, cucumber, Angostura bitters, and Aquafaba, all shaken to a frothy perfection and topped with soda. And it's vegan! Decidedly not vegan is the Brunch Shot, a combo of Jameson whiskey and butterscotch schnapps with a sidecar of orange juice and a juicy slice of bacon.
If Blood Marys are indeed your jam, SpeakEZ's signature house Bloody Mary is sure to satisfy with its smoked dry spice blend and dose of Sriracha for a savory kick of three-alarm spiciness. You can add a bottle of Miller High Life as a sidecar for just a buck.
On the food side of the brunch menu, The MacGuffin is the breakfast sandwich you didn't realize you've been looking for. This massive handheld consists of folded eggs, two sausage patties, American cheese and roasted garlic aioli on a toasted ciabatta roll with a side of O'Bryan potatoes.
For something a little sweeter, try the dreamy Blueberry French Toast – a long john doughnut grilled in brulee batter and topped with lemon blueberry compote, whipped cream and lemon zest.
SpeakEZ's brunch is served from 10am-2pm Saturday and Sunday.
Lucy's
Simple. Genuine. Delicious. Those are the characteristics folded into every offering at this Creston neighborhood restaurant less than 10 minutes from downtown Grand Rapids. Lucy's partners with local farms to infuse its creative dishes with the freshest ingredients possible.
Brunch is actually served Wednesday-Friday (8am-3pm) and Saturday-Saturday (7pm-2am) here, from a menu featuring skillets, sandwiches, salads and some traditional breakfast dishes made with a Lucy's twist, including Prosciutto & Grits and a Hot Honey Chicken & Waffle.
Weekends often bring additional feature items. In recent weeks, these have ranged from Aloha Flapjacks – two pancakes with grilled pineapple, toasted coconut, maraschino cherries and cherry glaze sauce – to Breakfast Poutine, made with French fries cheese curds, sausage gravy, an over-easy egg, and pickled and green onions.
Brunch cocktails include the expected Bloody Mary and Mimosa and a few others, including an Expresso Martini sure to wake you completely up, no matter how long you stayed out the night before. The liquid menu also features mocktails, wine, beer, coffee and tea.
Wolfgang's
Serving Grand Rapids since 1977, this homey Uptown-neighborhood restaurant is one of the city's most cherished breakfast spots. Wolfgang's is open seven days a week, with the same menu each day – it's just that the Saturday and Sunday hours (7am-3pm) are conducive to a weekend brunch experience.
The menu is extensive, with 16 omelettes, 11 eggs benedict dishes, eight pancake selections, seven skillets and four waffle creations leading the way. Beyond that list, popular options include The Westsider – hash browns topped with cheddar cheese and grilled onions, and served with three eggs, a grilled Polish sausage, toast and jelly – and Cinnamon Roll French Toast, topped with frosting and whipped cream. An A La Carte menu lets you customize your meal.
If breakfast isn't your thing, you can choose from a variety of quesadillas, burritos, sandwiches and wraps.
Wolfgang's doesn't have a liquor license, but it offers a nice selection of specialty coffees, tea, hot chocolate and juices.
Cherie Inn
Another longtime Uptown-neighborhood favorite, the Cherie Inn is housed in a century-old building featuring the original tin ceiling, vintage art and Stickley furniture of Grand Rapids dating back to the 1940s. It bills itself as a European-style café specializing in homemade cuisine, professional service and a sophisticated ambiance.
The menu features a variety of superbly done egg dishes – from Eggs Florentine and Crab Bake Benedict to a Grilled Cheese & Egg Sandwich and an Egg White Omelette – as well as pancakes, hashes, biscuits & gravy, a brunch burrito and more.
The regular menu is often supplemented with different feature items on Saturdays and Sundays – such as the Sweet Black Cherry Almond Pancakes, Shrimp Bacon Avocado Benedict and Barbacoa Brunch Tacos offered on a recent weekend.     
A selection of soups, salads, sandwiches and non-alcoholic beverages rounds out the menu.
The Cherie Inn is open from 8am-2pm Wednesday-Sunday.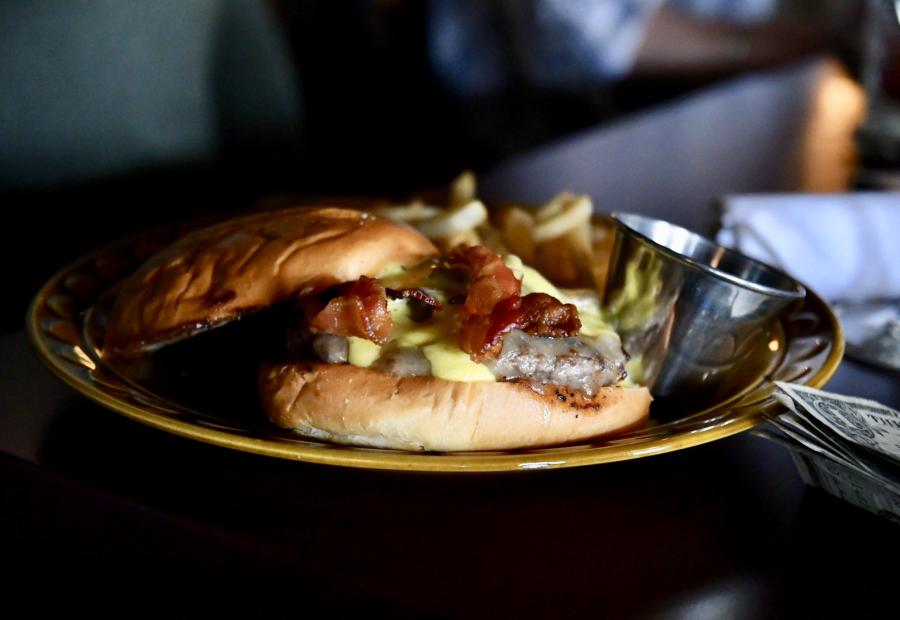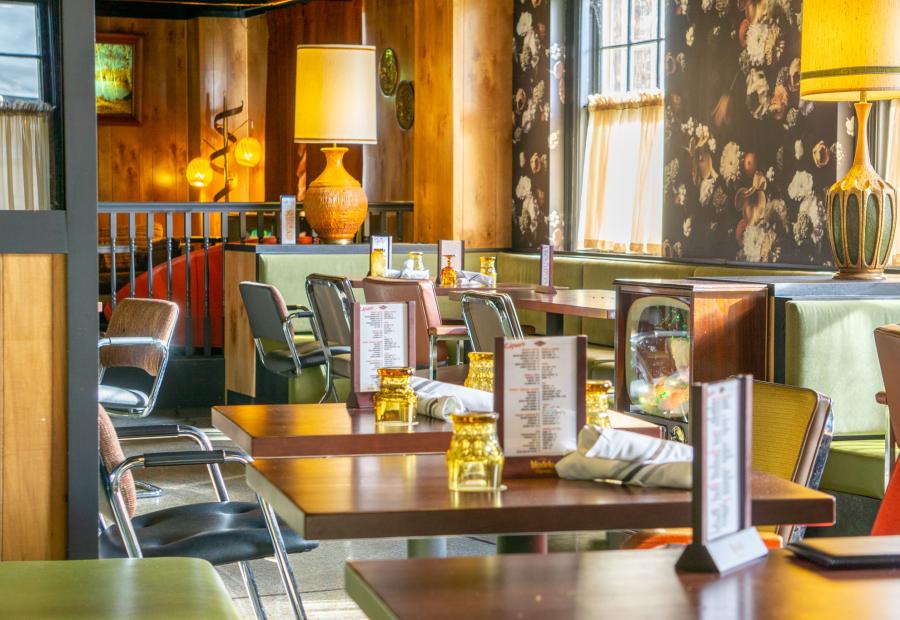 The Common's attention to detail when it comes to its retro decor is seconded only to the care they take in crafting their menu.
Photo by Eric Zuniga for Experience Grand Rapids
The Commons
If you're a child of the 1970s, you have to try brunch at this Heritage Hill restaurant on the edge of downtown Grand Rapids. The Commons is decorated to look like your grandparents' basement of that era! Even if the days of wood paneling and TV trays don't resonate with you, you'll still appreciate the throwback comfort-food dishes on the menu.
Brunch is served from 11am-3pm every Saturday and Sunday, and the menu includes a Classic Breakfast made with two eggs, toast, hashbrown patties and your choice of meat – chicken sausage, bacon, ham or that '70s staple, canned SPAM.
There are also several skillet dishes, pancakes, a breakfast sandwich, brunch wet burrito, cheeseburger and several sharables and salads. Cap your meal off with a Whoopie Pie, available in a rotating selection of flavors (Fruity Pebble, yum!) or an ice cream float made with Faygo, the iconic Michigan soda brand.
Prefer a little more kick in your brunch libation? Four greet-the-day cocktails – a Bloody Mary, mimosa, sangria and espresso martini – are just a few of the all-day, every-day drinks on the menu.
Real Food Café
With two locations in southeast and northeast Grand Rapids, the Real Food Café has been dishing up breakfast, lunch and brunch to scores of hungry locals for more than two decades. 
As the name implies, the food here is made fresh daily with authentic ingredients – including real eggs and buttermilk, hand-formed sausage patties made from fresh-ground pork, and corned beef brined and sliced in house.
The daily menu includes breakfast and brunch items, served from open 'til close, and lunch selections that are available beginning at 11am. Philly Steak Skillet, Corned Beef Hash, and a Breakfast Monte Cristo Sandwich are among the brunch treasures. Choose from six brunch omelets or build your own, and add a lunch or breakfast side – home fries, Canadian bacon, sweet potato fries, poppyseed coleslaw, a to-die-for homemade cinnamon roll and more – to any dish.
Weekend specials make brunch even more fun – Breakfast Tacos, Custard Stuffed Pecan French Toast and Chicken Pot Pie soup are recent examples. The Real Food Café does not serve alcohol, but its malts and milkshakes are so tasty, you're not likely to mind.
Both Real Food Locations are open from 7am-2pm Saturday and Sunday (and 6am-2pm Monday-Friday).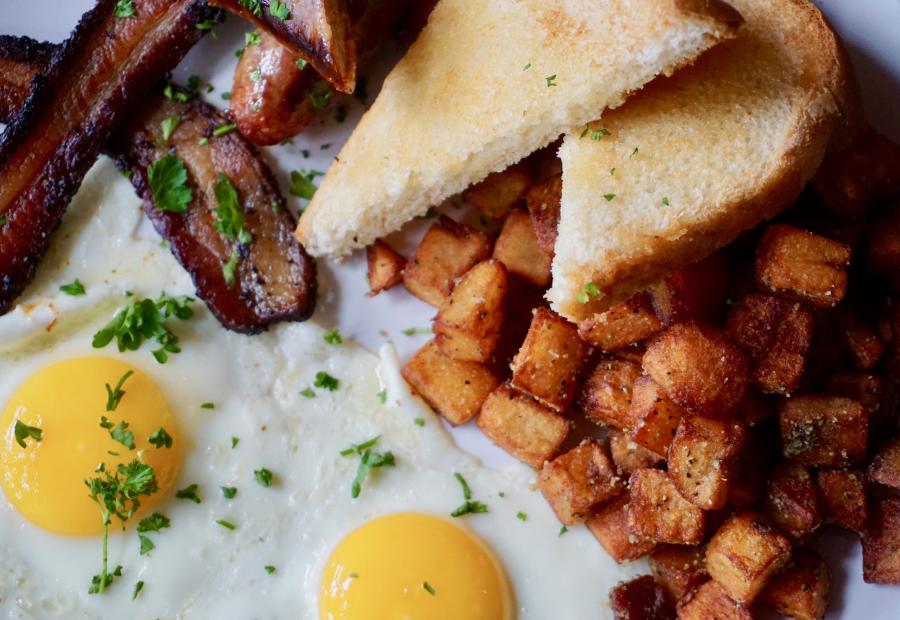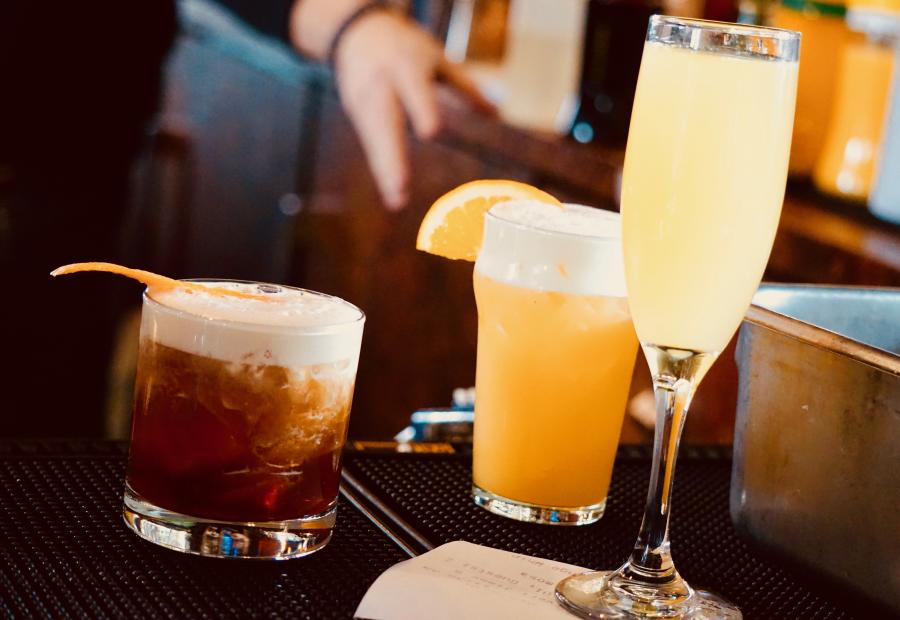 Graydon's Crossing provides a diverse menu of brunch cocktails and brunch dishes with a twist.
Photo by Brian Craig for Experience Grand Rapids
Graydon's Crossing
Focused on offering global foods with locally sourced ingredients, the culinary crew at Graydon's Crossing enjoys crafting classic brunch dishes with their own twist.
Must-try brunch items include the Graydon's Burger (a house blend patty with charred scallion aioli, arugula, tomato and pimento cheese on a potato bun), the Copyright Sandwich (bacon, gouda and roasted red pepper sauce over a medium fried egg on an English muffin), and the crowd-pleasing Cheesecake French Toast.
Brunch like a Brit with the Traditional Breakfast, featuring two eggs cooked to order, bacon, rosemary potatoes, toast and "bangers" – British sausage – or the Banger Sammy, which tops the sausages with a fried egg, arugula and charred scallion aioli on a bagel. There's also a variety of egg dishes, hashes, sandwiches, salads and a luscious Lox & Cream Cheese.
Graydon's provides a diverse menu of brunch cocktails that includes $5 Absolut Peppar Bloody Mary's, $6 Blueberry Pancake Shots and a $6 Beer Mosa or Cider Mosa.
Graydon's Crossing offers brunch from 10am-3pm every Saturday and Sunday, so be sure to work this North Quarter destination into your weekend itinerary!
Sundance Grill & Bar
Two Sundance Grill locations – downtown and 28th St. – serve breakfast all day, every day, along with an extensive lunch menu and inspired cocktails. That's made them a destination for local brunch aficionados since the 28th St. location opened its doors in 1985.
"Southwest-inspired American favorites" are the specialty here, evident in such dishes as Churro Pancakes, Texas Biscuits & Gravy, Huevos Wet Burrito and Bacon & Chorizo Tacos. Chorizo also makes its way into assorted omelettes, scrambles and skillets, though there are plenty of less-spicy versions of those dishes, as well.
Even the sweetest tooth will be satisfied by Sundance's French Toast, made with cinnamon swirl brioche and custard batter, and its Giant Cinnamon Roll slathered in decadent cream cheese icing.
The "& Bar" component of the restaurant delivers a broad array of bruncherrific cocktails, including Bloody Marys, bellinis, and mimosa and espresso flights – part of Grand Rapids' Flights of Flavor offerings.
Sundance Grill & Bar is open Monday-Saturday from 7:30am-9pm and Sunday from 7:30-8pm. If you feel like having brunch for dinner, this is your place!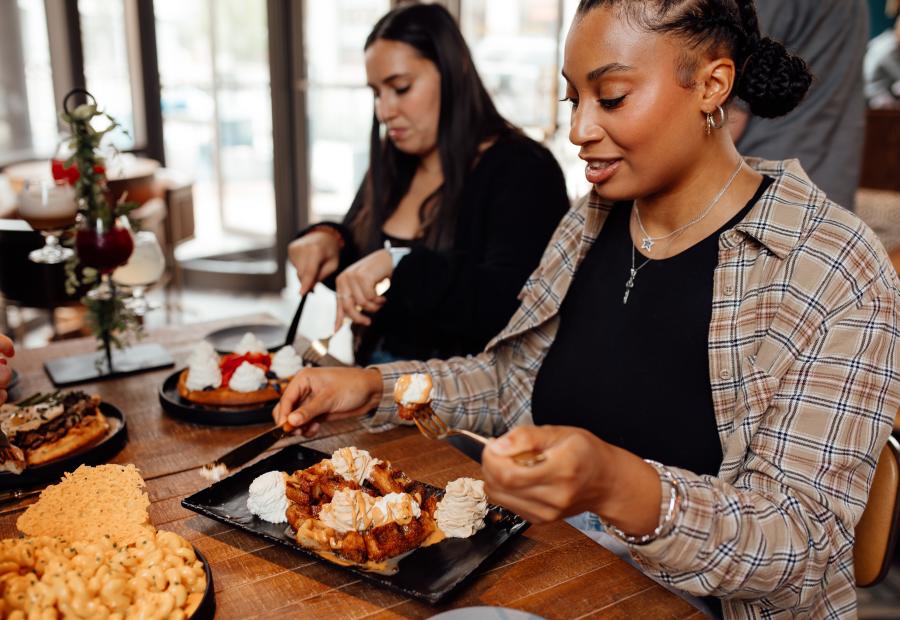 You can pair a Tipsy Misfits Flight with a savory or sweet waffle at Social Misfits.
Photo by Addison Causley for Experience Grand Rapids
Social Misfits
A relative newcomer to the Grand Rapids dining scene, opened in late 2021, Social Misfits quickly captured the attention of local brunch lovers. It's no wonder, given the downtown restaurant's emphasis on gourmet waffles, craft cocktails and specialty coffee.
The menu offers both savory and sweet waffles, from the Peter Parker (with cinnamon sugar waffle stix, vanilla cream, dulce de leche ganache and coffee cream) to the R.B.G. (featuring cold smoked salmon, chive cream cheese, smoked trout roe, shaved onion and fresh dill).
You can get a Bloody Mary or mimosa, but you might want to try an inventive alternative like the GR Fog (lavender gin, honey, Earl Grey tea and Oat Milk) or Fay-Go Grape Pop (hibiscus-infused gin, lemon, concord grape, pickled grape and a mint sprig). The latter is one of four cocktails include in the Tipsy Misfits! flight, another Flights of Flavor selection. The coffee drinks here are just as creative, whether you're in the mood for an espresso, latte, mocha or nitro brew.
Social Misfits is open from 9am-11pm Friday and Saturday, and 9am-4pm Sunday for your weekend brunch fix, and from 9am-10pm the rest of the week.
Brown Butter Creperie and Café
Beginning as a food truck in 2015 and opened as a permanent restaurant in 2017, the Brown Butter Creperie and Café specializes in crepes, a French delicacy akin to a very thin pancake. It makes a perfect brunch dish!
The Brown Butter serves its crepes with a wide variety of fillings, from sweet to savory. Sweet selections range from a simple Lemon & Sugar Crepe (fresh lemon squeeze, sugar and butter) to a more complex Campfire Crepe made with peanut butter, graham crackers, marshmallows, chocolate sauce and whipped cream. Savory crepes run the gamut from the Cordon Bleu (chicken, ham, Swiss cheese, raspberry preserves and béchamel) to the Orchard (ham, cinnamon apple butter, aged white cheddar and caramelized onion). Gluten-free batter, vegan batter, vegan butter, vegan whip and vegan cheese are available.
There are also six Belgian Waffle selections on the menu along with a variety of hot and cold drinks, including espresso, cappuccino, cortado, nitro cold brew, French soda and strawberry lemonade. Monthly specials add even more food and drink choices.
The Brown Butter Creperie is located in a historic building in the Eastown section of Uptown. It is open from 8am-3pm, Tuesday-Sunday.
Additional Options
The 10 restaurants above received the most votes in our informal poll, but respondents spread the brunch love far and wide. Here are nine more brunch spots they rate highly:
Noble Restaurant makes its meals from scratch, without any artificial colors and flavors, high-fructose corn syrup or artificial nitrates.
Bobcat Bonnie's serves up both sweet and savory brunch options along with cereal shooters (inspired by breakfast cereals) and other cocktails.
Paddock Place features a brunch menu of eight breakfast-oriented items and even more soups, salads, sandwiches and pizzas.
The Southerner is located in Saugatuck, 40 minutes from downtown GR, but fans say its Southern-style dishes and cocktails are worth the drive. Be aware, there are no breakfast items on the menu.
Matchbox Diner & Drinks offers a brunch-appropriate menu every day, with traditional breakfast favorites, sandwiches, salads, soup, coffee, cold brew and a Virgin Bloody Mary.
The Westsider Café is a casual breakfast and lunch spot that includes some delicious Polish options on its very affordable menu.
Nonna's Pantry features a rotating selection of Saturday brunch offerings – such as crepes, sausage gravy & biscuits and breakfast pigs in a blanket ­– to supplement its regular menu of sandwiches, quiches and fresh-made baked goods. It is closed on Sunday.
Morning Belle (Breton Village, East Beltline and Bridge Street) serves up 40+ breakfast/brunch dishes plus spiked cold brews and cocktails.
Westside Social tantalizes taste buds with an expansive Sunday brunch menu combining breakfast items, shareables, salads, soups, sandwiches, burgers, desserts and specialty cocktails.
Hours, menus and prices can change without notice, so please confirm details with your destination before you go. To find more good eats around Grand Rapids any day of the week, check out our Restaurants page.