Widely recognized for its exceptional food, Grand Rapids is a true foodie destination. Restaurants across the city offer unique, specialty weekend brunch menus paired with adult beverages. Weekend brunch menus are offered early morning until mid-afternoon at a variety of locations across Grand Rapids.
To find out which Grand Rapids bars and restaurants have great weekend brunches, we asked the locals on the Experience Grand Rapids social media pages to weigh in, and the results will leave your mouth watering.
Drinks at The Winchester bar in Grand Rapids
Photo by Brian Craig for Experience Grand Rapids
Rockwell Republic
Rockwell Republic offers an eclectic brunch menu that caters to all taste buds. If you aren't in the mood for classic breakfast foods, you can order everything from sushi to a New York strip to start your day.
Some popular menu items to look out for are the bacon belly skillet, breakfast tostadas, stuffed french toast, and chicken 'n' waffles (either traditional or spicy).
If you're in the mood for a liquid brunch, Rockwell Republic delivers with its Mimosa Tray for $32 that includes a full bottle of champagne, three different juice mixers, fresh fruit, tempura fried waffles, and bourbon maple syrup. 
Or you can take advantage of happy hour and enjoy a $5 Bloody Mary with house-infused vodka and a variety of upgrades available, or a $6 "rebel" hard latte.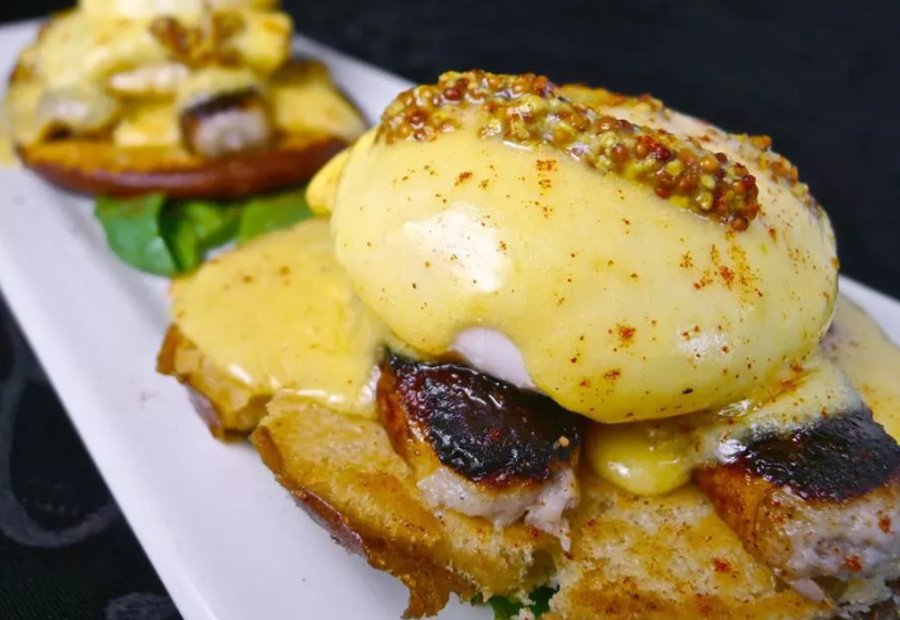 Try SpeakEZ Lounge's unique take on the classic eggs benedict
Photo by Experience Grand Rapids
SpeakEZ Lounge
Luckily, you don't need a secret password to get into SpeakEZ Lounge to enjoy a flavor-filled liquid brunch experience.
Have you ever asked yourself, "What can I drink in the morning if I'm not a Bloody Mary fan?" If so, SpeakEZ's Suffering Bastard is the answer. This brunch beverage includes Citadelle Gin, orange juice, lime, vanilla, mint, cucumber, Angostura bitters, and egg white blended with soda. 
If you are a Bloody Mary fan, however, SpeakEZ's signature house Bloody Mary combines a smoked dry spice blend with a dose of Sriracha for a savory kick of three-alarm spiciness. Or you can get your food and drink down in one shot, literally. SpeakEZ's Part of This Complete Breakfast brunch shot is a combo of Jameson and butterscotch with a sidecar of orange juice and a juicy slice of bacon.
On the food side of the brunch menu, The MacGuffin is the breakfast sandwich you didn't realize you've been looking for. This massive sandwich is folded egg, 2 sausage patties, American cheese and roasted garlic aioli on a toasted Ciabatta Roll with a side of O'Bryan Potatoes.
For something a little sweeter, order the Casino Royale — two sausage patties and Muenster cheese between two slices of SpeakEZ's Crème Brûlée French Toast and topped with Thai chili-infused syrup and a fried egg.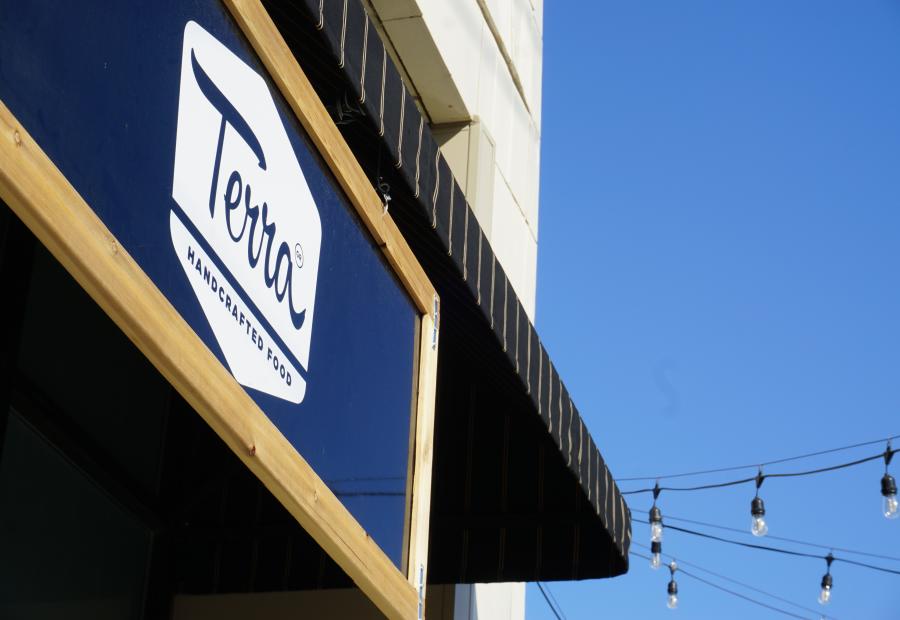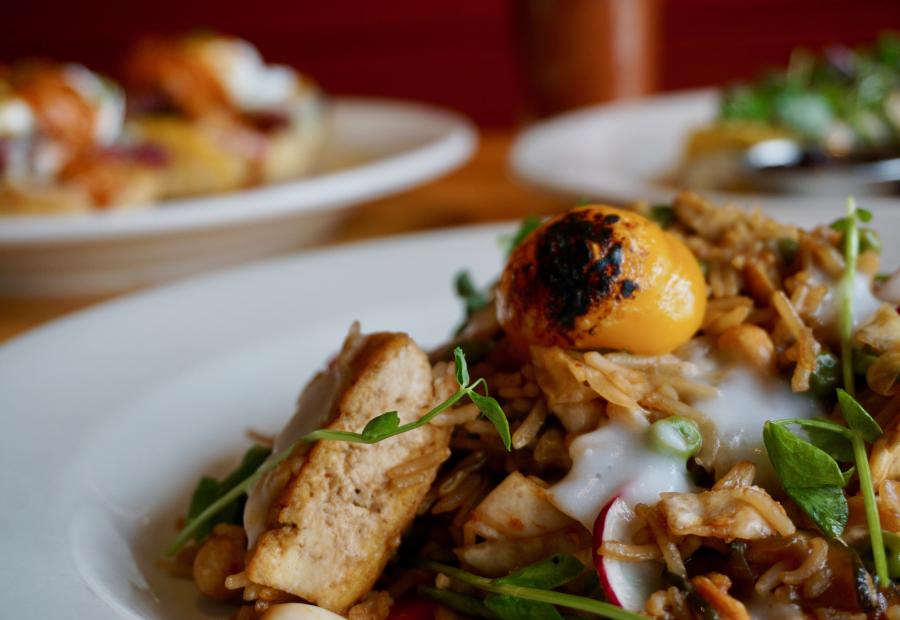 While Terra GR's menu changes seasonally, the food is locally-sourced and farm-to-table fresh year round.
Photo by Brian Craig for Experience Grand Rapids
Terra GR
All of the cuisine at Terra GR is locally sourced, seasonal, and farm-to-table fresh. This restaurant's various menus change seasonally, leading to sweet and savory rotating options year-round.
Speaking of savory, Terra GR's Hair of The Dog Bowl is a popular brunch item that has been on the menu for years. It includes house-made cheddar biscuits, kale, caramelized onions, scrambled eggs, and sausage gravy. 
Another top choice among patrons is the Breakfast Pizza, featuring bacon, potatoes, scrambled egg, kale, mozzarella, brown butter hollandaise, and tomato sauce.
And you'd be remiss if you visited Terra GR and didn't feed your sweet tooth by sampling the French Toast: a delicious combination of milk bread, chocolate custard, candied walnuts, and orange whipped mascarpone. 
Terra's brunch also includes Bloody Mary's with unique substitute spirits like jalapeño tequila. Their menu also features mimosas, a Biermosa, and specialty cocktails, like the Brown Butter Tea (brown butter bourbon, lemon juice, and Michigan maple syrup).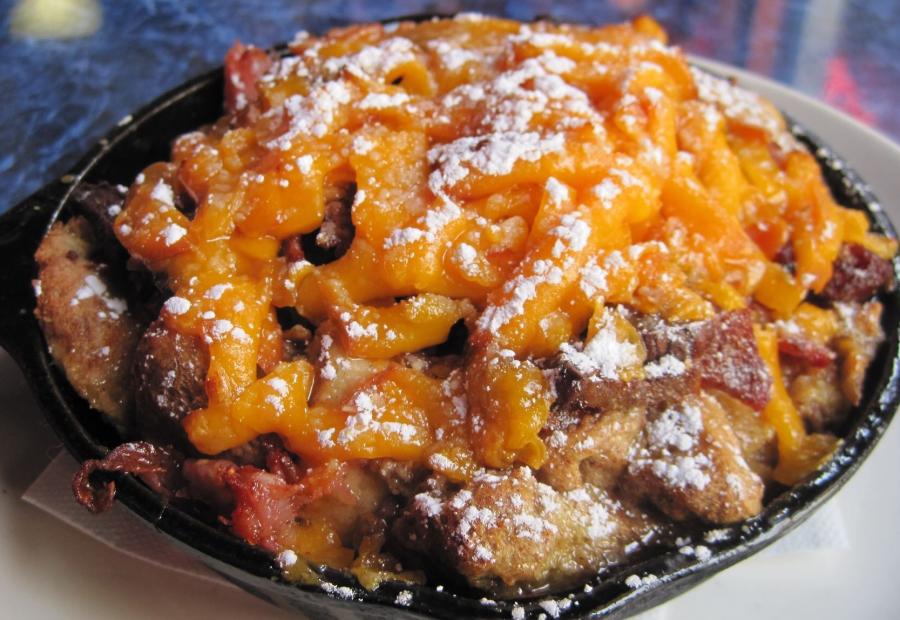 San Chez has a variety of brunch options to tempt your taste buds.
Photo by photo courtesy of San Chez Bistro
San Chez Bistro
San Chez Bistro, a unique dining venue in Grand Rapids, offers a mix of authentic European, Mediterranean, and Latin American cuisine. These flavors can certainly be found on the restaurant's brunch menu, which includes both American style breakfast and Spanish/Cuban dishes.
Come to San Chez hungry to try some top-sellers like the savory Cinnamon Pecan Roll (served warm with a cream cheese glaze), Chicken and Waffle Benedict, Casserole Scramble, Breakfast Hash, Cinnamon French Toast, or Breakfast Empanadas.
Customers typically come to San Chez's brunch for the food but stay for the drinks. Complement your meal with the Bloody Mary bar (featuring house-infused vodka), the weekend-only mimosa bar, coffee cocktails, or always-on-tap sangria.
San Chez's brunch also accommodates all palettes by offering special allergy and dietary restricted menus, including gluten-free, tree-nut, vegan, vegetarian, and soy options. 
And while there are a few unique menu items offered only on the weekends, San Chez does serve brunch from 9 AM-2 PM Tuesday through Sunday.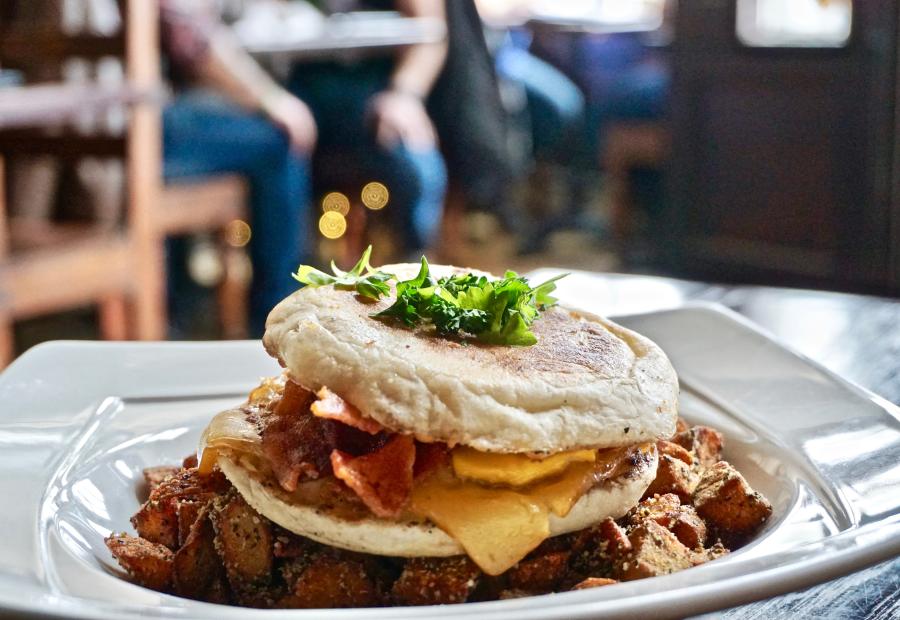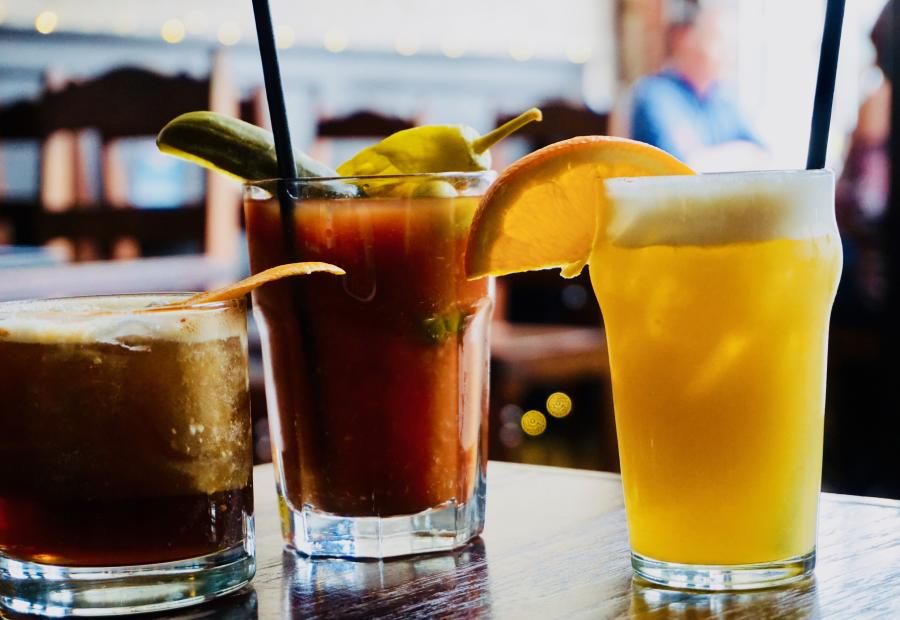 Graydon's Crossing provides a diverse menu of brunch cocktails and brunch dishes with a twist.
Photo by Brian Craig for Experience Grand Rapids
Graydon's Crossing
Focused on offering global foods with locally-sourced ingredients, the culinary crew at Graydon's Crossing enjoys crafting classic brunch dishes with their own twist.
Some must-try brunch items include the Graydon's Burger (a house blend patty with charred scallion aioli, baby kale tomato, and pimento cheese on a brioche bun), the Copyright Sandwich (applewood bacon and smoked gouda over medium fried egg on an English muffin), and the crowd-pleasing Cheesecake French Toast.
There are also plenty of gluten free, dairy free, vegetarian, and vegan options, like the Vegetarian Hash, which has roasted fingerling potatoes, broccolini, mushroom, garlic, red onion, vegan chorizo, spinach, matcha aioli, fried quinoa, and parsley. 
Graydon's provides a diverse menu of brunch cocktails that includes $5 Absolut Peppar Bloody Mary's, $6 Blueberry Pancake Shots, and a $6 Beer Mosa made with Saugatuck Brewing Company's Oval Beach Blonde.
Graydon's Crossing offers brunch from 10 AM-3 PM every Saturday and Sunday, so be sure to work them into your weekend itinerary!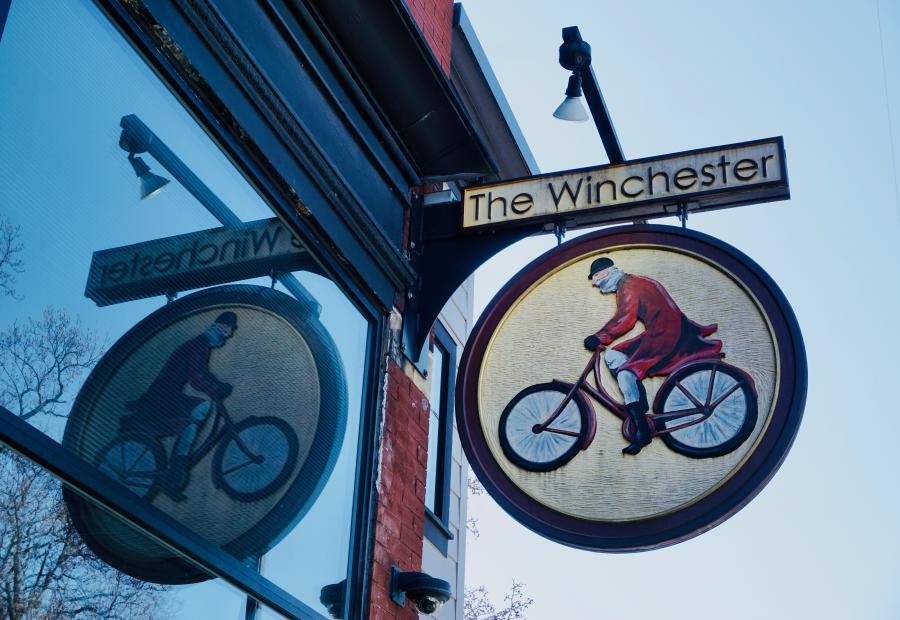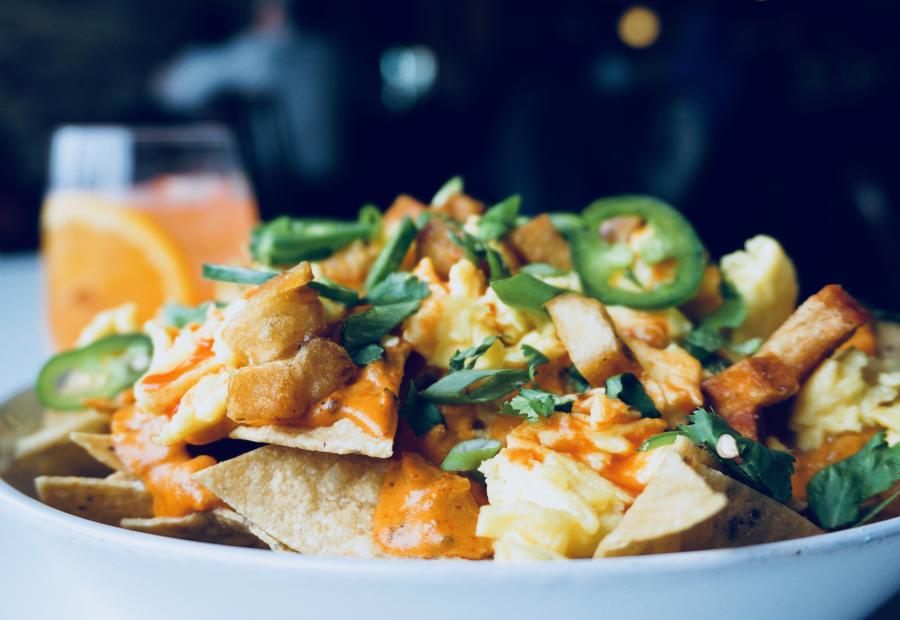 Winchester serves up their own take on "comfort food" brunch options.
Photo by Brian Craig for Experience Grand Rapids
The Winchester
The quaint and cozy pub that is The Winchester offers a special brunch menu that has "comfort food" written all over it.
A best brunch seller is the Biscuits and Gravy, which includes white cheddar biscuits, sausage gravy, scallions and a sunny egg.
Need more? The French Toast, Brekky Club and Pulled Pork Hash are tasty options too.
You can also explore The Winchester's regular menu during brunch hours, and wash it all down with one of their specialty cocktails.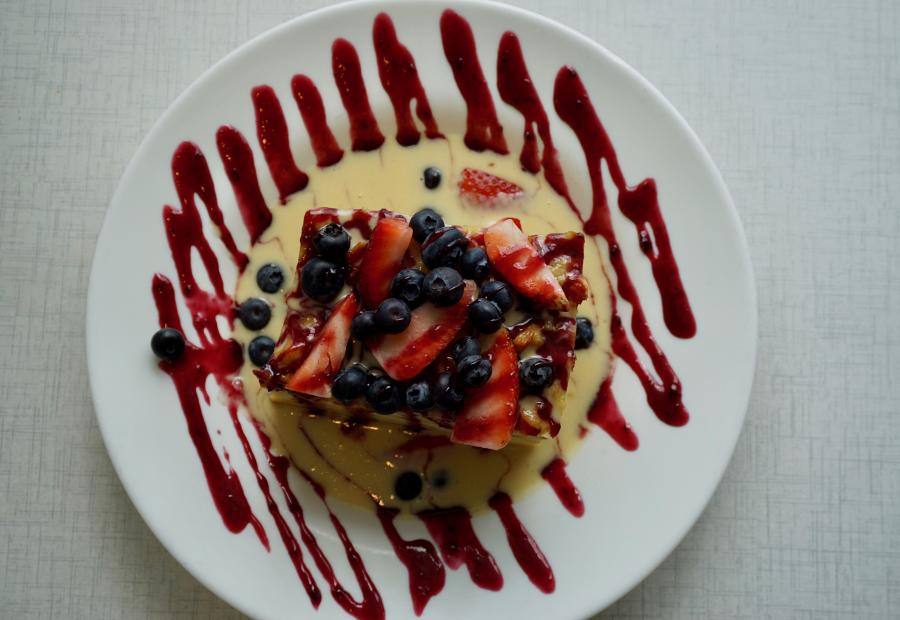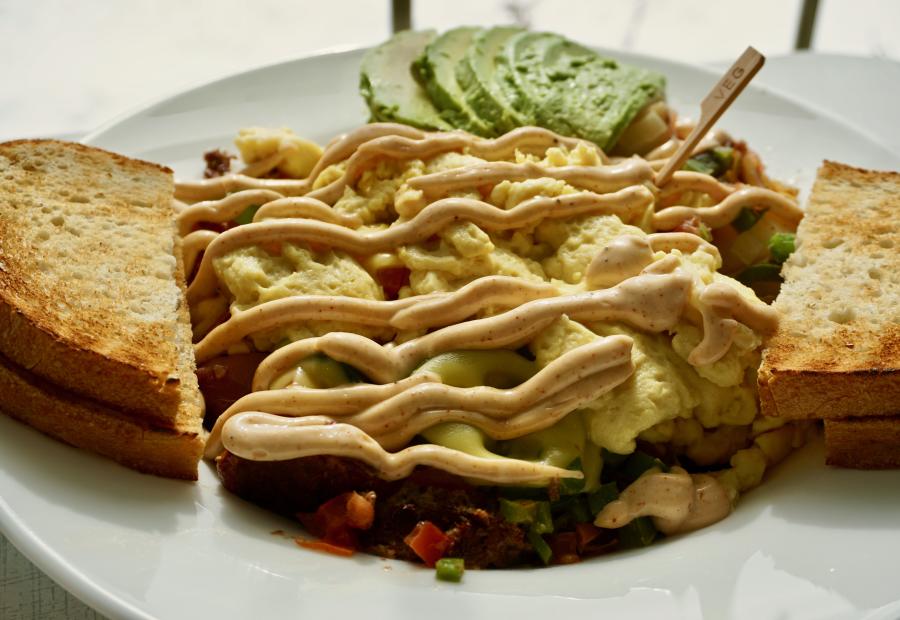 Other brunch spots in Grand Rapids serve up sweet and savory plates to satisfy any mid-day craving.
Photo by Brian Craig for Experience Grand Rapids
Additional Options
While our list focuses on restaurants that offer both food and liquid brunch options, our followers mentioned plenty of other eateries around Grand Rapids that have delicious dishes, but without a focus on adult beverages.
Here is a list of a few more must-visit brunch locations where the eating is always good:
To find more good eats around Grand Rapids any day of the week, check out the Restaurants page.
This article was originally written by Matthew Makowski and has be edited by Experience Grand Rapids.