Grand Rapids has seen an influx of themed bars and restaurants over the course of the past few years. Many are right downtown, but there are a variety that are outside the city's core too. Spanning from 70s themes to arcades, sports, and more, there is something for everyone at many of these local hot spots.
In no particular order, check out our list of bars and restaurants in Grand Rapids with themed decor: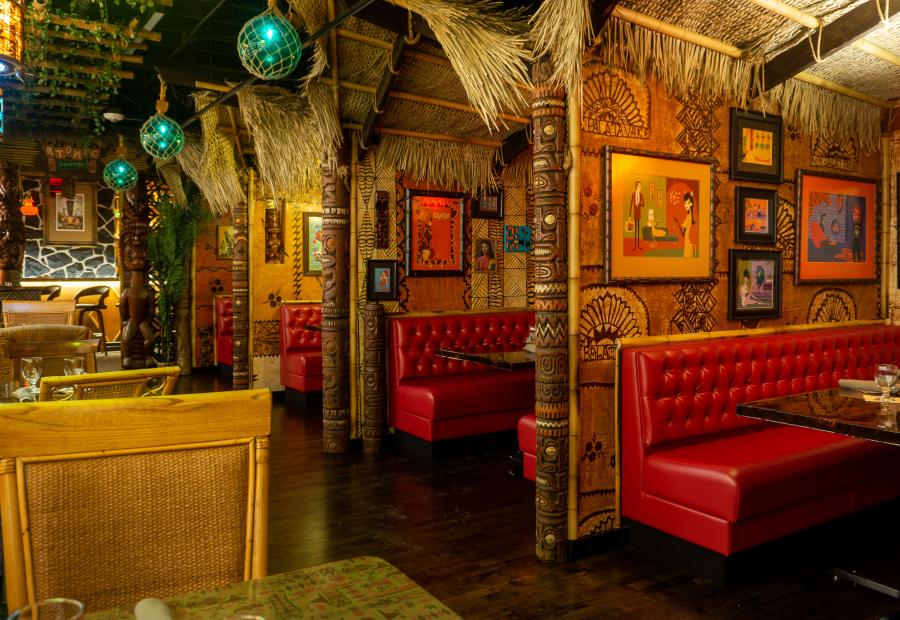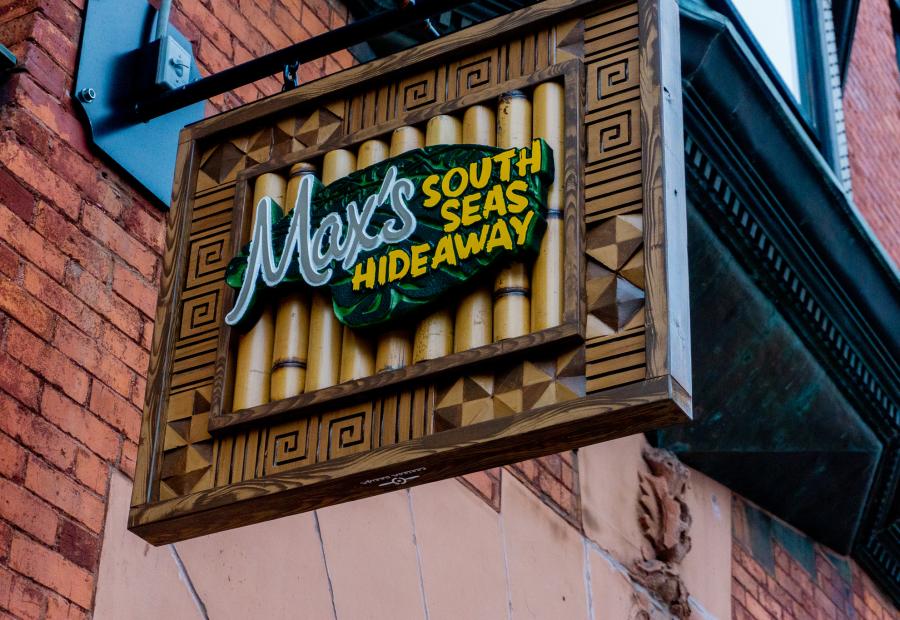 Max's South Seas Hideaway is a tropical paradise in the middle of downtown Grand Rapids.
Photo by Brian Craig for Experience Grand Rapids
Max's South Seas Hideaway
Tiki
Max's South Seas Hideaway offers an impressive selection of tiki-themed cocktails and an eclectic food menu. Max's touts an immersive dining and drinking experience designed to "transport guests to a distant tropical paradise bathed in perpetual twilight." 
Food offerings range from poke bowls or chicken satay to beef bulgogi or drunken noodles with vegetarian and vegan options, too. One thing's for sure, upon arriving you'll quickly forget you are in Grand Rapids and will instead be taken to a Polynesian oasis. The restaurant's multiple floors allow for romantic nooks for couples out on a date night as well as conversation-inspiring decor at larger tables perfect for a group of friends.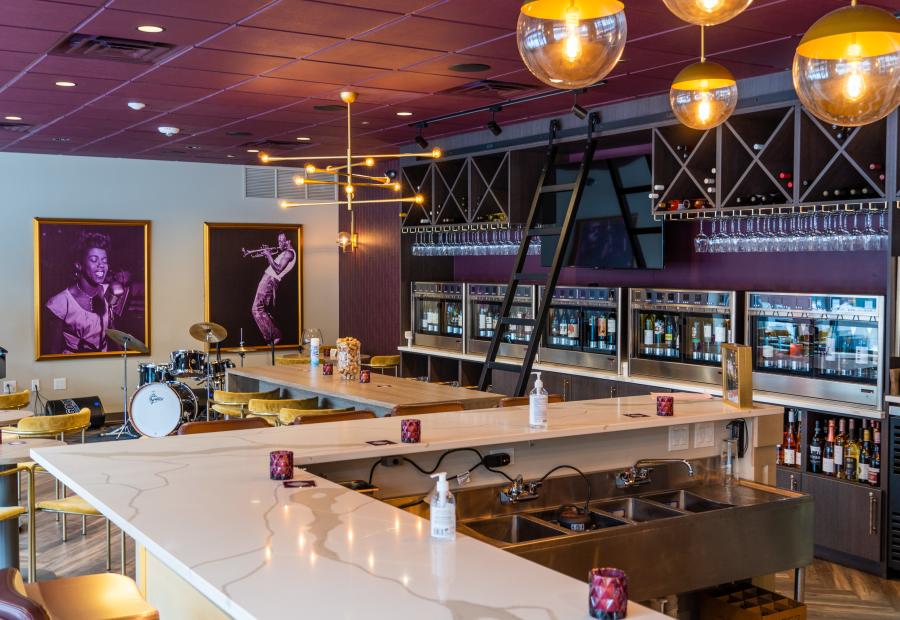 Grand Rapids' first dedicated wine and jazz bar has become a downtown hotspot since its opening in February 2021.
Photo by Experience Grand Rapids
GRNoir Wine & Jazz
Jazz Lounge
Grand Rapids' first dedicated wine and jazz bar has become a downtown hotspot since its opening in February 2021. Owners Shatawn and Nadia Brigham added something wholly new to the fabric of the city, elevating the local wine game – he is the city's first Black level II sommelier –while spotlighting a music genre that originated in the African-American communities of the nation's south. 
GRNoir's carefully curated wine list includes selections from Black-owned, women-owned and organic wineries in addition to celebrated staples and hidden gems from across the globe. The food menu emphasizes small plates so the noise of cutlery doesn't distract from the music. And, oh, what music! GRNoir hosts live jazz at least three nights a week, featuring an astonishing range of local and national talent. Check the website for upcoming performances.     
Sophisticated yet accessible, modern but comfortable, GRNoir is a welcoming destination for both afficionados and newcomers to wine and jazz.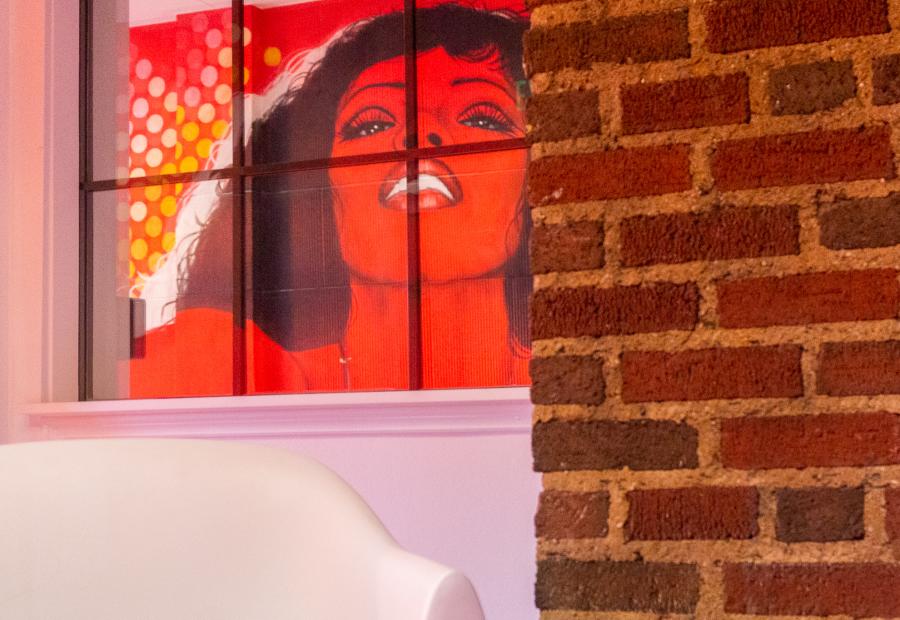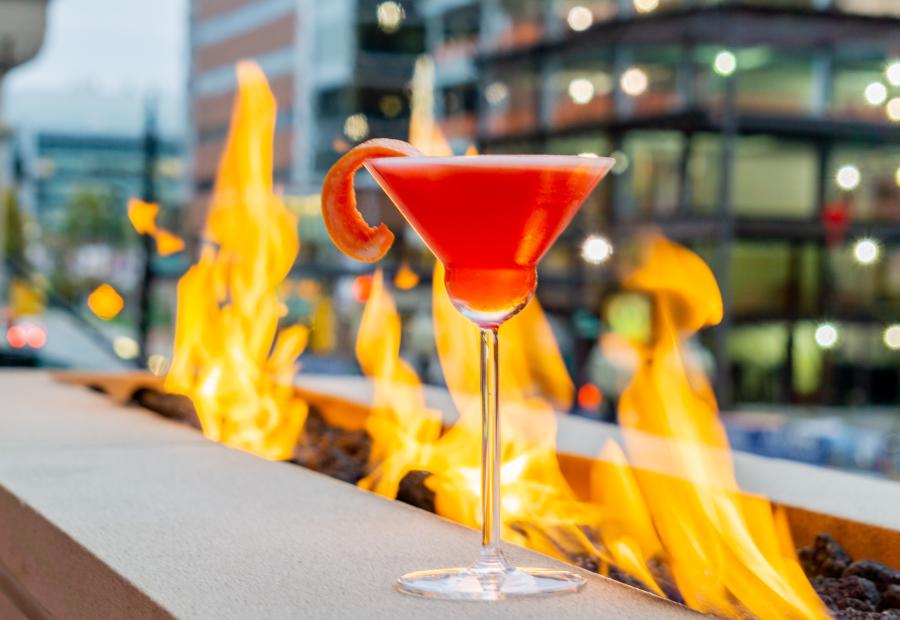 IDC is a "secret" 70s-style bar "hidden" in downtown Grand Rapids. Visit their website for the passcode.
Photo by Brian Craig for Experience Grand Rapids
IDC (I Don't Care)
70s
IDC (I Don't Care) is a  70s-themed, hidden balcony bar in the historic Pantlind wing of the Amway Grand Plaza Hotel downtown. Visitors will find a keypad on the entrance where they must enter a passcode to get in (passcode can be accessed after signing up for email updates). Once granted access, you'll be greeted by lights, disco balls, and some of your favorite 70s jams. The bar area itself is smaller, seating only 25, but the year-round outdoor patio space can seat up to 90.
The bar offers a fun twist on a nostalgic drink menu featuring cocktails like the Not Your Mother's Paloma, Pomegranate Martini, or Miller High Life served in a flute. A small food menu will curb cravings before or after a dinner out on the town.
Broadway Bar
Holidays
The Broadway Bar is a quintessential neighborhood tavern on the city's West Side. It's popular all year round, but it really packs in the crowds during the end-of-the-year holiday season, when it transforms into a Christmas wonderland. 
Nearly every square inch of the small space is decked out with fun and festive decorations, including all manner of Christmas trees, Santas, snowmen, stuffed animals and nutcrackers. There's even a leg lamp straight out of the movie "A Christmas Story." That film and other holiday classics play on a big projector screen as diners enjoy such favorites as the massive Broadway Burger and Broadway Burrito, served by friendly staffers dressed in holiday garb.
Holiday decorations are typically up from Thanksgiving through the end of January. Reservations are strongly encouraged during this period.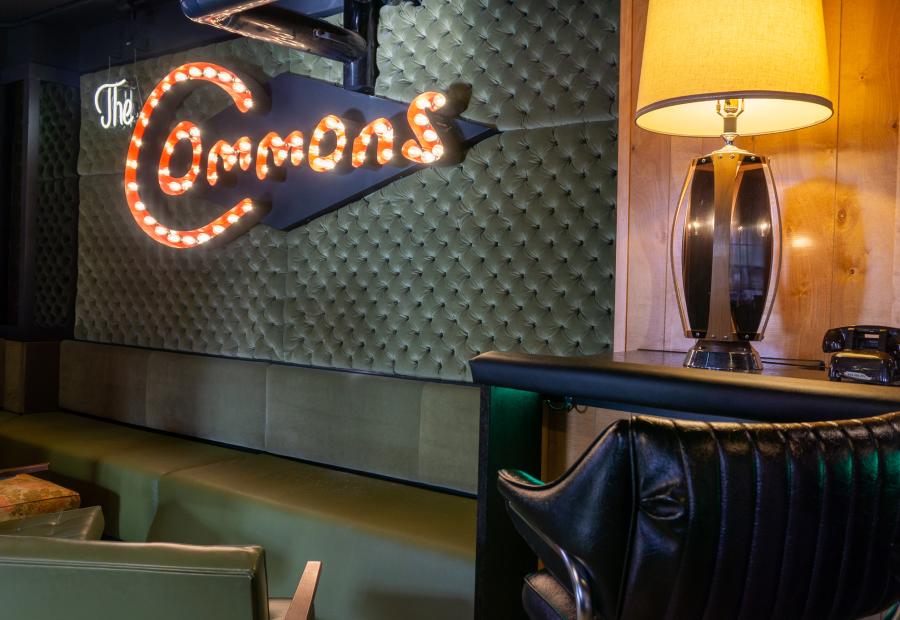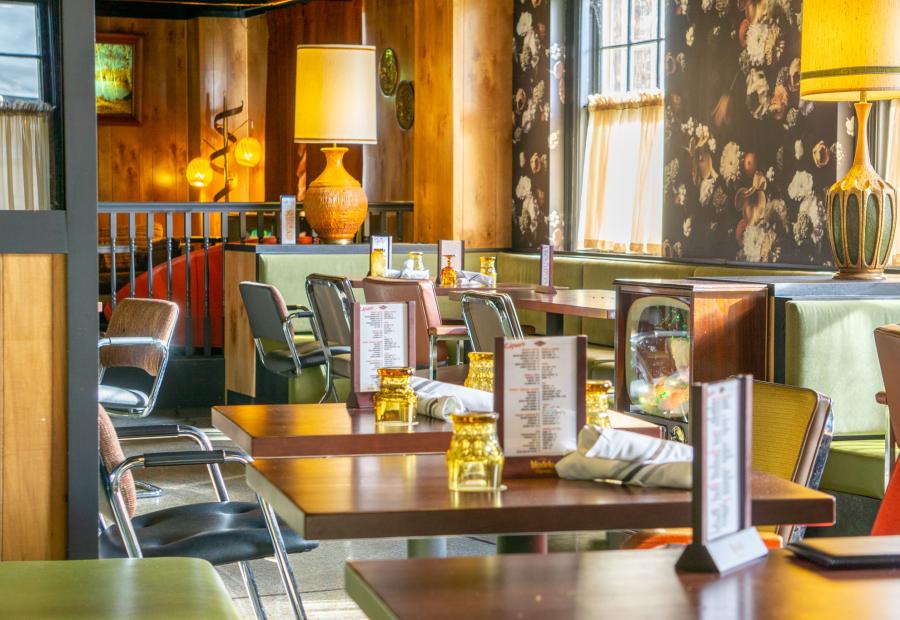 The Commons was designed to replicate the owner's grandparents' home, complete with 70s decor and games.
Photo by Brian Craig for Experience Grand Rapids
The Commons
70s
The Commons' décor offers up a welcoming, homey feel reminiscent of walking into your grandmother's parlor with comfy seating options tucked inside a dimly lit basement environment in the Heritage Hill neighborhood. 
Entering feels like walking into the set of "That '70s Show" with wood-paneled walls, wallpaper, and seating sections available in tables of two or larger living rooms for friends and family to share. Decked out with retro recliners, coffee tables, and TV trays to eat from, you can even catch the evening news on counsel TVs while chowing down on the outstanding double cheeseburger or fried chicken sandwich. 
Beth Rich, the owner, created her 70s-themed restaurant with the thought of replicating her parents' and grandparents' homes. The detail is impeccable right down to the salt and pepper shakers on the tables.
Fun fact: Beth's grandparents Agnes and Bill had the exact bathrooms that are in the restaurant.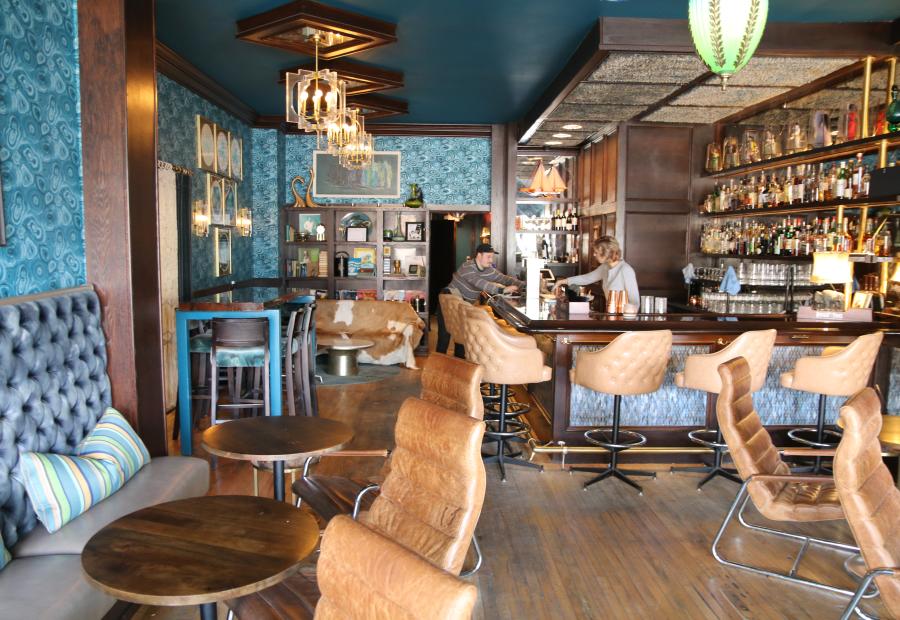 Buffalo Trader's Lounge provides a comfy spot to enjoy hand-crafted cocktails and other beverages.
Photo by Experience Grand Rapids
Buffalo Trader's Lounge
60s
Tucked into the Uptown neighborhood, Buffalo Traders Lounge celebrates the art of cocktail culture in a comfy and cozy retro atmosphere. The staff is extremely knowledgeable and ready to make drink recommendations for the more indecisive cocktail connoisseur. 
Grab a seat at the bar where you can watch the staff craft cocktails or grab a table along the comfortable leather booths. Drink menus are available offering a variety of tried and true favorites, as well as a nice selection of beer and wine. The bar does not have a food menu.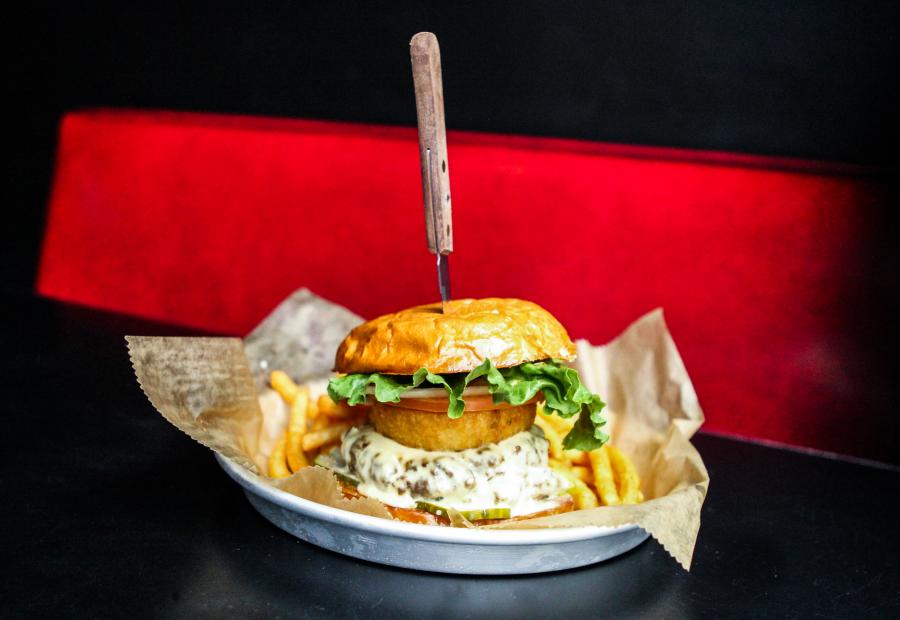 Stella's serves up a mean burger in a punk/retro atmosphere, along with arcade games and throwback cartoons.
Photo by Paul Jendrasiak
Stella's Lounge
Punk/Retro
Best known for its laid-back arcade atmosphere, intimidating selection of whiskey (Canadian, Scotch, Irish, American, and a few Michigan-made varieties), and award-winning, giant stuffed burgers, Stella's Lounge is a downtown destination you won't want to miss. 
Flat screens play throwback TV shows from your childhood, and arcade games priced at only 25 cents abound for kids and adults alike. The food offers an impressive variety including several gluten-free and vegan options. 
The Score
Sports
Truly a destination gathering spot, The Score Restaurant & Sports Bar is a rollicking place seven days a week. Stop by to watch all the big games on 70 HDTVs. Head outdoors in warm weather to enjoy live music lakeside under the palm trees or play/watch beach volleyball in the sand. Or just settle in for some great food, handcrafted cocktails and your choice of 128+ beers on tap. 
Weekly Trivia, Music Bingo, and Kids Nights add to the fun. The Score can also host your private parties, with special buffet menus sure to please.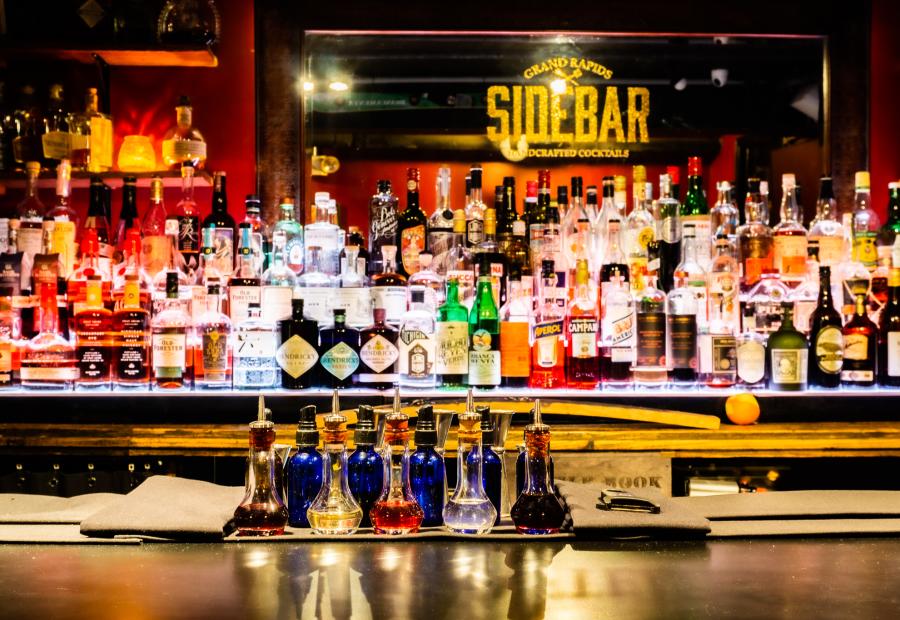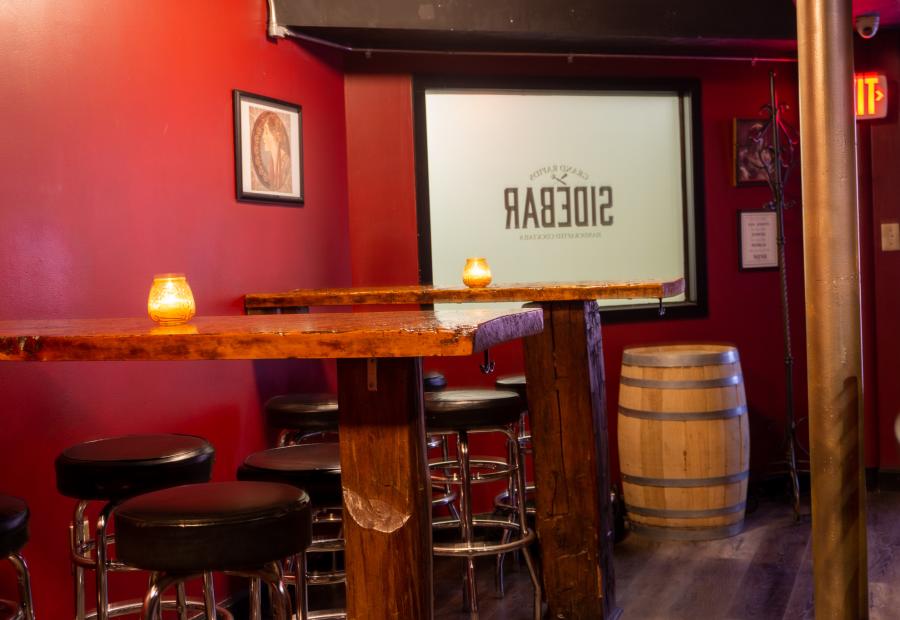 A speakeasy-style bar that seats just 18 people, Sidebar prides itself on true craft cocktails.
Photo by Brian Craig for Experience Grand Rapids
Sidebar
Speakeasy 
In true speakeasy fashion, Sidebar is tucked away just off Monroe Center in the lower level next to Big O's Pizza. It's a spot you wouldn't likely stumble upon without having a plan to end up there. Serving up a classy, intimate feel, the small bar space seats only 18.
The bar staff pride themselves on true craft cocktails. The cocktail menu features a handful of signature cocktails, a few takes on the old fashioned, Manhattan, and seasonal cocktails. Sidebar doesn't offer a food menu.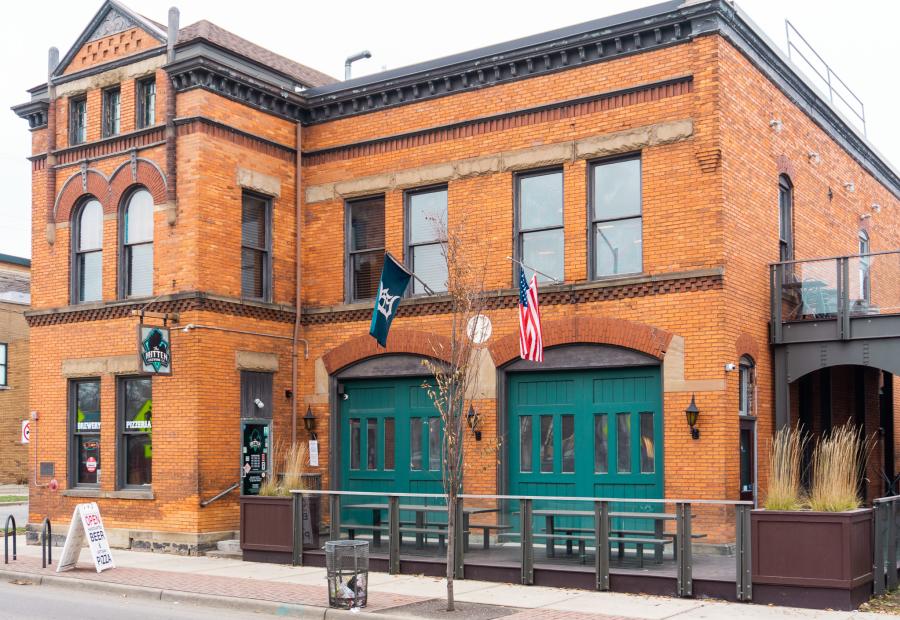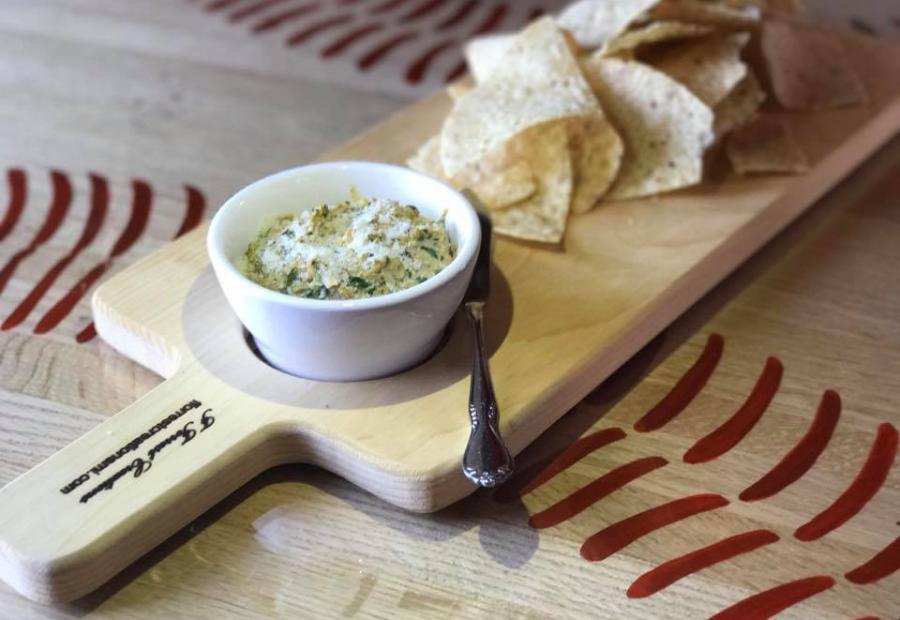 Located in an old firehouse, The Mitten Brewing Co. has baseball-themed decor.
Photo by Brian Craig for Experience Grand Rapids
The Mitten Brewing Company 
Firehouse/Baseball
Located in Historic Firehouse No. 9 on Leonard Street, The Mitten Brewing Company is a baseball-themed microbrewery best known for its atmosphere, beer selection, and homemade pizza flights. 
Nestled along the hustling and bustling West Side, the Mitten is a hot spot for sports enthusiasts, offering a second story taproom and bi-level decks to enjoy Michigan summers with a brew in hand. The original brick walls, exposed high-ceilings, and cement floors remind you that you are indeed inside what was once a firehouse and likely sitting where a fire truck was once parked.
Pyramid Scheme Bar & Venue
Arcade/Retro
The Pyramid Scheme is a downtown hipster hotspot offering a throwback to the 80s with a pub, pinball arcade, and venue space. The front bar offers an extensively diverse craft beer selection and boasts no cover charge to enter. 
A popular performance venue, The Pyramid Scheme focuses on independent artists and musicians, as well as important collaborations from across the community. The venue serves as a location for musical and theatrical performances as well as seasonal arts and crafts shows.
Check the website to find a variety of performances, booked months in advance, from 90s theme or emo night to punk rock or comedy shows.