Frozen yogurt - commonly referred to as "froyo" - is a foodie trend with staying power.
Frozen yogurt is made with less heavy cream than ice cream and can even be dairy-free, which is why many tout its health benefits compared to other sweets.
Luckily, Grand Rapids has several frozen yogurt options to choose from, so we asked our team members and social media followers where they go most often to cure their frozen yogurt cravings.
Sweet Yo's has two conveniently located storefronts across West Michigan.
Photo by Experience Grand Rapids
Sweet Yo's
With locations in downtown Grand Rapids and Grandville, Sweet Yo's boasts a legion of devoted froyo fans across the region. Each store presents a rotating daily mix of 8-12 classic and creative flavors, from vanilla and chocolate to watermelon cooler and yellow cake batter. Gluten-free, vegan and dairy-free options are available.
Guests can mix in as many toppings as they like from the self-serve topping bar, which offers more than 65 choices. ("Peanut butter sauce-HELLO!" raves @mollie.poppins.)
The downtown store is right across the street from Rosa Parks Circle, so fill your cup and check out all the fun – concerts, festivals, winter ice skating and more.
The downtown location is open from 11 a.m. – 10 p.m. daily and the Grandville location is open from 11:30 a.m. – 10 p.m. Monday-Friday and 11 a.m. – 10 p.m. Saturday & Sunday.
From the frozen yogurt experts on Instagram:
"Sweet Yo's on Monroe Center! 🤤I love the location and being able to stroll downtown or along the river, or catch something happening at Rosa Parks! Plus their flavors and toppings are the BEST! Peanut butter sauce-HELLO!"-@mollie.poppins
"Sweet Yo's is pretty yummy 😍"-@bpennington_7
Elsa's Frozen Yogurt
Elsa's is located in Downtown GR's Studio Park entertainment complex along with the Celebration! Cinema movie theater, Midtown music venue and One Twenty Three restaurant – which means it's always bustling with folks seeking a frozen yogurt fix before or after a flick, concert or meal. Froyo not your thing? Elsa's also serves delectable ice cream, frozen custard and dairy-free Dole Whip. And there's a host of FREE toppings that can be added to any frozen yogurt or ice cream purchase. Go ahead, top 'til you drop!
Elsa's is open daily from noon – 9 p.m.
Top This
This Kentwood favorite satisfies not just froyo afficionados – it's also a treat for lovers of Italian ice, gelato, sorbet, custard, ice cream, smoothies, acai bowls and more than 50 delectable toppings (hence the name). Come cold-weather season, try a hot chocolate or coffee "bomb" – a chocolate shell encasing a variety of indulgent ingredients that becomes a luscious libation when you place it in a cup and add hot water, milk, coffee or tea. (Bombs make great gifts, too.)
The Fred Meijer M-6 Trail passes just steps away from the store, so it's a perfect refreshment stop for walkers and bikers. (You'll find healthy juices here, too!)
Top This is open from noon – 9 p.m. every day.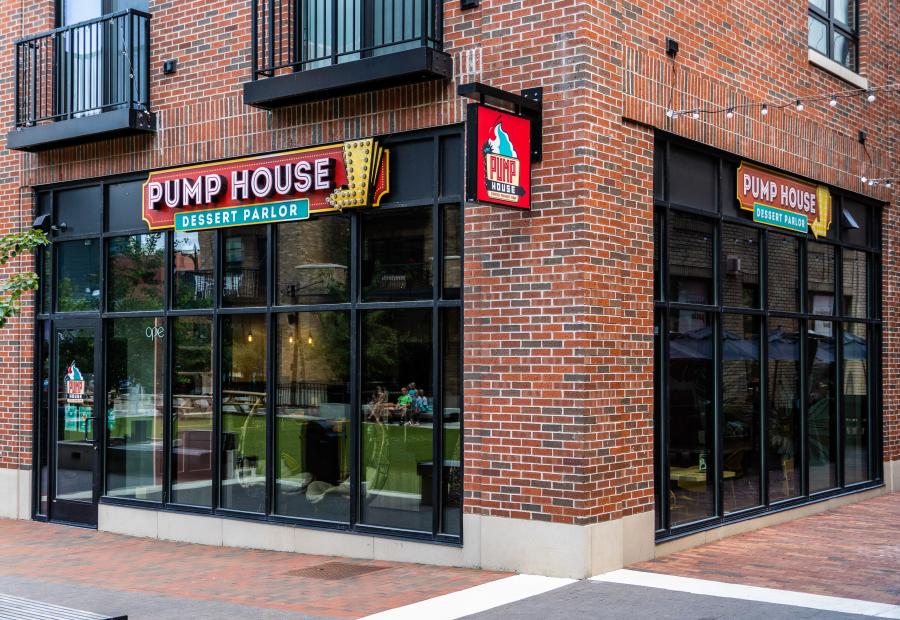 The Pump House offers scrumptious gelato, sorbet and custard options.
Photo by Experience Grand Rapids
The Pump House
"The Yogurt is Cold. The Atmosphere is Not." is the slogan at this locally owned frozen yogurt bar – and its fervent followers agree that the people behind the counter are just as delightful as the menu. In addition to artisanal froyo, The Pump House offers scrumptious gelato, sorbet and custard options. You choose the size and flavors – there are more than a dozen to tempt you – and then choose from a boatload of toppings. Come back again and again for new flavors and fresh ideas. ("Lots of flavors and the toppings are endless!" attests @bevans923.)
The Pump House operates three West Michigan locations:
Knapp's Corner – ideal for a pre- or post-movie snack when you visit Celebration! Cinema.
Rockford – in the heart of the city's walkable downtown.
Grand Haven – steps away from the lakefront and musical fountain.
All three locations are open from noon – 10 p.m. daily.
From the frozen yogurt experts on Instagram:
"Pump House in Rockford because now they have rolled fro-yo and a bajillion toppings!"-@tarynfla ​
"The Pumphouse is always the best! Lots of choices in FroYo and toppings! 🥄 🍦"-@michiganraerae
More West Michigan Froyo Faves
If you prefer ice cream over frozen yogurt, read the Locals' Guide to Ice Cream Shops in Grand Rapids. Some of them offer a froyo selection, too.
This story was originally published in 2018. It has been updated by the Experience Grand Rapids.