Has there ever been a more perfect pair than summer and ice cream? During the hot summer months, your sweet tooth will be satisfied thanks to the countless ice cream options in the Grand Rapids area. 
To find out which ice cream destinations are fan favorites, we asked the locals on the Experience Grand Rapids social media pages to weigh in.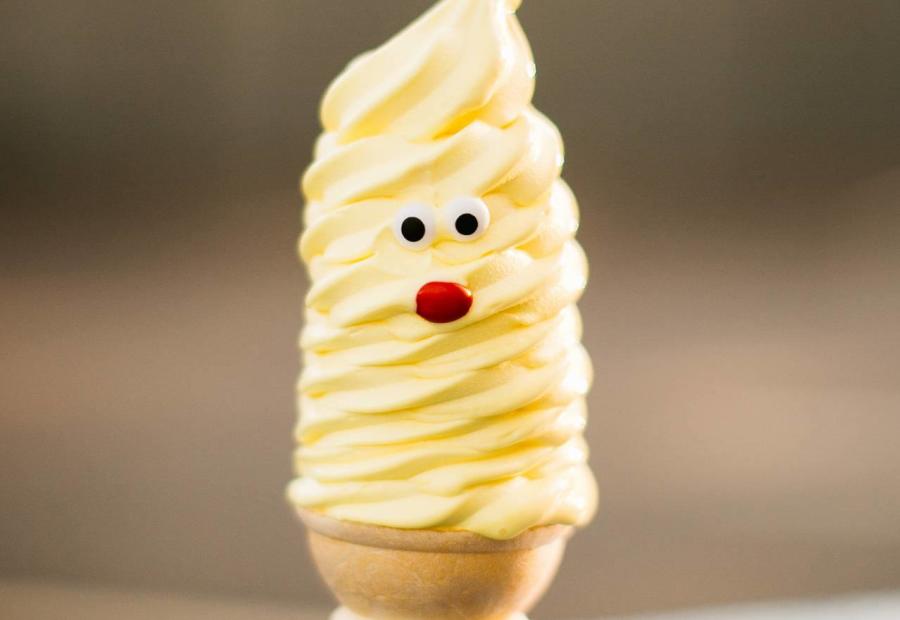 Frosty Boy's extensive menu, including vegan and gluten free options, make it a well-loved ice cream stop among locals.
Photo by Alycia Choroszucha
With two locations in Grand Rapids (open March-October) and Rockford (April-September), Frosty Boy is a local hot spot for dessert. Frosty Boy is probably best known for its unique lemon-flavored soft serve ice cream. For those with dietary restrictions, all of Frosty Boy's soft serve ice cream is also gluten-free. They also offer vegan/dairy-free soft serve, gluten-free cake and waffle cones, and vegan/gluten-free shakes and flurries.
What locals say: 
"Frosty boy Grand Rapids!!! It's been a big hit the past few years with my boyfriend turned husband and I- and now we go with our baby all the time! I'll confess we are on our second punch card already this Summer. We start off getting a scoop, sometimes two, of Michigan Pothole and then walk to Riverside Park. THE BEST." Kate D. on Facebook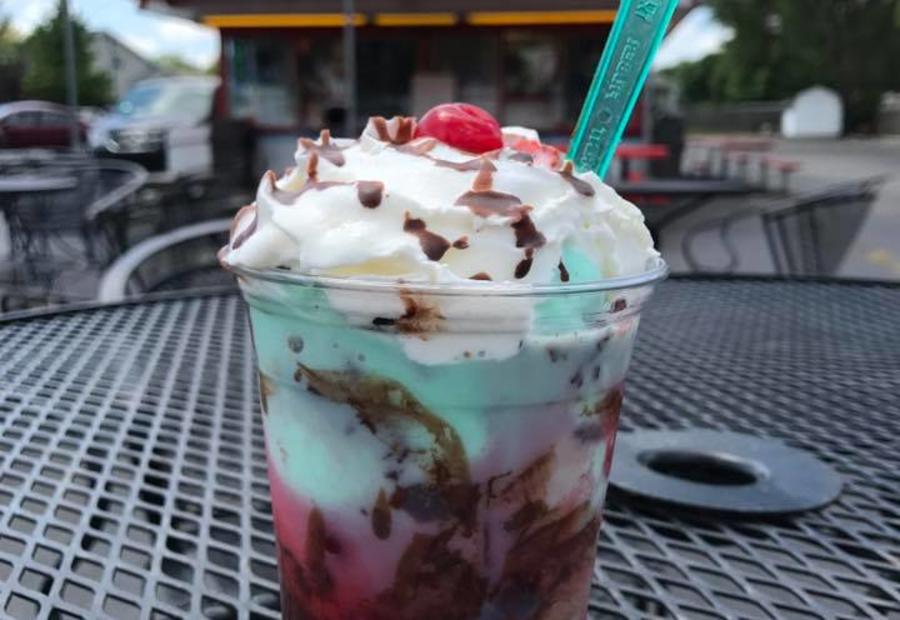 Locals gave Sweet Rewards high marks for its friendly staff and extensive ice cream options, including vegan soft serve.
Photo by Sweet Rewards
Sweet Rewards is a family-owned and operated ice cream shop with 19 years of scooping up tasty treats, and is open March-October.
"Our exclusive soft serve ice cream is the key to our fabulous shakes, malts, glaciers, and heavily-candied flurries," says Sweet Rewards owner and operator, Cathy Lombardo. "We also have yogurt and vegan choices. Our chili cheese dogs and fried snacks are extremely popular as well."
Sweet Rewards also has a convenient drive-up window and late night hours every night until 11 PM.
What locals say:
"Sweet Rewards is by far the best. They have such friendly staff and always a lot of different flavors to choose from. Their vegan vanilla yogurt is hands down the best I have ever had." Emma F. on Facebook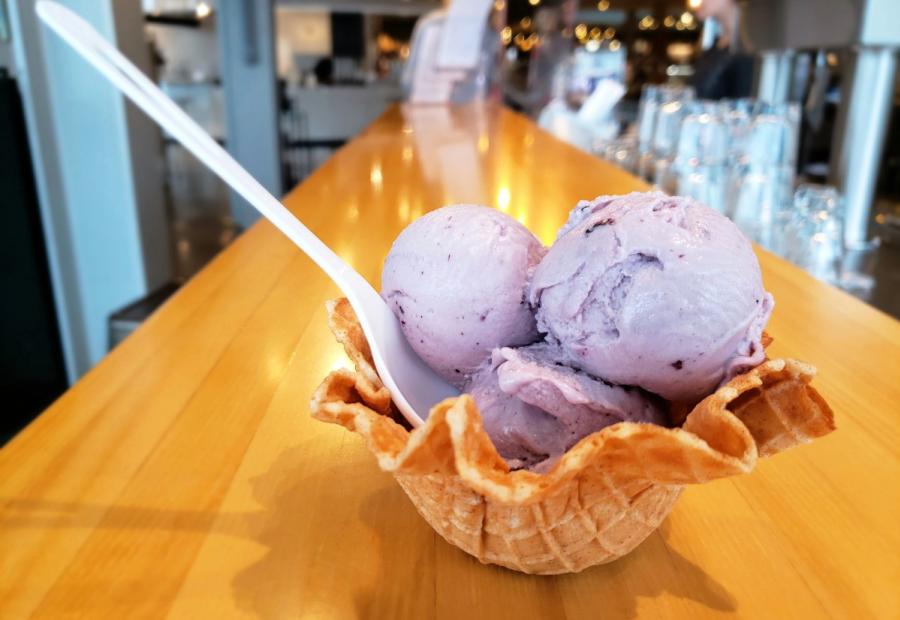 Love's vegan lavender blueberry gelato is a favorite regardless of dietary preference.
Photo by Love's Ice Cream
According to locals, you'll have nothing but love for Love's Ice Cream, located inside The Downtown Market.
Open year-round, Love's is praised locally for hand-crafted ice cream, vegan gelato, sorbet, baked goods, and confections. All of Love's menu items are made from scratch using organic ingredients, such as grass-fed dairy and produce from farms in Michigan.
Guests can expect to find unique flavors rotating on the menu throughout the year, including almond croissant, white Russian, pumpkin, apple pie a la mode, and lavender blueberry. Have an upcoming event that needs something sweet? Love's also offers ice cream catering for special events.
What locals say: 
"Love's Ice Cream is *that* local hand-crafted ice cream shop that I search for when I'm visiting other cities. They're committed to using regional sources for their fresh ingredients and are also located in the popular Downtown Market...which has a ton of other great things to taste and see all in one stop!" Brian K.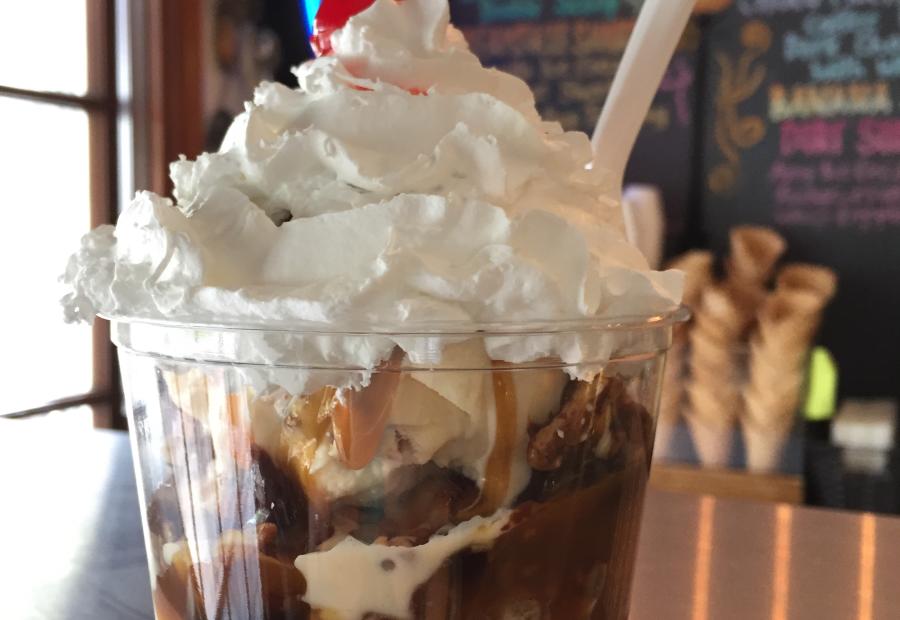 Locals rave about Jersey Junction's classic ice cream parlor vibe.
Photo by Experience Grand Rapids
Nestled in the heart of Gaslight Village in East Grand Rapids, Jersey Junction is the epitome of an old-fashioned ice cream parlor, both in menu items and décor. Jersey Junction offers a diverse variety of ice cream and a broad, unique candy selection that would make Willy Wonka jealous. Candy options ranging from massive jawbreakers to fruit-flavored candy canes cover the countertops of Jersey Junction, so come for the ice cream but stay for the candy from March to October.
Nothing says "summer nights" quite like the pairing of ice cream and mini golf, both of which can be conveniently enjoyed at Double Dip Depot. Open March-September, this shop carries 18 flavors of hard-serve ice cream and several exclusive flavors, including Double Dip Decadence and Honey Lavender. In addition to multiple soft serve and lactose-free, cholesterol-free, and dairy-free options, Double Dip Depot boasts 25 different flurry combinations. After devouring your ice cream, there is a 19-hole mini golf course waiting for you to play for only $2.50 per person.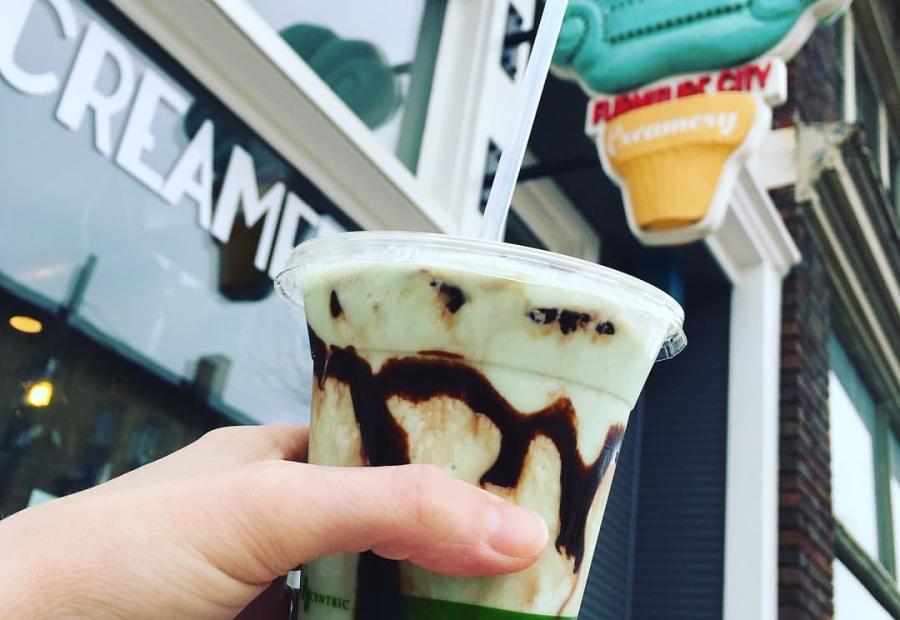 Handcrafted ice cream and rotating flavors make Furniture City Creamery a must-try.
Photo by Furniture City Creamery
Furniture City Creamery specializes in handcrafted ice cream flavors and even offers ice cream-making classes. During the summer months, this East Hills destination makes more than 100 gallons of ice cream from scratch every week, but the shop is open all year round too. There is plenty to go around since Furniture City Creamery rotates more than 65 flavors. If you have a favorite, visit soon because flavors change daily, even hourly, depending on demand.
What locals say: 
"Furniture City Creamery's vegan no bake cookie is amazing. It satisfies my cookie and ice cream cravings in one dessert." Kelly B. on Facebook.
Spad's Twisters Soft Serve Ice Cream has an extensive menu of tasty treats, offering everything from floats, glaciers, and slushies to flurries, sundaes, and FlavorBurst soft serve. 
"I think the variety of our menu and the ice cream quality sets us apart," says Twisters co-owner Nick Spadafore. "Our ice cream is our own special recipe and it's made locally."
Nick adds that patrons rave about the Reese's Cup Flurry and the Trash Can Sundae. Served in a plastic trash can, the latter is a delicious blend of cookie dough, M&Ms, Oreos, and peanut butter cups topped with a generous portion of whipped cream and two gummy worms.
Twisters' current space was formerly a bank, so its drive-thru window means crummy weather doesn't have to stop you from enjoying a treat. So stop by from March through September, rain or shine!
For those with canine companions, Twisters offers a Doggie Sundae: a healthy dollop of vanilla soft serve topped with bone treats.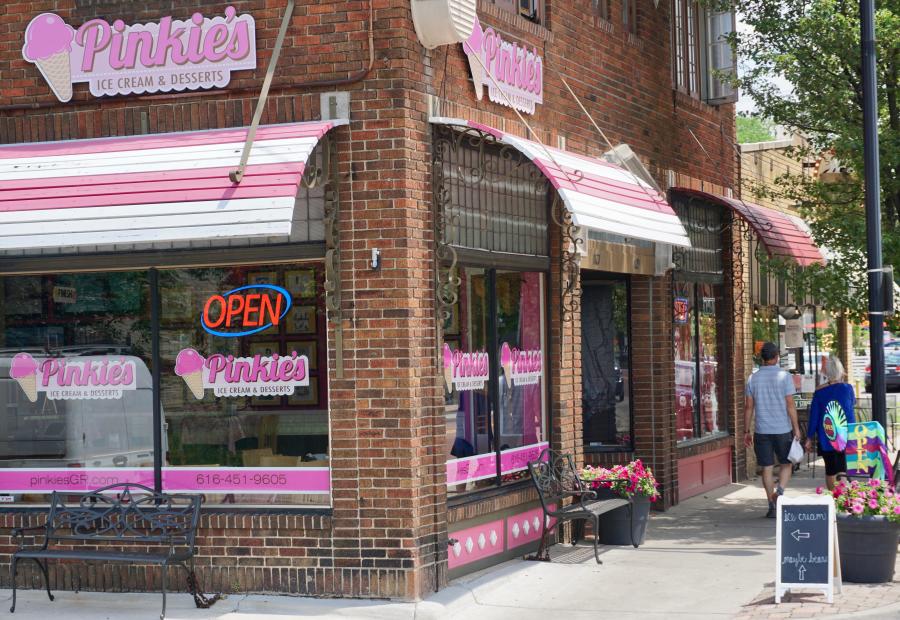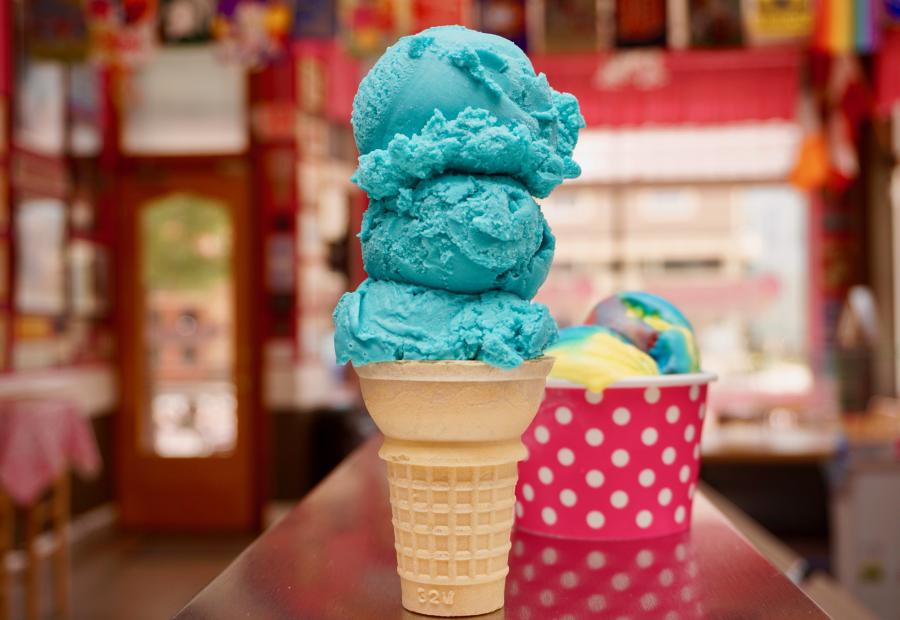 Choose from around 30 flavors of hand-dipped ice cream at Pinkie's Ice Cream & Desserts.
Photo by Brian Craig for Experience Grand Rapids
Pinkie's Ice Cream and Desserts has been offering a fun palace of pink where patrons can enjoy ice cream since 2014.
With 30 hand-dipped ice cream flavors (no soft serve here), employees recommend sampling the salted caramel, chocolate malt, chocomania, and grasshopper, and choosing a flavor to incorporate into a homemade brownie sundae. You can also enjoy Pinkie's specialty treats like the Donut Sundae or homemade ice cream sandwiches from April through October.
Pinkie's vintage ice cream truck is also available to book for events.
The Cone Shoppe is just a good old fashioned, step up to the window, cash-only ice cream shop that's been nestled at the corner of Michigan Avenue and Fuller Avenue for more than 40 years.
The Cone Shoppe's popular menu items include a huge banana split, root beer floats, Dole Whip, turtle flurries, lemon ice cream, and 24 different soft serve flavors. You'll even notice a few interesting flavors like piña colada, pistachio-nut, apricot, key lime, and coconut. 
You can also find delicious specialty flurries on the menu, like Banana Creme Pie (banana, marshmallow, vanilla wafers), Hawaiian (pineapple, banana, and strawberry), and cheesecake (strawberry or raspberry).
Woody's Cone Stop has been named as such for 20+ years, but has existed as a local ice cream shop for more than 30. Must-try menu items include the lemon soft serve, the weekly rotating flavor of West Michigan's Hudsonville Ice Cream, the strawberry cheesecake flurry, and the banana split. Or stop by on Funnel Fry Fridays for a delicious sundae filled with crispy funnel cake fries; a choice of strawberry, hot fudge, or caramel drizzled on vanilla ice cream; and whipped cream.
Ashley Ransom, Woody's co-owner, says many customers come for ice cream but stay for a meal: "A Woody's meal could include chili dogs, footlongs, Polish sausages, big beef dogs, Chicago dogs, burgers, cheese curds, pulled pork, or sloppy Joes."
No matter what you order, you can enjoy your treats in Woody's Cone Stop's large outdoor seating area that offers plenty of shade on sunny days during their open months, from March-October.
When you arrive at Woody's, you might ask yourself, "I wonder why Woody the Woodpecker is on their sign?" Ashley claims: "Legend has it that a previous owner looked like actor Woody Harrelson and had the nickname Woody. He then chose to name it Woody's Cone Stop and picked the woodpecker cartoon character as the mascot."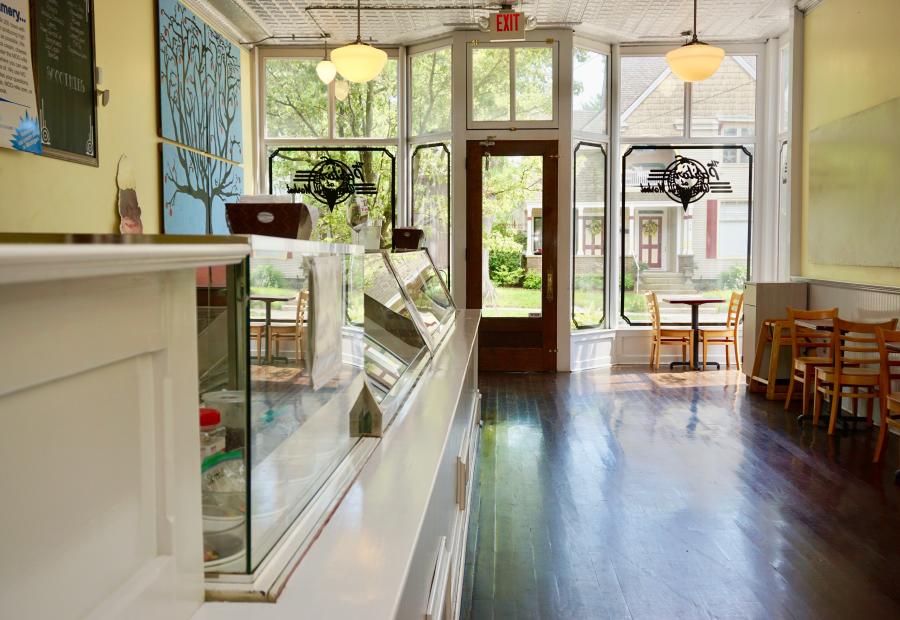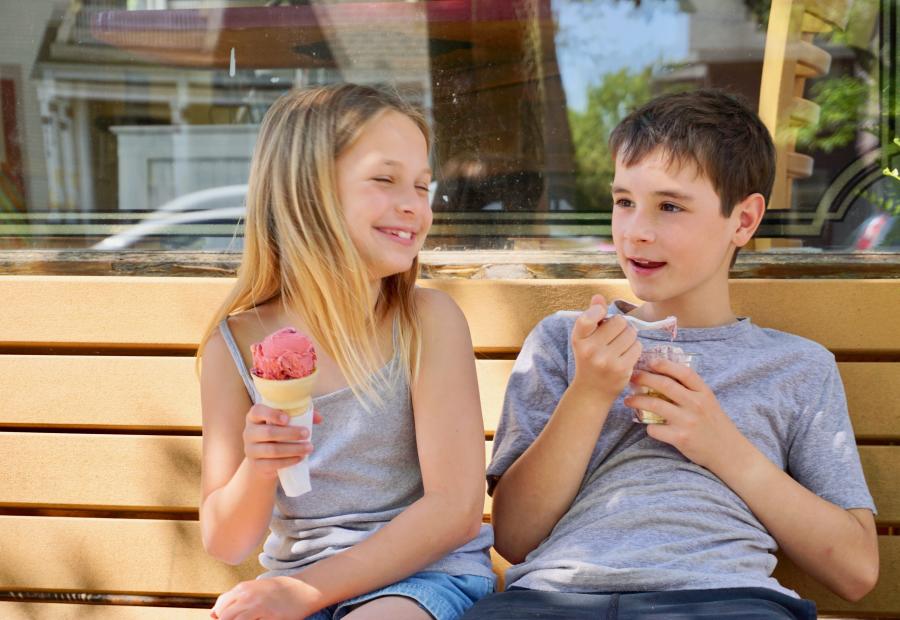 With 28 ice cream flavors, The Parlor at Cherry Hill Market can please the whole family.
Photo by Brian Craig for Experience Grand Rapids
The Parlor at Cherry Hill Market is an old fashioned, family-friendly neighborhood ice cream parlor open from May to Labor Day, located inside a 135-year old building.
Situated in the Cherry Hill Historic District, The Parlor features two brands of West Michigan-made ice cream: Moo-ville and House of Flavors. You'll have no shortage of options here since The Parlor can scoop up one (or more) of 28 hand-dipped ice cream flavors. 
Crowd favorites include Cookie Monster (Blue Moon and Oreos), Take Me for Coffee (Coffee flavored ice cream with whipped cream and caramel), Honey Comb, and Java Chip.
Marea Horrell, Village Cone Shop owner, says that the 22-season veteran of the local ice cream scene is so much more than a place to simply feed your sweet tooth.
"We are very often told the shop is a bonus to the neighborhood. There is usually a line but people remark that they don't mind the wait because it is a neighborhood environment and people visit with other customers, meet up with friends, family members, and classmates," Horrell explains.
While browsing the menu, Horrell says you'll find favorites among locals like the Shark Attack Slush (blue raspberry slush with cherry and gummy sharks) and Cone Shop Flurries, like the German chocolate (chocolate ice cream with coconut, caramel, and brownie pieces). Village Cone Shop also sells Dippin' Dots, eight different FlavorBurst flavors, Dole Whip, and 23 hand dipped ice cream flavors from three different brands. Be sure to stop by when the shop is open from March-September.
Experience Grand Rapids' social media followers also recommend a handful of stops that are outside of the Grand Rapids city limits but still worth the drive: