Thanks to the availability of high-quality craft spirits from local and global sources, the cocktail craze is booming -- especially right here, in Grand Rapids. Restaurants, distilleries and other craft beverage makers throughout the city serve up a dazzling lineup of classic and creative alcohol combinations. For a true cocktail bar experience, where drinks and conversation flow into the wee hours – and food menus are limited or non-existent – check out these popular destinations.
The Apartment Lounge
Michigan's oldest consistently operating LGBTQ+ bar – a downtown Grand Rapids fixture since 1972 – is a welcoming destination for open-minded folks of all persuasions. Comfortable, casual and unpretentious, the Apartment offers delectable cocktails along with an almost retro vibe. It's located next to Grand Rapids Civic Theatre, so it's a popular spot for relaxing before or after a show. Weekly specials include (Mar)Tini Tuesdays and Thirsty Thursdays (half off cocktails).
Be sure to take note of the colorful "Rainbow Road" street mural outside the bar. It was installed in 2019 to mark the 50th anniversary of the Stonewall riots and celebrate the vibrancy of the local LGBTQ+ community.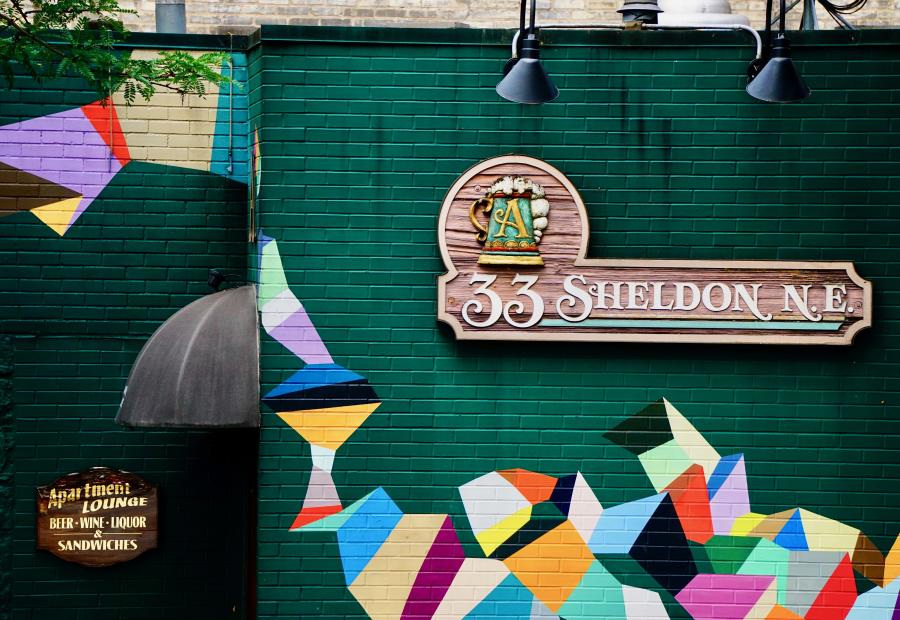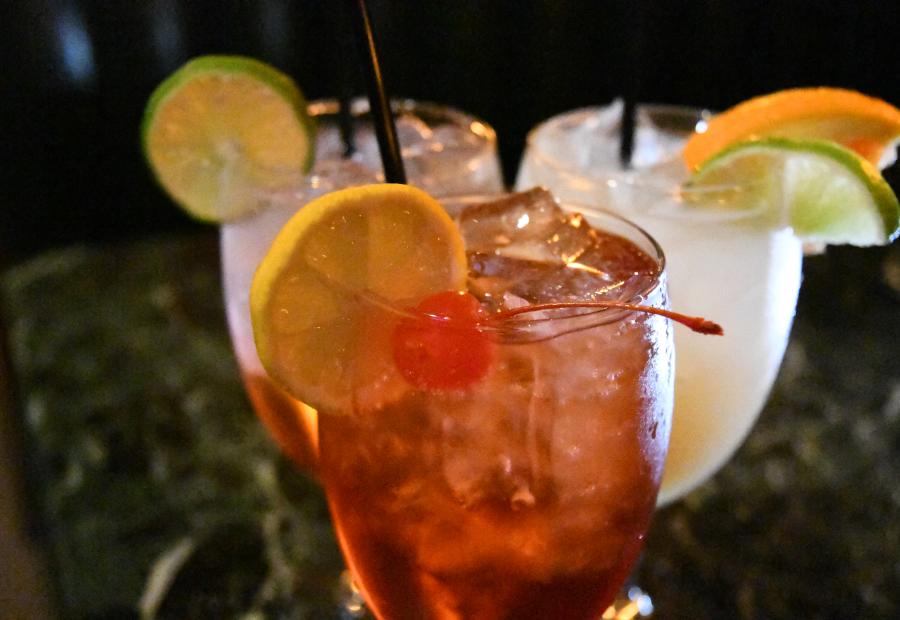 The Apartment Lounge, a downtown Grand Rapids fixture since 1972 – is a welcoming destination for open-minded folks of all persuasions.
Photo by Brian Craig for Experience Grand Rapids
BOLD Cigar Bar & Lounge
Premium cigars meet premium cocktails in this upscale but comfortable lounge in downtown Grand Rapids. BOLD offers a modern-rustic mix of wood, metal and leather combined with rich colors and dimmable lighting to create a sophisticated atmosphere that is attractive and appealing to both men and women. Owners Al and his wife Caitlin (Kate) and their staff are happy to advise patrons on cigar selections and cigar-and-cocktail pairings. 
If you plan to visit, note that the dress code at BOLD is business casual and be sure to check their website for live music events.
Buffalo Traders Lounge
Established in the summer of 2017, Buffalo Traders Lounge wanted to take the cocktail movement back to its roots. With that in mind, they based their menu and concept on prohibition and pre-prohibition cocktails, including the classics. The decor and vibe emphasizes the "lounge" in cocktail lounge, with a distinct 1970's flair that – coupled with friendly, knowledgeable service – puts everyone at ease.
Buffalo Traders Lounge showcases local spirit producers such as Eastern Kille Distillery and Long Road Distillers. The location in downtown Grand Rapids can seat around 50 people at a combination of seats at the bar, tables, and couches.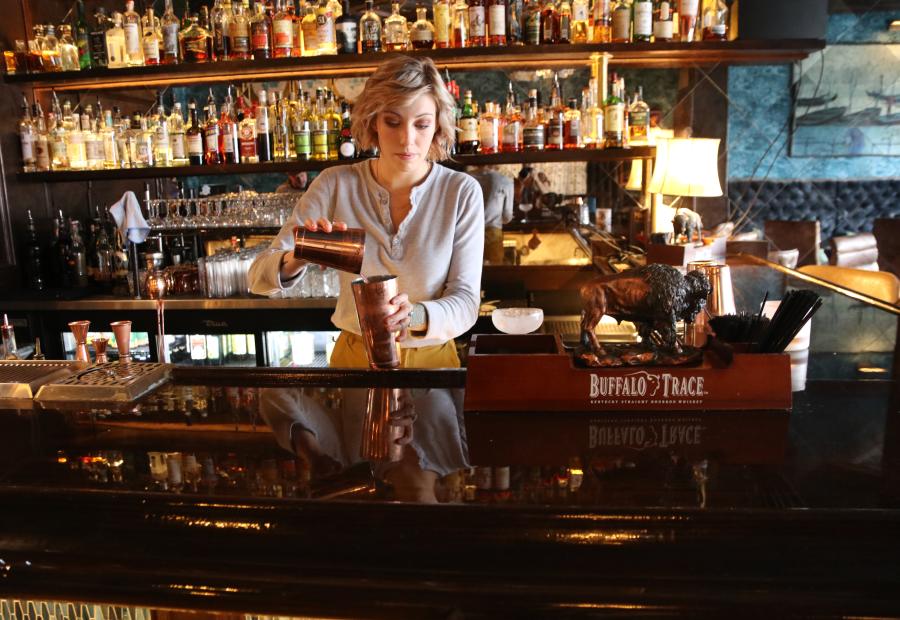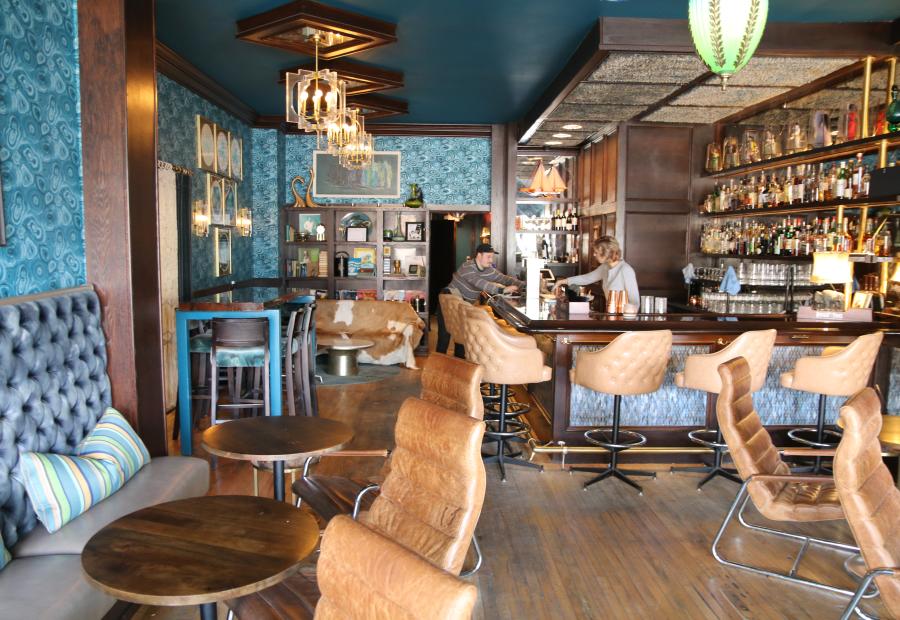 Buffalo Traders Lounge's drink menu is a mixture of prohibition, pre-prohibition, and classic cocktails.
Photo by Experience Grand Rapids
Eve Nightclub
Swanky, discerning and diverse, Eve is a truly posh nightclub experience. Situated on the fourth floor of downtown GR's B.O.B. (Big Old Building) – but feeling like a universe unto itself – Eve serves up luscious libations and VIP bottle service against a backdrop of electronic dance music spun by West Michigan's most talented DJs. Get up on the dance floor or settle into comfortable soft seating for conversation and people-watching.
IDC
A private, covered, year-round balcony bar with indoor and outdoor seating, IDC affords guests a panoramic view of the street below and the city above. Located in the Amway Grand Plaza, Curio Collection by Hilton hotel, IDC is open to the public but requires a secret code to enter. (Sign up at the IDC website to get it – just don't tell anyone we told you.) Delectable cocktails include a secret cocktail of the month (ask your server). Wine, beer, cider and seltzer are also available.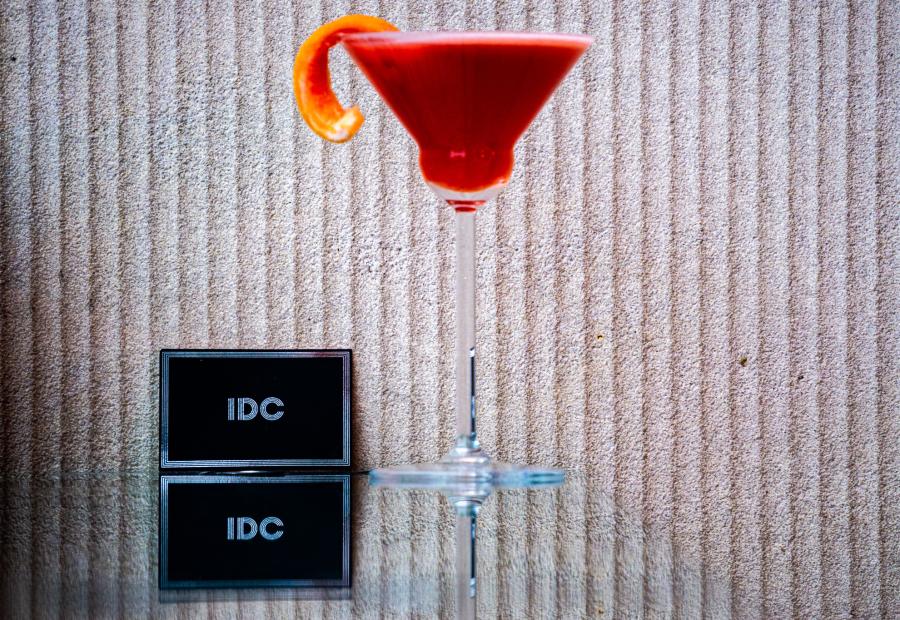 IDC (I Don't Care) is open to the public but you need a secret code to enter!
Photo by Brian Craig for Experience Grand Rapids
Lumber Baron Bar
The Lumber Baron Bar, also located in the Amway Grand Plaza, Curio Collection by Hilton, offers the warmth and charm of a historic speakeasy, complete with fireplace, leather club chairs and a large selection of premium cocktails. The décor was inspired by the homes of lumber barons who built lavish mansions in the late 1800s, when Grand Rapids was known as the fine furniture capital of the world.
Lumber Baron's cocktails are a perfect blend of balance and creativity – the knowledgeable staff puts as much care into a gin-and-tonic as they do a seven-ingredient cocktail.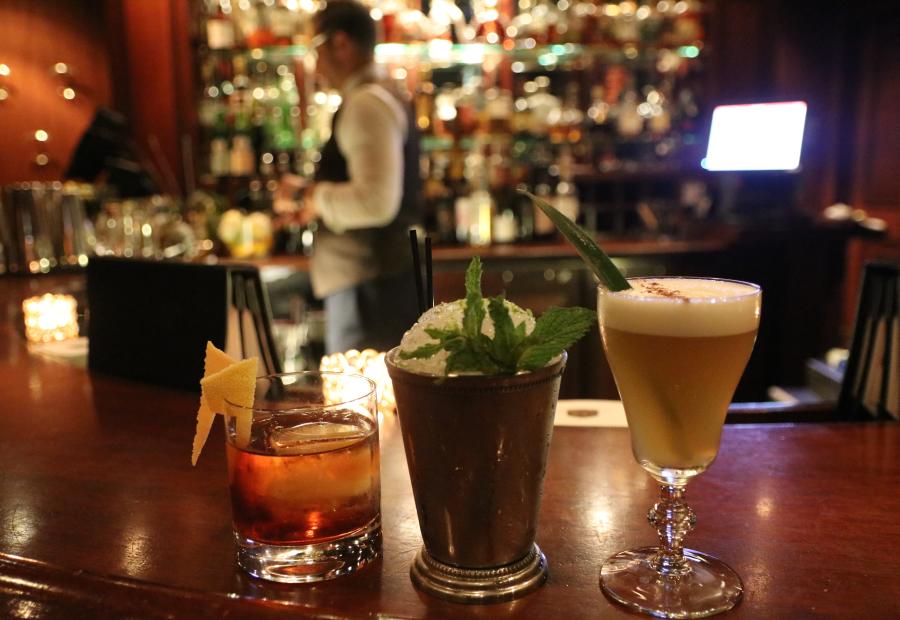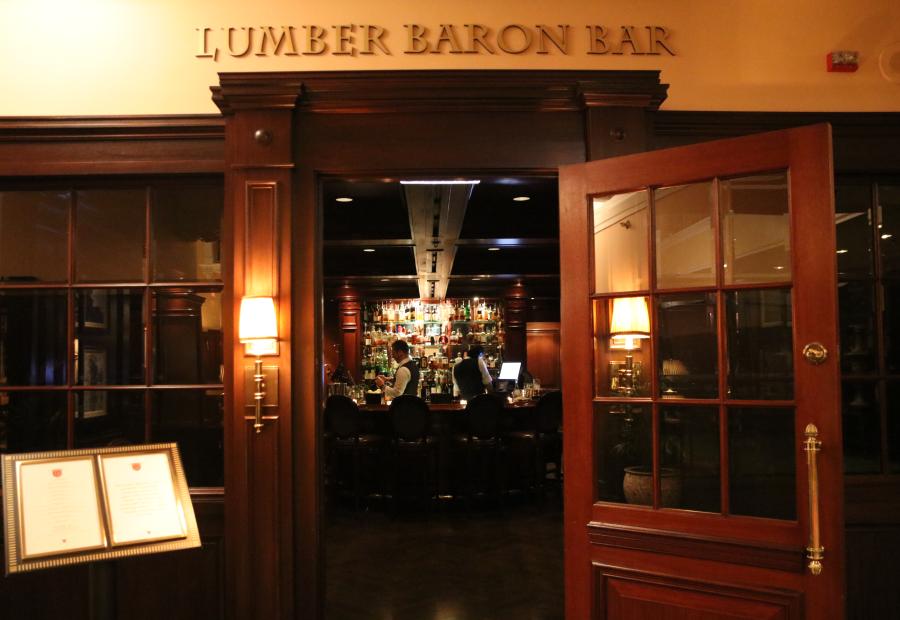 Lumber Baron uses many local spirits because they aim to promote the growth of local business.
Photo by Experience Grand Rapids
Sidebar
This hidden gem is located in a small room adjacent to Big O' Pizza near Leo's and CityFlats Hotel in downtown GR. Sidebar exudes a speakeasy vibe thanks to its secretive location, "backroom" atmosphere, ornate cocktails, lack of windows and old-world decor. Signature cocktails are devised and handcrafted by Sidebar's staff of talented mixologists, and an extensive list of spirits are available for "neat pour."
In order to maximize the comfort for their guests and maintain the speakeasy experience, Sidebar is stringent on their maximum seating capacity of 18.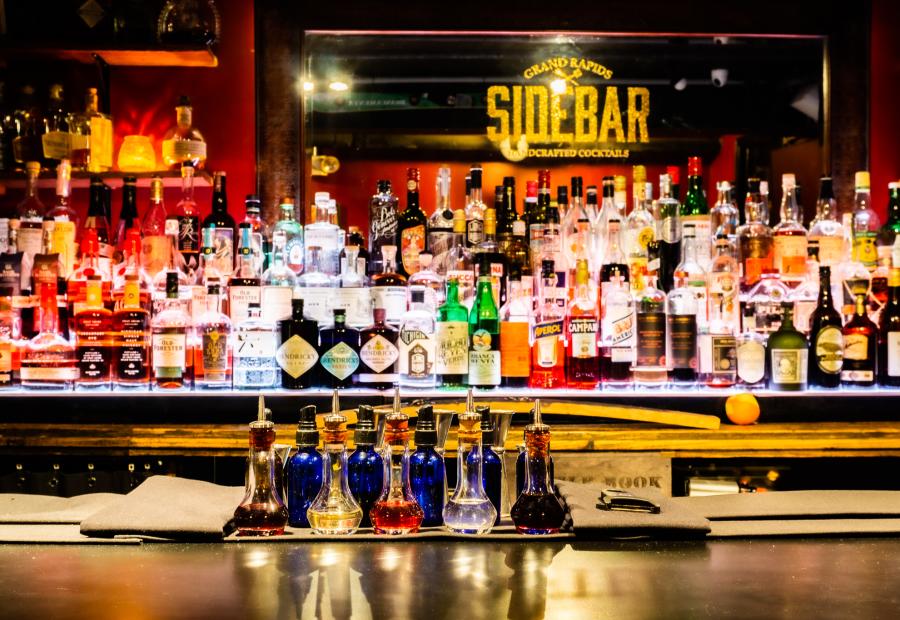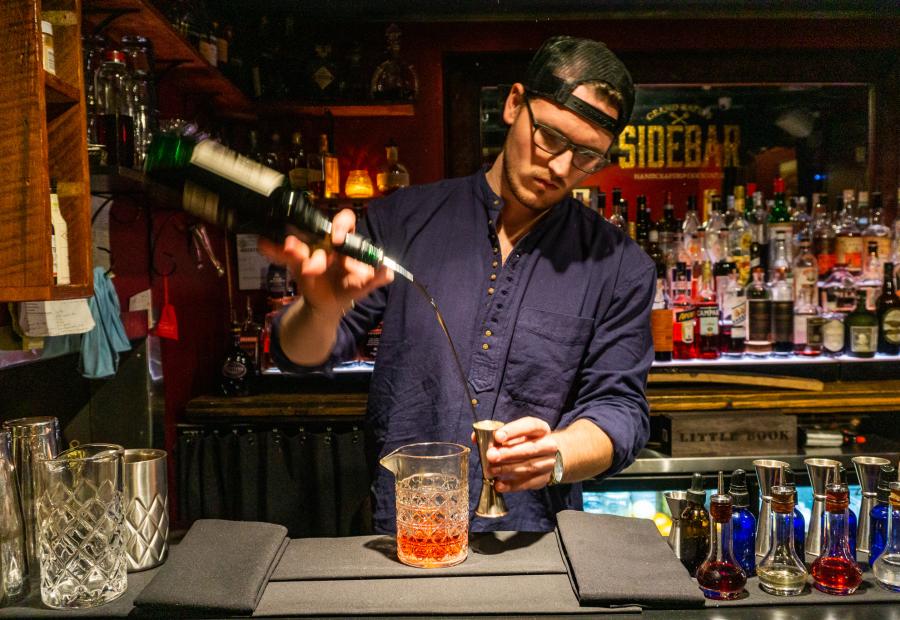 Sidebar's maximum seating capacity is 18, which adds to its charm.
Photo by Brian Craig for Experience Grand Rapids
There are many more wonderful cocktail destinations in Grand Rapids, from distilleries mixing their own spirits to restaurants sourcing spirits and drink recipes from Cuba (Danzon Cubano) Italy (Post Off), Mexico (MeXo) the South Pacific (Max's South Seas Hideaway) and all points global. You can enjoy cocktails with a view (Knoop, MDRD and Mertens Rooftop), cocktails with a concert (Listening Room) and even cocktails mixed with Michigan-made Faygo soda (The Tin Can Bar).
Whether you're looking to try something new, or you've already found your favorite cocktail, there are plenty of fantastic locations in Grand Rapids to sip and savor.
This was originally written by Amy Busse and has been updated by Experience Grand Rapids.