If you're not going to Paris anytime soon, but you're craving a French experience, look no further than Grand Rapids! Many chefs in West Michigan pay homage to the complexity of French cuisine, decor, ambience, and model their dining experiences after those in different regions of the country.
We have identified 10 locations to transport you and your tastebuds:
Classic French Restaurants
Grand Rapids is home to several  restaurants whose focus is classic French cuisine. These places will have your tastebuds saying, "voilà!"
The Euro Bistro
Located on a busy street, The Euro Bistro is a hidden gem on 28th Street. Its proximity to the Gerald R. Ford International Airport and many local hotels make it a perfect stop for lunch or dinner.
The patio is an oasis of bright flowers and French music, with plenty of afternoon and evening shade. Inside, guests encounter the 20-person bar, and can also sit at the classically French white linen-covered tables. The service is attentive and efficient, and the menu offers lunch options from $7-$21, with dinner entrees ranging from $15-$39. The true connoisseur might enjoy the charred asparagus risotto or pappardelle, but a more reserved diner would still enjoy their visit with a pissaladiere (wood-fired pizza) or parmesan-crusted chicken breast served with frites.
Good to know: The Euro Bistro takes reservations, and has a private dining area if you're celebrating a special occasion.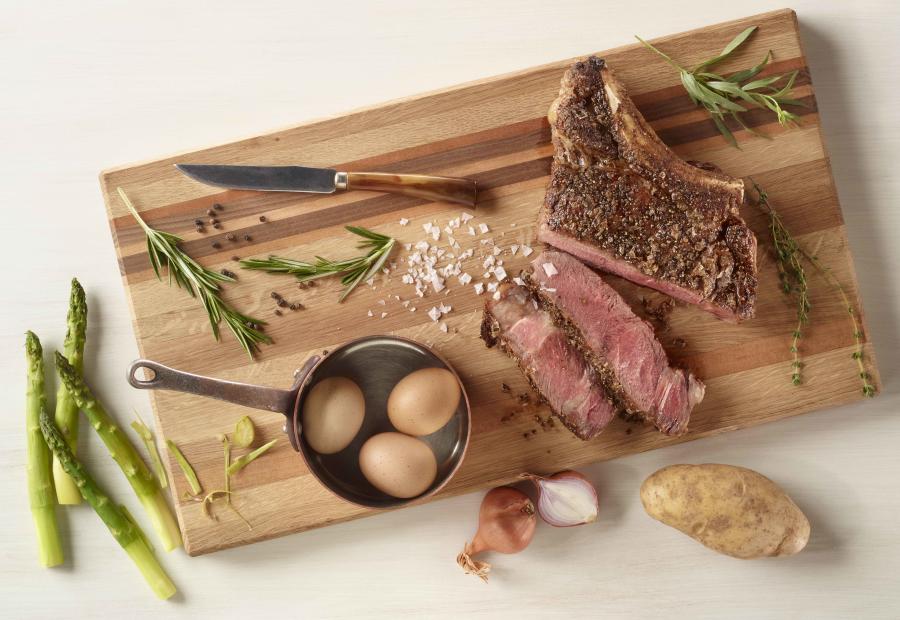 Margaux creates plated dishes out of high quality ingredients.
Photo by Photographer: Julie Line - Big Events Studios
Margaux
With floor to ceiling windows overlooking the Grand River within the JW Marriott Grand Rapids, even a seat inside Margaux feels like a treat. The tables are intimate, yet the high ceilings and variety of seating makes the open concept impressive.
Superb dinner entrees range from $24-$58 and the plating is a work of art. Menu items are written in French, but item descriptions are in English, which is helpful if you haven't tried French cuisine before.
Margaux serves a breakfast menu seven days a week (from 7 AM-10 AM Monday-Friday and 7 AM-2PM Saturday and Sunday), but the French bistro menu is solely available at dinner, served daily starting at 5:00 PM. Reservations are not required, but you can make one at OpenTable.
Good to know: If you're not staying in the hotel, the restaurant will validate your valet or self-parking in the JW Marriott Grand Rapids parking garage upon request!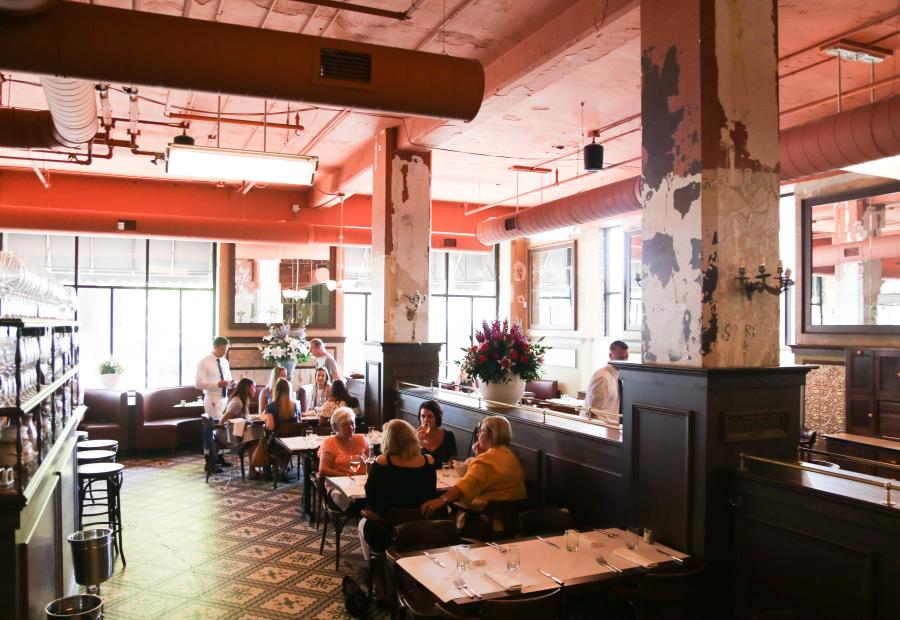 Mertens Prime serves classic French cuisine and premium steaks and chops.
Photo by Experience Grand Rapids
Mertens Prime
Mertens Prime opened in 2017 in the dining room of the original New Hotel Mertens, which debuted in 1914 and served guests through the 1960s. Mertens Prime is a classic French steakhouse and bistro, offering such traditional dishes as Ratatouille Stuffed Pepper, Cassoulet, Duck A L'Orange and Pasta aux Jambon et Truffe. 
Begin your meal by tasting the authentic cheeses from the cheese trolley. Then, move on to a Roasted Beet & Chevre Salad or steaming bowl of French Onion Soup before enjoying your main course. Pricing on Mertens Prime's menu is flexible, with entrees ranging from $24-$84. You can use Mertens Prime's OpenTable option to reserve a table for dinner, which is served from 5 PM-9 PM Monday-Thursday, 4 PM-10 PM Friday, 4 PM- 11 PM Saturday, and 4 PM-9 PM Sunday.
Good to know: Mertens Prime's rooftop patio, Mertens Rooftop, boasts one of the best views of the Grand Rapids skyline, and serves cocktails and small plates. Reservations are required and can be made at Mertens Prime's website.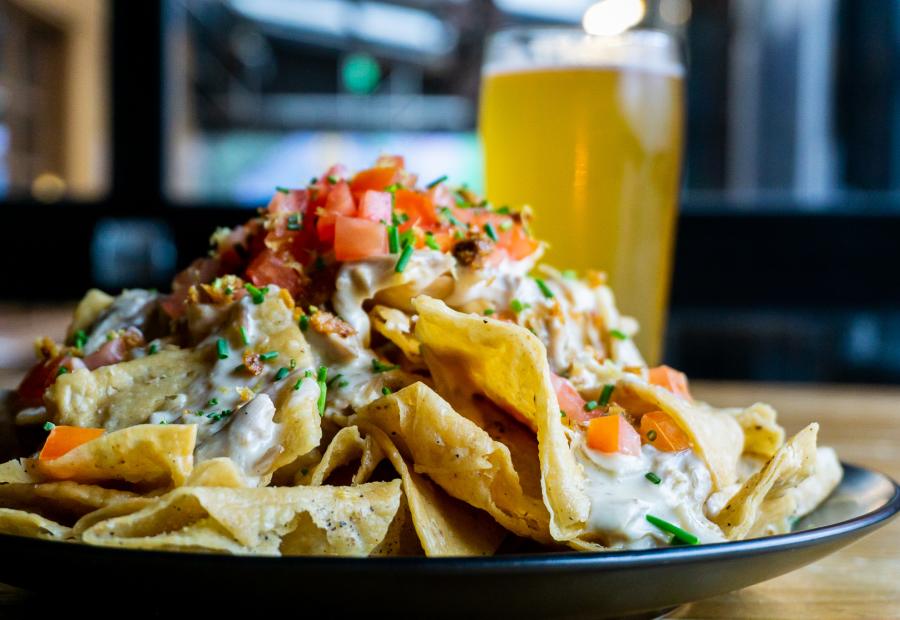 In addition to French food, Brewery Vivant also has their own pastry chef on staff.
Photo by Brian Craig for Experience Grand Rapids
Brewery Vivant
Brewery Vivant is not only known for their Northern France/Southern Belgium inspired craft beer, but also their French eats. [Brewery] Vivant, which translates to "living", has a constantly changing menu as chefs incorporate local ingredients into daily and weekly specials. The bone marrow, the duck confit nachos, the poutine and the pomme frites are all fresh, made in house and getting rave review.
Dinner entrees range from $14-$21, but don't forget to sample their tasty appetizers as well. The ambience in Brewery Vivant is as unique as its menu: located in a century-old funeral home, the stained glass, wooden beams, and original lighting sets Brewery Vivant apart as a brewery and restaurant destination.
Brewery Vivant is open from 3 PM-10 PM Monday-Thursday, noon-10 PM Friday & Saturday, and noon-9 PM Sunday. Be sure to check in with your Beer City Brewsader Passport app when you visit!
Good to know: Brewery Vivant has been a Silver LEED certified since 2012, and became a B Corporation in 2014 to continue furthering sustainability practices in commercial brewing.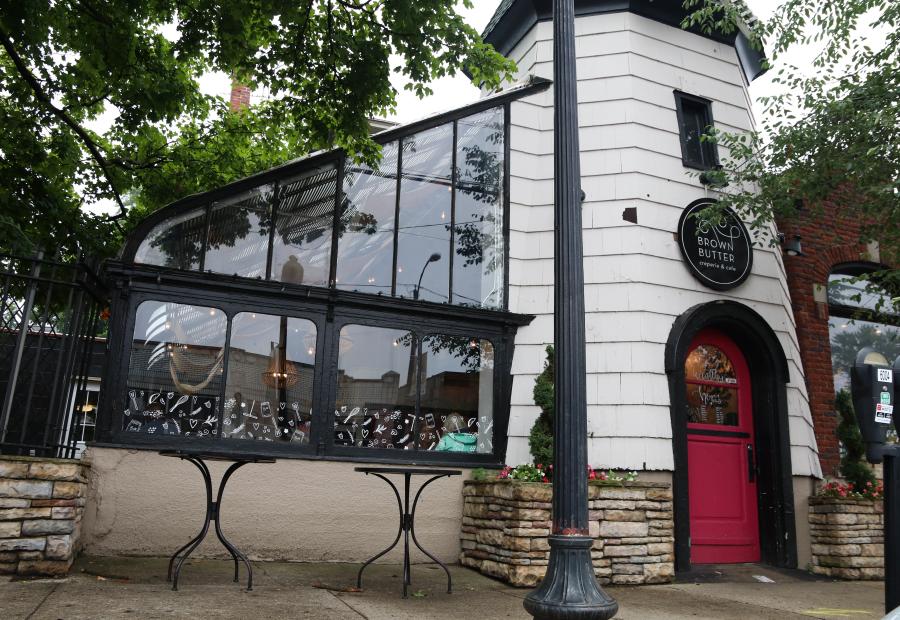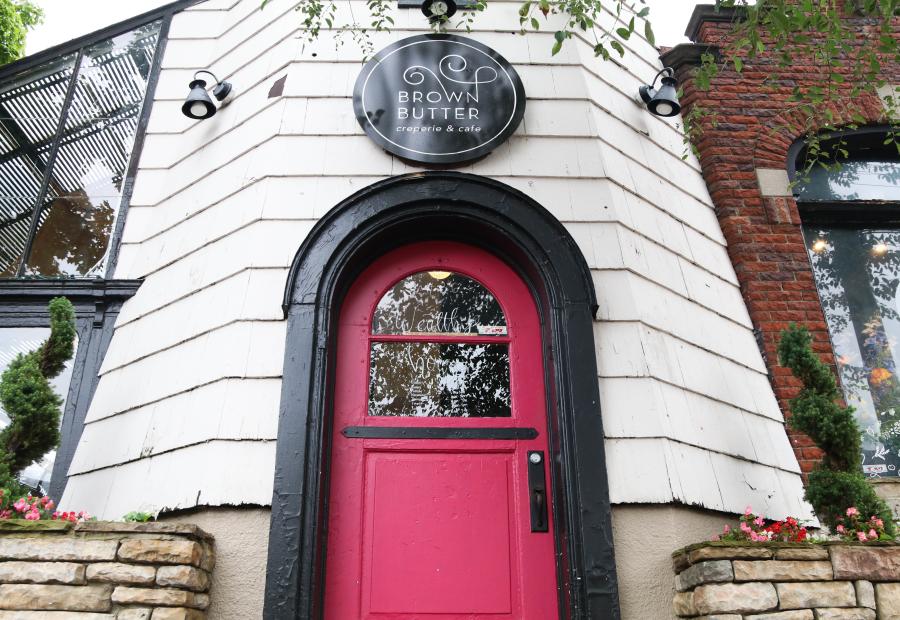 Fact: Brown Butter Creperie & Cafe is located in a historic building called the "Windmill."
Photo by Experience Grand Rapids
Brown Butter Creperie & Cafe
What started as a beloved food truck in 2015 has now become a wonderful staple of the Uptown neighborhood. Brown Butter Creperie & Cafe brings the taste of France to their dining room, or as event catering.
The creperie menu has a wide variety of sweet and savory crepes, as well as a Belgian waffle section. With so many delectable options, your best bet is to go with people you like and try a bunch of different crepes!
Located in a historic building called the "Windmill" (pictured above), the cafe is cozy, but filled with natural light and clean finishes throughout the interior. Current hours are 8 AM-3 PM Tuesday-Sunday.
Good to know: Brown Butter is available to host and cater wedding and baby showers, bachelorette parties, birthdays and whatever it is you're celebrating.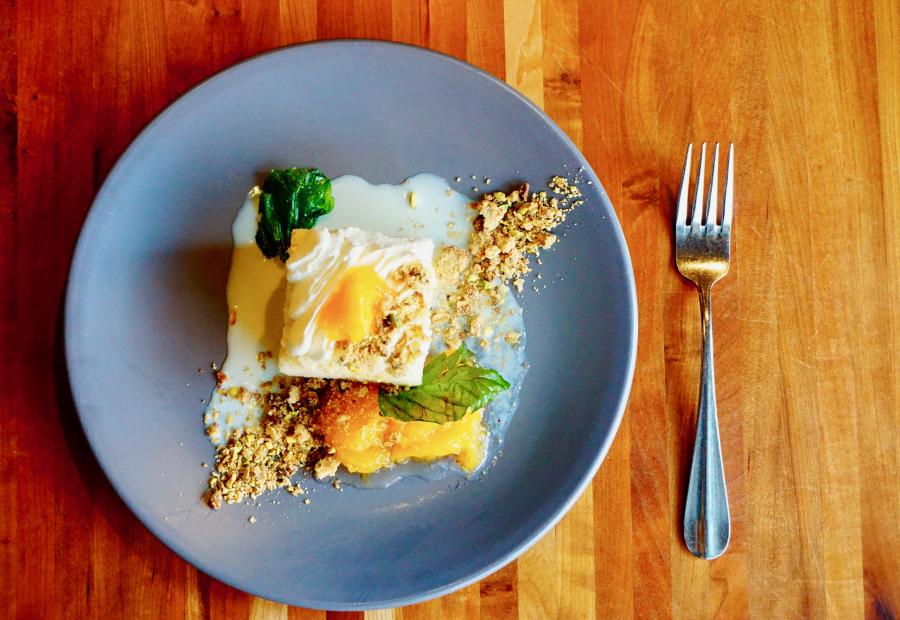 Insider Tip: The chefs at Bistro Bella Vita are accommodating for guests with gluten or lactose intolerance, and also offer vegetarian and vegan menu items.
Photo by Brian Craig for Experience Grand Rapids
Bistro Bella Vita
France, meet Italy! Bistro Bella Vita fuses two classic cuisine varieties into an exciting and consistently evolving menu. Dinner entrees range from $20-$58, and the dining and service experience is first class.
Bistro's menu boasts homemade pastas, many locally-sourced ingredients, and excellent seafood for dishes like the seafood spaghetti. The chefs at Bistro Bella Vita are accommodating for guests with gluten or lactose intolerance, and also offer vegetarian and vegan menu items.
The restaurant is open 11 AM-9 PM Monday-Thursday, 11 AM-10 PM Friday and 4 PM-10 PM Saturday. Make a reservation using Resy if you know you'll be there during prime dining hours, as the restaurant is a fan-favorite among locals and tourists.
Good to know: Bistro Bella Vita is located downtown near some of the city's biggest attractions. There are many nearby parking garages and they offer valet service to make parking easy.
Gaby's Gourmandise
Chef Jean-Gabriel Ferrandon, who was born, raised and schooled in the culinary arts in France, opened Gaby's Gourmandise in the Grand Rapids Downtown Market in 2021. The restaurant menu features a mix of sweet and savory authentic French foods, including soups, salads, sandwiches, quiches, tarts, cookies and pastries.
Chef Gaby, as he's called, makes all his own doughs from scratch, utilizing the freshest and finest ingredients from as many local sources as possible, supplemented by a few refined ingredients direct from France. His creations are as beautiful as they are delicious, reflecting his training in Michelin-starred restaurants in Paris.
Gaby's Gourmandise is open from 11 AM-7 PM Monday-Thursday, 11 AM-8 PM Friday, 10 AM-8PM Saturday and 10 AM-7PM Sunday, and guests can enjoy their selections to go or in one of the Downtown Market's public dining spaces (indoors and out).
Good to know: The Gaby's menu includes both vegan and vegetarian items, so non-meat eaters can still enjoy a taste of classic French cuisine.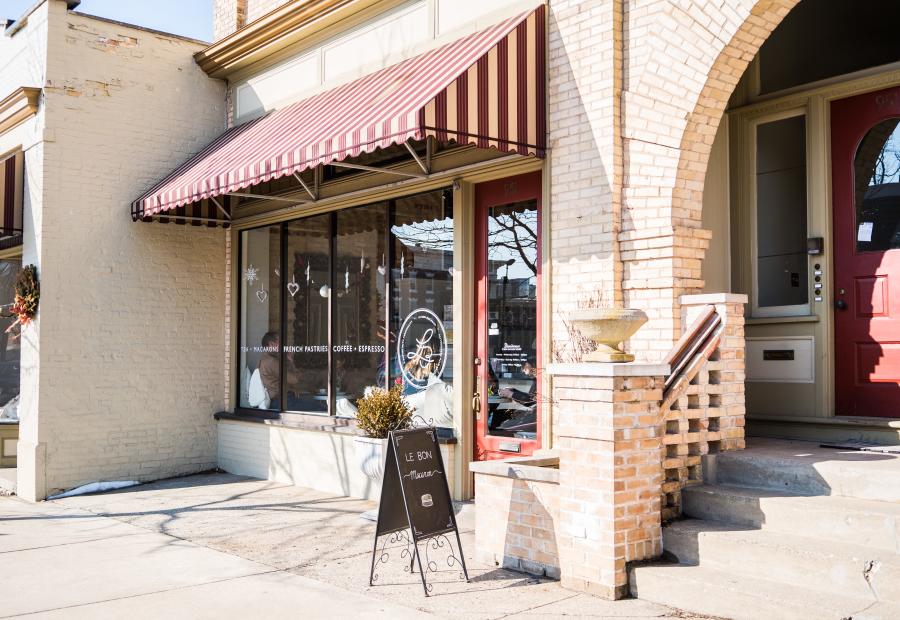 Le Bon Macaron's homemade treats and coffee will make you feel like you're in Paris.
Photo by Experience GR (Taken by Bree Girard)
French-Inspired Restaurants
The French ambiance and menu items of these restaurants will make you feel as if you're in the foreign country!
Le Bon Macaron
Step inside a small corner of Paris when you visit Le Bon Macaron in Uptown. Tucked between a local bookstore and boutique clothing shops, Le Bon Macaron is an afternoon oasis for a cup of tea, coffee, or something sweet.
The room is light and bright, with vintage touches, vases of roses on every table, and a glass case full of every color and kind of macaron you could desire. Their most popular flavor, the Marie Antoinette's Cake Batter, is a beautiful teal with multi-colored sprinkles, and tastes just like cake batter.
The syrups for Le Bon Macron's coffee, espresso, and tea are made in house and some drinks rotate seasonally.
Good to know: Made of only sugar, almonds and egg whites, the French macaron is a simple yet complex cookie. Le Bon Macaron offers a rotating selection of 100+ macaron flavors, all for just $2.65 each. Gift boxes are also available. Operating hours are 10 AM-9 PM Sunday-Wednesday and 10 AM-10 PM Thursday-Saturday.
The Cherie Inn
Just a half block from Le Bon Macaron is The Cherie Inn, a favorite for locals and visitors in search of a European-inspired breakfast or brunch. Some breakfast favorites include many variations of eggs Benedict and pancakes. Lunch items include a mixture of soups, salads, and sandwiches.
The Cherie Inn is currently open from 8 AM-2PM Wednesday-Sunday. It's a very popular destination for breakfast on the weekend, so be mindful of potential wait times if you plan on attending during prime breakfast hours.
Chartreuse Sisters
Once a popular pop-up shop during quarantine, this sister-owned café opened its doors in January 2023. Owners Alyson and Mallory Callaud-Jones started Chartreuse Sisters to combine their French-American heritage with their French dining experiences.
Located on Wealthy Street, Chartreuse Sisters is a restored 1960s drug store that is open 12 PM-5 PM Thursday-Saturday. 
The French-American fusion café offers a farm to table seasonal menu that includes pastries, non-alcoholic cocktails, and variations of coffee and tea. The eclairs (stuffed with chocolate pastry cream) and madeleines (French pound cake filled with nutella) make for a delicious sweet treat. 
Grand Rapids has a multitude of restaurants and cuisine types to choose from. Whether you're in the mood for French, Mexican, Italian cuisine, or more, visit the Restaurants page to view a list of restaurants that suit your taste buds.
Hours and prices are subject to change. Please visit restaurant websites to confirm current information. Bon appetit!