In addition to being the home of several competitive sports teams such as the West Michigan Whitecaps and the Grand Rapids Griffins, Grand Rapids sports fans know there are tons of great places to catch a game on TV. Long-time residents can bank on a seat with a view at Peppino's, SpeakEZ Lounge (especially good for soccer fans), Buffalo Wild Wings, or The Score on Plainfield. Dave & Busters on 28th Street has great screens and space too.
While sports lovers in Grand Rapids have plenty of great spots to cheer on their team, there are few venues you might not know about, or might not think of, when it comes to watching sports. Check out these five sports bars the next time you're ready to yell, "Go team!"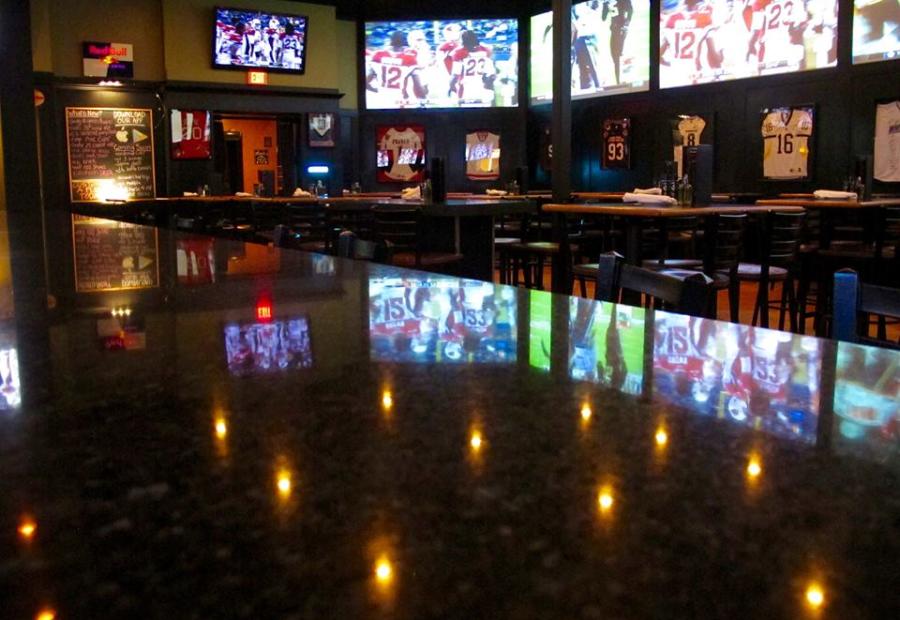 In addition to tons of screens, this place boasts some serious sports paraphernalia.
Photo by Photo courtesy of Monelli's
Monelli's
The first time you walked into Monelli's in Wyoming you may think, "Wow. Why haven't I been here to watch games before?"
Monellis has six – count 'em – six projection TVs as well as 20 other TVs throughout the restaurant and at the bar. The TVs feature stadium quality sound, so you can hear what's happening from anywhere in the restaurant. Fans show up for games in droves because they know there will be a great view regardless of their seat and the atmosphere is downright electric during big sporting events.
If that's not enough, sports fans, it also has 52 beers on tap. Game on!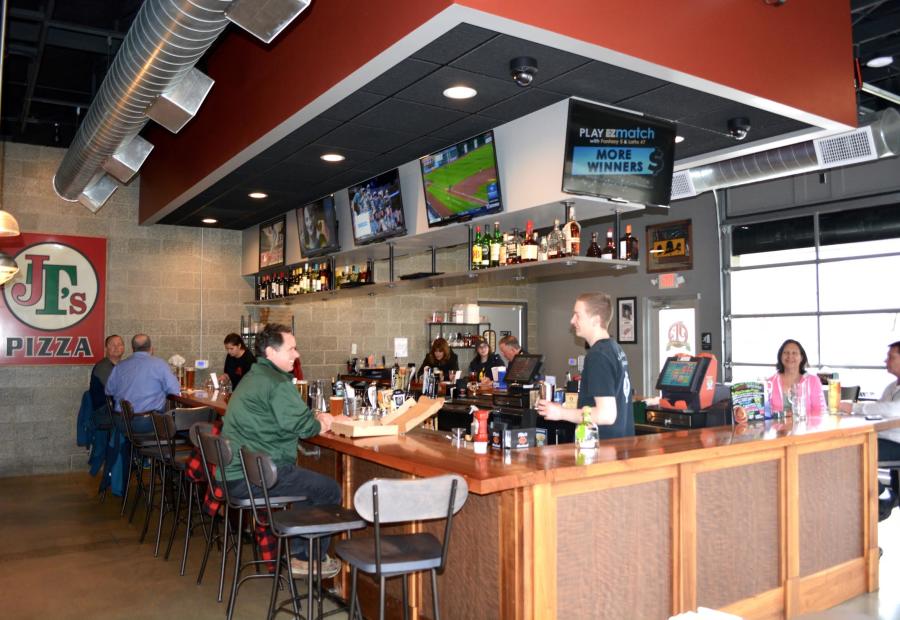 JT's new sports bar addition gives customers one more reason to indulge in their homemade pizza!
Photo by Kirsetin Morello
JT's Pizza & Spirits
JT's Pizza has been serving up amazing homemade pizza and other Italian favorites from scratch since 1975, making it a long-time neighborhood favorite.
It upped its game last year with a 2,500+ square foot addition focused on sports fans. The new space features over 20 large TVs, a cozy, indoor fireplace, and 12 taps.
JT's designed the addition with garage doors that serve as walls. When warm weather arrives, they throw the garage doors open and allow guests to bask in the beauty of a Michigan summer. Sports, made-from-scratch goodness, and Michigan sunshine…what could be better?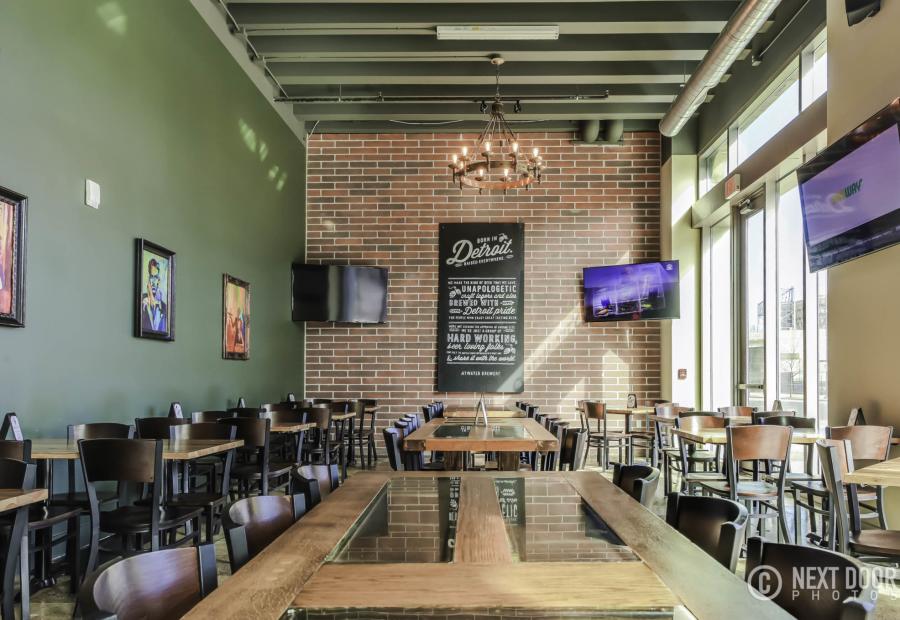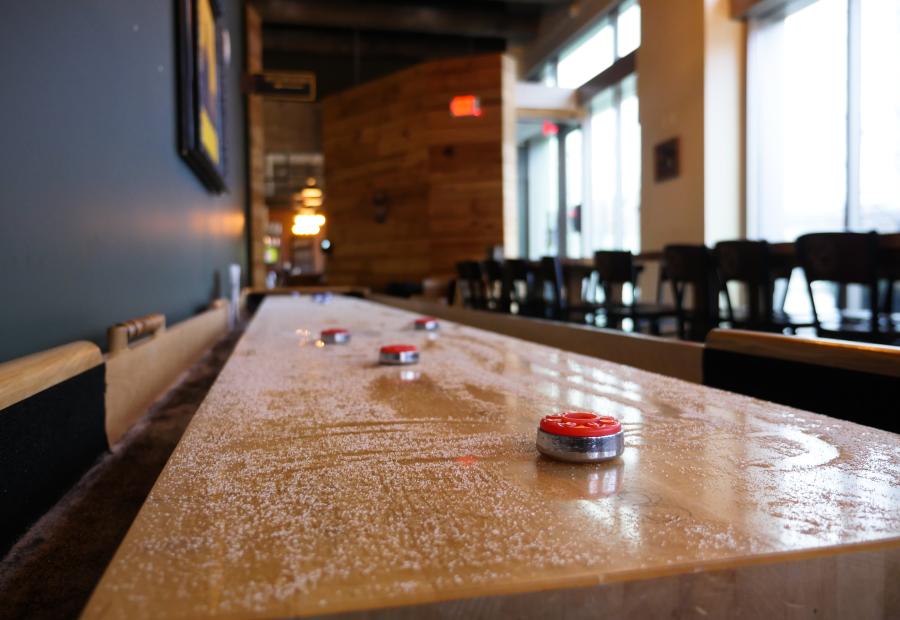 Whether you're enjoying a craft beer in the dining room or at the bar, you'll be able to see the game at Atwater.
Photo by Photo courtesy of Atwater Brewery
Atwater Brewery
You may know that Atwater Brewery opened its doors in Grand Rapids in October of 2016 and has 40 rotating taps, but did you also know it's a good place to catch a game?
In addition to a large projection TV, it has six others, including four in the dining area and a couple at the bar. You're closer to the taps when you catch the game at the bar, making it my favorite place to watch. Its speaker system is hooked up to the projector TV, which allows it to play the audio for big games.
Atwater is housed in an impressively renovated space, originally built in 1923. In addition to simply being a beautiful old building, the high ceilings make it easy to take a peek at other screens when you want to keep track of multiple games.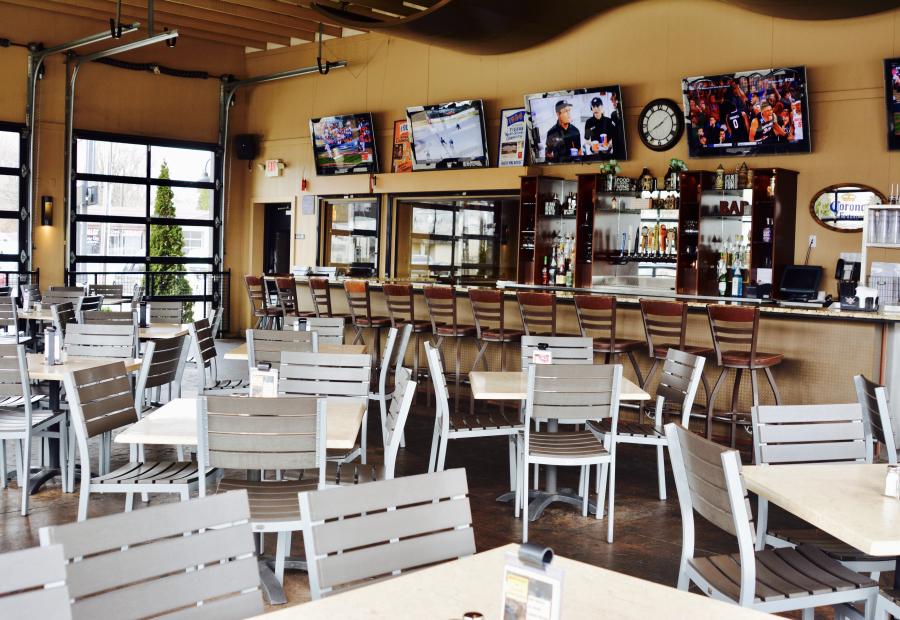 lt With glass garage doors for walls, this newly added 3-season patio is a fantastic place to enjoy great food and watch your favorite game.
Photo by Photo courtesy of Vitale's of Comstock Park
Vitale's of Comstock Park
Vitale's has long been a favorite spot for great Italian food, grabbing drinks with friends, and watching a game. With six huge screens in the dining room as well as lots of TVs around the 26-seat football shaped bar, sports fans don't miss any of the action watching games here.
If you haven't visited its gorgeous, new patio – which they use for three seasons – you'll want to plan a visit soon. With glass garage doors and radiant heat flooring, it's a light, airy, and cozy place for sports fans to gather. It has five large TVs and a second bar that seats 15. Cheers!
This list doesn't nearly cover all of the great venues in Grand Rapids where you can catch a game. For other ideas, check out our full listing of sports bars.  And be sure to let us know your favorite. It's always fun to experience watching a game in a new place!