Ask 10 different Grand Rapidians who serves the best pizza around and you're likely to get 10 different answers. This city is filled with fantastic pizza joints! In honor of National Pizza Day (February 9), we're spotlighting a few of the pizza palaces that bubble up most often in our social media mentions and local media polls.
Menu items and hours of operation are subject to change, so please check with an establishment before visiting.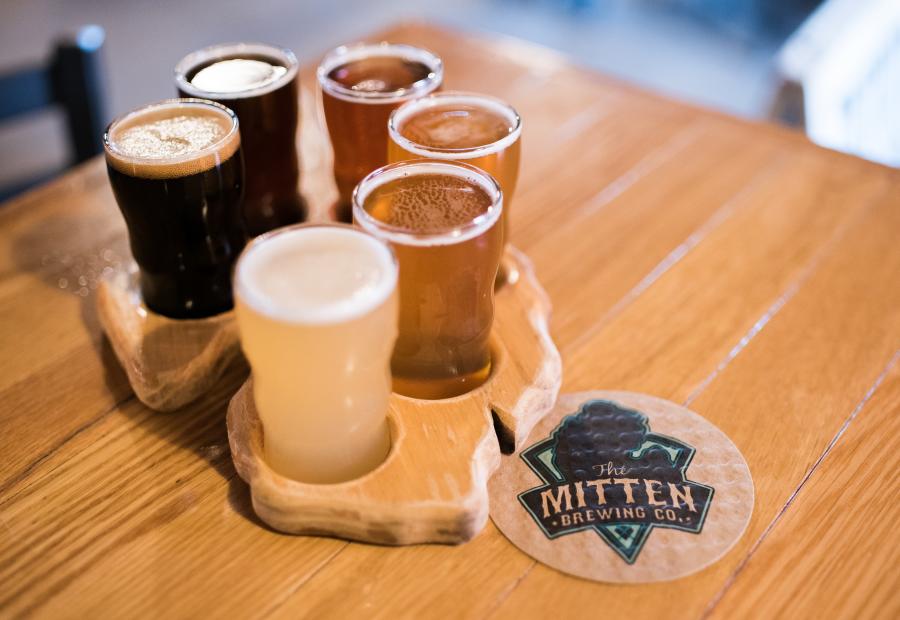 Dine-In Pizza
Try these local faves if you want to enjoy your pie on premises, straight out of the oven. All of them also offer takeout and delivery service – visit their websites to call or order online.
The Mitten Brewing Co.
The Mitten Brewing Company is a vintage baseball-themed microbrewery that also happens to serve up some of the area's finest artisan pizzas. Offering both traditional and unique flavor combinations like Hog Heaven and Curse of the Goat, The Mitten gives you plenty of options to choose from. It also offers vegan cheese, vegan meats and gluten-free crusts to meet different dietary preferences.
Can't decide on just one of their delectable pies? You can order a pizza flight to go with your beer flight when you're dining indoors. Choose any six pizzas (including the pizza special of the week) and your selections will be served on a large wooden paddle – enough to feed four people. If you love pizza or beer or baseball, you'll love The Mitten. (And if you love all three, you might never leave.)
The Mitten also operates a takeout-oriented pizza shop in Rockford, featuring some of its most popular specialty pizzas. 
Harmony Brewing Company
Harmony Brewing Company also serves freshly-brewed beer and handcrafted pizza. Situated in an abandoned post-prohibition liquor store in Eastown, Harmony has won multiple awards for its 12-inch wood-fired pies, which run the gamut from classic to delectably creative.
Try the Crispy Pig, topped with pepperoni, ham and prosciutto, or the Beer-B-Q, made with black squirrel BBQ sauce, pulled pork and bacon. Vegan choices include Sliding Doors, featuring vegan cashew ricotta, shiitake bacon, kale, and roasted vegetables. In addition to 15 or so specialty choices, you can create your own pie, starting with a base of either red sauce and cheese, BBQ, garlic-infused olive oil, creamy sweet potato, or pesto and cheese.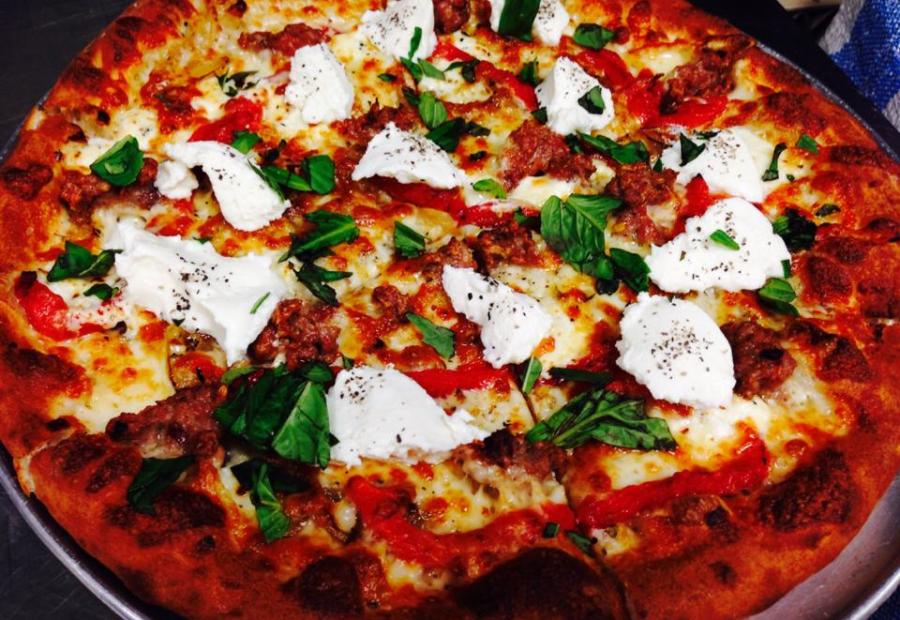 Licari's Sicilian Pizza Kitchen
Licari's Sicilian Pizza Kitchen serves some of the best pizza on the northeast side of town. Owners Gianni and Lisa wanted to showcase authentic Sicilian cuisine and honor their family's recipes.
In addition to a wide variety of Italian dishes, Licari's serves different styles of pizzas such as a traditional Sicilian pizza, called Sfinciuni, which has a pan-style crust, two-year-aged Parmigiano Reggiano cheese and a sweet, rustic-style red sauce. Licari's also offers several varieties of Schiacciata pizza, a classic stuffed-style pizza, in addition to classic pizzas and gluten-free crust options. Its Capone pizza was named Michigan's Best Pizza by MLive in 2016.
Licari's prides itself on using fresh ingredients, using the best imported Italian meats and making its pizza sauces daily. It offers a monthly features menu, so don't miss out on the latest Licari's creation.
Big O Pizza & Booze
Locals rave about the specialty pizzas at Big O, a family-owned business dedicated to providing "good food, good booze and good times." Whether you're looking for a classic pie or a creative combination, Big O has plenty of options for any pizza lover. 
Choose either a 12-inch or 16-inch pizza, depending on your party size and appetite. Specify a thin crust, hand-tossed crust or gluten-free crust. For a unique pizza, try The Brando Pie or The Dead Head Pizza.
Big O also offers snacks, salads and sandwiches in addition to an extensive list of wine, beer and liquor.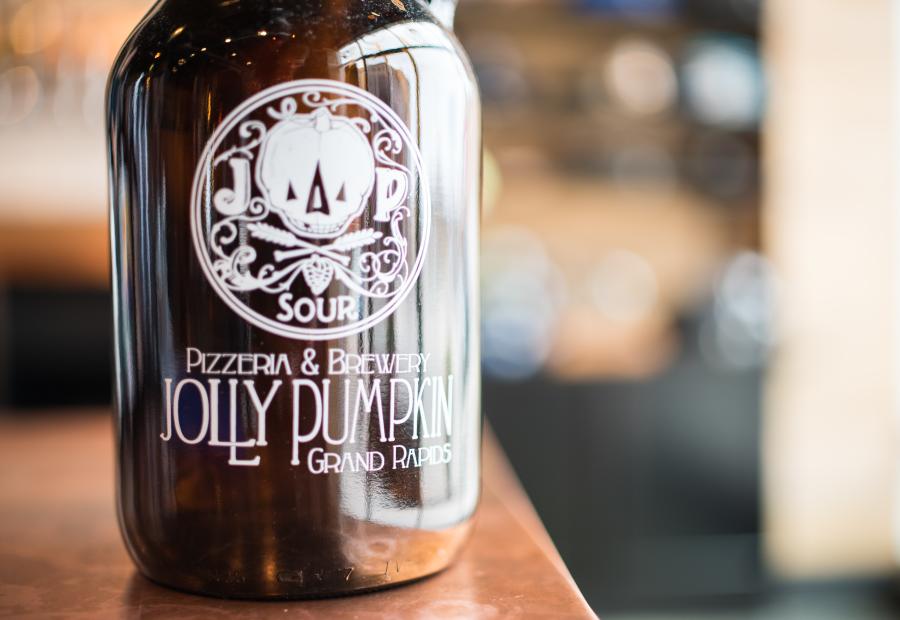 Jolly Pumpkin Pizzeria and Brewery
Jolly Pumpkin serves a good pie to pair with its sour beers, which are brewed in Dexter, Michigan. Just like its tasty sandwiches and salads, Jolly Pumpkin's pizzas are bound to please your palate. Local favorites include the Fire and Smoke Pizza made with smoked chicken, smoked mozzarella, charred red peppers and chipotle tomato sauce. The Bridge Street Vegan, featuring house made falafel, coconut curry, pickled onions, and vegan tzatziki, is a delicious option if you're not eating meat.
Jolly Pumpkin's Artisan Ales are as unique and full of flavor as its pizzas. Its beers are wood aged for up to two years and brewed using traditional Belgian brewing methods to create a delicious sour beer.
Fratelli's Pizza
Located in the Bridge Street Entertainment District, Fratelli's is a popular spot for a slice or three after the bar, as well as a busy lunch and dinner destination. With 19 or so flavor combinations, two size options and 30+ topping choices (including vegan cheese), Fratelli's truly offers something for everyone.
Some of the specialty pizzas on the menu include The Sicilian, Spicy Supreme, Veggie Feta, Carnivore, BLT, Buffalo Bacon Chicken and Papa's Favorite, made with chicken, roasted red peppers, spinach, roasted garlic, feta cheese and mozzarella. If you've had your fill of pizza (if such a thing is really possible), peruse the extensive sub and pasta menus. Fratelli's serves delicious appetizers and salads, too.
Take-Out Pizza
For great pizza to go, check out these convenient pickup and delivery joints. 
Martha's Pizza
Located in the Heritage Hill neighborhood, Martha's Pizza offers a variety of 12-inch handcrafted pizzas, all starting with dough made from neighboring Nantucket Baking Company. You specify a crispy Neapolitan or gluten-free crust, make your choice of house-made sauces and toppings, and your pizza is then baked to perfection in an 800-degree EarthStone oven.
Feeling adventurous? Try the Re-Loaded Potato Pizza, smothered with classic baked potato toppings, or The Volcano, a Hawaiian pie with a kick of jalapenos and a splash of sriracha. Or go classic with a Margherita or Tri-Works meat-lover's pie. You can also take advantage of the "insane" number of toppings available to build your own pizza.
Quarantino's Pizza
Quarantino's was launched in the days of coronavirus-fueled restaurant shutdowns – hence the name, a play on quarantine. This Uptown operation quickly became a favorite with its unique Detroit-style pizza, which is fabled for its rectangular shape, pillowy dough and crispy crust. 
Quarantino's offers its signature pizzas in 8-inch by 10-inch sizes meant to serve one to two people. Selections range from Simply Red, made with red sauce, mozzarella and brick cheese, to It's All Greektown to Me, which adds kalamata olives, artichoke hearts, spinach and feta to the Simply Red base. There are a number of vegan and gluten-free pizzas on the menu, plus the option to build your own traditional or vegan pie. (Yes, a square pizza is still a pie.)
Food Truck
Coming to a community event, craft beverage destination, wedding or business address near you!
Pizza Parliament
"The best hand-tossed, high-quality personal pizzas and breadsticks, uniquely crafted with our own special recipe that will keep you lobbying for more!" goes the brand messaging for the Pizza Parliament food truck, which has gained a loyal following throughout West Michigan since launching in 2016. "Lobbying" is a nod to its creative menu – the pizza names allude to political figures and issues in a fun, nonpartisan way.
For example, the Make Meat Great Again pizza features a foursome of flavorful animal proteins, while the Green Party pizza is topped with scrumptious veggies. An Electoral option lets you add your own choice of toppings. Follow Pizza Parliament on Facebook to find out where it will be next – you can even order online so your pizza will be waiting for you when you arrive. 
Join the Brewsade® While Enjoying Pizza
Pizza and beer are such a winning combo that it's not surprising three of these favorite pizza spots -- Mitten Brewing Co, Harmony Brewing Company, and Jolly Pumpkin Pizzeria and Brewery -- are breweries that will help you make progress on your Beer City Brewsader® status. 
Collect stamps at eight breweries on the app and receive a free T-shirt. Collect 40 stamps for Ultimate Brewsader status and other perks!
Plan your visit to all of the pizza spots featured here using the map below. You'll find even more pizza possibilities listed below the map, and you can search our Restaurant list for pizza joints in specific neighborhoods and regions. 
Search For More Pizza Spots
Still hungry for more options? Discover more pizza joints with the search below.