If you think Grand Rapids beer is good, then just wait until you've tried the burgers! We asked our Facebook, Instagram, and Twitter followers where to find the best burgers in town. Then I had the arduous task of researching... and eating. Here are the top five must-try burger joints in town with a few bonus locations thrown in. If there's another place where you have discovered the best burger in town, please comment below!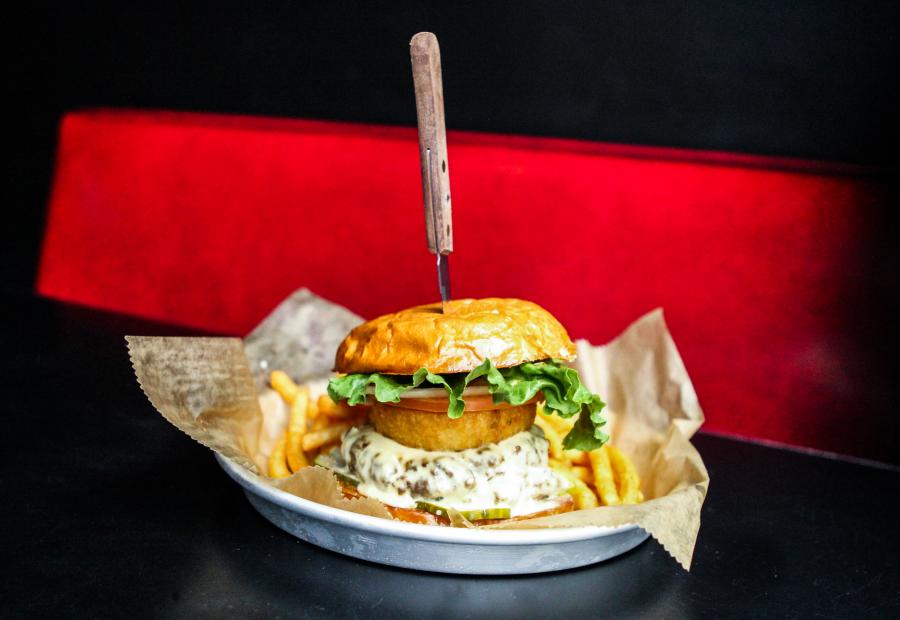 "Hands down, it's Stella's burgers...The best!" Marvin E. Thomas on Facebook.
Photo by Paul Jendrasiak
Stella's Lounge: Your Downtown Burger Fix
Locals love Stella's Lounge and for good reason! These burgers have been winning awards for years, and are a half pound of cheesy Angus beef. In addition to the usual toppings, Stella's crowns all of its burgers with a giant onion ring, which makes this burger more of a fork-and-knife meal. All burgers come with chronic fries, which are just spicy enough to require a drink nearby.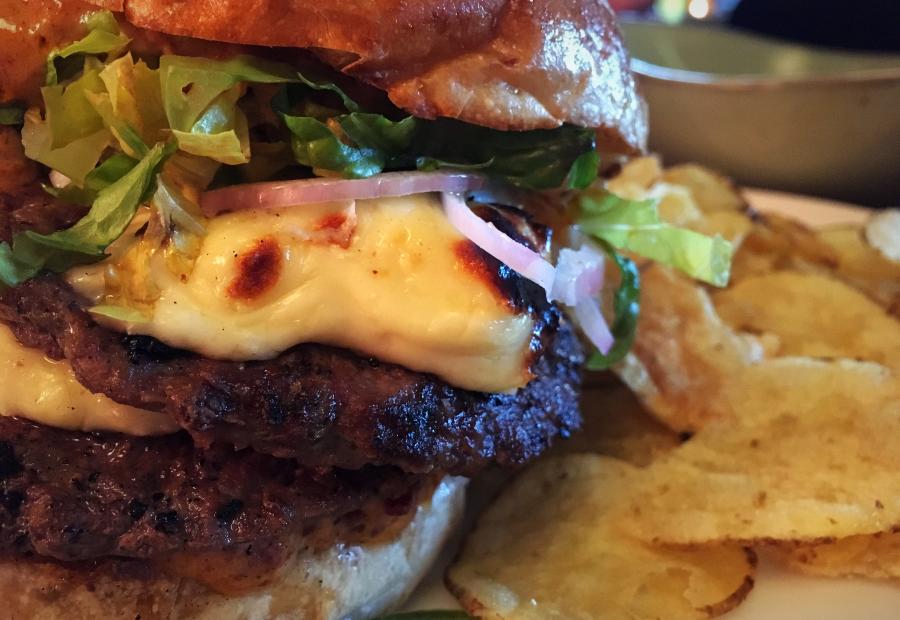 Check out the whipped gouda on Green Well's double burger!
Photo by Lyndsay Daly
Brewery Vivant and The Green Well Gastro Pub: Uptown Must-Trys
It's no wonder Brewery Vivant's burger made the list - it's an 80/20 beef and bacon blend. Vivant is located in a repurposed chapel, so it's also a unique location to enjoy a cheeseburger. One thing I've learned about pairing beer and food is: beer loves burgers. The fat in burgers highlights hop and malt tones, so obviously try a beer while you're there. If that hearty burger wasn't enough, The Green Well Gastro Pub is right across the street from Brewery Vivant and has the cheesiest double burger I've ever encountered. It turns out that whipped gouda, tomato-bacon aioli, and a locally-made Field & Fire bun go very well with beef.
What locals say: "Juicy, real (locally-sourced, grass-fed beef) burger cooked PERFECTLY made to order: it's gotta be Vivant!" @crbouwens on Instagram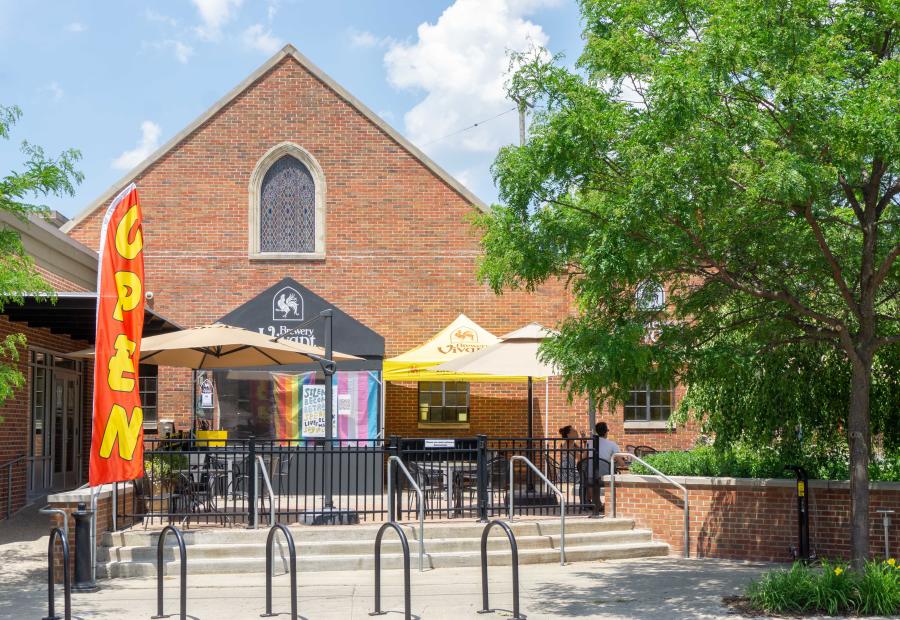 "Brewery Vivant's burger is so great that I routinely drive from Detroit just to eat there" @ecmcglynn on Instagram
Photo by Experience Grand Rapids
Cottage Bar: A History of Excellence
This is where my husband's favorite burger lives, so I wasn't surprised to see this make the list either. The historic Cottage Bar (the restaurant has been in operation since 1927) has that laid-back burger bar feel with 13 options to choose from! Some unique burgers on the list include a salmon burger, a chili burger, a Tijuana burger, and a black bean burger.
What locals say: "Cottage Bar hands down has the BEST burger!!!!! I ate it at least once a week throughout both my pregnancies!!!" Emily B. on Facebook
Bourbon Burger: ground sirloin, bourbon bacon jam, house-made pickles, lettuce, tomato, caramelized onion, Muenster cheese, ciabatta roll TO DIE FOR!
michellelynnmoerdyk on Instagram
Butcher's Union and One Bourbon: West Side Gems
I was relieved when someone mentioned this burger on social media so I didn't have to comment myself. Butcher's Union is a new whiskey bar and restaurant just west of downtown on Bridge Street. I've been there twice since they opened and ate the burger both times, which is not like me when I'm looking at a new menu. One Bourbon has opened even more recently and is already getting cheeseburger love!
What locals say: "The West Village Double Cheeseburger at Butcher's Union: the meat is ground in-house, it's served on an onion brioche bun, and the spicy pickles cap it off. Best burger I've ever had in GR" @sarah.I.pepper on Instagram
"Bourbon Burger: ground sirloin, bourbon bacon jam, house-made pickles, lettuce, tomato, caramelized onion, Muenster cheese, ciabatta roll TO DIE FOR! As a matter of fact I just talked myself into going to get one right this second" @michellelynnlund on Instagram.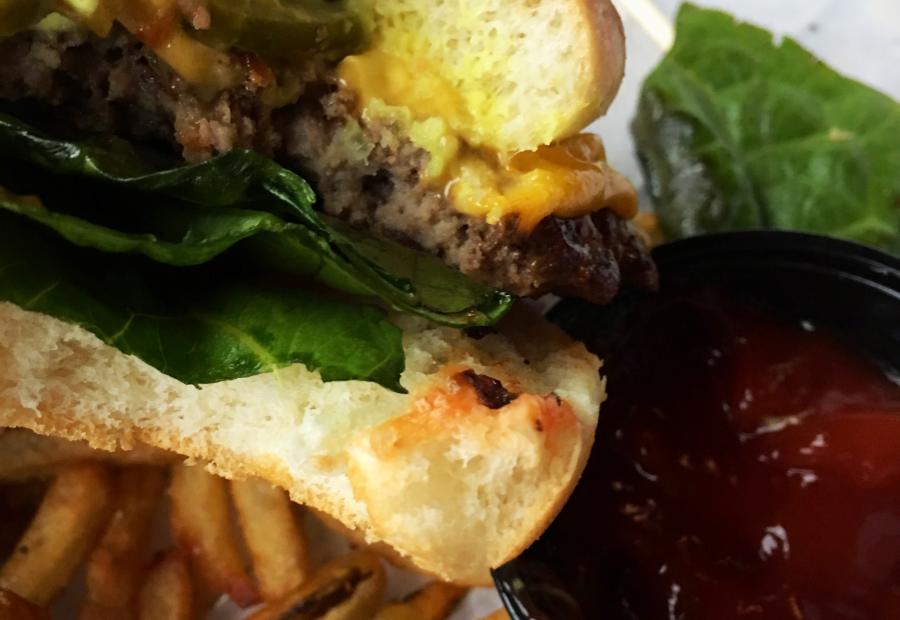 Honorable Mention goes to Grand Rapids' new 7 Monks Taproom - try its greasy spoon burger to cure what ails you!
Photo by Lyndsay Daly
Mr. Burger: Low-Key Classic
Mr. Burger has six West Michigan locations and definitely has a cult following of burger lovers. They have been around since 1967, and every location retains its vintage charms. As you can see from the comments, the olive burger here is a fan favorite. If you aren't in the mood for a burger, they also have a full breakfast menu, dinner menu, and fresh-baked pies for dessert!
What locals say: "Olive burger at Mr. Burger. I always make a special stop there when I come home." Anna A. on Facebook
I hope you're hungry – have a happy hamburger hunt! Many of these locations offer take out. Check with each establishment for their options.
This post was originally written by Lyndsay Daly.